The Indian Scout is a low and mean mid-sized muscle machine. It's a firecracker that will blast out a niche sector for itself.
The water-cooled 1133cc V-twin has output of 100 horsepower (75kW) and weighs a comparatively light (for a cruiser) 253kg, so when you twist the throttle, it responds with whip-like acceleration. The Indian Scout also has nimble handling, excellent build quality and brand-name kudos and motorsport tradition.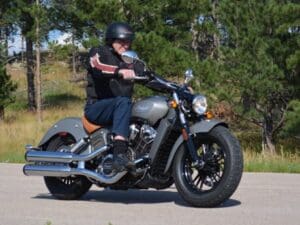 All that for $17,995 rideaway when it arrives in Australia in the last quarter of the year. That should cause some Sportster, V-Rod and Yamaha XVS1300 buyers to think twice.
When it was unveiled last week at the Sturgis Motorcycle Rally in South Dakota, few were surprised that the company had revived the venerable Scout name or that it had a smaller engine capacity than the existing three Chief models and the just-released Roadmaster, all powered by the 111 Thunder Stroke engine.
But it was a surprise that Indian chose a 69 cubic inch (1133cc) water-cooled V-twin. Surely a smaller capacity would attract entry-level riders and women, like Harley's new Street 500 and 750 models.
Instead, Indian chose to carve out its own little niche in the market, in between Harley's water-cooled 1247cc V-Rod and Street models. They also gave the bike the best power-to-weight ratio in its class.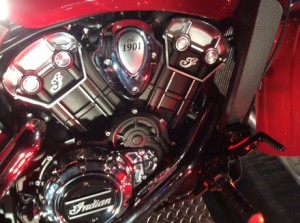 The result is that it roars off the line with bold intent and powers through the gears without having to redline for full effect. It's an addictive rush of speed that should grab the attention of the very niche mid-sized muscle cruiser market.
However, I wouldn't be surprised if, in future, they introduce a smaller capacity Scout in the same frame. It's so light and nimble it could easily take a 650cc engine and still not feel like a slug.
The Scout is a simple bike. It's got a solo seat and few extras. That focuses attention on the engine and the build of the bike.
Not only is it a powerful little engine, but it attracts attention with its classy design. Its styled castings have a unique design like the Thunder Stroke, but there are no chrome embellishments here. The engine and frame are made of matte-finished materials with impeccable craftsmanlike finish. The only chrome is on the mirrors, in the trim around the single black headlight, the rear twin shocks ands the exhausts.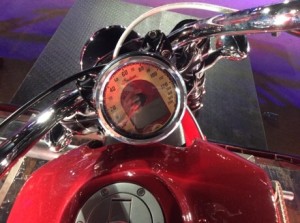 The single-pod instruments are also simple with an analogue speedometer and digital information screen. Controls are traditional and it has a hydraulic front brake and cable clutch.
There is a heavy clutch pull for this size bike, but the six-speed gearbox and belt drive make a very slick, smooth and quiet transmission. The engine also has very little mechanical noise, so all you hear as you hurtle up to highway speed is the deep burp of the dual, single-sided exhausts and the whistle of the radiator fan. Thankfully it's not as loud as the wasp-sounding fans of the Buells and it doesn't continue when you stop.
The front brake has abrupt initial bite and the rear brake has good feel, but there was no ABS on this test bike, so you have to be careful in panic stops. Australian bikes will come with ABS as standard.
The first thing you notice when you throw your leg over the Indian Scout is how low and diminutive it is. You really do sit upon this bike, rather than nestling into it like a normal cruiser.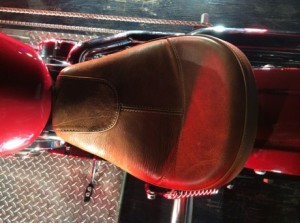 The bars are wide, flat and low with an easy reach from the rider's seat. The forward controls place you in a similar position to riding a V-Rod. It's not uncomfortable unless you sit on the interstate for long periods.
This is a bike built for more aggressive duties than highway riding, anyway. Mid controls could have given it a little better feeling of control, although it may cramp the tall rider. Short riders will have no problems getting their feet on the ground with the low, low 25.3″ (643mm) saddle. It's a comfortable perch, too, even though it doesn't seem to have a lot of foam padding.
As you flick up the sidestand, it feels light and almost flimsy, but as you let out the heavy clutch and it rolls away, it feels very solid and controllable.
The steep 31-degree fork rake gives it nimble and alert steering that makes it ideal for carving up the canyons of the Black Hills of South Dakota. It tips in quickly and holds a good, steady line through a corner.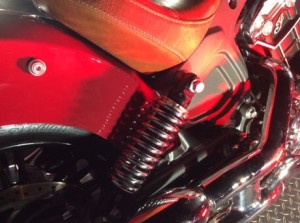 Grinding the pegs is a little difficult as ground clearance is high at 134mm. The 16-inch rims are shod with a fat 130/90 front tyre which gives a lot of cornering confidence and a 150/80 rear tyre that allows it to lean over without wanting to stand up quickly under acceleration.
Out on the highway it tracks true. The lightweight machine is a little susceptible to big blasts from passing trucks, but it feels pretty steady the rest of the time.
I only got to ride it for a short time, but it quickly left a big grin on my face. A short test ride should also convince buyers looking for a simple, unadulterated mid-sized muscle cruiser.
Colours: black, red, silver smoke matte and black smoke matte.
Indian Scout
Price: $17,995 ride away
Engine: 69cu in (1133cc) liquid-cooled V-twin
Compression: 10.7:1
Power: 100hp (75kW)
Torque: 72.2ft-lb (97Nm) @ 5900rpm
Transmission: 6-speed, belt drive
Weight: 558lb (253kg)
Seat: 25.3″ (643mm)
Fuel: 91 RON, 3.3 gallons (12.5 litres)