Indian Motorcycle has recalled all 2014-2017 models with the Thunderstroke 111 engine for a potential fuel leak and fire risk as part of a worldwide recall involving 24,000 bikes.
Models affected are the Chief Classic, Chief Dark Horse, Vintage, Chieftain, Chieftain Dark Horse, Springfield and Roadmaster built from April 15, 2013, to July 15, 2016.
The voluntary recall notice issued through the Australian Consumer and Competition Commission says the fuel rail may contact other components and result in a fuel leak. This could increase the risk of a fire.
Indian Motorcycle Australia has always beenn on the front foot with safety recalls and this is no different.
They have identified all affected VINs and customers will be contacted for the bike to be inspected and fixed for free, if required.
Stop sale notice
They have also issued a "stop sale" notice to inspect and fix any affected VINs in their dealerships.
"Indian Motorcycle recognises that the timing of this recall is inconvenient with the holiday riding season now upon us," a media release says.
"In order to minimise the inconvenience to customers, Indian Motorcycle will implement night shifts throughout December and January at Indian Motorcycle stores in the capital cities of Australia.
"In most cases it is anticipated that the safety inspection will take approximately 30 minutes. It is expected that less than 5% of inspected units will require an additional 30-minute procedure.
"Express shipments of the required replacement part have been organised from America. This shipment is due to arrive in Australia early next week. All affected customers are urged to contact their local Indian Motorcycle Dealer to schedule a time from next Wednesday (December 21, 2017) for their motorcycle to be inspected."
Indian Motorcycle Australia did not say how many vehicles had been affected or whether there had been any incidents.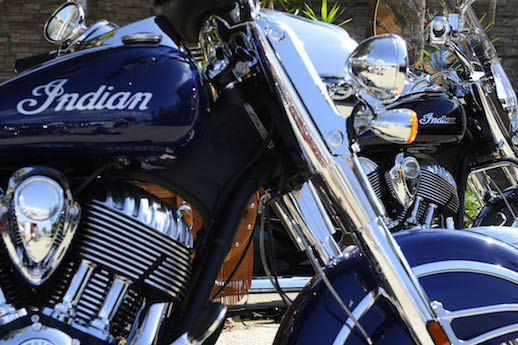 It follows a similar recall in July of all Indian Motorcycles except the new Scouts.
In this case, unburned fuel could find its way to the exhaust and pose a fire hazard
Recall notices are issued by the manufacturer through a voluntary industry code under the ACCC.
Despite hundreds of recalls by various automotive manufacturers, none has ever been mandatory.  All have been issued by the manufacturer.
While any recall is not good news for the manufacturer, it shows that they are largely diligent in fixing problems.
If you believe there is an endemic problem with your bike that should be recalled, contact the ACCC on 1300 302 502.
To check whether your motorcycle has been recalled, click on these sites:
• USA
• UK
• Canada