The Indian "Motorcycle Express" will come from as far as Melbourne, Sydney and Ohio when the first Indian museum in Australia opens in Brisbane on March 15, 2014.
Indian Motorcycles enthusiast and fanatic Darryl White says he has amassed possibly the biggest collection of Indian Motorcycles memorabilia in the Southern Hemisphere. He says he had so much historical information on the iconic American brand "stuck in a cupboard" that he wanted to take it out and share it with the public.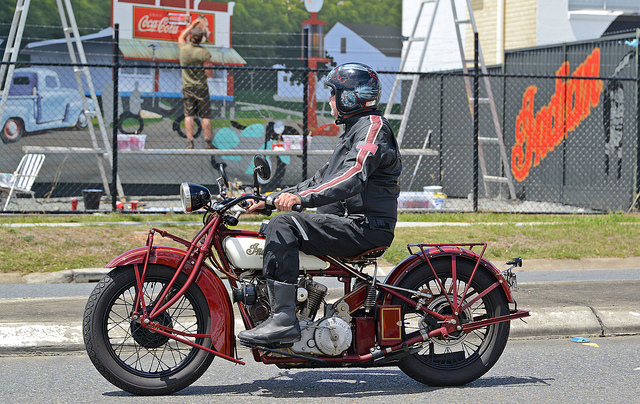 The 53-year-old considers the museum to be the next chapter of his life. About 20 friends and colleagues from the Indian Motorcycle Club of Australia will ride five days from Melbourne and Sydney for the launch, including long-time friend John Steelman of Ohio.
CHECK OUT THE PHOTO ALBUM ON PINTEREST
Darryl says his passion for Indian Motorcycles began in the 1970s "as a young fella riding bikes". "At the time, Indian was selling Italian dirt bikes made under licence using the Indian name. They were just so much more powerful than what we were riding. Since then I've always wanted one." 
However, Darry's bus and truck parts business took up most of his energies and it wasn't until 23 years ago that he bought his first Indian, a 1922 Powerplus outfit. "I had the passion to own an Indian, but work commitments got in the way," he says. He bought the Powerplus outfit for $7000, but sold it two years later for $22,000 to fund the purchase of his first Chief which he still has today. It also further fuelled Darryl's desire for more Indians.  "So started the disease, although I've also heard it called a virus," he says.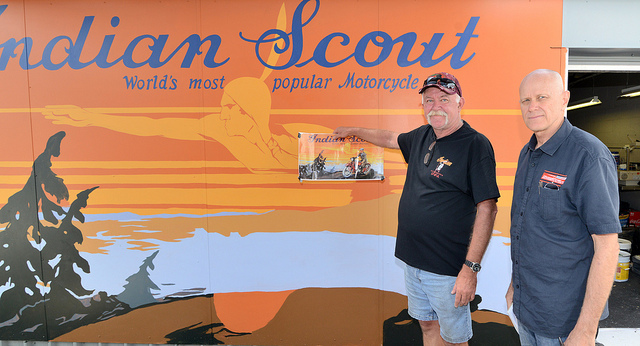 Darryl's museum at 419 Newman Rd, Geebung, is housed in a former forklift business that he has had painted up in classic style with mural artist and good friend Eric Henn, also of Ohio, replicating several traditional Indian Motorcycles posters. Even the shop window features a sign for Rhodes Motorcycles which was the first official Indian dealership in Australia. This is indicative of the level of historical detail Darryl includes in the museum.
It's not the biggest collection of Indian Motorcycles in Australia. He says he knows collectors with more than 80 Indians in their shed. Darryl has about 20 bikes and will have 18 on display, including four on loan from colleagues. The display bikes will rotate so there is always something new for returning visitors to see. The opening day on March 15 will be free, but admission will be $15 after that with children up to 16 free.
While the motorcycle display is small, almost every model is in working order and some are still in original paint condition with that quaint and valuable patina of antiquity about them. Darryl is proud of his original paint bikes that haven't been "prettied up".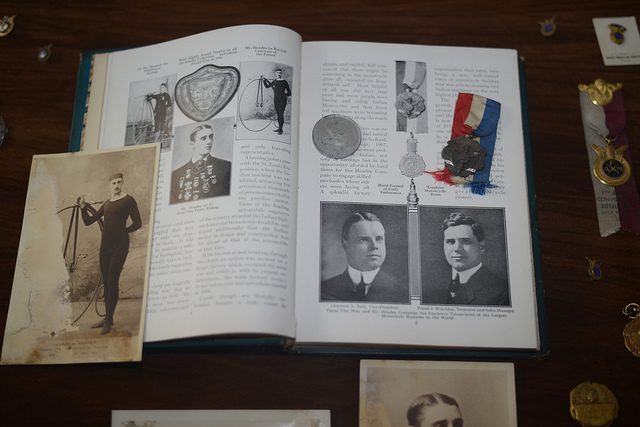 It's not just the motorbikes that will attract patrons, but the memorabilia which includes helmets, posters, pennants, fuel bowsers, motorcycle parts, race medals and even an Indian outboard motor. One of his proudest displays is his "Honest Injun" bound books and a personal race medal belonging to George Hendee, founder of the Hendee Manufacturing Company which later became the Indian Motorcycle Company. Darryl says the Honest Injun books were printed periodically for owners. He believes the book on display is one of only seven previously owned by Hendee. Darryl owns three. The 1904 race medal was awarded to Hendee for coming fourth in a gruelling seven-day endurance race in 1915 in which only five out of 27 starters managed to finish. It took Darryl three years to research the book and medal which he bought for $4000 via eBay.
These are some of the many valuable and highly collectible items on display. Darryl says the whole exhibition is insured for $650,000, plus $100,00 for the four borrowed bikes. The museum will also include Indian Motorcycles merchandise such as t-shirts, jackets, hats and promotional items for sale.
Darryl says more public interest in Indian Motorcycles was sparked by the Hollywood movie, The World's Fastest Indian and had recently been further fired up by the new Indian Chief motorcycles built since Polaris took over ownership. "I like the new Indians, especially the way they captured the traditional style and heritage of the Chief engine," he says. "I haven't ridden the new ones yet. I really only like riding anything old."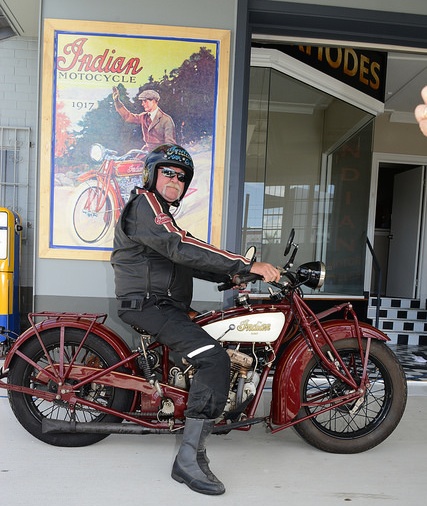 Darryl also owns a 2006 Harley-Davidson Dyna Wide Glide but confesses he has only ridden 3000km on it, preferring to ride his favourite, a 1953 Indian Chief with left-foot clutch, four-speed tank-mounted shifter and left-hand throttle. "I love the challenge of riding something different," he says. "It's set up to take my wife (Donna) and has electric start and hydraulic forks. It's great to ride. It has good balance. There is nothing better than riding an Indian." Although he adds the caveat that they have to be built from 1935 onwards with the 1200cc motor.
The company started to suffer after World War II because they had devoted their production to the war effort and had no dealer network when the war ended. However, Darryl believes the company's collapse was mainly due to a failure to modernise. "They never developed the hand clutch and then all the British bikes started arriving. Their last big race win was at Daytona in 1953 and '54, but even that was with 1948 motorcycles."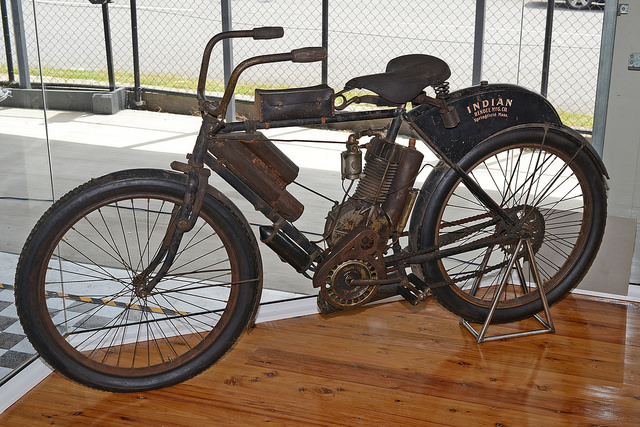 Among the more interesting displays is the oldest original paint bike, a 1908 Camelback, so called because of the hump-shaped fuel tank over the rear wheel. Darryl says it features the advance/retard on the right handgrip and throttle on the left so police officers could keep their right hand free to shoot their pistol. The bike even sports a telltale bullet hole in the oil tank! These are the sorts of stories that really make the exhibition come to life.
Another rare bike is the 1928 Fire Patrol outfit which Darryl recently bought for $50,000. It was one of about 200 made and is believed to be the only one left in the world. However, one of the most desirable exhibits is an original-paint Four, powered by an inline four-cylinder engine, hence its name. It is commonly referred to be its nickname the "upside down Four". Darryl has three Fours with a fourth to come. "I don't buy them because of their value, but for the love of something different and unusual," he says. "I do buy and sell some, but only to make some money to put into the next project."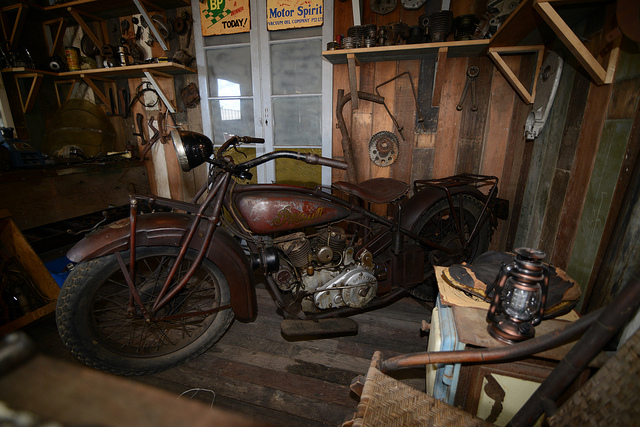 John has helped Darryl build up his collection of Indian Motorcycles, finding them and shipping them over from the States. "His collection is second to one back in the States," he says. John also sold Darryl a rare original paint 1913 Dayton motorcycle which has muscled its way into the Indian museum. Darryl says it has a special place in his heart because John didn't want to sell it. "He had offers but it was one of only 10 left in the world and was a part of Dayton, Ohio, history. He named a ridiculous price and I said 'sold'. John went as white as a ghost but he couldn't back down. He's still copping flack from locals for selling part of Dayton's history."
Meanwhile, you can see a prime selection of Indian Motorcycles history at the Indian Motorcycle Museum Of Australia which officially opens at 10am on March 15, followed by information tours, then a poker run.
Indian Motorcycle Museum Of Australia
Where: 419 Newman Rd, Geebung, Brisbane
Opens: March 15
Launch program: Official opening at 10am, history tours from 10.30am, poker run to Redcliffe from noon, bike display at Brackenridge Tavern during lunch, return to museum at 2.30pm for official photographs.
Indian Motorcycle Express Ride to the museum: Call 0477 184581 for information.
Museum hours: Saturday and Sunday 9am-4pm and possibly Friday and Saturday nights once a month.
How much: $15, children 16 and under free
Web: indianmotorcyclemuseumaust.com.au
Eric Henn: www.EricHennMurals.com