Indian Motorcycle Brisbane dealership has shouted its Indian Chief customers a free breakfast in fancy surroundings at the Royal Queensland Yacht Squadron today.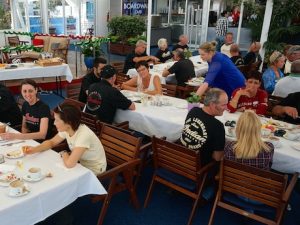 Shop spokesman Ron Grant says the breakfast and accompanying ride is their thank you to loyal customers on the first anniversary of Indian Chief deliveries to customers.
Almost 40 riders turned up for the breakfast ride to Southport, including five of the "111 Originals" who put down a deposit – sight unseen – on the reborn Indian Chief.
"They put their faith in the company and we're grateful for that and happy the bikes have lived up to the hype," Ron says.
"This occasion is also the last time we will ride as 111 owners because the next time there will be a bunch of Scout riders among us."
Ron says they have already taken 36 orders for the 1133cc Scout cruiser which starts arriving in showrooms in December.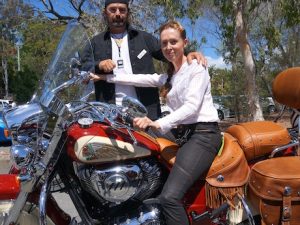 Also among the Indian Motorcycle riders today are Camelia and Johnny Birdacel, the first owners of a 2015 two-tone Chief and the 100th Indian sold by the Brisbane shop, and Walcha Royal Cafe owner Brad Keable who rode his Chief more than 500km for the event.
Several staff also turned out to escort the riders down to the Gold Coast, including shop technician Robertino Salbatecu who Ron describes as being the "face and character of the shop".
Thanks also to Ron and the staff for attaching a comfortable sissy bar to the Indian Chief Vintage they loaned me for the ride. Mrs MBW is most appreciative!
Meanwhile Indian Motorcycle has launched its official rider group! It's called the Indian Motorcycle Riders Group (IMRG).