Now that's what I call service – the technicians from Victory and Indian Motorcycles in Brisbane travelled 526km to Walcha in New South Wales to service a new Indian Chief Vintage.
But don't expect that sort of service every time. The three were on their way home from the Troy Bayliss Classic oil-track races in Taree and offered to go via Walcha to service one of their bikes.
Parts and service manager Ron Grant says it's not something they normally do, but they couldn't resist going out of their way to blast up the famous Oxley Highway to Walcha.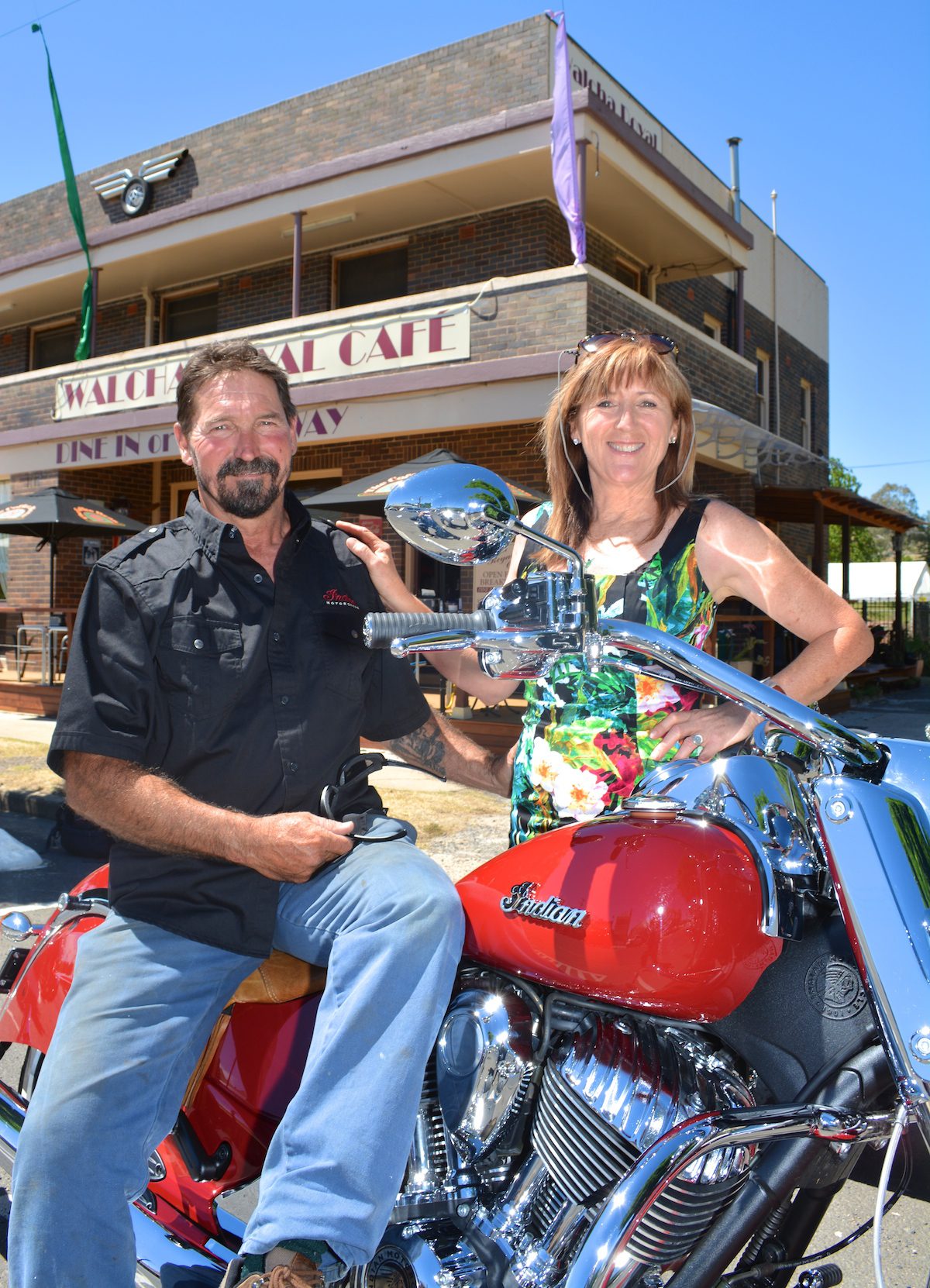 The new read Indian Chief Vintage belongs to Brad Keable who owns and runs Royal Cafe with wife, Toni.
Brad is one of the original 111 who put down a $1000 deposit for the Chief, sight unseen. He flew to Sydney last year and drew number 18.
"I had a 1944 Indian Chief for about 30 years and loved it, so when I had heard Polaris had taken over the company I thought that they would do pretty good job," he says.
"When I saw the engine, that sold me, so I put down a deposit. When I saw the bike there was no turning back."
He's pretty happy with the Vintage he picked up in Melbourne and rode home via Sydney for its 1000km service.
"It's indescribable. It does everything better than I'd expected. Nothing comes as close to this in a cruiser."
He's now done 4700km in just four weeks and took it to the Troy Bayliss Classic at Taree.
He was very pleased about the special attention his bike received from the Brisbane crew and says he will take it to Brisbane for future regular services.
Victory and Indian Motorcycles technician Rob Salbatecu says the bike needed a special engine map downloaded to tune the engine to the new fishtail pipes. He was assisted by technician Kevin Hilliam.
Brad and Toni's Royal Cafe is a well-known motorcycle haunt that serves good coffee, meals and has accommodation from $55 a head on group bookings to $130 for a deluxe room.
Toni says 90% of their business is motorcycle riders enjoying the Oxley Highway, Thunderbolts Way and the many tar and dirt roads in the region.
"We are at the head of the Oxley and they come to do a figure of eight around here," she says.
"You really need to do a two-night stay. There are plenty of good roads around here that are sealed and unsealed."
Toni says they recently extended the front dining area so more riders can have a meal and a coffee while looking at their bikes parked out front.
But when it's hot there is a tent out the back to park your bike in the cool shade.
RECOMMENDED: TROY BAYLISS CLASSIC IN PIX