Carey Hart and Barnstorm Cycles are finished with their next #SportChief from Indian Motorcycles– and this time, the happy recipient is none other than 2X UFC Bantamweight Champion TJ Dillashaw.
"I never had a bike until I actually won a bike for one of my UFC title defenses back in 2014," explains Dillashaw. 
"Never had an idea of getting my motorcycle license, but as soon as I won the bike, I fell in love. For me [it's] an escape, a way to, you know, tune everything out the world and you're just listening to yourself and the wind, and it really was, like, a little therapeutic for me."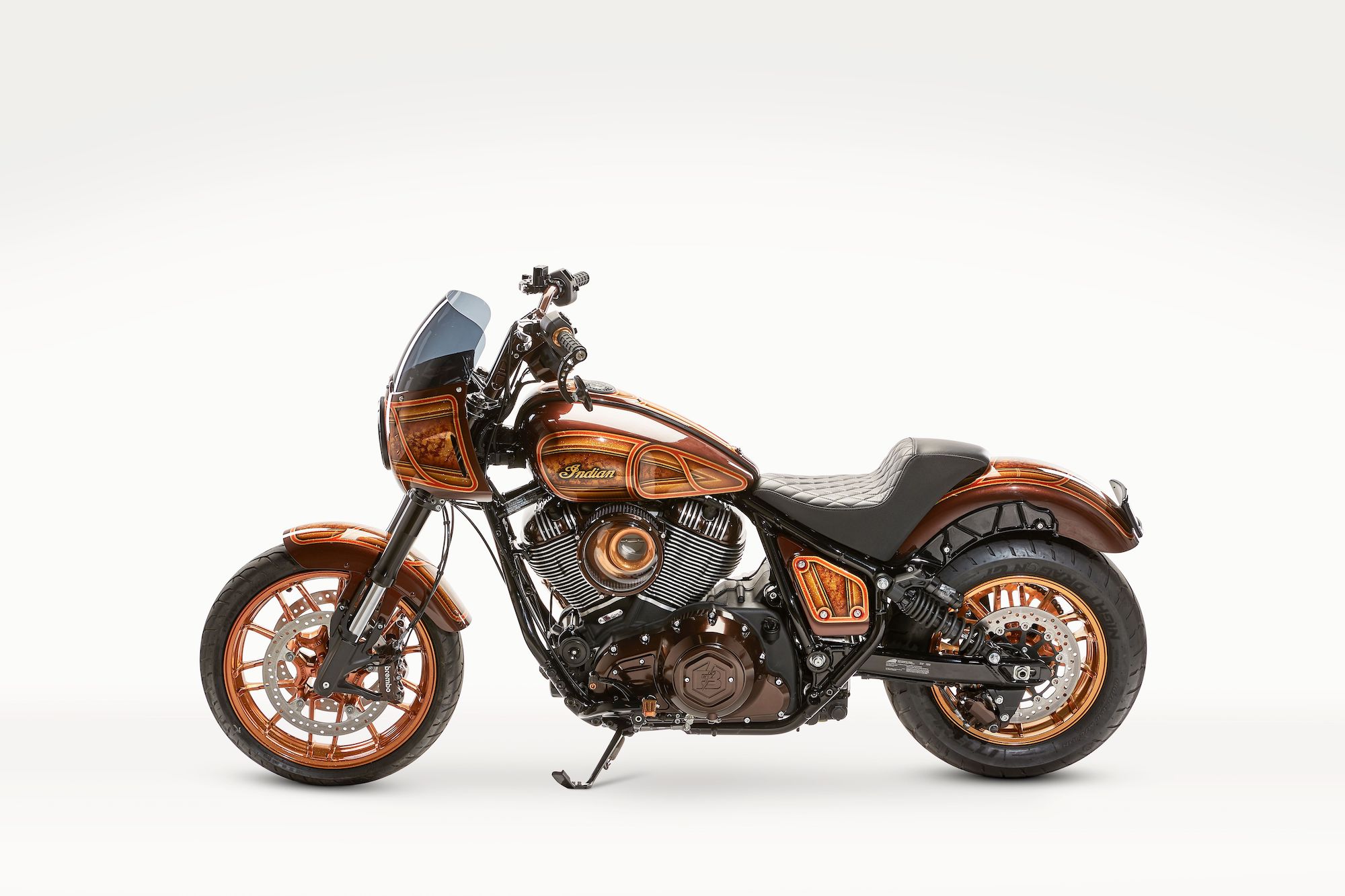 This latest installment of Indian's "Forged" series shows Carey and Barnstorm Cycles presenting Dillashaw with his new Chief – an event that's getting more than a few grins over here at WBW.
"Working on your own motorcycle… It creates a bond with your bike. It's something that you're putting that energy into; you're blooding your knuckles," imparts Carey Hart. 
"Working with my hands and fabricating and building motorcycles…it's literally therapy… So after many months of building, Jake at Barnstorm Cycles is about to reveal his motorcycle for TJ Dillashaw."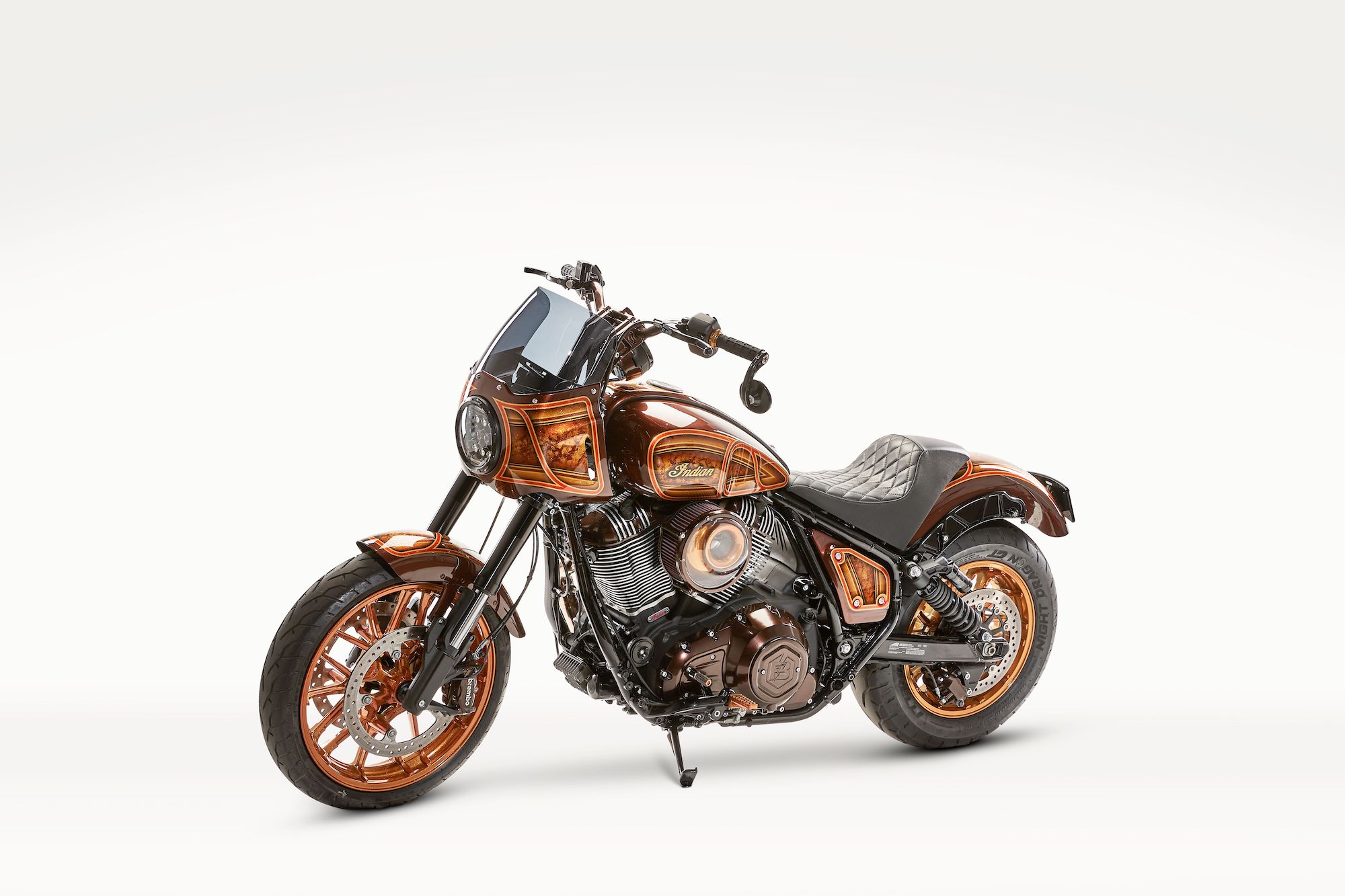 The bike herself is stunning; for Dillashaw, Barnstorm, and Hart compiled a sick paint job, complete with a stunning headpiece, a transparent gearbox and rims painted to match the multi-toned, brown, and gold color scheme of the bike (courtesy of the hard work put in by C.A.S. Services and Blue Moon Kustoms, by the way).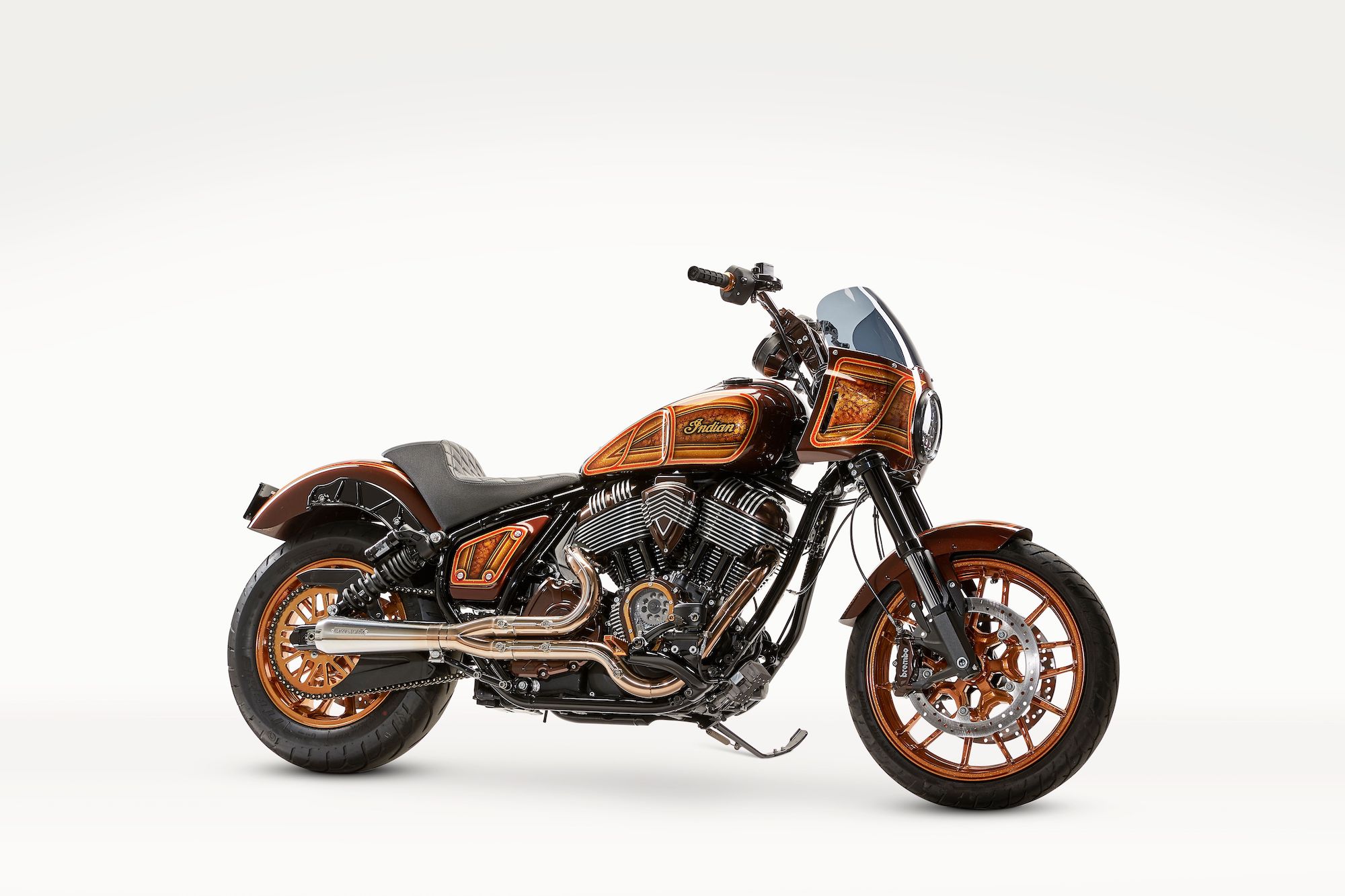 Seamless Customs did the honors for the custom seat upholstery, while the front of the bike is graced with Barnstorm's own "Lane Splitter" +2″ Pullback Handlebar Risers, complementing the shop's hardcore Barnstorm + Audette Thunderstroke engine cover set, signature modified gas tank with added "knee cuts," and a big conversion kit for a leaner subframe strut and fender.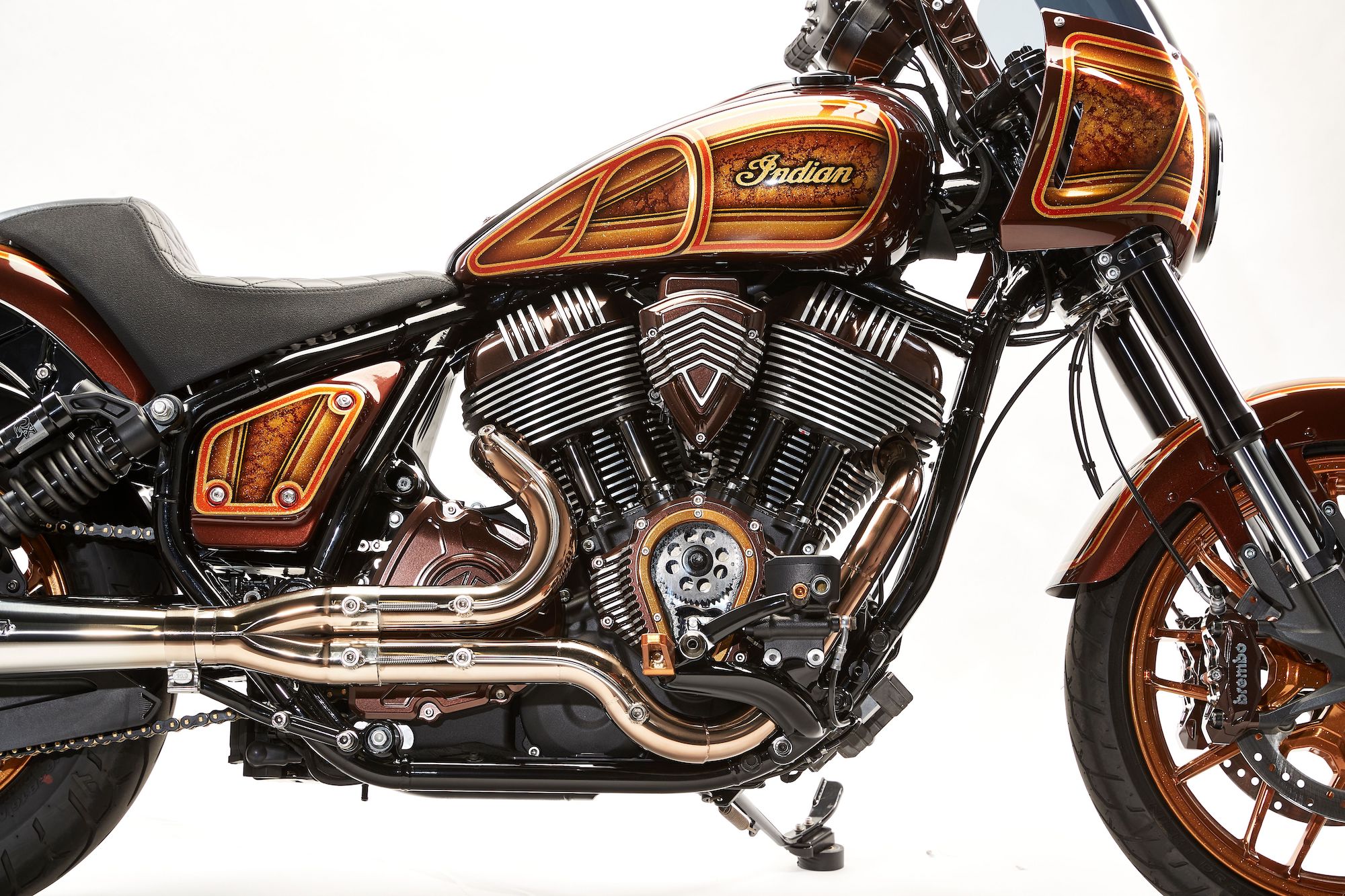 Here's the official list of what'd-you-do below, per Indian's release:
Beringer Brake Master and Clutch Cable Control

Barnstorm Hand Control Transition adapters

Barnett +2″ Clutch and Brake Cables

Barnstorm "Lane Splitter" +2″ Pullback Handlebar Risers for Chief Models

Indian Motorcycle Stock Sport Chief Moto style Handlebars

Joker machine Left Side Bar end Mirror 

Hart Luck ODI Grips

Front end lifted 1″ with Bareknuckle Performance INDIAN CHALLENGER FORK EXTENSION

Kuryakn Bullet Atto Amber front turns

LED Headlight with custom extension mount.

Joker Machine Pegs "Race" Foot Pegs

RSD Traction Shift and Brake Pegs

Barnstorm Chief/Chieftain Final drive chain conversion

Barnstorm + Audette Motorcycles Complete Thunderstroke Engine cover set:

Revere cam cover

Renegade horn cover

Revere outer valve covers

"BBolt" Sprocket Cover

Barnstorm + Audette Motorcycle Moto Hi-Flo air Intake

Barnstorm signature hand fabricated Stainless Steel 2-1 Exhaust system with custom heat guards. TIG welded with full argon back purge.  Finished with an Internal ceramic coating and Mirror polished.

Indian stage tune thanks to the incredible team at Moms of Manchester, NH

Barnstorm Chief "Slim Subframe Strut and Fender Conversion" with

Kuryakn Bullet Atto red rear run/turn/brake lights, laydown license plate mount and LED Plate frame.

Barnstorm "BBolt" Primary Cover medallion

Barnstorm signature modified gas tank with hand-fabricated "Knee cuts."

Custom seat upholstery stitched by Seamless Custom in Leicester, Massachusetts

Custom Powder coating done by C.A.S. Services in Oxford Massachusetts

Custom paint sprayed by Blue Moon Kustoms in Oshkosh, Wisconsin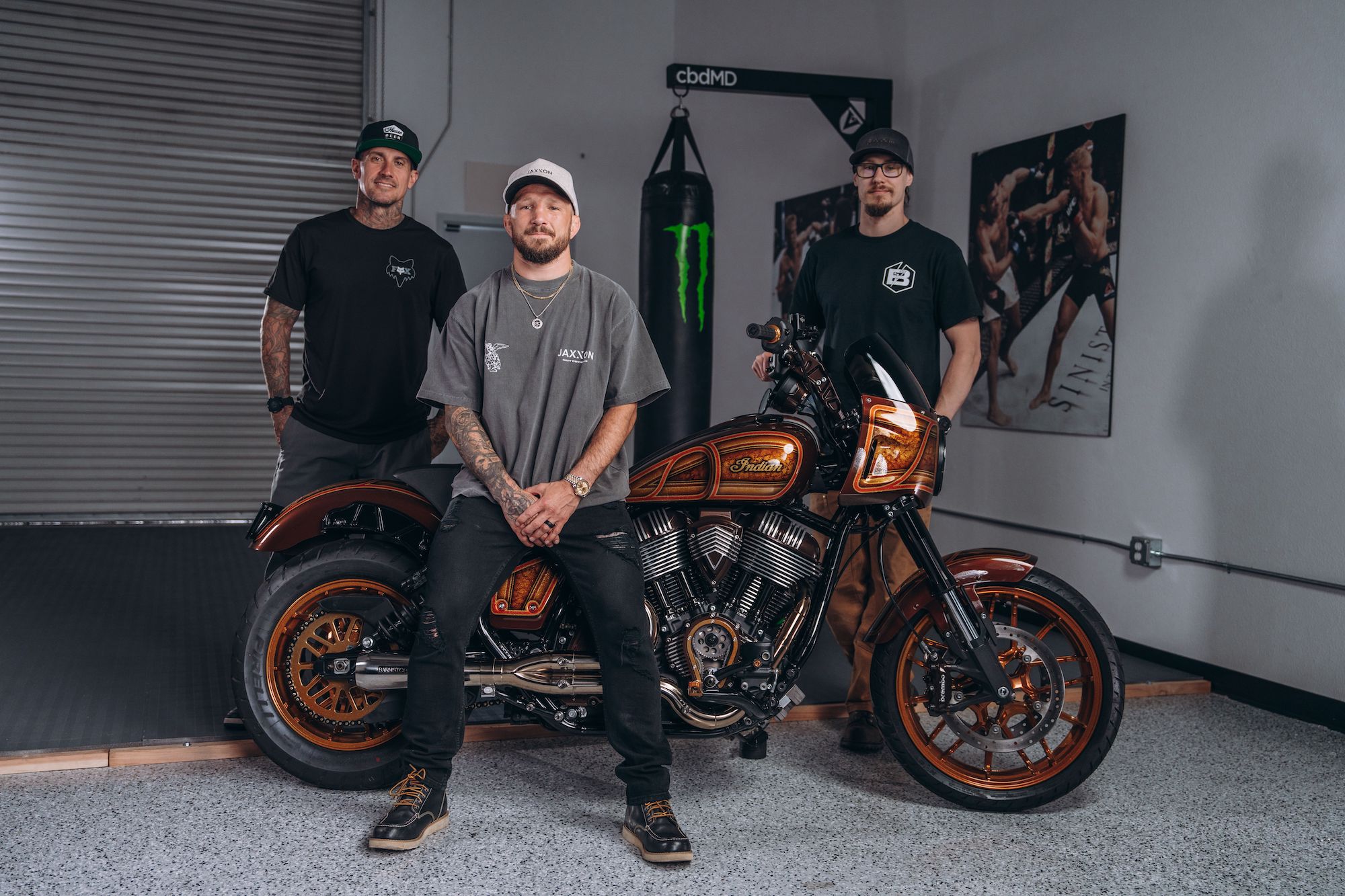 As for Dillashaw's reaction… let's just say he's excited. 
"It's perfect for my short ass, too… I can touch the ground!"
*Media sourced from Indian's recent press release*
This slideshow requires JavaScript.