Indian Motorcycle is so busy meeting demand for its range of Chief, Roadmaster and Scout models, it hasn't done anything about a trike … yet!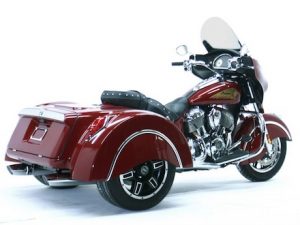 That hasn't stopped aftermarket trike companies developing trikes based on the Chief range and now the Roadmaster. We saw several Chief-based trike conversions at the Sturgis Motorcycle Rally in August.
However, Indian Motorcycle Asia Pacific and Latin Maraca boss Ross Clifford says trikes are "not something we are looking at at the moment".
"We have steered away from that one but we acknowledge that a large chunk of our owners like trikes," he says, insinuating it isn't something they will neglect for too long.
After all, Indian has catapulted parent company Polaris to "phenomenal" earnings, according to stock market analysts.
The off-road vehicle company grew its year-to-date revenue and net income 19% to the end of September.
While the company's core business of off-road vehicles contributed the most to its gain in revenue with no fewer than 18 new off-road vehicles for 2015, it was Indian Motorcycle that really put in the hard yards.
The popularity of the revitalised iconic brand contributed to a 62% year-over-year gain in its motorcycle segment, contributing 18% to the company's overall gain.
Through Indian and Victory, Polaris introduced four new motorcycle models for 2015 – Indian Roadmaster and Scout, and Victory Magnum and Gunner.
Motorcycle parts, apparel and accessories also contributed 19% to Polaris's overall revenue gains.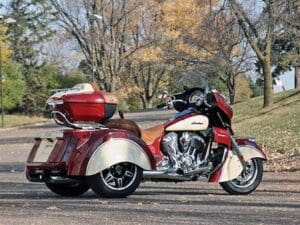 Meanwhile, back to the Indian trikes. The latest aftermarket Indian trike conversion is a Roadmaster from Minneapolis company Roadsmith who have also made a Chief-based trike.
The Roadsmith Roadmaster trike includes ABS, independent suspension, raked front forks and electric reverse. No price or tech specs have been revealed yet.
Of course, Indian would no doubt run into the same problems Harley-Davidson has encountered as a mass importer trying to bring in their trike under Australia's harsh rollover rules. It doesn't stop small-volume importers bringing them in, though! It also doesn't stop aftermarket companies such as Roadmsith from skirting the ADRs.
Maybe now that the federal government is looking to dismantle some of the arcane ADRs – such as axing the longer mudguard requirement – trike restrictions might also be waived.