When Indian Motorcycle introduced the blacked-out Chief Dark Horse it instantly became the top seller in the Chief line-up, so it was only a matter of time before a bagger version was released.
Welcome the Chieftain Dark Horse with matte black paint, solo seat and more black than chrome including the Indian warhead on the front front.
It brings the Indian model range up to an impressive nine since the brand was relaunched under Polaris stewardship in 2013.
For some riders black isn't dark enough, so a blacked-out variant will be a very welcome addition to the Indian stable.
In fact, some customers have been buying the Chief Dark Horse and adding screens and bags. Now there is no need.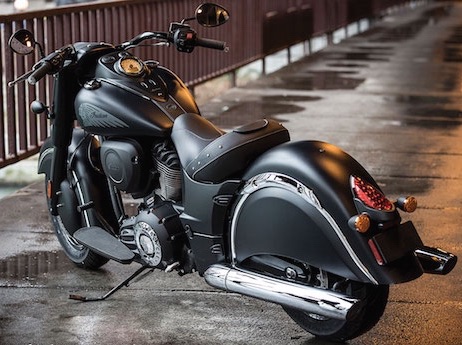 Like the Chief version, the new Chieftain retains a few chrome highlights on fenders, tanks, pipes and the polished fins on the engine, although the valve covers are a nice matte black to match the paint.
Apart from the solo seat, it retains all the features of the standard version, including the 111 Thunderstroke engine, cruise control, 100 watt stereo and electronically adjustable windscreen which is a little shorter and is only shown in the down position in all the photos. It goes up another 10cm (4 inches).
There are also accessory windscreens available in different heights.
So how much will a Chieftain Dark Horse cost in Australia?
Well, the Chief Dark Horse is A$1000 less than the Chief Classic, so the same 3.4% reduction would be about $1200 off the Chieftain at $35,995.
However, they will probably round it off to $34,995 as everything in the range ends with "$995".
Indian Australia spokesman Adrian Givoye says they are "not in a position to share availability timing or price as yet, though we are certainly interested in this model for Australia and NZ".
When it arrives, it will come with a wide range of accessories that will make it even blacker including blacked-out exhausts.