No sooner has Indian Motorcycle – or Victory Motorcycles – released a new bike these days, than they also unveil a special custom version like this one called The Redeemer.
This time it's the blacked-out Chieftain Dark Horse which has received a makeover thanks to Hollister Powersports of California.
The Redeemer includes a trendy 21-inch front wheel, cut-down fenders, exposed callipers, new wheels, matte-black ape hangers and some splashes of grey paint to give it a bit of flare.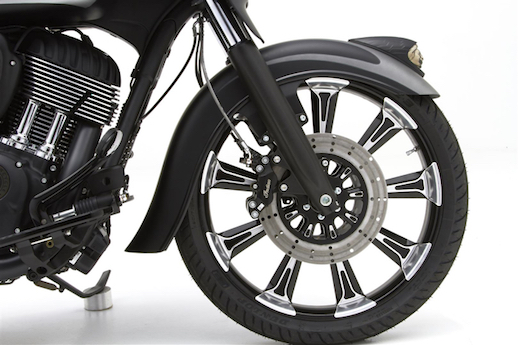 That's the beauty of the Dark Horse models. Like the Harley Dark Custom range, they are a great blank canvas for customisers.
Indian Motorcycle Australia spokesman Adrian Givoye confirms the Chieftain Dark Horse is coming, but can't say when or how much it will cost.
However, it will arrive with a wide range of accessories. Many will make it even blacker including blacked-out exhausts and air filters to make it even meaner.
That mean look was probably why Indian chose Hollister Powersports to do the custom job.
Hollister was the town where outlaw motorcycle clubs rioted in 1947, inspiring the classic 1953 film, The Wild One, starring Marlon Brando.
You don't have to customise the new Chieftain Dark Horse to look mean. It does that in its raw flesh/metal with its matte black paint, black valve covers, solo seat and shorty windscreen.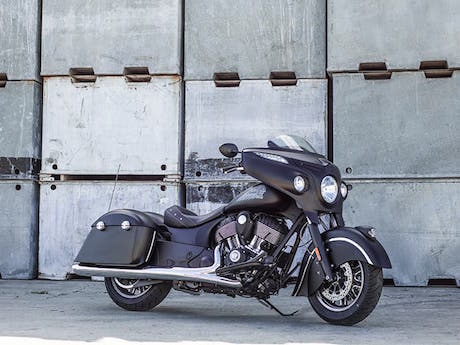 Otherwise, it retains all the features of the standard version, including the 111 Thunderstroke engine, cruise control, 100 watt stereo and electronically adjustable windscreen which is a little shorter.
We expect it will arrive in the next couple of months at $34,995, which is $1000 less than the Chieftain.