Rumours that the next Indian model will be the return of the Bomber or Dark Horse have finally been settled.
Indian Motorcycle has invited Chicago riders to brave the cold and sign up for their "Dark Horse Challenge Ride" through the freezing city on February 13, ending with the launch of the new model.
The invitation, together with recent Californian emission documents naming the Dark Horse model, confirm that the Chief Dark Horse will be the next Indian.
According to various online forums, there is not a hint of chrome in the blacked-out model which reflects previous Indian Dark Horse bikes.
So far, Indian has only revealed an image of the Dark Horse front fender.
However, the photo below has appeared online showing a matte-painted current-model Chief with bold riveted guards, brown leather bags and solo seat, frosted black headlight cowl and engine casings, and a traditional multi-coloured painted tank logo.
It appears to have been taken at an Indian dealership with staff wearing Indian t-shirts and a new Scout on the left and two-tone Chief on the right, so it's definitely current.
The original Dark Horse was built from 2010 to 2013.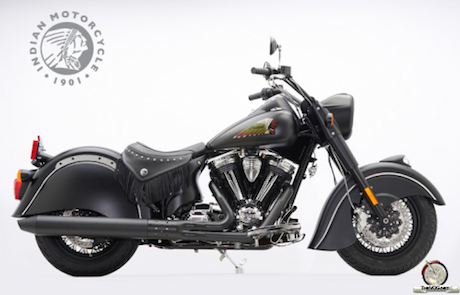 Indian Motorcycle marketing director Scott Meek describes the new Dark Horse as the "toughest Indian Motorcycle on the market".
"The Dark Horse is a bike that will separate its riders from the rest of the pack, and we think the Dark Horse Challenge will do the same," he says.
The bike uses the same 1811cc Thunder Stroke 111 V-Twin engine powering the Chief Classic, Chief Vintage, Chieftain and Roadmaster.
It is expected to be a stripped-down, solo seater weighing about 10kg less than the Chief Classic. It may also be the cheapest of the Chief line-up.
UPDATE: Here is the latest photo leaked online.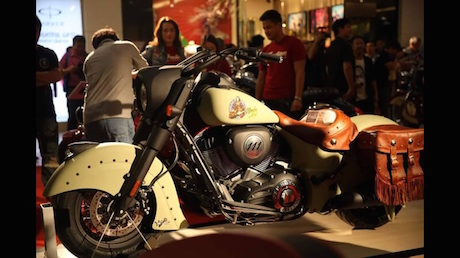 Indian is also rumoured to be releasing a "Springfield" model in August at the 75th annual Sturgis Motorcycle Rally. The name is a reference to the company's original home in Springfield, Massachusetts.