The Australian Government should offer incentives for the fledgling electric vehicle industry in the wake of the demise of domestic automobile manufacturing, says Savic Motorcycles.
Founder Dennis Savic (pictured above) plans to kickstart production of Australia's first full-size electric motorcycle, the Savic C-Series, this year.
He says the process of accessing a government investment grant or low-interest loan was too arduous.
"We would like more help from the government through grants," he says.
"But the process is so long and arduous that it simply takes too long to get through, and the timing/circumstance has to be borderline perfect.
"I looked at it and found the process so arduous that I would lose far too much time to make it worthwhile," Denis says. 
"But I understand why their process is significant."
He says he would also like to see tax and other incentives for electric vehicles as are offered in other countries to help his fledgling industry.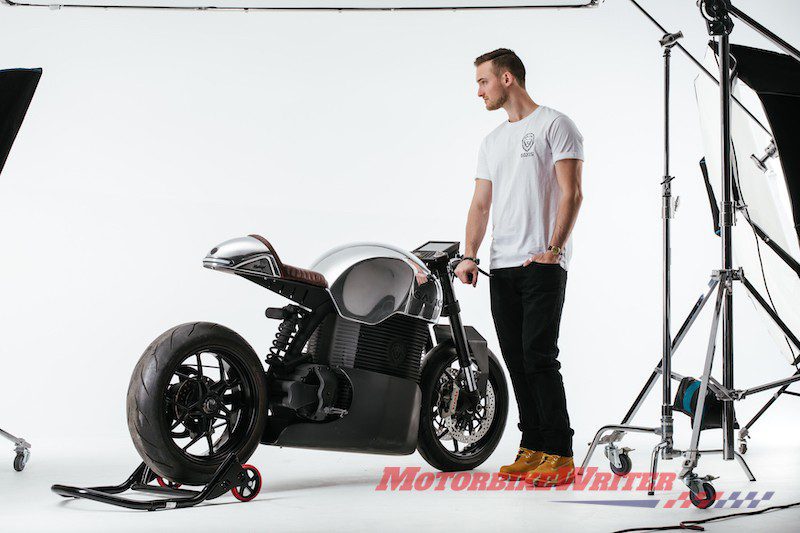 "As far as giving specific ideas on incentives, I'm afraid I'm probably not experienced enough on government capability and legislation governance."
In come countries, incentives to riders consist of tax rebates, free tolls and exemption from CBD bans.
Incentives call
His call for incentives for the industry and riders comes in the wake of the recent announcement that Holden would exit Australia next year.
"We're an Australia electric motorcycle business," he emphasises.
"We developed our own technology and we're kicking off production this year. 
"We need all the help we can get, but we're lucky to have really supportive investors and first customers."
Government incentives he would like to see include the Accelerating Commercialisation grant on a dollar-for-dollar basis, rent support and additions to the R&D claim. 
Show and tell
Meanwhile, potential Savic customers can get a better look at the bike and more technical details this week during a special Facebook "Show & Tell @ Fab9" this Friday at 6pm (AEDT).
"This is a first for us, and we're excited to delve into some of the engineering details and features our vehicles will have," he says.
"We will also share a few stories of our tougher times and other challenges."
Denis says they should have a Savic C-Series running within a week with a prototype ready in about a month for testing.
They are currently (pun intended) looking for premises in Melbourne to run their research and development as well as production in collaboration with a Taiwan facility.
Savic C-Series
Savic Motorcycles will make 49 C-Series cafe racer electric motorcycles available from November in three variants.
| | | | |
| --- | --- | --- | --- |
| Specification | Alpha | Delta | Omega |
| Power | 60kW | 40kW | 25kW |
| Torque | 190Nm | TBC | TBC |
| Range | 200km | TBC | TBC |
| Charge time | 4-6 hours | TBC | TBC |
| 0-100km/h | 3s 900ms | TBC | TBC |
| Price (+ORC) | $22,999.00 | $15,999.00 | $10,999.00 |
That's much cheaper than the Harley-Davidson LiveWire electric motorcycle which launched last year in the US at about $US30,000 ($A44,000).  It will be available in Australia late next year. Pricing is yet to be confirmed.
Denis says he hope to make his bikes available for test rides at the Australian Motorcycle Festival in Wollongong in November.
Buyers of the first production models will also receive:
Exclusive company updates first;
Lifetime membership providing exclusive discounts for all future Savic rider gear; and
Live updates and images of their bike build as it happens.
Each model comes with several battery pack options. The largest offered in the Alpha will provide range of up to 200km, while the smallest option in the Omega is expected to have about 50km range. 
Like all electric vehicles, peak torque is instantaneous and the Alpha will accelerate from 0-100km in 3.9 seconds.
By comparison, the LiveWire has city range of about 235km and highway range of about 150km and reaches 100km/h in three seconds.
Savic customers will be able choose a range of options in brakes, suspension, wheels, tyres and three colours – Spectre, Stealth, and Rustic.
Aftermarket upgrades will also be offered. 
The bikes feature a fully integrated, stressed, liquid-cooled motor and energy storage system.
Depending on the model and battery pack a customer selects, a single charge can provide up to 11kWh. That costs only $3 compared with about $15 for a petrol bike to travel 250km.