Inactive motorcyclists who haven't ridden for some time are being urged to ride again, especially for commuting, as the pandemic travel restrictions begin to ease across the country.
This comes as the national cycling lobby is calling for $300 million to be spent on bike lanes.
Inactive riders
Federal Chamber of Automotive Industries motorcycle manager Rhys Griffiths points out that there are about 2.1 million licensed riders in Australia and about 870,000 registered motorcycles and scooters.
That means there are about 1.2 million inactive riders with a licence, he says.
"COVID-19 has changed the way we go about our lives.  Motorcycles and scooters present a clever solution to the challenges the pandemic presents," he says. 
"A motorbike might well be the best way to maintain social distance without creating congestion. Riders can avoid the contagion risks presented by public transport, while cutting commute times by lane filtering through increased traffic. 
"So the message is, get them out of the shed, get them serviced and get riding. If you haven't got a bike, your local dealer is open for business." 
Rhys says the plea to inactive riders will be a theme of their fourth Ride to Work Week in September 2020.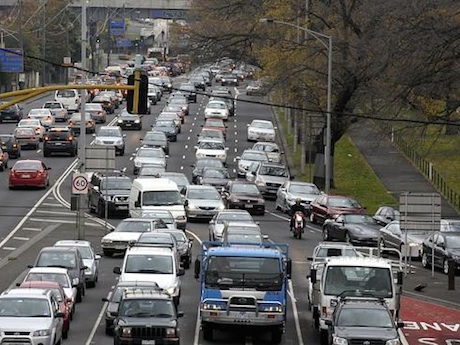 He says they will generate awareness through the website and social media.
The FCAI message to inactive riders follows recent surveys which suggest commuters will avoid public transport.
The fear is that this will send Australia from lockdown to gridlock.
The FCAI says motorcycle and scooter riders have two advantages:
They can mitigate infection risks by maintaining social distance; and

As commuter traffic volumes potentially increase beyond pre-pandemic levels, riders can nimbly negotiate traffic and park conveniently, cutting commute times.
Rhys also reminded riders to strictly observe all social distancing and contagion control requirements, and to regularly disinfect helmets, gloves and any high-touch surfaces on vehicle controls.
He also advises riders to consult their DIY guide to ensuring your motorcycle is ready for the road.
Cyclist lobby calls for bike lanes
Meanwhile, the cyclist lobby is putting pressure on the federal government to spend $300m to build more bike lanes as post-pandemic traffic is expected to explode.
The national cycling safety charity Amy Gillett Foundation has commissioned a national poll which shows "massive support" for safe separate cycling infrastructure.
They claim a "doubling in cycling participation during the coronavirus lockdowns, as Australians turn to bikes for effective social distancing, for transport, enjoyment, and exercise".
The Foundation is calling for $300m to be allocated from the $3.8billion infrastructure commitment made in late November 2019 by the Federal Government to build bike lanes.
They say the investment could be made immediately as part of the $500m Local Roads and Community Infrastructure announcement last week (22 May 2020).