IMMIX Racing Luggage Rack for the Suzuki DR-Z400S
The addition of a 2003 Suzuki DRZ-400S to my "stable" was for the sole reason of returning to complete the Trans-America Trail ride.
The plan was to locate much smaller dual-sport bikes for the tough terrain we would be encountering through the western half of the U.S.A.
I was looking for a good, sound, used Suzuki DR-Z400S.
I would equip as necessary (and as cheaply as possible), then sell it after our return in order to recoup some of the cost of the trip.
I chose this particular bike because it already had a few items on it that would be needed, such as an oversized fuel tank, radiator guards, heated grips and a re-done suspension to name a few.
One thing it didn't have was any sort of luggage rack on the rear to load and secure the bags we would be taking along.
At first, I made a simple cross bar from, of all things, a length of aluminum box channel that had at one time been the handle on an old vacuum cleaner.
Yeah — I can hear you chuckling from here.
But at the time, I thought it was a great idea and it looked good too; just not enough of a structure in the end (no pun intended).
I don't have a means of welding my own rack, so it looked like I was going to have to actually buy one.
A search resulted in quite a few hits…but wow, those things were expensive and I was far from the end of the list of improvements still needed for the bike.
Finally, I came across this IMMIX Racing luggage rack for about half the price of most of the others.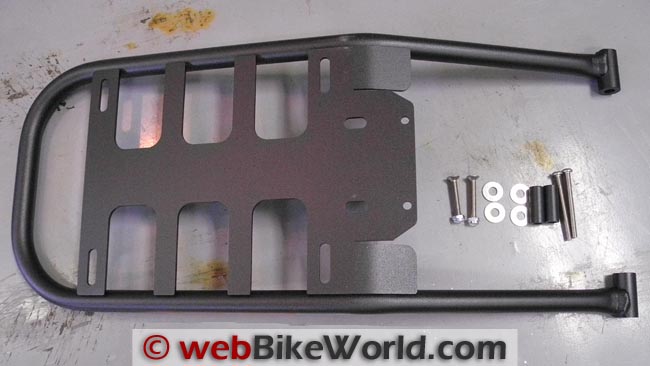 IMMIX Racing
"IMMIX Racing was started to fuel the passion from motocross to adventure riding and everything in between", according to the company.
Their location in the Rocky Mountains of Utah provides IMMIX Racing with the perfect proving grounds for their products for both motorcycles and ATVs.
Their luggage racks are made here in the old U.S.A. and sold direct to the consumer.
It looks like they specialize mostly in cargo racks and skid plates, but they also have side stands, pipe guards and bar risers available. There's also a category for fuel tanks, but no actual listings.
All of the IMMIX Racing products I found are made in the U.S.A. and are what the company refers to as "amazingly simple, yet elegant solutions". Sounds good to me…
For Luggage racks and bash plates, IMMIX Racing caters mostly to the dual-sport and off-road crowd, including the Honda XR650; Kawasaki KLR250; Suzuki DR650 and DR-Z400S and the Yamaha TW200, WR250R, XT225 and XT250.

IMMIX Racing Luggage Rack Details
No, it isn't CNC machined from half-inch 6061 billet aluminum…but do I really need to spend $160 for a rear luggage rack?
Instead, the IMMIX Racing luggage rack is laser cut from "premium steel" (whatever that is) with a "durable powder coated finish".
This one fits the Suzuki DR-Z400S, DR-Z400SM and the Kawasaki KLX400SR.
The welds are nicely done; it weighs less than 2.2 kg (~5 lbs.) and comes with all the necessary installation hardware.
I'm more concerned about the function of a product that the shear appearance, and besides, chances are it's going to get beat up a bit on the trail anyway.
With a 23 cm wide by 35.5 cm (9″x14″) long platform, the IMMIX Racing luggage rack actually extends far enough back to provide some protection for the tail light assembly on the DR-Z400S.
While loading my bags in a trial fitting, the length of the rack helps to keep the bags from drooping down and obstructing the brake light lens — a definite plus in my book!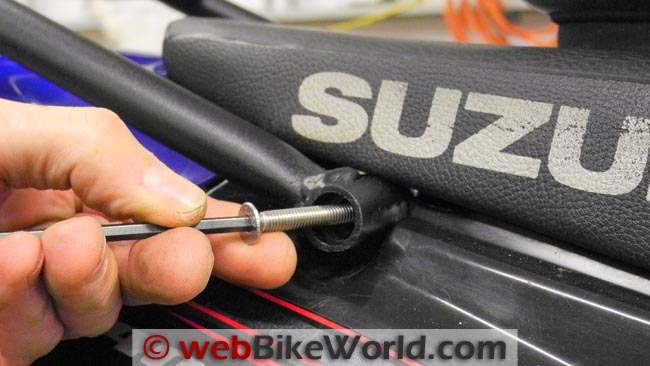 Installing the IMMIX Racing Luggage Rack
Installation was a straightforward operation. I had already removed the stock Suzuki tool bag on the rear fender, so that part was done.
The only other thing was to remove the two bolts that secure the seat to the frame on either side.
There were no installation instructions included with the rack, but by looking at the pictures on their website I could see they had installed the large flat washers for the two rear bolts against the fender itself which pinches the fender against the inner sub-frame.
When I fabricated the crossbar for my first aborted attempt at a luggage rack, I had machined two spacers with a beveled edge to better match the angle of the rear sub-frame/fender contact point. Since these were on hand, I chose to use them instead.
Hopefully this won't cause a problem, although I'm currently considering removing the spacers and using fender type washers in order to spread out the stress on the sub-frame instead of concentrating it at the spacers.
When I went to line up the bolts into the seat mounting points, I noticed that the side bars contact the body work just aft of the bolt.
What with all the scratches and scuff marks already on the bike this was of no concern to me, but it could be for someone else.
With the new longer hex-head bolts for the seat mounts started, all of the bolts were tightened. With the rack fully tightened down I can easily pick up the rear of the bike via the luggage rack, so it's pretty sturdy.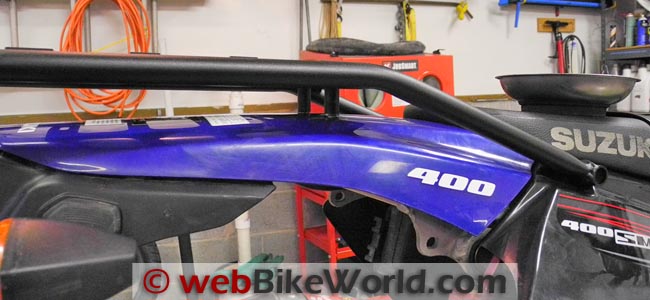 Seat Removal?
I was concerned about how difficult it would be to remove the seat with the rack in place. But this fear turned out to be unfounded, as I found the seat was no harder to remove and install with than without the rack in place.
This brings me to a bigger concern: the new seat bolts use a 4 mm Allen head wrench instead of the previous hex head bolt on the Suzuki. I have removed the seat several times now and I'm really worried that the hex on the small 4 mm Allen bolt is going to strip.
Because it's a "Thumper" (single-cylinder engine), the DRZ-400S has a lot of engine vibration and I'm worried about the seat bolts coming loose; thus, I like to make sure they're tight. With only a 4 mm head, it's not going to take much torque to round it out and then where we I be?
I think a tapered spacer and bolt might be a better arrangement, so I just might have to do some fabricating of my own.
To ensure the luggage rack's versatility, IMMIX Racing has designed it with a forward tab where the stock tool bag can be re-mounted along with slotted holes and multiple tie-down points.
And there's more! Not only is it pre-drilled for mounting a Rotopax fuel container (another item I have an eye on), it's also compatible with the GIVI Universal mount and many Pelican cases.
I was unable to find any reviews from long-time users of the IMMIX Racing luggage rack, nor how much they were able to safely carry, so I guess I'll have to find that out on my own. Knowing how tough the Trans-America Trail can be on equipment, it could get a thorough beating.
Actually, the rear sub-frame strength (or lack of) on the DR-Z400S is going to determine the weight limit for the luggage rack, not the rack itself, I suspect. I'll be sure to report back on how everything performed after our trip.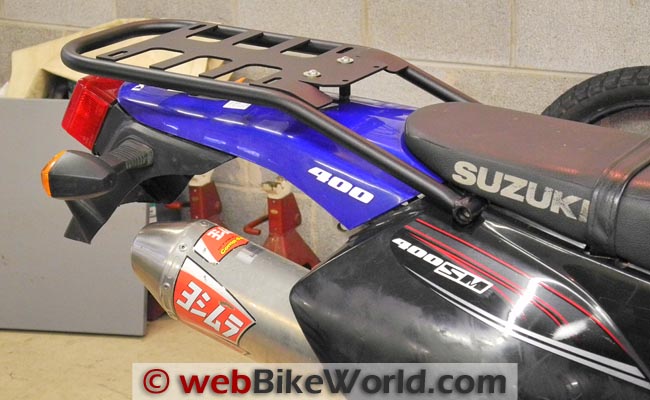 Conclusion
Is it necessary to spend $160+ to get a well-built rear luggage rack for a DR-Z400S? Not in my opinion after finding this nicely-made unit from IMMIX Racing.
It's easy to install using the included hardware and the existing mounting points on the bike and it looks right at home with its narrow profile.
It has a simple yet rugged construction and a consideration of what the end user might want to carry included in its design. I think it will perform as needed.
More wBW: Suzuki DR-Z400S Blog  |  Motorcycle Luggage Reviews
w
BW
 Review: IMMIX Racing Luggage Rack
List Price (2012): $89.97
Made In: U.S.A.
Colors: Black
Sizes: Fits many dual-sport bikes.
Review Date: July 2012
From "H-F.B." (June 2013): "I have a Suzuki DR650 (blog) and I did a week long trip last year to find out that the Pro Moto Billet rack was very light and nice looking, but a little small and somewhat hard to attach my luggage to.
I have been looking for a new rack when I found Moto Racks. I drove down there last weekend and Tom the owner installed them in 2 seconds. I think that I have found what I was looking for.
Sturdy, not to heavy, moving the weight forward and fixable everywhere in the world, just the right size.
Talking with him I found that he was primary a DR-Z400 fan, and he sells racks for them.
Great service, great guy. I just thought of letting you know, since I really like what you are doing.  Thanks, I just loved meeting him and looking at where the racks were made."