Kriega R30 Backpack Review Summary
Review Summary
The Kriega R30 is the second largest option of the company's many backpack models. Made from premium materials, this is a rugged piece of equipment that should stick around for many years to come. It features a primary compartment with a roll-top design making it fully waterproof, and two smaller, water-resistant pockets. The Quadloc harness system translates to less strain on the shoulders and a backpack that doesn't move around while you ride. If you're looking for a bag that can fit a few days' worth of items and don't mind the relatively heavy price tag, this might just be the one for you.
Pros
Waterproof primary compartment
Quadloc system reduces weight on shoulders
Doesn't hinder mobility while riding
High-quality materials
Option to attach additional Kriega products for more storage
Pocket for hydration bladder or back protector
Cons
Expensive
Noticeably heavier than a conventional backpack
Uncomfortable without Quadloc harness secured
Sizeable Quadloc system makes it difficult to access jacket chest pockets
Kriega R30 Backpack Image Gallery
Review Summary
Largest Kreiga backpack with a fully waterproof, roll-top design.
The dual Quadlock harness design transfers weight from the shoulders onto the chest, reducing shoulder strain over long rides.
A removable and replaceable inner waterproof liner makes maintenance easier.
The Kriega R30, like most of the company's products, comes with features to add on auxiliary storage like the US Drypacks or the Trail pockets.
What is the Kreiga R30?
Kreiga, as a lot of you are probably familiar with, is a British company that manufactures some of the best luggage solutions for motorcyclists — from waist pouches to fit your essentials to modular packs that have accompanied several riders in adventures across the globe.
The Kriega R30 is one of the largest offerings (second only to the Kriega R35) in the company's extensive backup portfolio. At the time of writing this, it's priced at $239 on the official US website, which is a rather tall ask for what, at first glance, is a roll-top rucksack with two external pockets. But, as I've learned over the last six months with the Kriega R30, you shouldn't always judge a backpack by its pockets.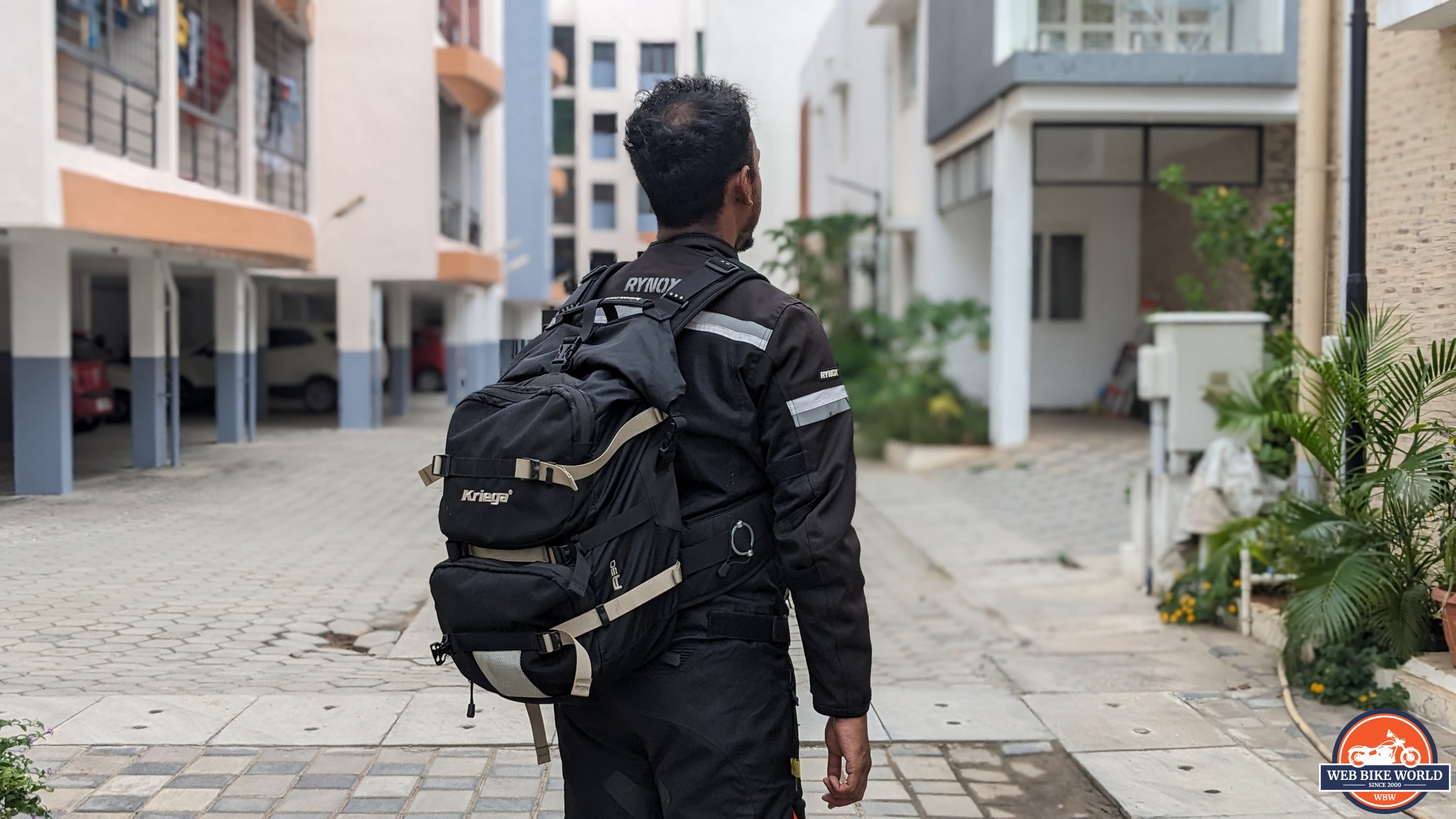 Construction and Materials
Kreiga has employed some premium and technical materials to put the R30 together. Most of the backpack is made from 420D rip-stop nylon, apart from the base and harness that use 1000D Cordura. Both these materials are extensively used in the backpack and adventure gear industries for their impressive abrasion resistance and lightness. As you'd expect, most of my time with the R30 has been on a motorcycle, but I occasionally use it as my everyday carry. I've set it down on tarmac and dirt several times, and I can confidently say there are barely any signs of wear.
I've met several people who own some form of kit from Kreiga, and interestingly, most of them have told me they've had their products for several years and haven't had any reason to complain about the quality. I've had the Kriega R8 waist pack for about a decade. While it doesn't accompany me on every ride, it's been through some pretty testing times, and aside from some discoloration, it looks like it did the day I got it. I'm pretty confident I can expect the same longevity from the R30.
Moving past the materials used, the Kriega R30 features a plastic insert along the length of the back that keeps it upright even when empty and provides support when worn.
Other helpful features include the brand's signature alloy adjusters that let you easily set waist tension and hide away loose strap ends. These alloy rings come with a chord that you can simply tug on to tighten or loosen the way the harness wraps around your body. This is also an excellent time to discuss another of Kreiga's signature features — the Quadloc harness — but I've covered that in more detail below, under the 'Comfort' section.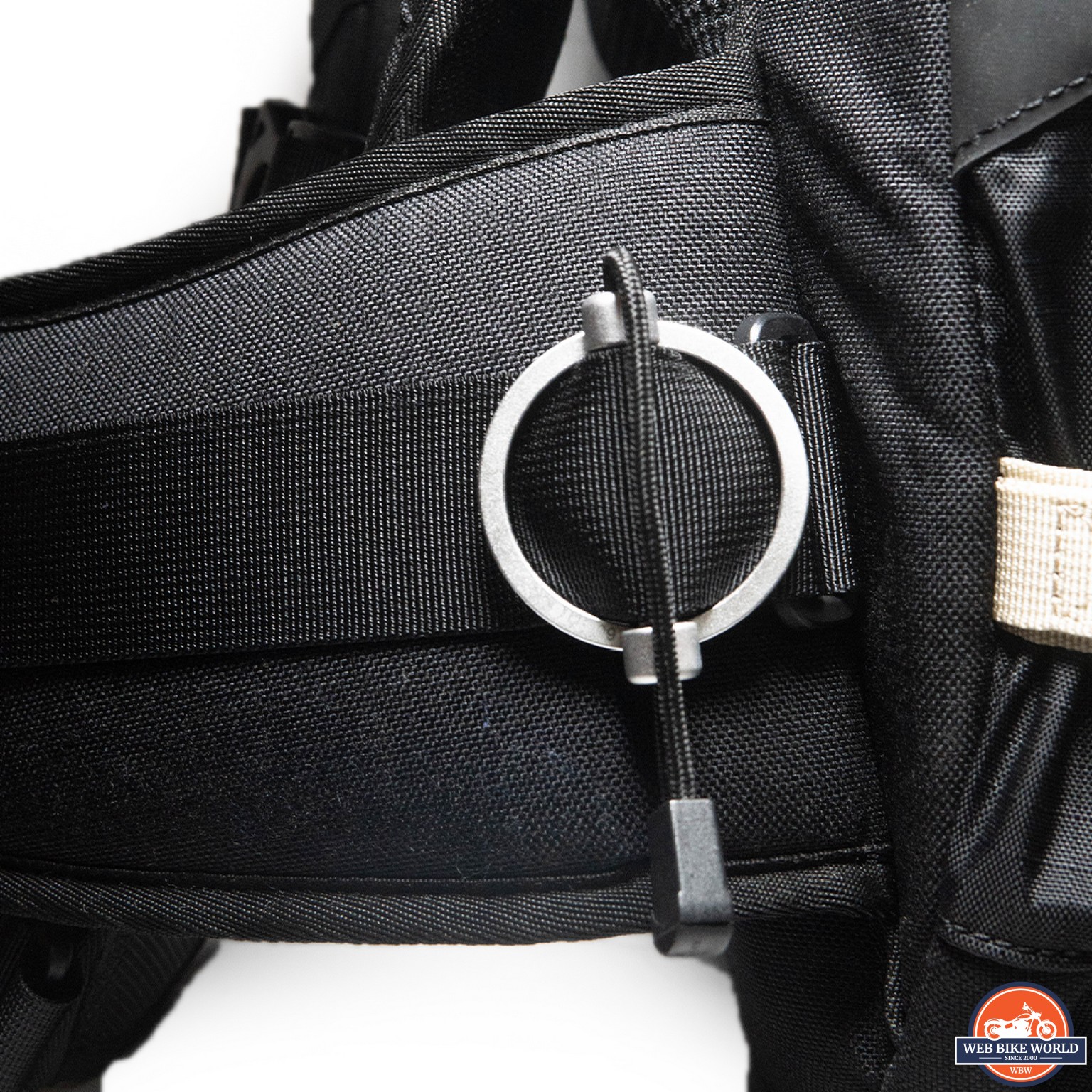 Lastly, you'll find reflective patches on the main body of the backpack and on the shoulder straps, making up for any that the bag may cover on your jacket when worn.
Storage
The Kriega R30 features three pockets — the primary storage compartment and two smaller exterior pockets. The main pocket is designed to be fully waterproof with a roll-top design and waterproof liner, while the secondary pockets are water resistant.
Main Pocket
Unlike the larger Kriega R35, this R30 boasts a roll-top design that makes the main pocket completely waterproof. This primary compartment features a removable waterproof white lining. If you ever wear yours out or damage it, the brand sells a replacement liner currently priced at a reasonable $23.
My first serious ask of the Kriega R30 was over a week-long trip that included about 800 miles of riding. While I had a more practical, bike-mounted luggage solution to carry my stuff, I was curious whether I could just make do with the backpack. And I'm happy to report that I fit everything I needed into my bag. Granted, I did pack relatively light, knowing I'd be able to do some laundry at the Airbnb I was staying at, but the R30 can fit a pair of jeans, three T-shirts, just as many shorts, and a 15-inch laptop with some room to spare.
External Pockets
The external pockets fit some electronics — chargers for my phone and laptop, a power bank, a GoPro, and some of its accessories — and some other smaller items like a notebook and a pen. These pockets also feature compression straps that you can use to keep them snug. While they are not completely waterproof like the main compartment, they come with water-resistant YKK zippers. I rode through some pretty heavy rainfall on the first day of the ride, and it slipped my mind that the secondary pockets were not waterproof. Luckily, they held up excellently, and everything I mentioned was dry when I checked into my hotel room that night.
Kreiga has put a lot of thought into refining the little things. For instance, the compression straps feature plastic clips that you can use to secure the loose straps, ensuring nothing flaps around when you're riding.
In my opinion, the Kreiga R30 offers all the space you could possibly need from a backpack.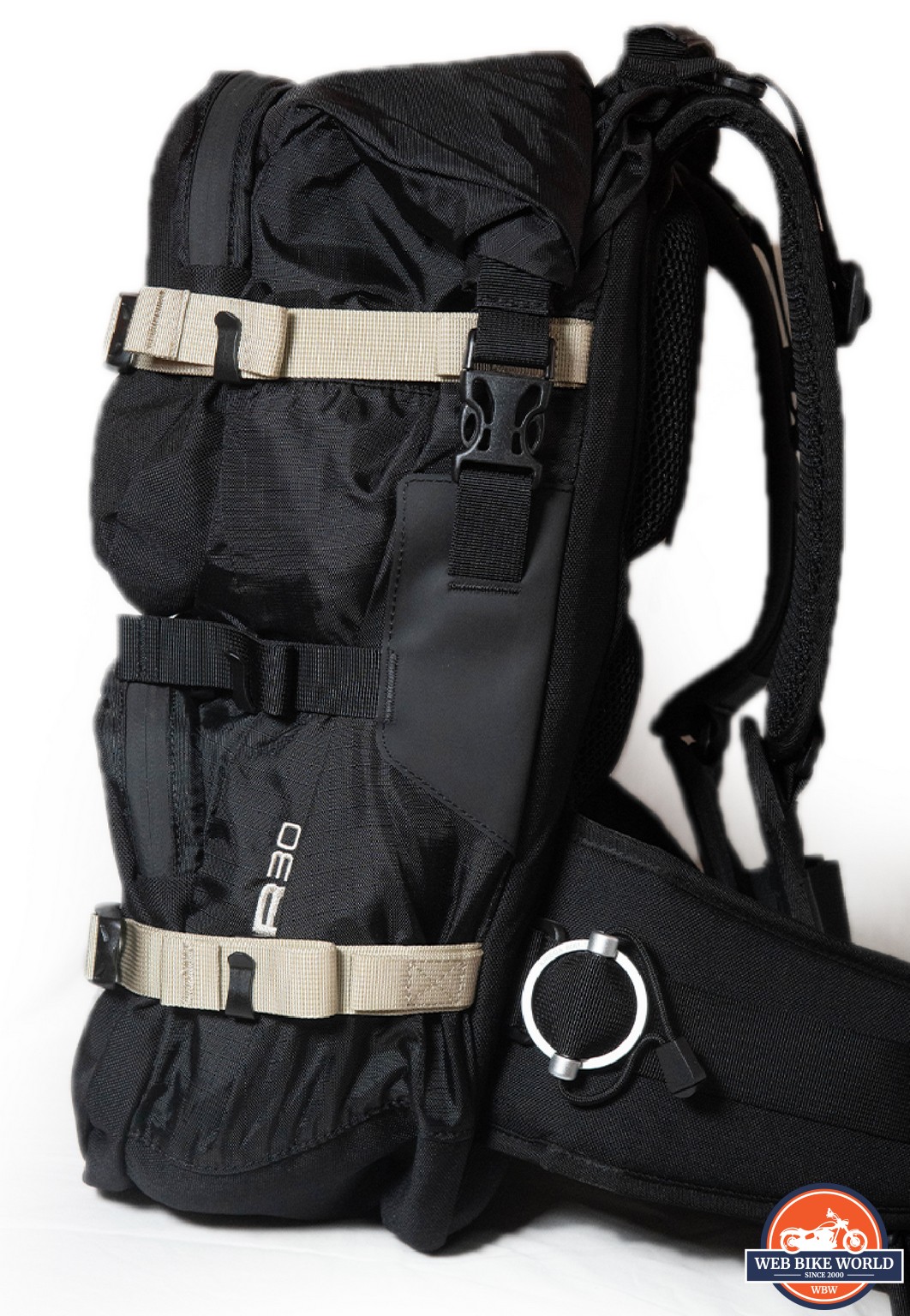 Hydration Bladder
Behind the inner waterproof lining, you can find a pocket that you can use to add a hydration bladder or back protection. There's a small hole on the side facing your back, through which you can route the hydration tube out of the backpack and onto the shoulder straps for easy access.
Even More Storage
Kreiga is known for its modular storage options. Nearly every product they offer allows you to pair them with other packs in some way for additional storage. In the case of the R30, you can add the Kreiga Trail Pockets or Harness Pockets to the shoulder straps for quick and easy access to any essentails like your keys or phone.
Or, if you fancy even more space, a US-10 Drypack will be a sensible addition. But, if I had that much to carry, I'd opt not to have it all on my back and have it on my bike instead.
Comfort
A key factor that sets a premium motorcycling backpack apart from a run-of-the-mill one is how it feels on a motorcycle. The Kreiga R30 fairs remarkably well in this regard. The last thing you want from a bag is constantly being reminded you're wearing it.
Quadloc Harness
One of the main factors contributing to this comfort is the company's trademarked Quadloc harness system. For the unfamiliar, the Quadloc is a four-point, X-style design that drastically improves two aspects of wearing a bag on a motorcycle. First, it makes wearing the backpack much more straightforward. Second, the design transfers most of the weight from the shoulders onto the chest. The X-style design also ensures that the weight on your chest is more evenly distributed, unlike with a conventional chest strap.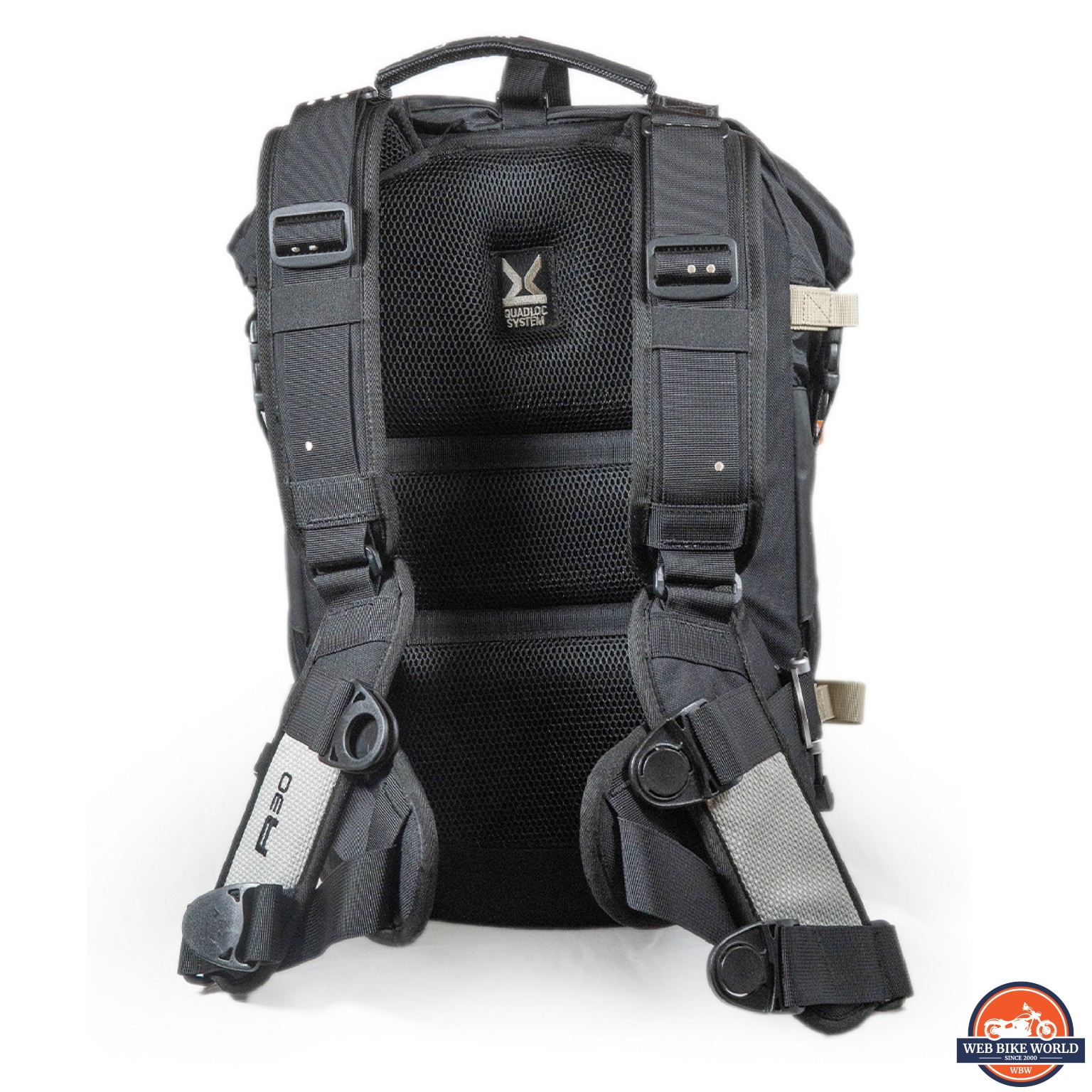 The Quadloc system and how it mitigates the weight on your shoulders is the primary reason many riders buy a Kreiga R30. That said, there are some areas that this system could use improvement. The Quadloc harness uses a clip-type system that requires you to slide one side into the other, locking it into place. This is a relatively straightforward step. Undoing the harness, on the other hand, took a little getting used to. In both cases, you might require the help of both hands, depending on how full the backpack is and how tightly against your chest it's resting.
My only issue with this system is that two Quadloc harnesses that the Kriega R30 uses take up quite a bit of real estate across your chest and make it near-impossible to access any chest pockets you might have on your motorcycle jacket.
The Velomacchi Speedway backpack that Jim tested out a few years ago appears to use a slightly similar but improved iteration of this technology assisted by magnets for quicker and more intuitive use.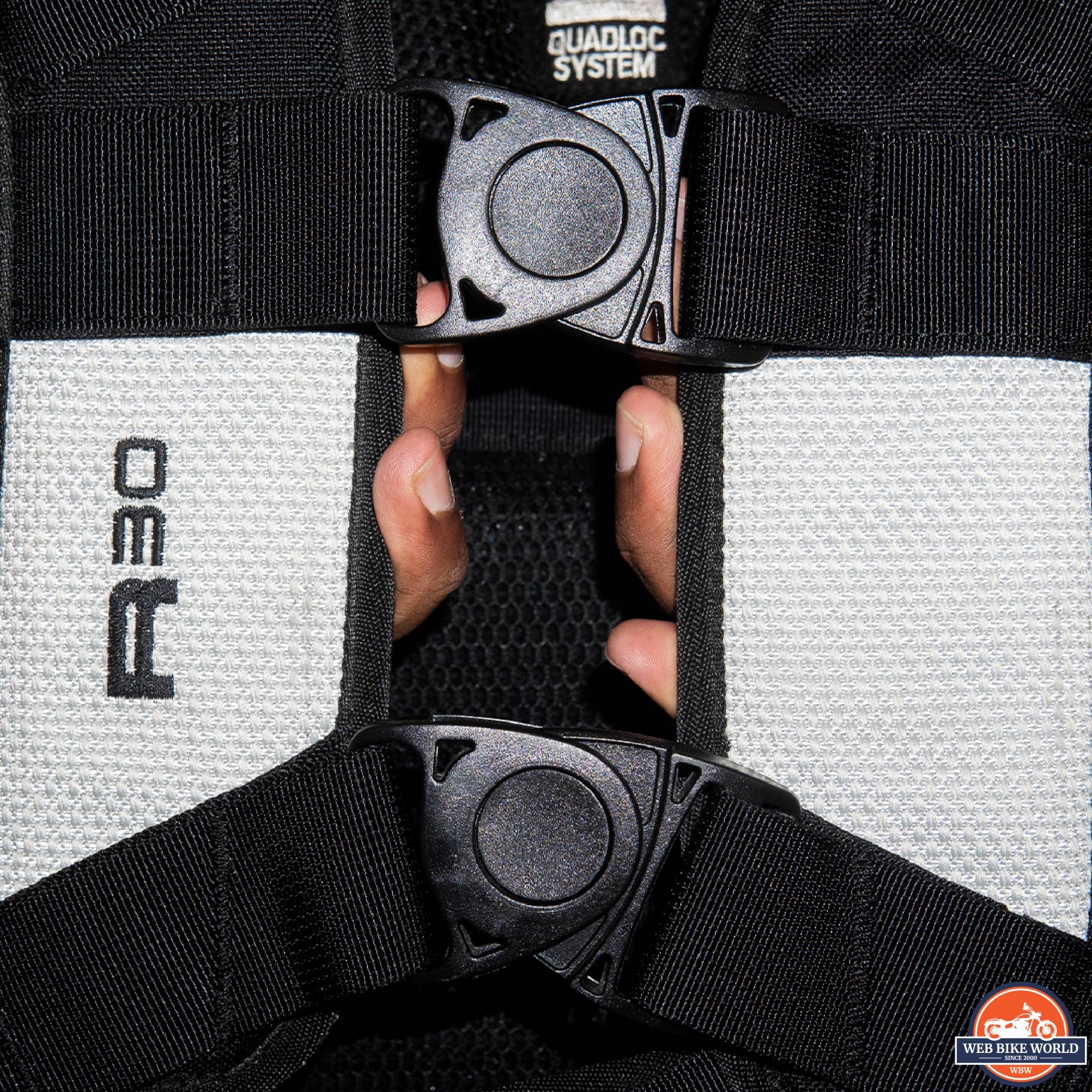 On and Off the Bike Comfort
It's worth noting that the Quadloc system will not eliminate the sensation of wearing a backpack, but it does a damn good job of keeping it close to your body, allowing you to move freely on a motorcycle. On my KTM 390 Duke, I found that loosening the waist harness slightly would enable the backpack to rest on the pillion seat, reducing the pressure on my chest even further. This did mean that the pack did hang marginally lower when I was off the motorcycle, but with the quick-adjusting metal loops, I could have that corrected in a matter of seconds.
The shoulder straps also have markings, so you can perfectly adjust both straps evenly and not have to fidget around trying to get them to match. There's also 3D mesh foam padding across the entire back, enabling decent airflow.
The Kreiga R30 is not a light backpack. At 1,600 grams, it's got some weight to it even when entirely empty, and if you don't intend to carry a lot of stuff often, you'll be better off picking one of the smaller units in the Kreiga line.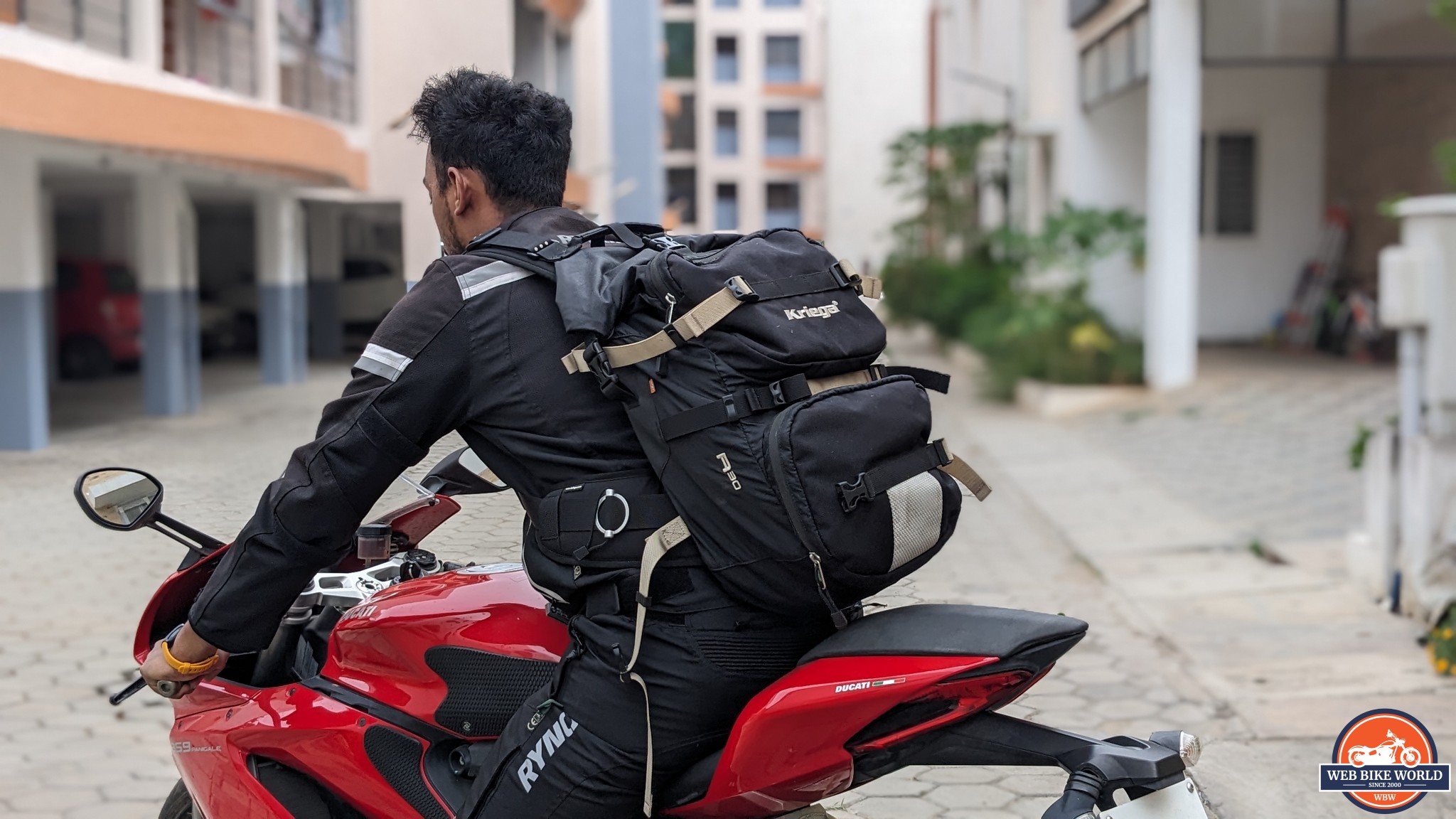 Verdict
My closing remark is that more is not always better. The added space the Kreiga R30 has been designed to accommodate does mean it comes with a heavier construction. So if you're looking for something you intend to use solely on your daily commute to carry some essentials, you might be better off opting for one of the smaller models in the lineup — like the R22, which also has a waterproof roll-top design.
If you're going to be wearing a backpack when you ride, it makes sense to get one that's been designed for use on a motorcycle. With all that's on offer, the only inhibiting factor with purchasing a Kreiga R30 has to be the price. With prices fluctuating around the $250 mark, this is one of the more expensive options. That said, you get what you pay for, considering that these backpacks are known to last for many years without failing. Kriega also offers a 10-year warranty, and from what most long-term owners have to say, you'll probably never have to make a claim.
Pros
Waterproof primary compartment
Quadloc system reduces weight on shoulders
Doesn't hinder mobility while riding
High-quality materials
Option to attach additional Kriega products for more storage
Pocket for hydration bladder or back protector
Cons
Expensive
Noticeably heavier than a conventional backpack
Uncomfortable without Quadloc harness secured
Sizeable Quadloc system makes it difficult to access jacket chest pockets
Specs
Manufacturer: Kreiga
Price (When Tested): $239
Weight: 1600g
Size: 30L
Review Date: July 2023
Important Links / Where to Buy