Australian company Ikon Suspension has been around in one form or another making riders more comfortable and safer since 1962.
So when we wanted to update the very basic suspension on our Ducati GT1000 project bike we went with Ikon.
Standard suspension on most road bikes is usually a compromise. However, even a budget set of fork springs and rear shocks or a mono shock will make a substantial improvement.
Riders can expect a better ride quality on bumpy roads, lighter and more direct steering, better braking and improved acceleration. it's all because the tyres are now gripping the road more than bouncing off it.
Ikon selection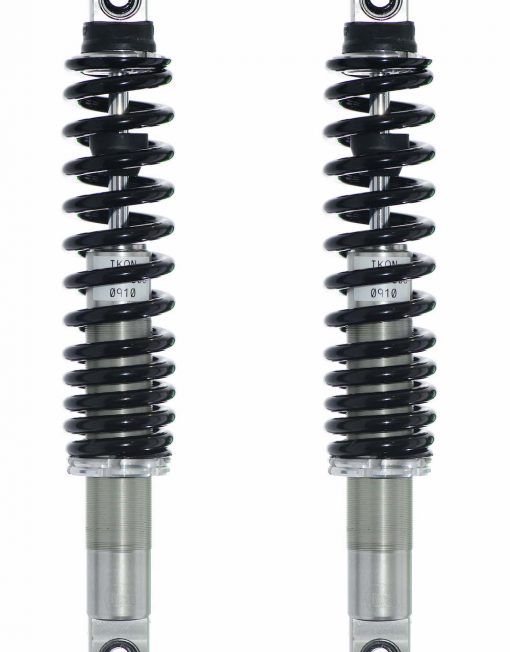 Ikon Suspension director Geoff Lowe suggested 7614 series dual rear shocks ($682) and a set of their progressive fork springs ($88).
Read here about our decision on progressive versus linear springs.
Read here about the fitting process.
"When it comes to the GT1000 we have certainly found the results using progressive rate springs to be most impressive," Geoff says.
"Comfort, support and responsiveness over the range of normal conditions are achieved.
"Could we do that with a linear rate spring? Yes. Would it be as good as the progressive rate approach? Probably not."
I told Geoff that I was not interested in track days, but wanted sporty handling yet with enough touring comfort to handle our gnarly country roads.
"As a personal preference, given what you are endeavouring to achieve, I would go for the 7614 series," Geoff told us.
After expert fitting at Oliver's Motorcycles, we set off with the shock rebound set at 4 for sporty two-up riding. The forks are non-adjustable but now have a lighter fork oil.
Fork response
Instantly the bike felt lighter and more precise. The first few corners just fell underneath the bike with minimum counter-steering input required.
After a few more corners with some bumps, I found I could lessen my grip on the bars.
Previously the bike felt nervous. The front wheel chattered over bumps and there was violent headshake. My knuckles turned white from hanging on.
After a trip from Sydney to Brisbane when I picked up the bike from its previous owner, I felt like I needed a major neck, back and shoulder massage.
However, the progressive fork springs take out the pains of riding. They soak up the initial bumps well and keep the tyre on the ground, which is always handy!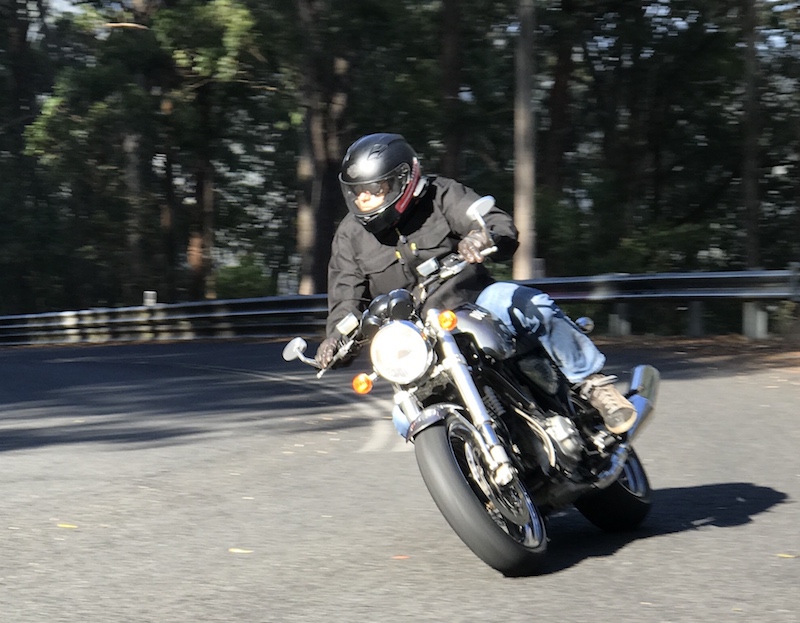 There is less kickback through the bars and a plusher ride.
While the fork dive is similar to before, the front brakes seem to work better because there is no chattering.
Rear suspension
The rear shocks have four positions of rebound adjustment with clicks in between each number for fine tuning.
Position 1 is for smooth damping and a solo rider, 2 is for a rider and occasional pillion on average roads, 3 for sporty riding and extra loads and 4 is for touring two-up with luggage.
We set off on position 4 which felt a bit too firm, so we backed them off until we got down to 2 where they started to feel a little too plush and out of synch with the front.
At 3 it is feels best for solo riding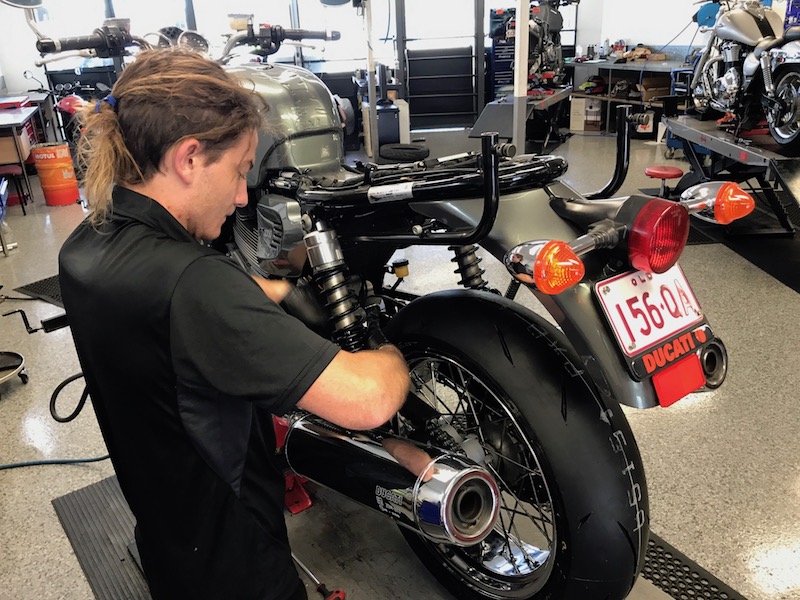 For general use, I'll probably leave it at 3 and hopefully won't have to fiddle around for varying loads.
The result is a better ride, faster cornering because the front and back seem to be in unison and improved braking and acceleration because the tyres have better contact with the road.
Conclusion
You don't have to spend a fortune to improve the road manners of your bike.
All up, it will cost about $770 for dual shocks and fork springs and about $400-$600 for fitting.
Ikon Suspension has done a great job of turning a very basic-handling bike into one which will carve trough the mountain twists without breaking my back when I hit those ubiquitous lumps and bumps.
It's also now a much safer bike. And it won't cost much more than $1000.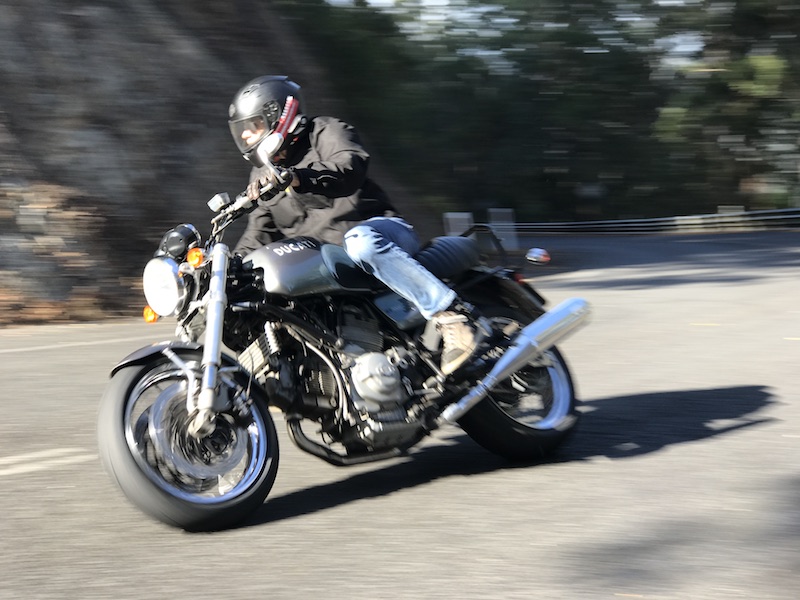 About Ikon Suspension
Dutch company KONI B.V. made motorcycle shock absorbers from 1967 to 2000 which were imported into Australia by Proven Products Pty Ltd.
In 2001, Proven signed an agreement with KONI to manufacture the shocks as Ikon Suspension in Australia for the worldwide market.
Proven then started manufacturing their own line of shocks and springs based on the original KONI formula.
They introduced the 7614 series of modern aluminium-bodied shocks for road bikes, vintage off-road and motocrossers, then added fork springs to its line-up and progressive rate springs are now available.
They have now added 3214 mono-tube aluminium-bodied shocks for road and off-road bikes and non-adjustable budget Basix shocks.
Ikon points out that their shocks absorbers can be designed with stronger springs and valving to increase comfort and performance over the OEM shocks.
"When supplying shocks we prefer to get the rider's weight, pillion weight (if applicable) and any gear/added weight so that we can produce a set-up for the individual customer's needs," a spokesperson says.
"We have produced a large range of items over the years that accommodate pillions, extra heavy loads, added sidecars, etc.
"Although our shock absorbers can be designed for extra heavy loads in most cases; we must point out for safety reasons that the customer should be aware of the manufactures recommendation for load capacity and should still adhered to that load capacity or consult further with a motorcycle engineer."
(Ikon Suspension supplied the shocks and springs for free.)