Once moving, a heavy motorcycle doesn't feel so big, but at slow speeds and in tight spots, it can be a real handful. Not so for this highly skilled US cop!
Have you ever seen riders on big Harleys wobbling through slow traffic or trying to execute a u-turn by paddling with their feet on the ground, then suddenly stopping and dropping the bike?
I know I've done it and I've seen it happen on many occasions.
Yet, there are some riders who have no troubles. Just watch the video of the cops in the police motorcycle games at the 105th world HOG Rally in Milwaukee or the winner of the slow riding "race" at the 2015 annual HOG Rally in Tamworth.
If you are looking for the top 5 best truck bed bike racks, check out TheGaragely.com.
It requires a lot of skill and plenty of practice, but there are several things you can do to make it easier.
We've listed our top 10 hints for slow-riding and manoeuvring a heavy motorcycle:
1 Parking
When picking a place to park, try to find somewhere with a flat, smooth and non-slippery surface preferably with a slight uphill camber so that the bike doesn't lean over as far. If it does, it will make the bike super-heavy to lift off the side stand. When pulling the bike off its side stand, turn the bars fully to the right until they lock, then grab the right handle with both hands, making sure you also grab the brake lever (see the photo below). Now compare that with picking it up with the handlebars turned all the way to the left and see how much heavier it feels.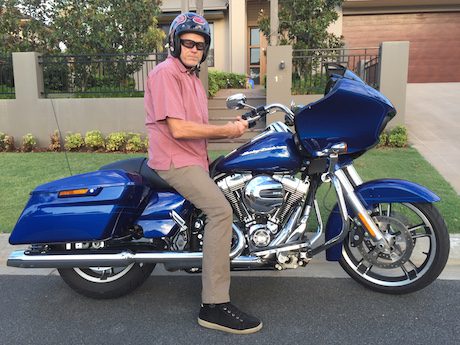 2 Smooth
Being smooth is a mantra that is all-pervasive in motorcycling. It will make you faster on the race track and safer in the wet. But with a heavy bike it will also make you steadier at slow traffic speeds. Execute all brake, throttle and steering adjustments as smoothly as possible. Don't be a jerk!
3 Head up
Don't look down when riding slowly. To get a sense of balance you need to be looking up at where you want to go. Have you ever seen a tightrope walker look down?
4 Brakes
At slow speeds, stay off the front brake as it will cause the front wheel to tuck suddenly and with all that weight, you won't be able to stop the bike from a sudden fall. Use the rear brake smoothly to slow down as it will steady the bike. Only squeeze the front brake gently as you come to a full stop, although I prefer to use the foot brake right until the very stop and put my left foot on the ground.
5 Clutch and throttle
Smooth acceleration can be difficult with some modern EFI bikes, but they are getting better. However, you can be even smoother if you slip a little clutch and hold the throttle steady. It may sound like you are over-revving, but it will make you much smoother and give you more control.
6 Point your feet
If you've ever had to execute a sharp turn from stationary on a large bike, you will know how difficult it is. The first step in executing a sharp turn is to put down the foot on the side that you want to turn, so it's the right foot for right turns and the left foot for left turns. Now, point that foot to where you want to go. This will adjust your riding posture correctly. Sounds strange, but try it and you'll see it works.
7 Tilt the bike
Tight turns are done with a combination of steering and leaning the bike. Too many people think you only steer when riding slowly. It is difficult to tilt a heavy bike at slow speeds as you feel you will fall and not be able to catch it. However, before you take off, tilt the bike toward the foot that is down and you will start turning straight away, even before you add any steering input.
8 Don't oversteer
Have you ever seen riders on big bikes in peak-hour traffic wobbling all over the road with the handlebars wildly oscillating side to side? That is a sure sign that they are nervous and unbalanced. Apart from lifting your chin and your gaze so you get a better sense of balance, you also need to take a couple of deep breaths, compose yourself and consciously try to stop making jerky bar corrections all the time. It's a mental attitude.
9 Elbows out
It might be etiquette to eat with your elbows tucked in, but it gives you less control of the cutlery. Similarly, you have more control with your elbows up and out, especially when executing a tight turn or riding at slow speed. Accentuate the lift in the opposite elbow to the way you are turning and you will have even better control of your turn.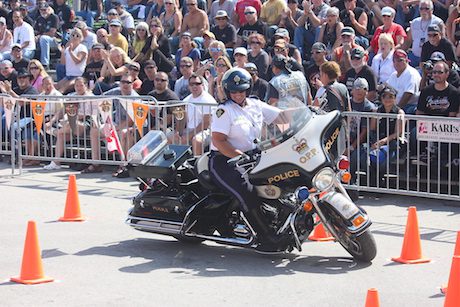 10 Sit up straight
Just as lifting your gaze improves balance, it also forces you to tilt the bike rather than your head and body to make the turns. Sit up straight and let the bike do the work for you. To keep your balance while the bike is tilted and you are sitting up straight, you may also like to straighten and extend your "inside" leg in the direction you are turning.
Do you have any more tips? Leave your comments in the box below.