Honda will unveil an electric version of its Riding Assist self-balancing motorcycle at the Tokyo Motor Show in October 2018 indicating they could be the first to market with this technology.
While such technology may seem pointless to many riders, there would be a lot of uses for this sort of motorcycle.
For example, police, security officers, paramedics and couriers would appreciate being able to use both hands for something other than steering. They would also be able to just step off their bike and leave it without having to put down a sidestand.
Commuters and novice riders who just want transport, not the thrills of riding, might also appreciate the assistance.
The self-balancing Riding Assist Honda was first shown at the Consumer Electronics Show in Las Vegas earlier this year.
Honda isn't the only company working on similar technology. Yamaha have developed a Motobot ridden by a robot, and BMW's Vision Next 100 concept features a gyrosocope so it doesn't need a sidestand.
Self-balancing technology
The Honda works differently wth no gyroscopics.
Think of those cyclists you see who balance their bike at the traffic lights by slight movements of the handlebars.
Honda's self-balancing bike balances by subtle movements of the fork angle and steering.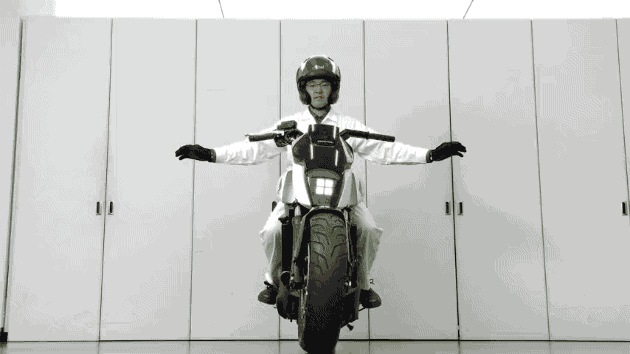 The electric version is called the Riding Assist E and its range could be limited by the electric motor that constantly adjusting the forks.
However, self-balancing mode only works at slow speeds, so unless you are crawling along in traffic, it shouldn't be a huge drain on the battery.
An electric version makes much more sense than the original with an internal combustion engine.
Autonomous vehicles are coming and so is electric power.
Let's just hope it doesn't mean internal-combustion-engined motorcycles will be banned as predicted in the movie "The Last Motorcycle on Earth"!