Honda's VFR1200 engine will power the Ariel Ace, signifying the return of the British motorcycle brand to manufacture.
Ariel announced their return to motorcycles three weeks ago. Now the sportscar company has released photos of two versions of the Ariel Ace. One is a naked bike with Ohlins front forks while the other is a power cruiser with girder forks and an Ohlins shock.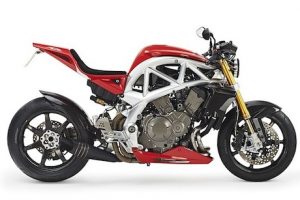 Now it has released these images as examples of several configurations of their new model. However, as a bespoke manufacturer, customers all be able to make as many changes as they want, so these are only indicative of what's possible.
For example, it has a choice of seat height from 745mm to 825mm, a choice of steering head angles, three fuel tanks from 14.1 to 21.3 litres, and wheelbase can range from 1541 to 1563mm. Fairings and screens will also be available.  
Use of the Honda engine is to be expected since they use the 350 horsepower supercharged 2-litre Honda i-VTEC in their Ariel Atom 3.5R. The car launches to 160km/h in six seconds and has been a dominant feature at, or near, the top of the lap times on the popular BBC car program, Top Gear.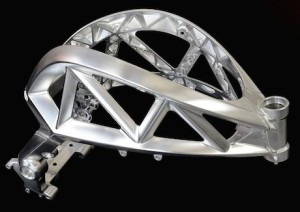 The Ariel Ace also uses the VFR's single-sided shaft-drive and swing-arm and Dual Clutch Transmission system with automatic and semi-automatic modes. You can also choose a conventional six-speed manual gearbox.
The front brakes are Nissin 320mm dual floating hydraulic discs with six-piston callipers while the rear has a Nissin 276mm disc with a two-piston calliper. The wheels are five and seven-spoke alloy but full-carbon ones are also available.
The company has a lot of pride at stake as the maker of one of the world's fastest cars, so it is no surprise that the Ariel Ace will be powered by the 1237cc V-four which has 129kW of power and 130Nm of torque in a lightweight billet aluminium frame. They claim the Ariel Ace will hit 100km/h in 3.4 seconds with a top speed of 266km/h.
The Ariel Ace will go into bespoke production next year, building only about 150 a year with prices starting from $36,000. 
Company boss Simon Saunders says the bike "had a fantastically good reception" at the Goodwood Festival of Speed at the weekend. "All the riders who took it up the hill loved it, so we're really pleased with the feedback so far."
"We have had interest from Australia and it's particularly interesting for us as the Ariel atom is going through ADR (Australian Design Rules homologation) at the moment, so I think Australia could be an important market for the Ace as well as much easier on compliance issues."
Ariel follows old motorcycle manufactures such as Bultaco, Brough, Matchless and Hesketh who have recently announced a return to manufacturer.
Ariel Motorcycles started in Birmingham in 1870, was sold in 1944 to BSA but the Aerial name survived until 1970. The most famous of the Ariel models was the Square Four which began production as a 500cc in the 1930s. The Ariel name was resurrected in 1999 to form a sports car company that makes track-day weapons.