March 3, 2008 – It's finally here!  Honda announced today the final production version of the unique and innovative Honda DN-01 "Sports Cruiser"!
Honda Motor, Co., Ltd. announced that sales of the DN-01 large sports cruiser will begin in Japan on Friday, March 7. The price and delivery date for the UK has not been set, and it is not known whether the bike will be sold in the U.S.A.
The unique, low-styling body features a liquid-cooled four-stroke 680 cc OHC V-twin engine that resonates power and a new automatic transmission, the Human-Friendly Transmission (HFT), that delivers superior throttle response for comfort even on long rides, and simple operation with no need for clutch use, allowing sporty riding.
Featuring Honda's innovative lockup-equipped, infinitely variable hydraulic mechanical transmission (see our article "Hondaintroduces the Human-Friendly Transmission"), the HFT is claimed to deliver superb throttle response and a direct drive feel.
"The DN-01 is the result of thoroughly pursuing a style that is both luxurious and relaxing, easy and individualistic", claims Honda. They said that the remarkable transmission makes the DN-01 easy to operate, while providing the sporty ride quality that is an intrinsic part of motorcycles.
In short, the DN-01 offers totally new sensations in sports riding unheard of in conventional sports models. The relatively low 690 mm seat height offers a relaxed riding position, along with a comfortable passenger seat. Ownership satisfaction comes from the elegant styling and the overall high-quality fit and finish. The DN-01 is a sports cruiser with new value aimed at the discriminating adult rider.
The DN-01 takes its name from the phrase "Discovery of a New Concept," after Honda's desire to develop a new concept motorcycle. Since its exhibition as a concept model at the 39th Tokyo Motor Show in 2005, Honda has been working toward the market launch of the DN-01, efforts that resulted in the machine being exhibited at the 40th Tokyo Motor Show in 2007 as a model scheduled for release.
The DN-01 was developed as a large sports cruiser materializing a new concept, equipped with distinctive HFT, which is based on the automatic transmission in the 1962 Juno M85 and features characteristics optimal for a production machine, thanks to continuous development and advances in electronic control technology.
DN-01 Launch Video
Key Features
Powertrain – The liquid-cooled four-stroke 680 cc OHC V-twin engine featured in the DN-01 demonstrates powerful and flat torque characteristics in the low-rpm range as well as high-rpm range, realizing smooth and easy revving. A superb fit with the new HFT realizes a comfortable ride feel.
A single-sided swingarm (Pro-Arm), acknowledged in the Goldwing and VFR, and a maintenance-free shaft drive with superior durability and quietness have been adopted for the drivetrain.
The DN-01 design also takes vibration resistance into account with a full rubber mount for the engine. For environmental performance, the DN-01 conforms with the 2007 exhaust emissions standards in Japan with an electronic fuel injection system (PGM-FI*1) and a catalyst device (catalyzer).
Automatic Transmission
An infinitely variable hydraulic mechanical transmission, the HFT realizes the lightweight and compact configuration required for motorcycles. Compared with the V-belt automatic transmission used on scooters, this automatic transmission unit can be stored within the engine crankcase, increasing the level of design freedom in the body layout.
The HFT responds to a wide variety of rider demands, from easy-to-operate, comfortable riding to sporty and nimble ride quality with a direct response to accelerator operation, due to the hydraulics and computer control. In addition to two fully automatic shifting modes — D mode to cover ordinary riding and S mode for a sportier riding experience — the HFT features a six-speed manual mode, which allows riding with a manual transmission feel.
Moreover, the HFT equips the world's first lockup mechanism (according to a Honda survey) for an infinitely variable hydraulic mechanical transmission, contributing to improved fuel economy during cruising.
Design
From the "Low & Long + Modern Organic Body" design concept comes a truly individualistic style. The long-nosed front cowl incorporates dual projector headlights with overall front face shaped in sharp image.
The integrated muffler bringing about a sense of unity with the under-cowl, and the Pro-Arm swingarm supporting the rear wheel on one side to give the rear a simple look, as well as the ten-spoke 17-inch wheels, accent the machine's functional beauty and unique sense of style. The instrument panel design combines luxurious LCD and white LED to simultaneously improve visibility and significantly enhance owner satisfaction.
Brake System
The Combined ABS, which is a combination of the Combined Brake System and the Anti-lock Brake System (ABS), is equipped on the DN-01, delivering powerful and dependable braking performance.
The three-pot calipers of the front brake provides strong braking control, while rear brake is equipped as a foot pedal type bringing a sense of motorcycle feel. And with such features as a parking brake for convenient parking on hilly roads, the DN-01 provides a full range of functionality for a feeling of security.
Chassis and Bodywork
Centralization of mass and a lower center of gravity, together with an ideal front and rear weight distribution, ensure responsive handling even with the long 1,610 mm wheelbase. Large foot step boards that can be repositioned to meet rider preferences and a low 690 mm seat height make for a spacious and comfortable riding position, giving the rider the most freedom of movement as possible.
At the same time, taking tandem riding into consideration, there is also plenty of room for a passenger on the wide and long seating area. Moreover, passenger and rider seats are close in distance to enjoy a conversation, and well-though layout provides wide-open forward visibility. As rider is, the passenger seat is also designed to deliver unity with the machine and feel the exhilaration of riding.
Color
To suit DN-01's unique styling, the four colors of variations are set, exhibiting a sense of luxury and complete satisfaction for its ownership: Pearl Sunbeam White, Pearl Amethyst Purple, Candy Glory Red and Graphite Black.
Other Features
The DN-01 features the Honda Ignition Security System (H.I.S.S.), Honda's unique anti-theft system using an electronic interlock. The device is programmed to start the engine when the IC chip built into the original key and the ID in the ECU of motorcycle matches. Otherwise, the system prevents the engine from being started, providing effective protection.
Furthermore, an original system has been established for the DN-01 to provide a higher quality service. This new system functions with DN-01 dealer information network to manage the service history of the customer's machine.
To reference authentication data of the machine from the network, the information is stored on a RF-ID which is built into the main key of its machine called, Honda Motorcycle Data (HMD) key. By showing this HMD key to the DN-01 dealer, the machine's service history and information are available instantly through this system, allowing Honda to provide even higher level of service that will also lead to a higher customer satisfaction.
Honda DN-01 Final Specifications
Model Name
DN-01
Model Type
Honda·EBL-RC55
Length, Width, Height
2.320m × 0.835m × 1.115m
Wheelbase
1.610m
Ground Clearance
0.130m
Seat Height
0.690m
Vehicle Weight
269kg
Number of Riders
2
Fuel Consumption
25.0 (60km/h constant-speed test value) (km/l)
Minimum Turning Radius
3.2m
Engine Type
RC55E liquid-cooled four-stroke 4-valve OHC V-twin
Displacement
680(cm3)
Bore × Stroke
81.0mm × 66.0mm
Compression Ratio
10.0
Maximum Power Output
45 [61] / 7,500 (kW[PS]/rpm)
Maximum Torque
64 [6.5] / 6,000 (N·m[kg·m]/rpm)
Carburetion
PGM-FI (programmed fuel injection)
Starter
Self-stating
Ignition
Fully transistorized, battery-powered
Lubrication
Force-fed and splash
Fuel Tank Capacity
15 liters
Clutch
Oil pressure regulator system in gearbox
(with lock-up mechanism)
Gearbox
Hydraulic mechanical system (HFT with electric manual mode)
Gear Ratio
3.000~1.000
Reduction gear ratio (primary/secondary)
1.136/4.196
Caster Angle (degrees) / Trail (mm)
28°30′/110
Tire size
Front: 130/70ZR17 M/C(62W)
Rear: 190/50ZR17 M/C(73W)
Braking System
Front: Hydraulic double disc
Rear: Hydraulic disc
Suspension
Front: Telescopic
Rear: Swing arm
Frame
Double cradle
October 2007 – Honda introduces the Human-Friendly Transmission (HFT), which will be used on the DN-01 when it reaches production.
UPDATE:  Honda is expected to release the DN-01 for production at the 40th Tokyo Motor Show 2007, to be held at Makuhari Messe in Chiba, Japan from Saturday, October 27 to Sunday, November 11, 2007.
October 19, 2005 – Honda Motor Co., Ltd. introduced the radical new DN-01 sports motorcycle at the 39th Tokyo Motor Show.  Honda announced that the DN-01 will continue to be developed and will be introduced to the market "in the near future".
The motorcycle appears to be beyond the concept stage and nearly ready for production.
The DN-01 concept is equipped with a continuously variable automatic transmission and a water-cooled, 4-stroke, OHC, V-type, 2-cylinder, 680cc engine.
The DN-01 is a concept model that was developed with the aim of "creating new value" without being locked into any existing category of motorcycle.
While an automatic transmission has been synonymous with the scooter and has not been readily accepted for motorcycle use, Honda is calling the DN-01 an "automatic sports cruiser", featuring Honda's unique infinitely variable hydraulic mechanical transmission, the "HFT" (Human Fitting Transmission).
The DN-01 is claimed to be easy to operate with much sportier performance than any current two-wheeled vehicles with automatic transmissions. The DN-01 "Discovery Cruiser" is apparently targeted towards the growing adult motorcycle market.
Infinitely Variable HFT Transmission
The new-generation infinitely variable transmission is claimed to deliver superb throttle response and stepless shifting, with no mid-corner shifting shocks. Riders can select from three shifting modes: Drive Mode, Sports Mode and 6-Speed Manual Mode.
The HFT also offers the world's first (according to Honda) lock-up mechanism in an infinitely variable, hydraulic mechanical transmission.
Powered by a 680cc V-twin engine, the machine was designed to have novel levels of comfort and sportiness.
Original and Creative Style
The design concept aims for a long and low, modern organic look. The image created by the long-nose front cowl is dynamic, while the under-cowl muffler and Pro-Arm rear suspension add a functional beauty to the overall design.
Highly centralized mass and an ideal front/rear weight distribution promise good maneuverability from the 1,605mm-long (63.2″) wheelbase.
Comfortable Riding Position
The large seat is fitted with an adjustable backrest for plush comfort on long rides, while wide footboards allow maximum freedom of movement. Complemented by a low 680mm (26.7″) seat height, the riding position is spacious and relaxing.
Passengers should be comfortable, thanks to the ample and lengthy passenger seat. Some information (in Japanese) available on the Honda DN-01 website.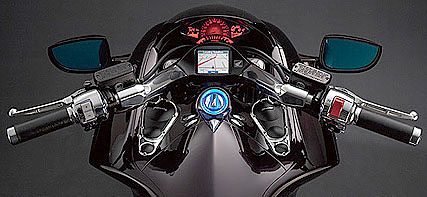 Honda DN-01 Online Brochure (Note: Takes significant amount of time to load).
DN-01 Accessories Brochure (.pdf)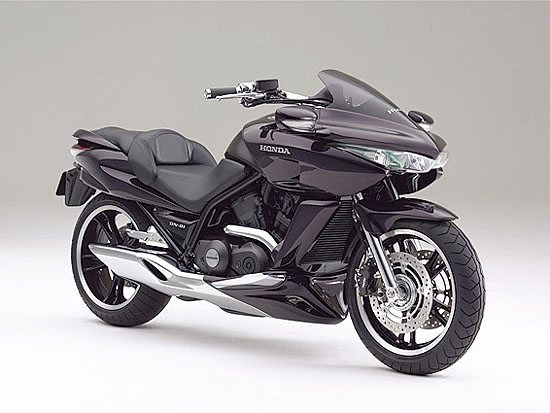 Note: For informational use only. All material and photographs are Copyright © webWorld International, LLC – 2000-2013. All rights reserved. See the webBikeWorld® Site Info page. NOTE: Product specifications, features and details may change or differ from our descriptions. Always check before purchasing. Read the Terms and Conditions!