Hybrid motorcycles, smaller capacity engines and possibly turbocharging could be the future as Japanese manufacturers reveal their concepts for the Tokyo Motor Show from October 30.
While Honda has filed patents for a two-stroke engine, it looks like they are either going hybrid or sticking with four-stroke for now with the unveiling of three motorcycle concepts to premiere at the show.
Honda filed its two-stroke patent in America earlier this year featuring direct injection for a cleaner burn and better piston cooling.
However, there is no hint of a two stroke yet in the concept bikes: a Light Weight Super Sports, a three-wheeled tilting hybrid scooter called NEOWING and an electric Cub scooter called the EV-Cub.
The sharp-featured Light Weight Super Sports looks like a Transformer with its harsh angles and matte black paint. It features an Akrapovic exhaust, but not other details are available.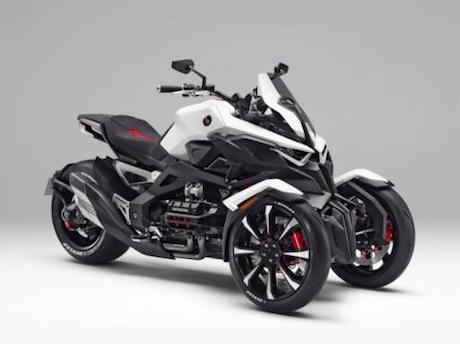 The three-wheeler NEOWING is like Yamaha's TricCity and Piaggio's MP3 tilting three-wheelers scooters, however it is hybrid powered.
The hybrid system consists of a four-cylinder horizontally-opposed engine and electric motors – yes, plural! Perhaps they have a motor in each wheel.
The EV-Cub concept has a detachable battery that can be recharged with a domestic wall socket.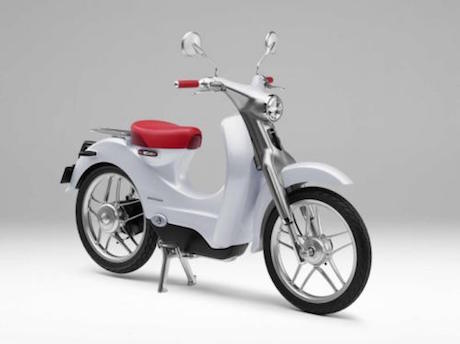 Meanwhile, Suzuki has revealed it will unveil a Concept GSX.
No more details are available, but there is talk that it could be the new Katana and that it might be turbocharged.
Last year, Suzuki unveiled the Recursion 588cc turbo sports bike at the Tokyo show and has since re-registered the Katana name and trademark Samurai sword, and filed more patents for turbocharged motorcycle engines.
Suzuki is giving away few hints about the GSX in its official release: "A concept object that encapsulates the potential of the GSX series Suzuki's powerful, rider-friendly inline-four engines, delivers an outstanding combination of fuel economy and endurance. Their technologies are reflected in numerous GSX-series models including the GSX-R1000, the Hayabusa and the GSX-S1000. The concept GSX symbolises the high-performance motorcycles that bear the GSX name. It gives form to Suzuki's inline-four sportbike-making spirit and evokes a cocoon from which the company's future sportbike models will be born."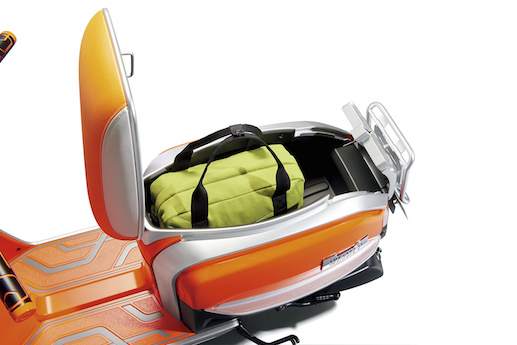 They will also reveal the Hustler Scoot which is basically a bagger 50cc scooter with a removable underseat luggage bay that re-mounts between the rider's feet. There's also more luggage room on the rear carrier and on the sides of the bodywork.
With the luggage case removed, the scooter can carry longer luggage items such as a tennis racket.
There is no word yet from Kawasaki or Yamaha about show concepts and new models.