Harley riders made the 23rd annual HOG Rally in a Cairns a success by turning out in record numbers for the traditional Thunder Run, getting married and churning about $4m into the Far North Queensland economy.
Organisers say that despite 1480 being registered for the rally, local Harley riders turned out to join the Sunday Thunder Run, bringing the numbers to 1812 and making it the biggest since the record-breaking ride around Uluru in 2005.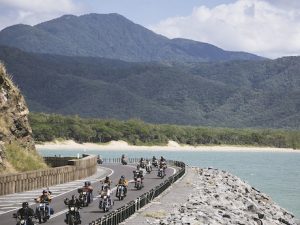 HOG Rally organiser Kim Williams says she is very pleased with the turnout, despite only 300 having registered by the end of January. She says they even considered axing the rally amid fears that the Queensland VLAD Laws were deterring riders. However, she says registrations picked up in recent weeks and there were several hundred "walk-ins". The Thunder Run was also bolstered by masses of bikes which joined in the ride along the way.
Hoggies rode as far as 6000km from Perth with an average distance travelled of 2500km for all attendees. HOG members came from the US, Ireland, New Zealand and 12 French riders who rode from Melbourne to the FNQ Tourism capital.
To celebrate the recent 23rd annual national HOG Rally in Cairns, we are giving away a cruiser rider training course developed especially by expert rider training company, motoDNA. To enter the competition, click here. The motoDNA cruiser course is being held at Lakeside training centre in Queensland on June 14.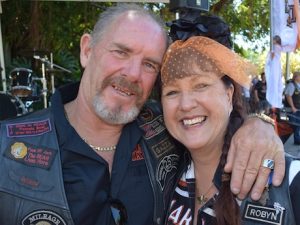 Gasoline Alley HOG members Robyn Piacun and Gary Howard of Brisbane were so excited about the rally, they chose it as the venue for the wedding. "All our friends are here and we didn't have to organise the venue," says the new Mrs Howard who married Gary at a ceremony on the Cairns Esplanade during the show and shine, watched by thousands of Hoggies and tourists. "It's the biggest wedding breakfast you could have," says Gary. The CVO Harley owners plan to honeymoon on their ride home via Longreach.
Harley-Davidson Australia marketing director Adam Wright estimated the Hoggies injected some $4m into the regional economy during their visit. Local Cairns folk seemed to appreciate the presence of the riders, some holding welcome signs during the Thunder Run and many turning out to show their appreciation and admire the bikes at The Esplanade show and shine staged at the end of the Thunder Run on the Sunday.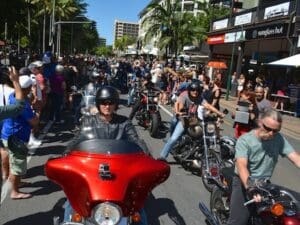 Adam says that while numbers were under last year's rally, that was a special 110th celebration and based at Williamstown. He says the 1480 attendance was on par with most national HOG rallies and a good result for a "far-flung" destination. He says next year's rally at Tamworth from February 27-March should be even bigger.
STATE HOG RALLIES
South Australia: October 3-4, 2014, Walkerie Football Club, Peake Tce, Walkerie.
Tasmania: January 30-February 1.
Victoria: March 6-9, 2015, Lardner Park, Warragul.
ACT/NSW: October 23-25, 2015.