The HJC DS-X1 is the Korean company's second dual-sport adventure-touring helmet.
That is, if you count the HJC CL-XS (review), released in Europe way back in 2006, and featured in many other dualsport helment reviews.
And there may have been more in other markets?
While it may seem that HJC may have been ahead of its time and then late with an encore to the DS helmet game, in this case, waiting has its advantages.
The original CL-XS wasn't all that successful, but the DS helmet formula has been set and Version 2 works like a charm.
And since the DS-X1 is an HJC helmet, you're automatically going to get excellent quality at a super value price.
In fact, nobody does that better and HJC has actually come a long way since 2006 and beyond.
OK, forget the past. Let's talk the present. First of all, starting at $169.99 list, the DS-X1 is a bargain.
It's also a very solid-feeling helmet, with a thick and comfortable removable liner.
The visibility out the eye port is enormous; about the best there is in a DS helmet.
And the peak is nicely designed, with a firm feel, low noise and very little lift.
Problems? The adjustment slot for the peak isn't long enough, so the peak doesn't have enough forward travel for good sun blocking
Also, that huge face shield, which is molded to reduce distortion (and to accept an optional Pinlock), doesn't have a small first defogging position.
And the upper ventilation system isn't as strong as we'd like.
But overall, the DS-X1 is an excellent dual-sport helmet that does about everything any other DS helmet does, but at a much lower price.
Background
We've been big fans of HJC helmets since, well, forever. There are several reasons for that.
First, HJC helmets are available just about anywhere in the world. The company makes really good quality helmets and the price is right.
Compared to other "value priced" brands that have come and gone over the years, well, there is no comparison really.
While most of the other helmets at this price range feel cheap, HJC helmets typically punch above their weight.
In fact, over time, HJC has even somehow developed a specific "feel" to their helmets.
When you pull an HJC helmet out of the box for the first time, it has its own unique presence that marks it as an HJC. Only Shoei and Arai have that same unique ambience.
But with the HJC helmet, you'll feel like you're getting more than the list price indicates and that's not something you can say for the others.
Paint, Graphics and Overall Quality
The XS-D1 in solid colors (black, white, silver) has a list price of $169.99. That's a bargain in anyone's book.
There's also a "Lander" graphic in black/fluorescent yellow or black/retro-reflective silver for $20.00 more — still a good value.
This silver size XL (more on fit below) may look basic, but the paint is flawless. HJC and other helmet manufacturers have come a long way since we first started webBikeWorld nearly 18 years ago.
Back then, good quality was the exception, not the rule. Today, with relentless global competition, quality is a given. The marketplace won't accept anything less than the best.
The overall fit and finish of the DS-X1 is also outstanding. The helmet has a very solid feel or presence and this is especially noticed on the peak, which can be a weak point on a dual-sport helmet.
In fact, a weak peak (!) can ruin the whole effect. Not to mention adding noise and vibration. The DS-X1 peak feels pretty stiff in comparison and on the road, it doesn't flex or vibrate at all.
HJC claims to be "one of very few helmet companies that are equipped with its own state of the art wind tunnel testing laboratory to test for aerodynamics, ventilation, noise".
That shows on the DS-X1, because the peak is nearly unnoticeable on the motorcycle, even when riding behind a mid-height windscreen, which can typically cause a lot of turbulence.
The new lining is removable (cheek pads and liner separately) and it has a high-quality appearance. It's also very comfortable and the padding is thicker than average.
Like the HJC CL-17 we reviewed back in 2013, the DS-X1 liner is also grooved for eyeglasses and in this liner, the "grooves" on either side are apparent.
The DS-X1 is a brand-new shell design, with the trendy sharp lines and angles that give it modern look.
HJC said the helmet has three "EPS shell sizes" (XS/S, M/L, XL/XXL), which apparently means the internal EPS foam liner, not the external polycarbonate shell size.
Score: We give the HJC DS-X1 an "Outstanding" rating for overall quality. See the Summary Table at the bottom of the page for a description of our rating system.
HJC DS-X1 Helmet Fit, Internal Shape and Liner
I debated which size to order and went with the XL, which usually fits a couple of webBikeWorld reviewers. I'm glad I did.
This DS-X1 in size XL fits much more like a size L than an XL. In fact, I was surprised when I first put it on, thinking perhaps they sent me an L by mistake.
Note also that as this is written, most of the retailers have the sizing wrong. HJC lists a size L as 58-59 and the XL as 60-61. The retailer we bought it from has the XL listed as 61-62, which is not correct.
The result is that the XL is a very snug fit for a "normal" size XL but it's actually correct to the listed size of 60-61.
The DS-X1 has a "Neutral" to "Slightly Round" shape (as defined in the webBikeWorld Motorcycle Helmet FAQ) on the top half but a tighter "Slightly Narrow" shape along the sides, due to the thick cheek pads.
One of the nice features (and surprising at this price) is that you can buy optional liner and cheek pad thicknesses for the DS-X1. That's rare on a "value priced" helmet.
So perhaps a set of new cheek pads one size thinner are in order for me anyway.
It's hard to say what other helmet the DS-X1 might compare to; in fact, nothing in the HJC lineup that I can think of off-hand.
But the overall internal shape is fairly neutral, so it should fit the majority of head shapes and again, you can always do some custom tailoring with an optional head liner and/or cheek pad set.
The HJC "Supercool" moisture-wicking liner is said to have an anti-bacterial treatment and it is also washable.
The ear pockets are adequately sized and lined at the bottom and the EPS is molded for speakers.
An external intercom clamp can be fitted, although there's an angle along the bottom gasket trim and another angle in the shell at the cheek that may cause some issues.
Like most HJC helmets, the DS-X1 looks and performs better than the helmet's price would indicate.

More information on helmet fit can be found in the webBikeWorld Motorcycle Helmet FAQ page.
Also, see the chart that lists the helmet weights of webBikeWorld reviewed helmets and also by shape on the webBikeWorld Motorcycle Helmet Shapes page.
Score: We'll give the HJC DS-X1 an "Outstanding" rating for shape, comfort and thick padding.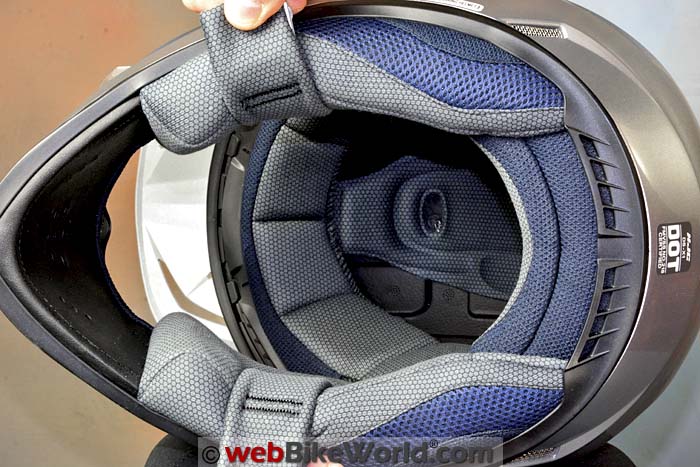 HJC DS-X1 Face Shield, Eye Port and Outward Visibility
The current trend in DS helmets is to have a "double bubble" type of face shield, with a molded bump-out line along the entire perimeter. This supposedly helps to maintain a flat profile, which reduces distortion.
It seems odd that to decrease distortion they add distortion, but it does seem to work.
On some DS helmets, it doesn't work however and you end up with severe distorted sight lines all around the perimeter, whenever you move your eyes off center.
Admittedly, that was probably more of an issue with the first generation of dual-sport helmet face shield experiments.
The DS-X1 has just one bump, along the bottom. It's pretty much out of the line of sight, so it's acceptable. And there's no distortion across the rest of the face shield, so the design works.
At any rate, the sight lines are outstanding, with nearly unlimited visibility in all directions.
This is a big safety factor, both for the vertical view and view of the instruments and when doing over-the-shoulder head checks for traffic.
So kudos to HJC for really thinking this one through — again not something you'd expect on a helmet in this typically corner-cutting price range.
The face shield is pinned for a Pinlock, which is optional and expected at this price point.
The face shield rotates through only 3 detents and there's no first small detent for city defogging — important on a DS helmet because when you're standing on the 'pegs and going slow off-road, you'll need the ventilation.
There is a small friction lock in the center and a large lift tab on the lower left. It does take some leverage to get the face shield to pop open.
The peak and face shield can be removed by unscrewing the Phillips head screws on either side. I'm not sure why HJC didn't make the screws unscrewable with a quarter or thumb/forefinger combo or something.
But again, since the peak and face shield will rarely be removed from the helmet, this isn't a biggie.
Also, the face shield closes tight against the eye port gasket, sealing out any water.

Score: The DS-X1 face shield and outward visibility gets an "Outstanding".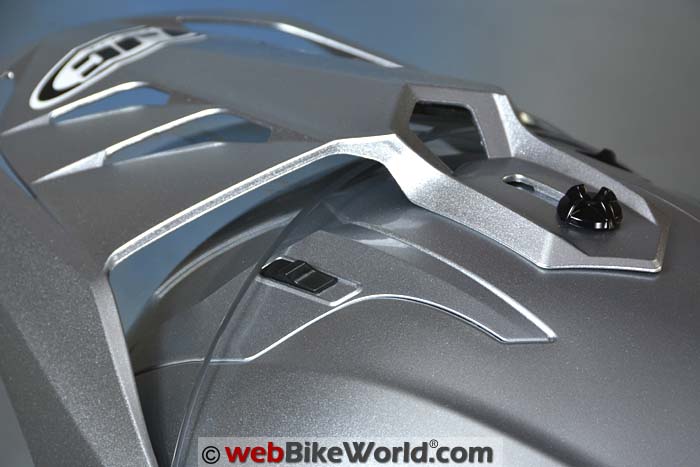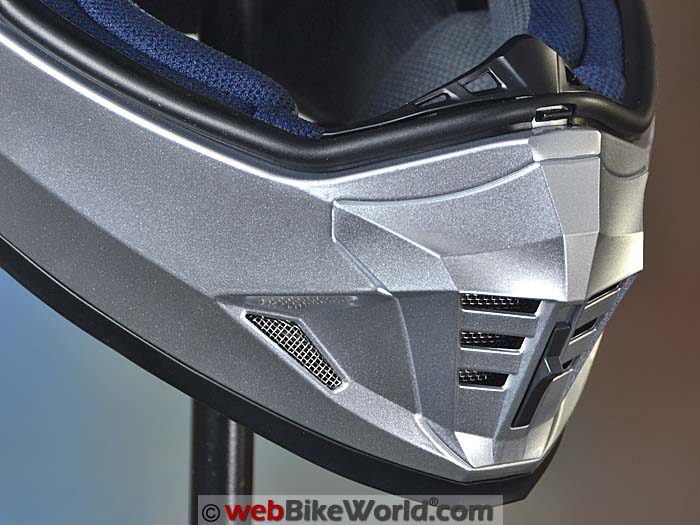 HJC DS-X1 Ventilation and Air Flow
The DS-X1 has the standard-look DS helmet chin vent on the pointed beak. It has a slider for a simple open/close.
The air flows through metal mesh and then through the chin bar and then through a foam dust filter that does not appear to be removable, although it may be possible to pry off the plastic chin bar end cap.
After it flows through the dust filter, the air then enters the helmet through 7 small holes in the inside liner of the chin bar; an unusual design.
Flanking the center chin vent are two mesh vents that also flow air into the helmet, directly through the chin bar via 6 small holes (3 on each side).
This design means that it's difficult to impossible to mount a wired mic on the back of the chin bar (typical for a DS helmet). Use a boom mic instead.
There are two top vents, each with its own slider.
The air intake slots are narrow and the air flows down through a small horizontal slot and down into the helmet through a hole on each side of the EPS, located the front upper part of the head.
Unfortunately, I don't really notice much air volume, even on a cold day, when air intake is more obvious. On the other hand, my head didn't get too hot either on warmer days.
The EPS has shallow channels to flow the air back and then out two matching holes below the rear exhaust vent.
I'd guess that the channels aren't quite deep enough to flow enough air through to make a noticeable difference. The channels seem shallow enough to become partially blocked by the pressure of your head and hair.
One more thing: the DS-X1 comes with an owner-installable chin curtain (we left it off for the photographs).
Overall, I'd have to say that the chin vent system on the DS-X1 works very well but the upper ventilation system is weaker than I'd like.

Score: We'll rate the ventilation system of the HJC DS-X1 as "Very Good".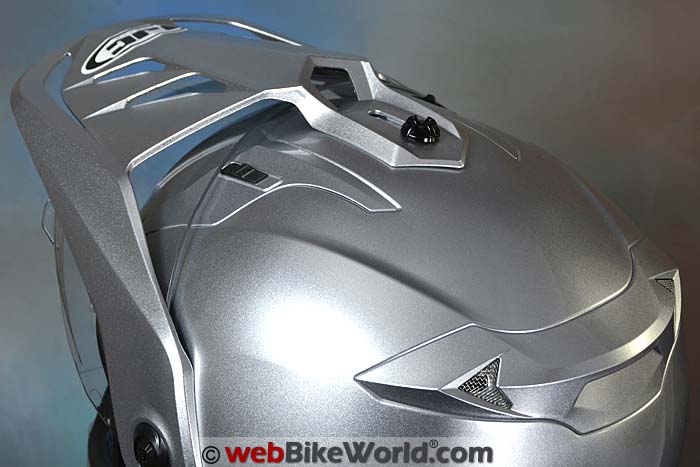 HJC DS-X1 Sound Levels
I found the DS-X1 to be relatively quiet for this type of helmet. The snug fit and match to my head shape helps here, as does the thick padding in the liner and cheek pads.
HJC is one of the few helmet manufacturers with their own wind tunnel and apparently that's paid off with the DS-X1.
Overall noise levels are less than average, with general wind rushing noise as expected.
The only issue is the way the air flows over the peak adjuster on top. It causes some whistling noises at certain angles of attack. I can place my hand over the top of the adjustment dial and the whistling noise stops.
Or, if I tilt my head slightly forward, the noise disappears. So this may or may not be noticed by every owner on each specific motorcycle and in any case, it's mostly only noticeable because the rest of the helmet is relatively quiet.
I don't notice a difference whether the vents are open are closed either, although the narrow opening of the top vents helps keep the noise level low anyway.
Also, the peak feels very sturdy and it doesn't vibrate or cause any unusual noise.
Actually, it's one of the better designs for a DS peak on any of the dual-sport helmets we've reviewed, because the air flows smoothly through it and even with a cross-wind, I don't notice any unusual amounts of lift.

Note that our helmet evaluations are a combined effort of several riders over time on different types of motorcycles with and without windscreens.
Evaluators wear correctly fitted, high quality ear plugs (even when evaluating motorcycle intercom systems).
Always protect your hearing when riding a motorcycle. See the wBW Earplug Reviews for more information on choosing and wearing earplugs.
Note also that perceived noise levels will vary, depending on the individual.
Noise can be caused by many factors, including helmet fit, the type of motorcycle and windscreen, wind speed and direction and even the rider's clothing.
For more information on helmet noise, visit the wBW Motorcycle Helmet Noise page.
Score: We'll give the HJC DS-X1 an "Excellent" rating for noise control.
wBW Video: HJC DS-X1 Helmet
Helmet Weight
This DS-X1 in size XL weighs 1699 grams (3 lbs., 11-7/8 oz.), which is actually pretty good for a dual-sport helmet and less than many size XL full-face helmets (like the HJC CL-17.
Other size helmets in this weight range include the original HJC CL-XS (review) from 2006, which weighed a nearly identical 1697 grams in size XL.
Note that all of the helmets reviewed on webBikeWorld have been weighed and the weights are available on the wBW Motorcycle Helmet Weights page.
See also the chart that lists the helmets by weight and shape on the wBW Motorcycle Helmet Shapes page.
Score: We rate the HJC DS-X1 as "Excellent" for its reasonable weight and good balance.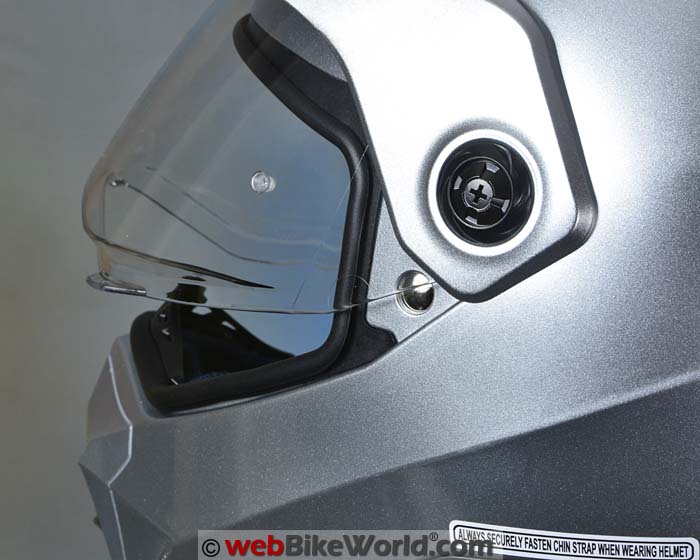 Miscellaneous
The DS-X1 has a double-D ring chin strap attachment system with a plastic snap to hold the excess.
The padding under the chin strap is nice and thick, long and comfortable.
The DS-X1 meets the DOT standard in the U.S.A. Sizes range from XS to 2XL.
wBW Opinionator: HJC DS-X1
Picks…
Outstanding build quality.
Outstanding visibility.
Very comfortable.
Solid feel.
Good noise control.
Solid feeling peak.
Excellent price.
Pans…
Limited peak adjustment.
No city defog position.
Weak top venting.
Conclusion
The DS-X1 is an outstanding value for the starting list price of just $169.99 and it beats other dual-sport helmets costing more.
The build quality is superb for this price and the liner is thick, plush, comfortable, removable and replaceable — also rare at this price point.
The eye port and face shield provide outstanding forward visibility and the helmet is comparatively quiet.
So if you're in the market for a dual-sport helmet, definitely give this one a try.
Like we've said about other HJC helmets, you won't find a helmet with this much goodness at this price, period. And it even comes with a chin curtain!
wBW Review: HJC DS-X1 Helmet
List Price (2017): $169.99-$189.99
Made In: Vietnam
Colors: Solids and graphics
Sizes: XS-2XL
Review Date: February 2017
Note:
 For informational use only. All material and photographs are Copyright © webWorld International, LLC since 2000. All rights reserved. See the webBikeWorld® 
Site Info page
. Product specifications, features and details may change or differ from our descriptions. Always check before purchasing. Read the
Terms and Conditions
!
Owner Comments and Feedback
---
From "T.S." (February 2017): "How do goggles fit in the helmet? With the face shield still in place and in its upper position, can you fit a standard sized goggle?
For a DS-style helmet this is an important feature for those of use who like to goggle up when the going gets slow, dirty, and full of heavy breathing."
Editor's Reply: The eye port is big enough but as you can see in the photos in the slide show, the face shield doesn't quite go up far enough, a strap will fit around it but probably better removing the face shield.
To be honest, I think this helmet is more for a street rider, especially with the Phillips head peak/visor removal. If you really need goggles, you're probably better off getting a true motocross helmet.