High-Visibility Orange Backpack Review Summary
High-Visibility Orange Backpack Image Gallery
A High-Visibility Orange Backpack
A low-frills, straight-ahead backpack in Hi-Visibility Orange with good water-resistant properties at a bargain-basement price!
It's hard to find motorcycle gear for $20 these days, except maybe for a pair of touring socks.
So when my months-long search for a no-frills backpack in a high-visibility color finally turned up this one for sale for just under $20, I didn't hesitate to take a chance.
I must admit that wearing a backpack may not be the safest way to ride in case of a crash.
But after installing and removing a tail bag and the twice-per-day on-and-off routine with a high-visibility vest I wear for commuting, I was ready for a compromise.
I typically carry fairly soft items anyhow; lunch, a sweater, a spare face shield, farmer's market veggies, etc.
The High-Vis Orange Deluxe Backpack
As advertised on the website, this backpack is your basic standard backpack.
The only indication of a brand or manufacturer is a tag sewn inside that simply says "Explorer" with a stylized logo that looks like mountains.
The retailer seems to specialize primarily in emergency first-aid and survival supplies so the backpack isn't motorcycle-specific, but still works well for riding.
I've found it to be stable at highway speeds with no moving around in the breeze, the only exception being the extra length on the shoulder straps, a common issue on backpacks.
I simply tied them out of the way, but they could be trimmed if desired.
One thing that I really looked for while backpack shopping was high-visibility straps, something that is strangely lacking in all the other high-visibility backpacks I found, most of which cost 4 or 5 times as much.
I can understand reducing costs by making the same backpack in both black and high-visibility with only one strap style, but somehow this no-name company got it done for under $20. So how about it, big-name manufacturers?
You can see in the pics that the high-visibility straps do make a difference, especially in the "flash" pic which is more representative of the pack's color in real life.
I catch my reflection in car tailgates at stoplights and the straps are quite noticeable.
Capacity and Storage
For pockets you get one large main compartment; this is my preference over segmented compartments as it gives the most flexibility. Some backpacks feel like unstructured sacks without a center divider but the material on this one is stiff enough that it holds its shape well even when empty.
The compartment is large enough to hold a full-face helmet with plenty of room left for a pair of shoes and a fleece jacket or similarly sized items.
Other pockets include a 6″ x 5″ x 1.5″ square pocket on the rider's left side, balanced by a bottle-holder pocket that fits a 20 oz. bottle on the right, and three front pockets on the flap.
One is 11″ x 4″ x 1″ along the bottom, and two stacked pockets of 8″ x 7″ and 11 "x 10″ with an internal organizer that holds three pens, a pocket for CDs in sleeves (or maybe one in a jewel case), a zippered mesh pocket for small items, and an 8″ x 7" divided pocket.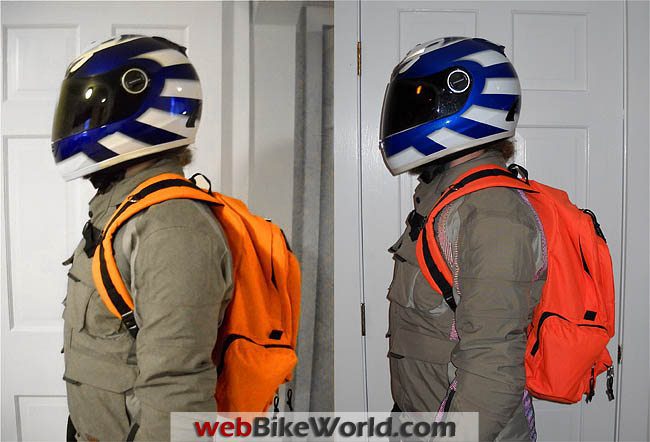 The photo of this backpack on the retailer's website shows two black mesh outer pockets. The backpack I received has the two vertical straps shown instead.
'm not sure what they're meant to be used for, the best use I can see is rolling up a mesh jacket or sweatshirt and strapping it on the back for walking around off the bike, or maybe hanging a damp T-shirt out to dry while riding.
High-Vis Orange Backpack Features
This orange backpack has two features that have become standard on backpacks but used to be considered "extras"; the MP3 port and the hydration system access.
The hydration system seems like it will work well; the pocket for the bladder is large and has a sturdy elastic closure at the top plus a nylon buckle to keep it steady and a single port for the hose in the center of the backpack so you can choose which side to use it.
The MP3 player port seems a little less useful — it's just a standard sewn-on grommet with an X passage for the headphone cables, but it leads right into the main compartment of the backpack. I don't listen to music while riding but this setup doesn't seem very convenient.
External features include a number of D-rings to clip on gear plus a chest-attachment strap to hold the shoulder straps together. It does not have a waist strap, which is actually my preference on motorcycle packs.
A waist strap is essential on hiking packs to shift some weight onto your hips, but if you're putting that much weight into your backpack while riding, you're overloading it, in my opinion.
There's also a handle across the shoulder straps for carrying it like a briefcase, which I find handy for short walks between parking the bike and entering the house, etc., or for hoisting the backpack when putting it over my shoulders.
The shoulder straps themselves are nice and widely spaced, making the backpack much easier to put on or take off over a padded motorcycle jacket; something of a struggle that I've experienced with other packs.
This backpack does not have a laptop-specific pocket, but a smaller laptop or notebook computer could be put into the 11″ wide hydration bladder pocket as long as you don't need padding between it and the main cargo pocket.
Construction & Water Resistance
The construction of this orange backpack has to be qualified by its price point.
It's double-stitched in the most critical areas but seems hastily done — it doesn't look like the stitching will come out but it's far from laser-straight.
They did take the time to tape most outer seams though, and all places where the nylon straps attach are reinforced with double-stitching in an "X" pattern.
There are a couple of loose thread ends in spots, but so far all stitching has held up well.
The black nylon lower part of the shoulder straps have both frayed a little from catching on the hook and loop waist adjusters on my favorite riding jacket, but that may be a problem unique to me, and anyhow I think it's more cosmetic than structural.
The backpack is quite light — I don't have an accurate scale to weigh it, but it's comparable to or lighter than the similarly-sized North Face and REI daypacks that I have for hiking.
The back pad is quite nice, about a 1/4″ of nice sturdy foam that provides a good comfort barrier between any lumpy cargo and your back.
I believe it also helps contribute to the backpack holding it's shape; I can set the backpack down even when empty and it stands up by itself.
The zippers are of an unknown brand, but seem to be quality constructed with large metal teeth and metal pulls, with zipper pull tabs added to all zippers.
They work smoothly and they don't catch the fabric.
The material used in the body of the backpack is unknown but seems to be some sort of nylon canvas with a waxy or plastic coating on the inside.
Mother Nature was kind enough to provide a nice rain test this morning and the backpack did quite well, making it through a solid hour of steady rain with only a little moisture seeping in some areas.
I'm quite impressed for a backpack of this price that makes no claims of water resistance. (unlike my supposedly "Waterproof" boots, which made me very glad I keep a set of dry socks in my desk!).
Conclusion
I'm very happy with this backpack at the price I paid.
In my experience, high-visibility fabrics have a shorter lifespan than the traditional black, as they fade in the sun or get dirty pretty quickly.
In this case I think the fabric will probably lose its brightness long before the backpack falls apart, at which time I will happily send them another $20 for a new one.
w

BW

 Review: High-Visibility Orange Backpack
Manufacturer: Red Flare Kits
List Price (2011):  $19.20 plus shipping.
Colors: Hi-Viz Orange
Made In: China
Review Date: April 2011
Note:
 For informational use only. All material and photographs are Copyright © webWorld International, LLC since 2000. All rights reserved. See the webBikeWorld® 
Site Info page
. Product specifications, features and details may change or differ from our descriptions. Always check before purchasing. Read the
Terms and Conditions
!
Owner Comments and Feedback
---
From "H.W." (April 2011):  "My problem with backpacks in general, or anything that attaches to the body using nylon webbing (which all packs use), is the possibility of sliding down the road, and having the pack get snagged on something.
It stops and you get hammered in the shoulders by the straps, which simply aren't going to break (but your shoulder(s) might).
I'd rather wear a hi-viz riding suit (as I do) or a jacket, helmet or vest and put the pack on the bike—carefully—so nothing is left dangling to get caught in the wheel(s) or by the drive mechanism."
---
From "C.C." (April 2011):  "I like the looks of the new budget backpack you listed, but thought this would be worth a note for your backpack-seeking readers.
After several disappointments trying to find a quality motorcycle backpack I finally realized I needed look no further than my hiking gear. LL Bean has several nice backpacks in a bright orange including their Escape Day Pack.
A big advantage of LL Bean is the guarantee policy which is return for pretty much any reason at any time. I have used their luggage diving, backpacks hiking and riding street/dirt for years.
They have held up very well through some pretty rough trips and still going strong. Not as inexpensive as the budget backpack on the surface but the quality and service LL Bean provides could well make up the difference.
Just thought I would drop you guys a note with an alternative."
---
From "B.B." (April 2011):  "I am a huge proponent of being visible when riding. I purchased some bright red backpacks some years ago for family members who also ride. This backpack will be next on my list for them.
When I purchased the red backpacks I noticed that they had a mesh pocket on the back, like the one pictured on the manufacturers website. If you get one with the mesh pocket, the following may help.
While it may not be all that practical for carrying much, I thought it was the perfect spot to place a rectangle of reflective tape. Just a little something extra to make you more likely to be seen at night.
I personally use SOLAS high visibility tape. I simply put it in without removing the backing.
If you prefer, you can cut a piece of thick paper to size and put it on that.
Another thought is to purchase sew-on reflective tape and put it on the black portion of the straps. It won't interfere with the orange color and could give you an added bit of conspicuity.
f you get one without the mesh pockets, you can also put a sew-on or iron-on reflective strip across the back. When it comes to safety, every little bit helps."
Other WebBikeWorld Backpack Posts