If you haven't already decided to self isolate, you may soon be forced off the road by government bans, so you should think about how to hibernate your bike for the months ahead.
Various sources are telling us the lockdown measures will be in place for anything up to six months!
In that time, your bike can deteriorate just sitting in the garage.
The tyres can go flat and out of shape, the fuel can spoil in the tank and the battery will run flat.
Riders in climates where they have to hibernate their bike during the winter will already know the drill.
But for the rest of us, it's all new territory.
So, we have put together this guide to help you hibernate your bike safely.
At the end of the lockdown, click here to find out how to get your bike ready for riding again.
How to hibernate your bike
SERVICE
Even if you are a few thousand kilometres short of the next service, it is advisable to have your bike serviced before laying it up. Some bikes require an annual service, even if you haven't done the required kilometres, and that service may fall due during the lockdown. As a minimum, you should think about changing the oil and filters. The Federal Chamber of Automotive Industries advises that automotive brands and networks will remain open to provide sales and service support to customers.  In fact, TeamMoto stores and MCA stores at Penrith, Caringbah and Campbelltown are actually offering free pick-up and delivery when you get your bike serviced so you don't even have to leave home isolation. (Restrictions on distance apply.)
BATTERY
If you don't have one of the new-age lithium or anti-gravity batteries, you should put your motorcycle battery on a trickle charger. Others prefer to take the battery out and jump-start it later on. If you do, you will then need to ride the bike for at least half an hour on constant throttle to re-charge the battery.
FUEL
Don't drain the fuel out. If moisture gets into a metal tank, it can cause corrosion. Instead, leave some fuel in the tank, but add fuel additives (often called preservatives or conditioner) such as Motorex's Fuel Stabiliser. It can save you the heartache of the fuel degrading and blocking up the injectors or carburettor jets.
TYRES
Leaving your bike sitting in the one spot for several months can ruin your tyres. As they gradually lose pressure, the sidewalls distort where they touch the garage floor. If you leave them that way, it can cause permanent damage. First thing to do is pump your tyres up high and check them every few weeks. However, it is better of you put the bike on a centre stand or a paddock stand which will take most or all of the pressure off the tyres. We like the Dynamoto stand. If not, move it around every few weeks.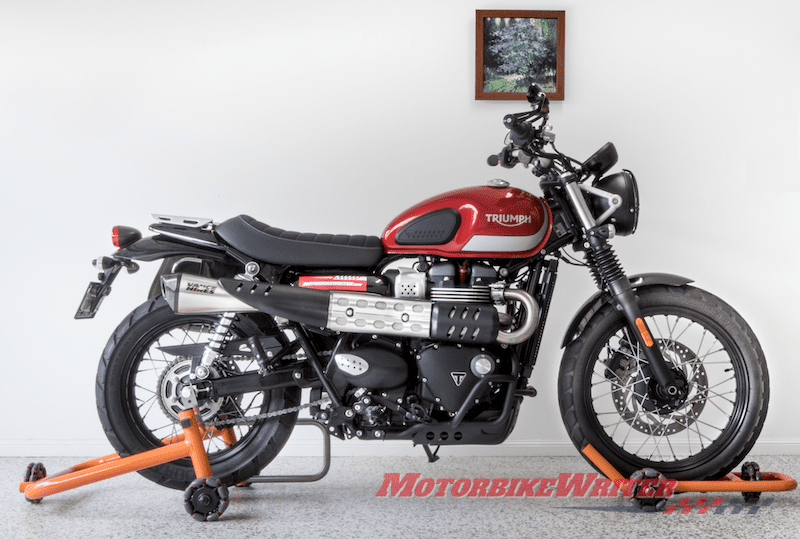 RUST NEVER SLEEPS
Had to use that heading, courtesy of Neil Young! Corrosion can get into your bike over the damp winter months unless you keep it dry. Rather than using a bike rain cover, try an old sheet or blanket which is more likely to soak up moisture. Before covering your bike, give the metal parts a liberal spray with a corrosion inhibitor such as Scottoiler's FS365 or WD40 which repels water. Try to store your bike in a warm and dry spot such as next to a hot water system.
RIDING GEAR
Don't forget about your riding gear as well. Never put your riding gear away dirty. Give it a good clean and store it in a dry cupboard to prevent mould. Put your helmet in its helmet bag, perhaps with some naphthalene to repel moisture. Store your boots with some newspaper inside to soak up any moisture and prevent them collapsing and going out of shape.