A hi-tech motorcycle helmet with cooling fans, cameras, electronically adjustable-tint visor, noise-cancelling sound and other hi-tech features is nearing the end of development.
The Encephalon (Brain), from Nand Logic in the USA, is about to go to a crowdfunding campaign with the developers expecting the price to be under $US1000 (about $A1300) when it is produced at the end of 2017.
Spokesman Daniel Stevens says it will be both DOT and European-approved, which means it will be legal in Australia.
"All of the electronics on board including the fan and the LEDs can fit in the palm of your hand," he says.  
The carbon-fibre Encephalon helmet is expected to weigh about the same as a Shoei GT Air (1750 grams or 3lbs, 14oz.
Tinted visor tech
One of the most interesting features is the visor which can automatically adjust the light conditions via an electrochromatic film. 
"The transparency of the visor is controlled electronically by an algorithm running in the embedded system," Andrew says.  
"Through this algorithm and the sensors onboard we can control the light penetration which allows us to adjust the transparency of the film hundreds of times per second to match the user's needs for different lighting conditions.  
"We also allow the user to control the transparency manually if they do choose."
Fan-forced
Riders in hot climates will also appreciate the climate control system which automatically switches on fans in the vents when the helmet reaches a certain temperature.
Riders will be able to select the temperature and humidity thresholds at which the fans activate.
Safety first
Safety has been considered in several features of this helmet.
If the helmet senses you have crashed, it calls an emergency number and not only provides GPS co-ordinates but also your stored medical information (allergies, blood type, etc) and crash details such as impact via the G-force sensors so first responders will have an idea of the crash severity.
It also features LED lights embedded into the back of the helmet to make the rider more visible.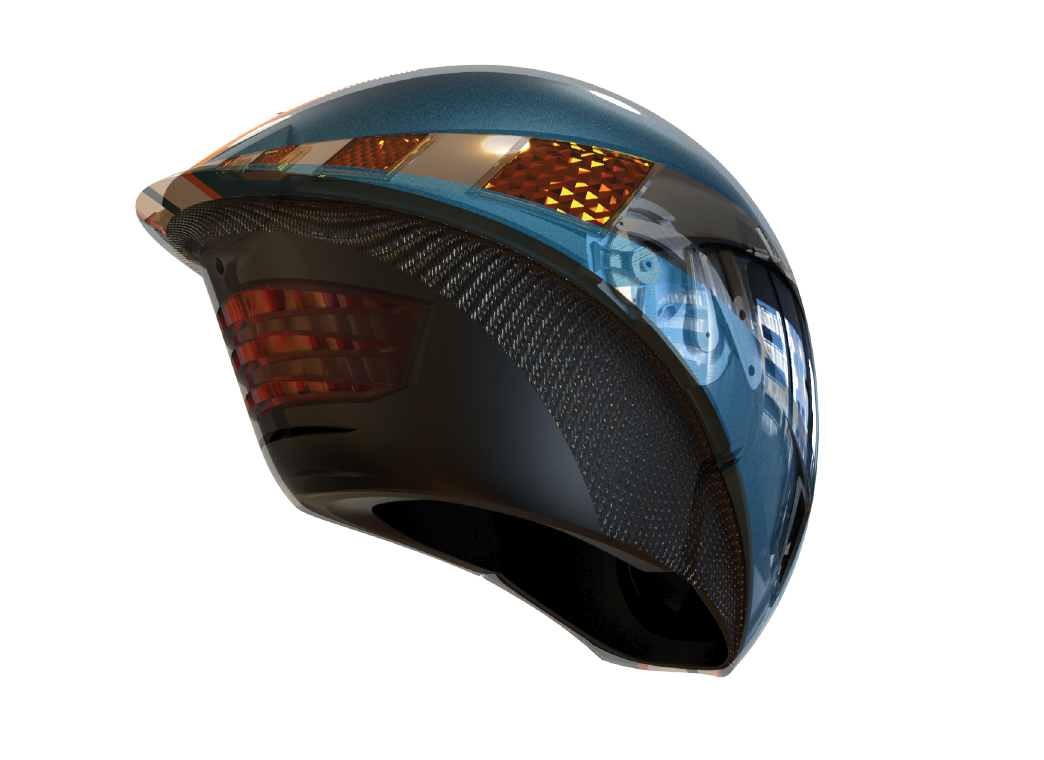 They operate via sensors so they get brighter the faster you go and flash brighter and more rapidly under emergency braking to alert following motorists.
Nand Logic claims the LEDs are embedded into the helmet structure so they "enhance the structural integrity".
The helmet is made of a mixture of high-density EPS foam, antimicrobial microfibre materials, closed-cell memory foam and comfort inserts, all within a lightweight carbon-fibre shell.
Another claimed safety feature is the ratcheted visor and chin bar which open like a modular helmet. They claim it is important for emergency access.
It also has a ratchet chin strap rather than a double-D clasp.
Hi-tech features
Other features include Bluetooth connectivity for music, making phone calls, in-built GPS and communicating with other riders within a range of 500m.
While most Bluetooth helmet systems transmit data and media on the same channel, Encephalon can handle multiple streams of data so you can perform several functions at once and change settings while still listening to music, GPS instructions or making a phone call.
The sound should be good quality, too, with noise-cancelling to filter out unwanted wind and road noise.
However, as a safety feature, it clarifies and intensifies important sounds such as sirens and engine noise from surrounding vehicles.
There are also two cameras set into the helmet – front and rear – which can shoot both video and stills. They can be manually operated separately, or in auto mode where they record at high speeds or high G-forces.
There is also a data-logging system that captures speed, latitude, longitude, altitude, pitch, yaw, roll and G forces which you can view later on a 2D graph or on a map. (Beware that this information can be used in evidence against you.)
All functions will be controlled via a smartphone app.
However, riders will be able to leave the system in automatic or choose various modes that have their own settings for all functions according to whether they are commuting, stunting or racing!
Crowdfunding
The Nand Logic crowdfunding campaign will start in the northern spring with production following in six to nine months, Daniel says.
"Keep in mind we are at the preproduction prototype stage. What that means is once we have the funds to begin the initial production run we will be in production," he says.
"There is nothing more to designed or develop, we are that close."
Helmets for cycling, longboarding, etc will also be available and include an LED headlight and indicators.