Italian motorbike helmet manufacturer AGV has introduced a hydration cooling system which allows riders to sip liquid while riding.
The AGV Pista GP R, presented in five graphics and two carbon variants, will be available from November 2016 starting from €1200 (about $A1800).
There is no word on when it will be available in Australia, but under new laws, European-approved helmets can be legally imported and worn without the need for extra Australian certification.
The Pista GP R is the first helmet to include a hydration system, featuring internal channels and a drinking valve placed inside the chin area. It is completely removable.
There is an elastic tube at the back of the helmet which draws water from a hydration kit which can be worn as a backpack, or integrated into the aerodynamic hump in many modern racing leathers.
The AGV helmet was launched with ambassador Valentino Rossi at the recent Misano MotoGP in addition to the launch of new Dainese Mugello R D-air leathers featuring the hydration pack.
AGV has long been an innovator with helmet technology including AGVisor that changes tint in less than a second at the touch of a button thanks to a thin liquid crystal (LCD) layer powered by a small rechargeable battery.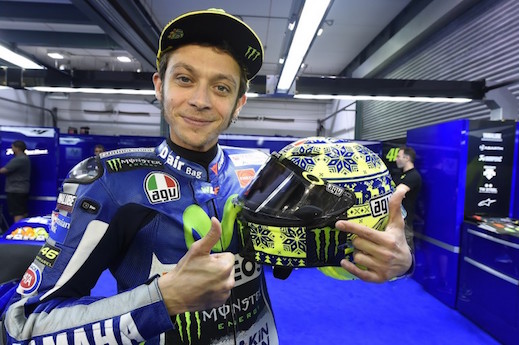 The Pista GP R also features a new-patented Visor Lock System and has improved wind-tunnel-tested aerodynamic performance thanks to the new Biplano rear spoiler.
The Dainese Mugello R D-air racing suit has more than 25 new features and several pioneering innovations leading to five new patents.
The airbag is now extended to cover the neck, shoulders and collarbones, to the lower sides of the rib cage.
The suit features a redesigned and seamless-integrated LED interface and a patented Intelligent Emergency Lighting System triggered by a special algorithm to detect a crash.
It will be available through Dainese's custom works program in two colour options from April 2017 starting from €3999 (about $A6000).