A Victorian Magistrate has upheld a $150 fine against a motorcycle rider for wearing a helmet camera, finding that the relevant laws were publicly available despite evidence that they weren't.
Defendant Max Lichenbaum says he is disappointed and is considering an appeal to the Supreme Court through his lawyers Maurice Blackburn.
Legal representative Malcolm Cumming says they tried to obtain the relevant Australian Standards first by phoning VicRoads, but were told they could not give them out over the phone.
"So we sent someone to VicRoads, but the receptionist was not sure and asked someone in a back room who said, 'no, we can't have them; they're available by subscription only'," Malcolm says.
The Australian Standards used to be available in a public library on the ground floor, but it has been closed and they are now held on the fifth floor which does not have public access under tighter anti-terrorism measures.
Malcolm says this evidence was presented in court, but Frankston Court Magistrate Rodney Crisp made the point that the lawyers needed to prove that on the date of the offence the relevant Australian Standard was not available.
"He wasn't satisfied that, in all probability, it wasn't available," Malcolm says.
The other legal argument was that the standard applies at the point of manufacture and cannot be unapproved.
However, the Magistrate found that there was an ongoing obligation to comply with the standard.
"This is inconsistent with the laws in Queensland and South Australia. In their road rules, they make it clear and explicit that road rule 270 means that you comply at manufacture and that's the end of the story.
"I'm very disappointed with the verdict and we will be advising Max about appeal options to the Supreme Court.
"Max was also very disappointed as he is always a good risk manager and always wears full leathers and boots and uses a helmet camera to manage risk, improve driver behaviour and as evidence after the fact.
"We're now going to ask the State Government for legislative change to remove the ambiguity and make it clear that as in Queensland and South Australia, once it's approve it can't be unapproved."
Media and observers packed the Frankston Magistrates Court, including cyclist representatives such as Dallas Goldburg of the World Naked Bike Ride.
He said the legal interpretation also affected cyclists.
"We use cameras to protect ourselves," he says.
In Queensland, a former police minister even encouraged cyclists to wear helmet cameras to collect evidence in the case of an incident.
"You don't get given the government standard when you buy a helmet," he says.
"We're also amazed that GoPro have no formal comment on it.
"You can now buy a GoPro at Target, Woolies, Kmart and Dick Smith, but there's nothing to show there is a warning that they can't be on a helmet.
It's the helmet that's not approved, not the camera, or the 3M adhesive, or the standard at the point of manufacturer or at the point of being picked up by the police."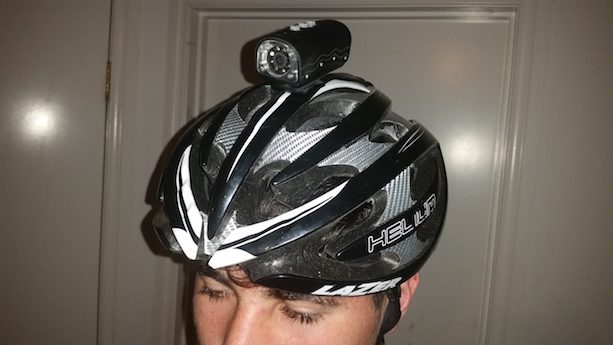 Edward Hore from Cycle says helmet cameras are a safety feature used by many bicycle riders.
"A number of commuters use them to get to and from home and have them mounted on their helmet as it allows the camera to see what they see," he says.
"Over the years helmet cameras have become required and even recommended by other jurisdictions including Queensland where Police Chief Ian Stewart told bike riders to use them in order to film cars passing too close. In the past few years they have become a safety item more synonymous with YouTube, but are still used by riders as a deterrent to road rage when pointed out the perpetrator may be filmed.
"It is sad to see the Victorian courts uphold a conviction on a motorbike helmet and it is yet to be tested in court for push bike helmets, but we hope that we can get a better ruling that helps the safety on our roads."
The only bright news from today's court appearance is that the original fine of $289 was reduced to $150 with no conviction recorded . It is believed the three demerit points still stand.