Ulysses Club members are being harassed by Queensland Police for wearing "old man" patches that some police mistake for outlaw colours.
The Ulysses Club was one of several "recreational rider" groups invited to a meeting last month with Police Commissioner Ian Stewart and Police Minister Jack Dempsey. They have all been invited back for another meeting on December 3.
Ostensibly the meetings are designed to allay the fears of these groups that they would be harassed under the self-professed "world's toughest anti-bikie laws" or so-called VLAD Act.
During the first meeting the Commissioner suggested the groups register their rides so police could leave them alone.
SHOULD YOU REGISTER YOUR RIDE?
It is not disputed that none of the motorcycle group representatives objected during the meeting.
However, some have claimed since that it is a ludicrous situation where people riding a perfectly legal bike in a perfectly legal social ride should be obliged to register with the police and provide an enormous amount of private information.
I tried to get in touch with several Ulysses Club members and officials by phone and email to find out what their reaction was to the register and whether they had any advice for their members. The only response I got was a curt email from national purchasing officer Rob White.
"It has come to my attention that you have posted stories on your website, displaying our Club's 'Old Man' logo," the email says.
"This logo is a registered Australian trademark and according to Club records you have not been granted permission to use it. Kindly remove all examples of our logo from your website immediately."
I "kindly" removed the logo.
That was the first part of the email, so clearly that was regarded as the most important message the club wanted to convey to me.
Business out of the way, the email then tackles what I believed the more serious issue at hand.
"Regarding the Outlaw Bikie Legislation issue; we are somewhat perplexed by the requests we have received for comment from our Club. We are a social club for people with an interest in motorcycling. This means that through age or disability, many of our members no longer even ride a motorcycle. The Club's constitution and ethos dictates that we still recognise such people though, so the organisation works hard to ensure everyone's enjoyment as we approach our twilight years.
"It denigrates our Club and its members when the incorrect assumption is made that we are somehow relevant to this new legislation. About the only impact it would have on us would be if we are pulled over for a licence/registration/decibel check, which is no different to how things have always been."
"Incorrect assumption"? 
I have read and received several examples of Ulysses Club members who have been harassed and even asked to "kindly remove" their beloved "Old Man" patch under the new anti-bikie crackdown.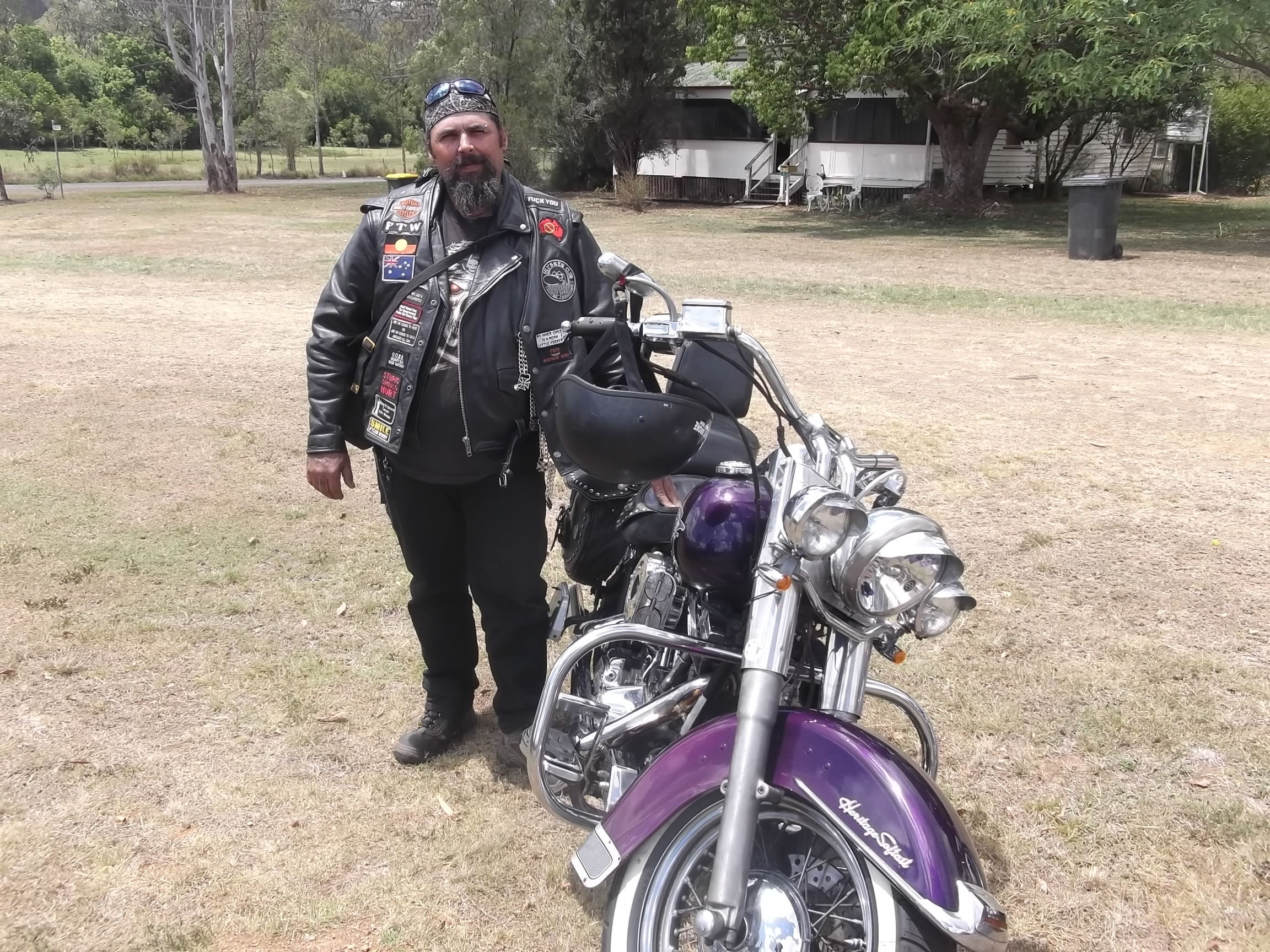 How about Paul Kelly (left) who was pulled over five times on his trip from Capalaba to Boondall, the last two times just 3km apart?
Is that not "relevant to this new legislation"?
Allegedly the first police officer told him to get rid of his Ulysses vest, or they would target him.
Is the Ulysses Club still "perplexed by the requests" for comment? How do they feel about members being asked to remove their beloved "Old Man" patch?
I can understand their concerns about members pretending to look like "outlaws" after they were confronted by the Rebels Motorcycle Club at the 2005 Ulysses rally in Canberra for wearing "rockers". The Ulysses Club has since banned the wearing of rockers.
Similarly, Ulysses Club officials corrected me for referring to one of their branches as a "chapter" which is a term more commonly used by HOG and bikie clubs.
The Ulysses email ends with: "If you are seeking further official comment from the Club I suggest you contact either our National President or National Secretary."
I have and await a reply. I was a member of the club for 10 years. It is a massive organisation with many devoted members and it provides them with discounts, social events and a feeling of camaraderie. But is it still relevant to active riders?
While I hate to quote Wikipedia, it's relevant to have a look at their plotted history of the Ulysses Club:
"The Ulysses Club was formed for motorcyclists aged 40 years and older at the instigation of Stephen Dearnley in Sydney, Australia in December 1983 in reply to a letter in the now defunct Bike Australia magazine, the editor being Peter 'The Bear' Thoeming. The name Ulysses Club was the idea of Rob Hall, while the club's motto of 'Grow Old Disgracefully' was devised by his then-girlfriend Pat Lynch. Peter 'The Bear' Thoeming sketched the 'old man' logo that is still used by the club in its original hand-sketched form. The inaugural meeting of the club was held in Sydney on December 6, 1983, when the five people present approved a draft constitution and the Ulysses Club was duly formed. From this meeting a draft constitution was adopted, and the three basic principles or purposes of the club were formulated. These principles are:
* To provide ways in which older motorcyclists can get together for companionship and mutual support;
* To show by example that motor cycling can be an enjoyable and practical activity for riders of all ages;
* To draw the attention of public and private institutions to the needs and views of older riders."
Note that last principle. To remain relevant to active riders, the Ulysses Club needs to use its vast numnbers to "draw the attention of public and private institutions to the needs and views of olders riders".