Remember the Harley-Davidson XR750s sliding around the oil and dirt mile track in the documentary On Any Sunday? Well, the new Harley Street 750 has rekindled those memories at the X Games in Austin Texas.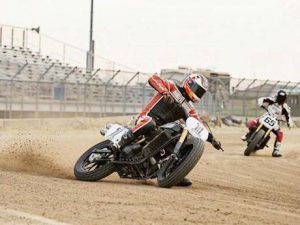 Following on from the Street 750 racing on ice at ESPN's X Games in Aspen, USA, earlier this year, the newest Harley family made an appearance at the weekend on the dirt track.
While we mature-aged guys are a bit misty eyed about the big Harleys hitting the track, perhaps many of the young folk are rather excited at the site of the flat trackers in full flight. It may lead to a rush of customised Street flat trackers.
Australia isn't getting the 750cc model as it is believe it would just cannibalise sales of the 883 Sportster. However, we are getting the learner-approved Street 500 early next year and we predict it will be popular with the hipster set, as well as women, shorter riders, newbies and returned riders.
Harley-Davidson Australia marketing boss Adam Wright says they are very eager for the new bike to arrive and would love to have it before next year, but the high demand around the world may prevent an earlier release.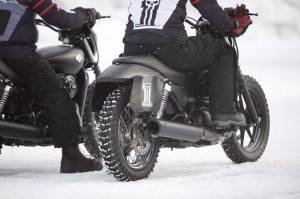 The customised Harley Street 750 flat tracker was ridden by reigning AMA Pro Flat Track Grand National champion, Brad "the Bullet, Baker, in the exhibition race. Flat track is not a sanctioned X Games event, so Harley is encouraging riders to tweet #XGamesFlatTrack to encourage organisers to recognise the race for future events.
Harley-Davidson has competed in flat track racing for almost 100 years.