American women are throwing a leg over motorcycles in growing numbers, largely thanks to the efforts of Harley-Davidson. And soon Harley-Davidson Australia will focus greater attention on women and young adults with the appointment of a specialist "customer experience manager".
Harley-Davidson Australia and New Zealand director of marketing Adam Wright says they are interviewing for the position which will give greater focus on these key areas. "They will be looking at new initiatives for outreach to women and young adults," he says.
They won't have to look any further than America where female motorcycle ownership has risen from from 4.3 million in 2003 to 6.7 million in 2012 and from 8% in 2009 to 12% in 2012, according to the US Motorcycle Council.
However, among Harley owners, women are now approaching one in five, says Harley-Davison North America media relations manager Jen Hoyer.
She says the company had a stranglehold on white mature-aged men in the US, so in 2008, Harley specifically reached out to non-traditional demographics – women, young adults, African-Americans and Hispanics.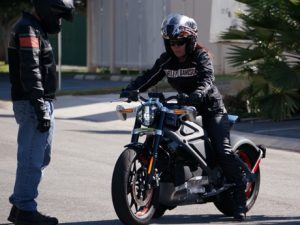 Jen says Harley spends more of its marketing dollar on women than any other group and other motorcycle brands have recognised the initiatives they have introduced to get women on to motorcycles.
For a start, Harley has introduced products that target women, young people and shorter riders with bikes that are lower and lighter, have smaller handgrips and lighter lever pull. They also include a lot of women in their press photography and for the reintroduction of the Road Glide this year, they only featured female riders.
Harley also has a director of women's outreach marketing, Claudia Garber who says that in the US they are selling "more motorcycles to women than all our competitors combined".
Honda has also reached out to women with their 250cc and 500cc sports bikes and CTX700 and CTX700N medium-sized cruisers, doubling its market share of female riders in the past five years.
But Harley is doing a lot more. Other female-specific strategies include Garage Party events where women learn about basic maintenance and things such as picking up a dropped bike; the Jump Start initiative where non-riders can experience riding a stationary bike; and sponsoring female-specific charities. Australia has also adopted these strategies which have been reasonably affective, although female motorcycle ownership still remains below 10%.
Jen says their latest US strategies include a women's riding month in May and a website where women can share their riding stories and experiences. "Women are very social and they love to share their stories," she says.
"A lot of women would like to ride, but don't think they can because it looks too difficult and the bikes look too heavy. They don't need motorcycle companies telling them they can do it; they need other female riders to tell them. A lot of women approach me and ask about it. I tell them, if you want to ride that is all you need. The more women you interact with the more you can convert to riding."