As the name suggests, the Heritage Softail Classic clings to the traditional style that has made Harley-Davidson such an identifiable brand around the world.
It's got lashing of chrome, a low seat, studded and tasseled leather saddlebags and white-wall tyres on spoked wheels. It's a time-tested design and there is little Harley can do to update it without spoiling the intrinsic beauty.

The Heritage has long been the favourite of those who admire its traditional cruiser looks, but want to do some comfortable touring with their significant other.
For some time it was the top seller in Australia, but it has been overtaken in recent years by a new and more modern breed of bike catering for younger riders.
Not that modern technology has passed it by. Over the years it has gained better suspension, technology, a bigger engine, more comprehensive instruments with a gear indicator and taco, and ABS.
For the 2015 model, the brakes have been further improved with a more refined and smoother ABS, a new front master cylinder, a high-stiffness four-piston fixed calliper with larger pistons and premium piston coating, and larger 300mm rotor with a higher effective radius.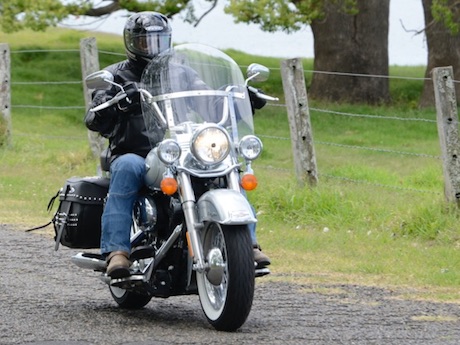 The only other change for the 2015 model are new colours and custom paint. The bike I rode recently on a long trip to Tamworth and back is "Brilliant Silver Pearl" which not only looks great, but hides the dirt of a long haul.
I'm not a big fan of windscreens, but for this trip, it was good to have the weather and wind protection afforded by that large screen. If you don't like it, just give it a hefty pull and it releases in a split second. Re-installing it requires lining up the guides and then pushing. You can do it in a few seconds.
I'm just over 182cm (6ft) and I could just see over the top of the screen, yet I didn't cop a lot of buffeting. The screen is very wide and gives plenty of rain protection for your shoulders and arms. It also takes the strain of the wind off your arms so you don't end up exhausted at the end of a long day's ride.
The deep and wide rider's saddle is well contoured for comfort, although the soft padding could be firmed up as you tend to sink through it on to the hard supports underneath by the end of the day. The separate pillion seat looks like it would provide good lower back support, but the leading edge is hard and it digs into your back.
Pillions will be happy with the width of foam on their wide seat pad. The sissy par pad is big but a little too hard, says Mrs MotorbikeWriter, although it may soften with use.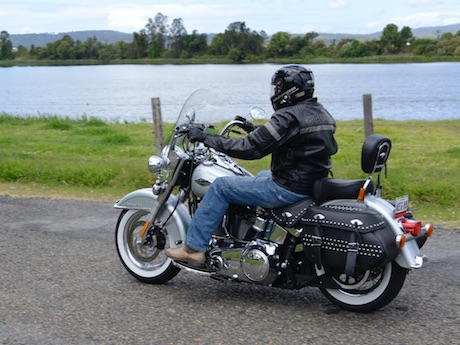 Reach to the mini-ape-hanger bars can be adjusted to suit most riders. I pulled them back slightly so they weren't too high or far, yet they still give plenty of leverage for tight feet-up u-turns.
Together with the big floorboards, it's a comfortable riding position with plenty of control over the bike when the going gets spirited and technical, while also allowing a relaxed position for the boring highways.
The 103 Twin Cam engine is counter-balanced and feels smooth and refined, even when accelerating hard. Despite being rigid mounted in the frame, it doesn't shudder or feel rough. Even at idle there is only a pleasant rumbling vibration that slightly stirs vision in the rearview mirrors.
It is well matched with the six-speed Cruise Drive transmission with nicely spaced gears that suit everything from around town to the highway. There is so much torque in the engine, you can slip quickly through the gears, which have less "clunk" these days, and leave it in a high gear for roll-on acceleration.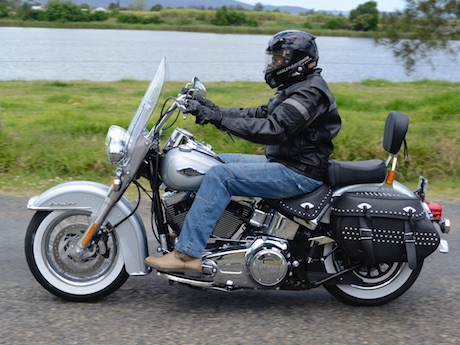 At 100km/h it is ticking along at about 2200 revs in sixth and you can roll on the throttle for smooth overtaking. If you are in a hurry, just drop it one cog and the manoeuvre is a lot quicker.
The new brakes are smooth and powerful with plenty of feel in the lever and that big oval foot pedal. I gave it a few panic stop tests and the lever and pedal pulsed without kicking back violently as the ABS activated.
Despite being a big, heavy bike at 331kg, it doesn't feel like it needs a second brake rotor up front.
Instead, you get that nice chromed hemisphere on the wheel's right side – which is the side you tend to look at, anyway.
Apart from looking good, the Heritage is a capable tourer with decent luggage capacity in those cowboy-style leather saddlebags.
Unfortunately, the bags are styled with a smaller top than the bottom, so you can actually fit a lot more in than you can squeeze through the opening. It pays to pack a pair of shoes, tools or something small first and shove it toward the back, before putting your main bag in.
The other problem with the bags is that the lid won't prop open. But I do like the traditional belt buckle straps which have a convenient plastic clasp hidden behind them so they are convenient but don't spoil the traditional look.
The Heritage is built for highway comfort with a stable and plush ride thanks to its combination of suspension, thick tyres and long wheelbase. However, harsh bumps tend to upset the suspension and it can bottom out even with the rear spring adjusted for bigger loads. It will also wallow a bit through corners if it hits irregularities or you aren't smooth on the throttle.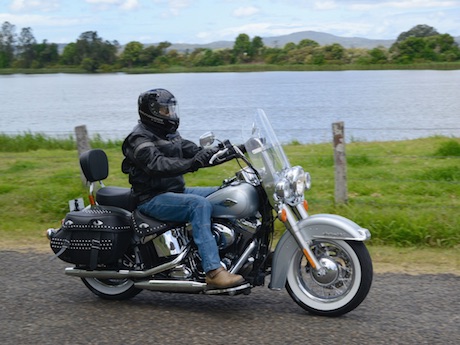 In capable hands, you can still hustle it along pretty swiftly and the only limiting factor becomes the floorboards which scrape around the corners.
The big windscreen may provide protection from the wind, but it also develops some weave if you get in among the truck turbulence on the highways. However, the wide and well-placed handlebars give the rider plenty of control over any weave.
If it's relaxed two-up touring you are after and you don't want to sacrifice traditional cruiser styling, the Heritage Softail Classic is rumbling right up your street.
The best news is that the price has dropped from $30,495 to $27,899 ($29,995 rideaway).
Harley-Davidson FLSTC Heritage Softail Classic 

tech specs
Price: $29.995 (rideaway)

Warranty: 24 months (unlimited mileage)

Service Intervals: 1600km/8000km

Engine: Air-cooled, Twin Cam 103B (1690cc)

Torque: 129Nm at 3000rpm

Transmission: 6-speed Cruise Drive

Fuel tank: 18.9 litres

Economy: 5.6L/100km (claimed and tested)

Length: 2405mm

Seat: 648mm

Wheelbase: 1635mm

Tyres: D402F MT90B16 72HH; D401 150/80B16 71H

Wheels: 16 x 3in (406 mm x 76 mm)

Weight: 331kg

Colours: Vivid Black, Brilliant Silver Pearl, Morocco Gold Pearl, Superior Blue,

Two-tone: Mysterious Red Sunglo/Blackened Cayenne Sunglo; Amber Whiskey/

Charcoal Pearl

Custom colours: Black Magic