Harley fan and Motorcycle Council of NSW chairman Steve Pearce turned some heads when he showed up on a Harley-Davidson Sport Glide to ride in yesterday's annual Road Safety Ride to publicly launch NSW Motorcycle Awareness Month.
The Sport Glide costs $27,750 ride away and features a small "batwing" fairing and hard panniers that detach to convert from tourer to cruiser.
Read our review here and keep reading to see what Steve thought of the convertible Harley.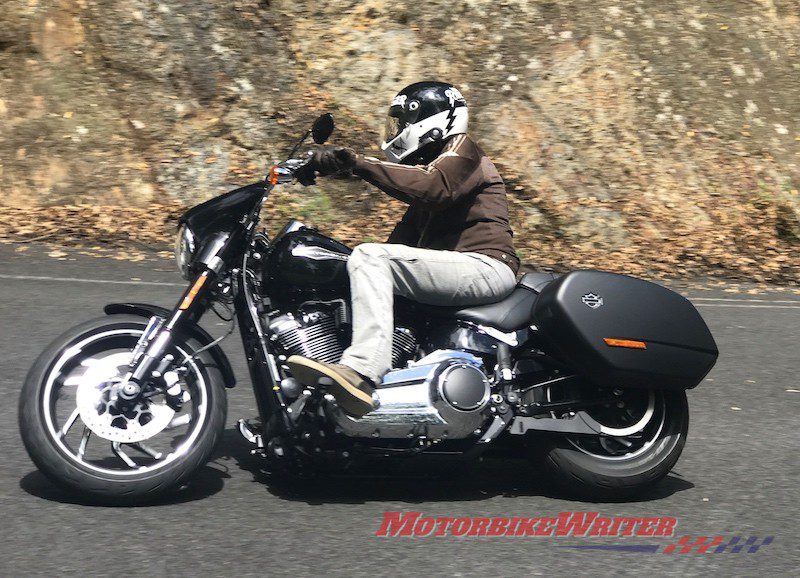 Steve rides the Sport Glide
What happens when Harley Davidson mates a V-Rod with a Road King?
The result is Harley's new Sport Glide.
I had the opportunity to ride this beast in the Road Safety Ride which attracted about 30 riders. It was a great turnout considering the weather and Bathurst on TV.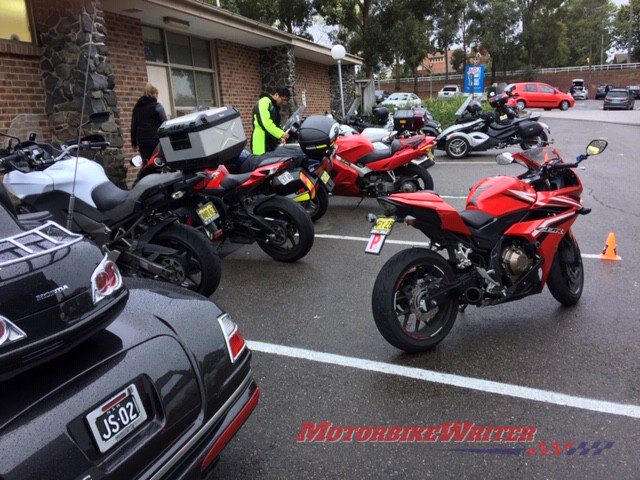 Having owned a Road King, Electra Glide and a Dyna Switchback, and ridden most other Harleys, I thought I was ready.
I was wrong.
Some research and I thought I knew what to expect. A convertible tourer / cruiser from the softail family, similar to the Switchback. The Dyna and Softail family of motorcycles was recently merged together, so the existence of the Sport Glide makes obvious sense.
First look
The first look at the Sport Glide in the flesh and there it is: Harley Davidson's view of the contemporary motorcycle with obvious links to the Harley's extensive heritage. The styling is unique, one off, almost custom. Bagger style meets practicality. I wasn't expecting this.
To ride, the Sport Glide has a hard edge, a much harder edge to most Harleys, similar to the V-Rod. Except you can easily tour on the Sport Glide. It has a very competent upside-down fork front end mated to an adjustable mono shock rear, so it handles exceptionally well. A wider 180mm rear tyre also helps. It copes with bumps and ruts in the road very easily and you always feel in control. The new Softail chassis is well developed, so it drops into corners effortlessly.
The brakes are superb. It pulls up straight with no fade and plenty of feel from the lever. ABS brakes are standard.
Freight train engine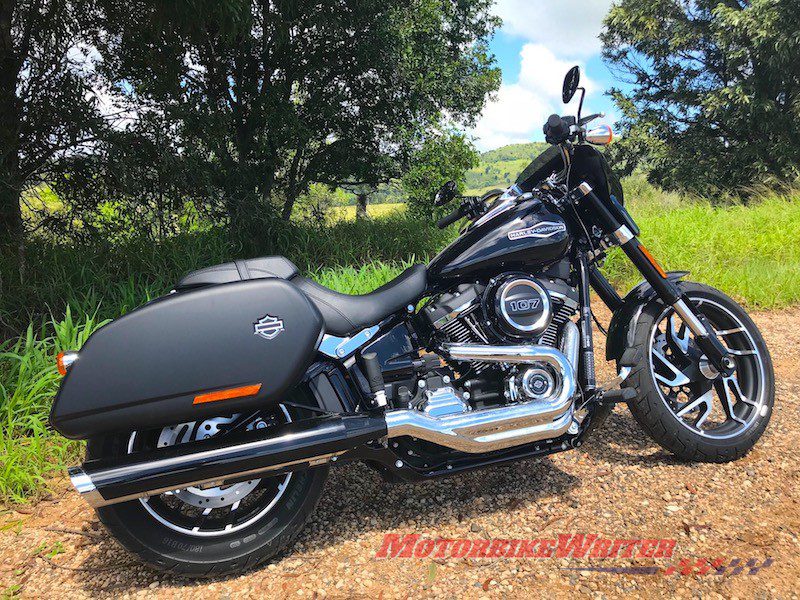 The 107ci V twin power plant is all Harley. William Harley and Arthur Davidson would be pleased. It pulls like a freight train. And it looks angry, with blacked out cooling fins and chrome plated cam covers and exhaust. The engine has been counterbalanced for smoothness, but the Harley bloodline is always present in the seat of your pants.
On the road, overtaking is effortless due to the masses of torque available. The riding position is low and comfortable. The batwing screen protects you from most of what is thrown at you by the road Gods.
Riding this beast reminds me of a flat-tracker, with the wide handlebars which are so comfortable to cruise with and which coax you forward when its time to try and scratch the pavement. Switchgear is all quality, well laid out and easy to use.
Standard inclusions?  Electronic cruise control, all-LED lighting including Daymaker LED headlight, USB charging port and keyless ignition with Harley's Smart Security System.
Options? Heaps, thanks to Harley Davidson's extensive parts catalogue.
The Sport Glide is a motorcycle which performs, handles superbly and still has the heritage. The Sport Glide is for anyone who wants to turn heads in the city, and tour whenever the open road calls.
Thanks to Harley-Davidson Australia for the generous loan of the Sport Glide for the weekend.