If you can't decide between a cruiser or a tourer, the Harley-Davidson Softail Sport Glide may be the answer.
It features a small but effective "batwing" fairing and hard panniers for practical, touring comfort. Yet they detach in seconds to reveal a classic hardtail-style cruiser.
And at $27,750 ride away, that's a good deal for two bikes in one.
It also comes with electronic cruise control, all-LED lighting including Daymaker LED headlight, USB charging port and keyless ignition with Harley's Smart Security System.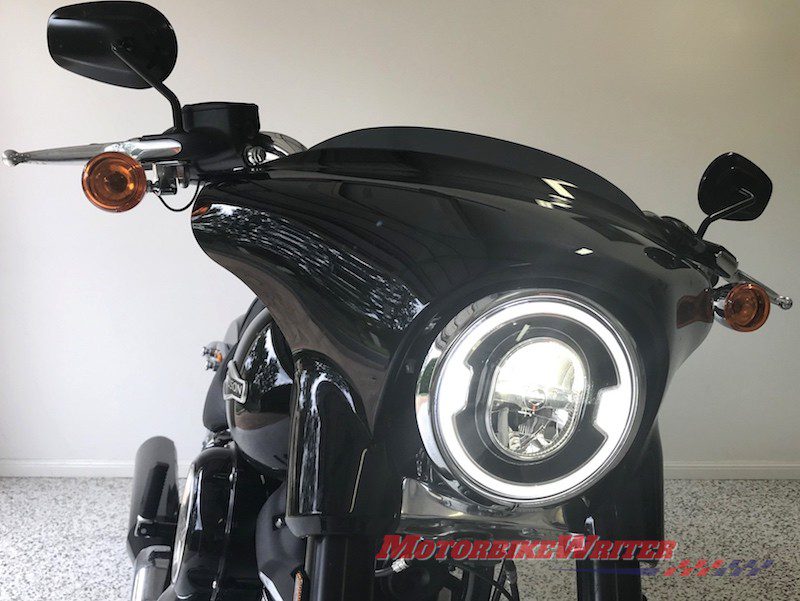 Family growth
Last hear Harley amalgamated the Dyna and Softails into the one Softail family which now has 17 model variants, the latest being the Sport Glide.
They are powered by the Milwaukee Eight 107 and 114 engines which are now 100% balanced for a smoother and more sophisticated feel.
At the moment the Sport Glide comes with the 107 (1745cc) engine, but I suspect a 114 (1868cc) version coming later this year.
The balanced engine doesn't quite spin up as fast as the 75% balanced engine in the Touring family, but there is a massive 145Nm of torque on hand for meaningful acceleration.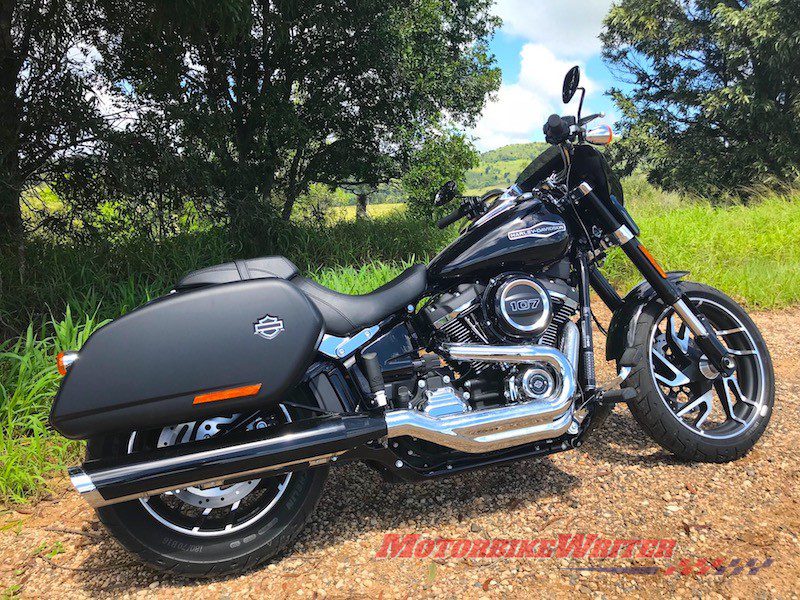 Nimble Sport Glide
The new Softails feature a completely new and 34% stiffer frame that is up to 17kg lighter making them more nimble and easier to flick around tight corners and the urban landscape.
However, the Sport Glide is even better with new 43mm upside-down Showa forks with single-cartridge damping system like on the new Fat Bob. It gives the bike a light and precise steering feel.
The Sport Glide also features the all-new Softail monoshock rear suspension with remote hydraulic spring preload adjustment. It can be adjusted for load and pillion via an exposed knob below the right-side cover.
Cornering is limited by footpeg clearance, but you can go deep into a corner and brake hard without a lot of fork dive or loss of front-tyre feel.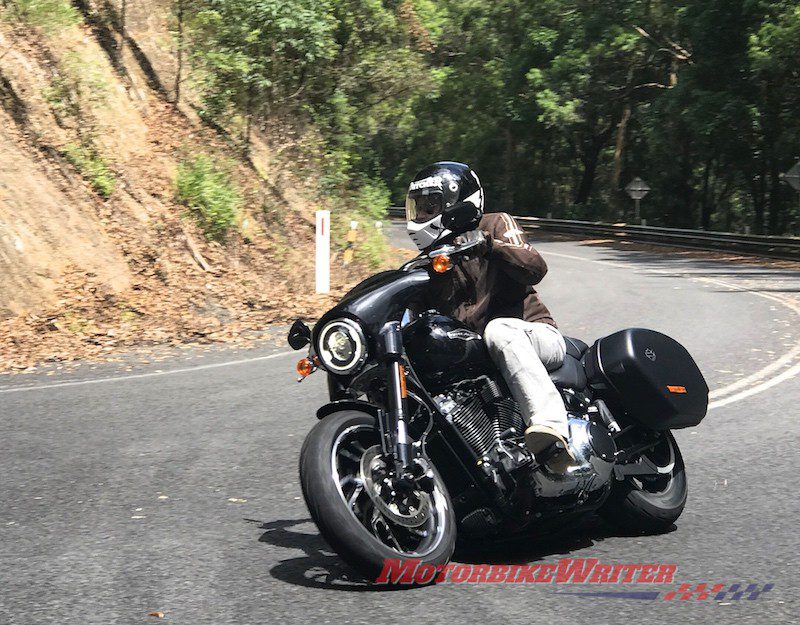 Obviously sports bikes will go in even deeper and harder, but there are few bikes that will keep up with the Sport Glide from the apex where you can twist the throttle hard.
The bike will squat and the 180mm back tyre will scuff up as the rubber grips the road and lays down the power, firing you hard out of the corner and probably leaving a telltale black line on the tarmac.
While the Fat Bob has dual front brake discs, the Sport Glide only has a single disc so you can more clearly see the stunning "directional wheel" normally reserved for their elite Custom Vehicle Operations models.
With its swirling spoke design, it looks like it's moving even when it's standing still.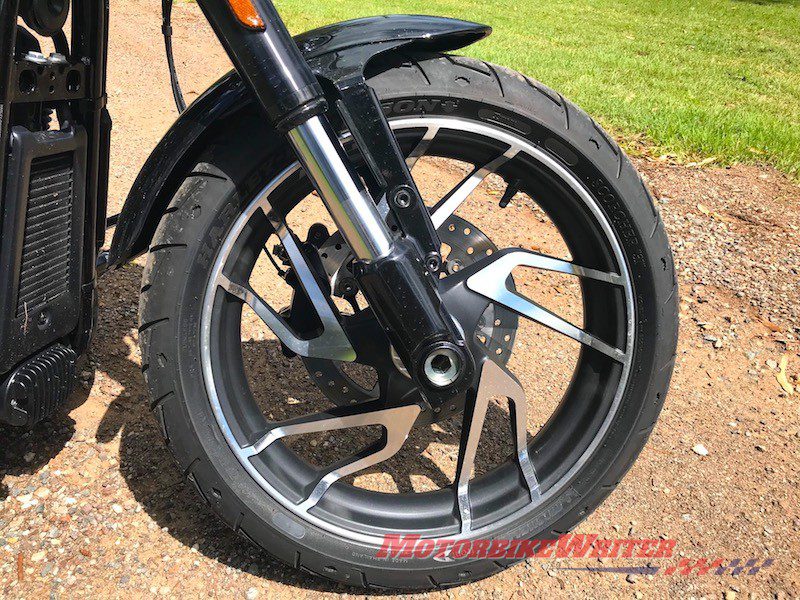 Even with one disc, the Sport Glide still has plenty of stopping power with strong initial bite, progressive feel and a smooth ABS actuation.
Quick-change act
But the showstopper on the Sport Glide is its quick-change act that allows it to cruise, commute or tour. Check out our video below.
Harley has released quick-change convertible models before including the Sportster 1200T and Dyna Switchback but these were cramped for tall riders.
The bigger Sport Glide comes with a low 680mm and broad seat and forward-mounted foot controls so it suits a wider range of rider sizes.
Like the big Touring Street Glide, the Sport Glide's much smaller batwing fairing is aerodynamically shaped to deflect wind from the rider's chest and provide a clean stream of air.
It comes with a 1.5-inch-high windshield, but you can also get a taller 5.5-inch Light Smoke Windshield.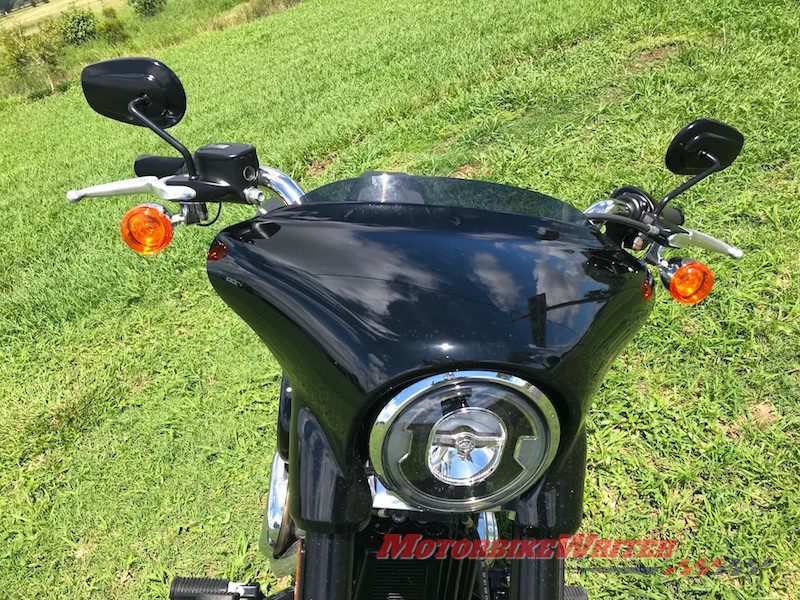 However, I found the short windscreen did the trick of keeping tiring wind force off your chest without introducing any head buffeting.
The fairing is secured to the fork tubes with two quick-release clamps that undo in a few seconds.
Similarly, the new rigid and lockable clamshell panniers can be detached in seconds thanks to a switch on the inside.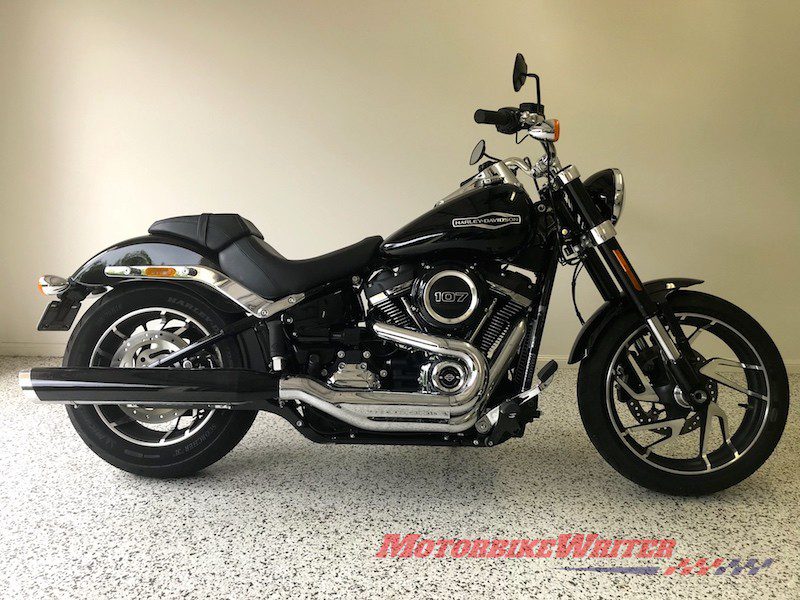 When removed, they leave a clean look with barely visible mounting points.
Unfortunately, the bags look a bit plasticky and are easy to scuff with your boots when getting on and off the bike. They are also easy to scratch, so when you take them off, place them on carpet or soft material.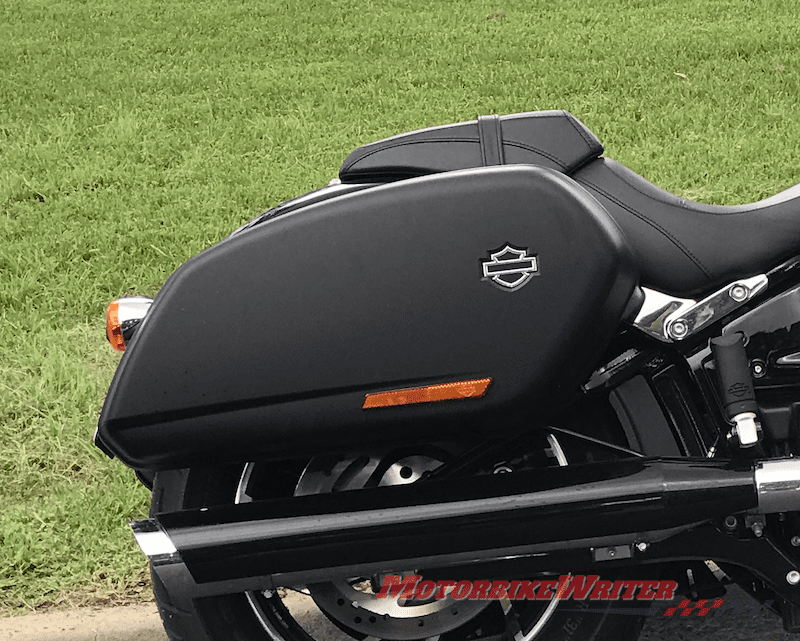 However, the panniers are nice and light, weatherproof and will hold 25.5 litres of luggage.
They can also be opened with one hand by a seated rider and the side door has a damping strut for smooth opening. As they open outwards, you still have to get off the bike to access your luggage.
Additional luggage capacity can be added with an accessory sissy bar upright, luggage rack or Tour-Pak mounting rack.
They feature a new HoldFast detachable latch system designed specifically for the new Softail platform.
The Sport Glide rolls on new Mantis cast-aluminium wheels, 18-inch front and 16-inch rear, shod with Michelin Scorcher 31 performance tyres.
They are a long-wearing touring tyre with confident grip, even in the wet.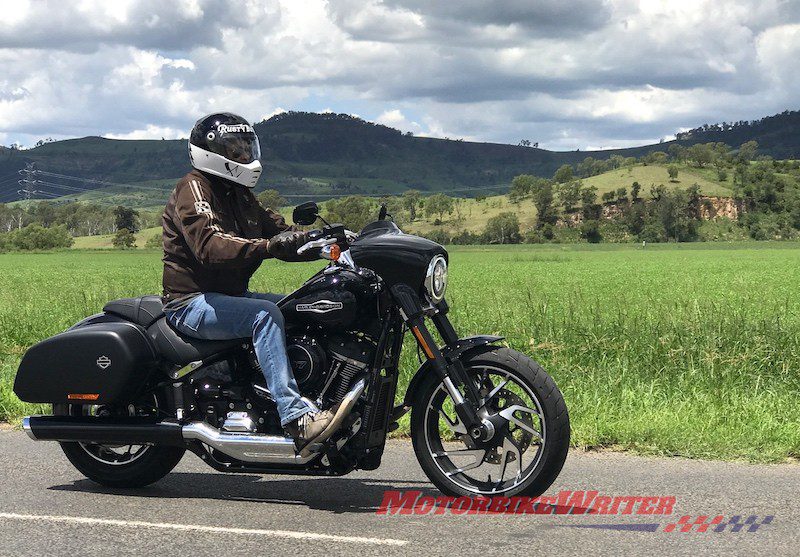 'Hot' bike
Precision oil cooling around the hottest areas of the cylinder heads keep some of the heat off the rider and passenger, but it's still a fairly hot bike in traffic on a summer's day.
However, the small fairing doesn't trap heat around the rider like it does on the Touring models.
The 2-1 exhaust has a sweeping rear header and black exhaust muffler for a sporty style and improved cornering clearance.
Lean angle is only 27.9 degrees on the right and 28.7 on the left which is less than the Road King at 32, so you will be scraping the footpegs in corners quite often.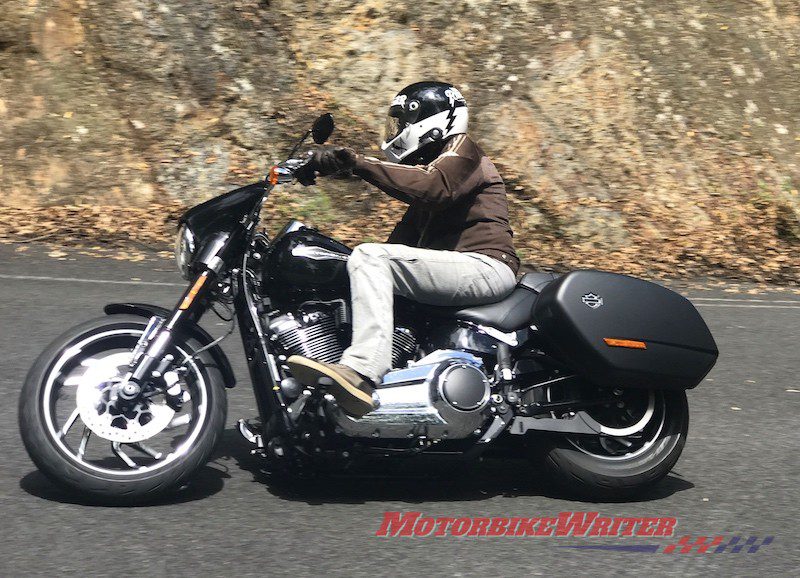 However, the improved suspension means there is little wallowing in bouncy corners, so you should't get any nasty bottoming out surprises.
Pillion comfort is limited with only a sash to hold on to and a sloping and narrowing seat. Those who want to do more touring than cruising would have to invest in a whole new seat as the rider and pillion seat is one piece.
The tank-mounted instruments sit up high so they are easy to see without having to glance away from the road ahead.
They feature a traditional round speedometer with a digital screen below showing fuel gauge and gear position.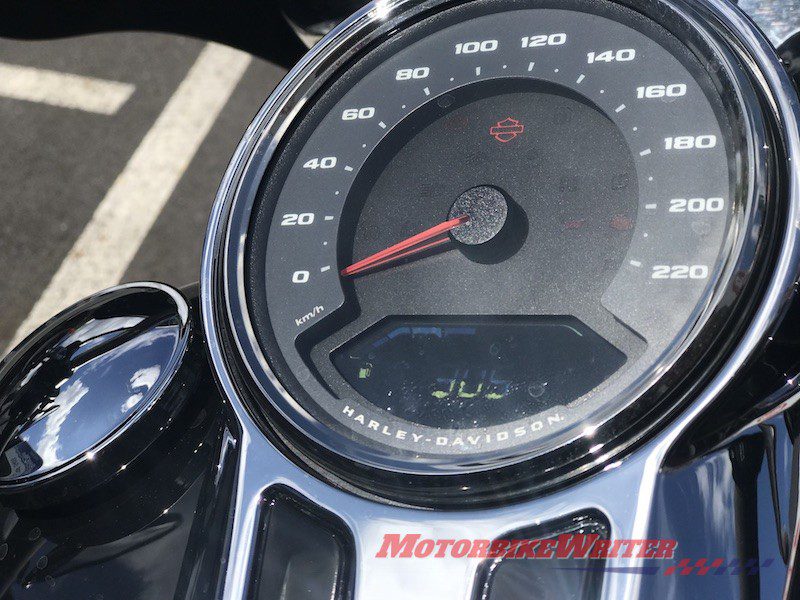 You can also toggle between other information – odometer, two trip meters, fuel range, clock and revs – via a switch on the left handlebar.
It's pretty comprehensive but I'd also like to see an ambient temperature display.
On our test bike, the instruments had some condensation under the glass. However, it soon dissipated with a long run in some dry, cool air.
Our new favourite
The Sport Glide name is apt since it is a great bike to push hard, yet is very comfortable and practical enough for long tours.
It's now our favourite Harley and will surely win a host of new fans.
Harley-Davidson Sport Glide Technical Specifications
Price: $27,750 ride away

Engine: Milwaukee Eight 107 (1745cc) V-twin

Torque: 145Nm @ 3250rpm

Transmission: 6-speed, belt drive

Brakes: 4-piston fixed single disc (front); 2-piston floating (rear) with ABS

Tyres: 130/70B18 63H; 190/70B16 77H

Fuel: 18.9 litres

Economy: 5.3L/100km

Wet weightL 317kg

Length: 2325mm

Seat: 680mm

Clearance: 120mm

Colours:

Vivid Black, Twisted Cherry and Silver Fortune.