A new sidestand, new colour schemes and updated brakes are the only changes for this year for the most traditional of all the Harleys, the Softail Deluxe.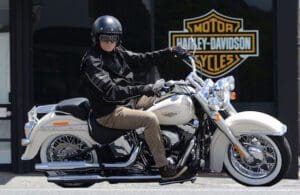 But what else would you change? The cruiser is a work of moving art from its big pull-backs bars and acres of chrome to its low, low saddle and its white-walled rubber.
If you think it's impossible to make the Deluxe any prettier with more chrome, then think again as there is also a CVO edition this year.
The FLSTN Softail Deluxe costs $28,995 rideaway ($NZ31,995) which is the same as last year while the CVO Softail Deluxe is $44,995 ($46,495).
We've ridden the Deluxe on many occasions and enjoy its relaxed attitude, but its latent muscle that will turn on the power if ever needed.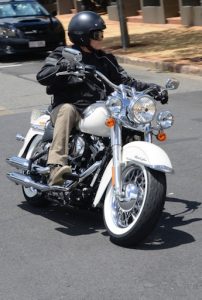 Over the years it has gained better suspension, technology, a bigger engine, more comprehensive instruments with a gear indicator and taco, and ABS.
For 2015, there are now pant schemes including custom and Hard Candy, the sidestand has been shortened so it's easier to reach for short people and the brakes have been further improved.
The brakes now have a more refined and smoother ABS, a new front master cylinder, a high-stiffness four-piston fixed calliper with larger pistons and premium piston coating, and larger 300mm rotor with a higher effective radius.
Even though it has only one disc up front and a chromed bowl on the other side for looks, it doesn't feel like it needs a second disc, anyway. Brakes feel strong and responsive with a very smooth ABS application.
Shorter riders will love the bike with its extremely low 690mm seat which has "collapsing sides" that make it even easier to get your feet on the ground.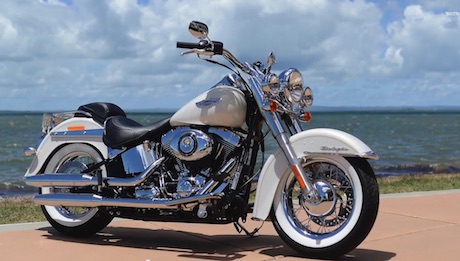 Like all Softails, it's powered by the counter-balanced Twin Cam 103B and has six-speed Cruise Drive transmission for smooth getaways.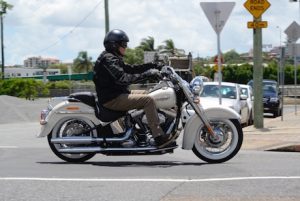 Options include chrome aluminium Profile laced wheels, security system with proximity-based, hands-free fob and engine idle cutout which reduces heat when the bike is stopped at the traffic lights.
The Deluxe is a real show-stopping head-turner for boulevard cruising. However, if you want to go further, it's also extremely comfortable with an easy reach to the adjustable bars, generous floorboards, a deep and wide saddle and thick separate pillion seat, although a sissy bar would be handy for pillions.
At 100km/h the Deluxe just ticks along at a gentle 2200 revs in sixth, making cruising and touring a relaxed experience. However, you can roll on the throttle for smooth overtaking or stomp down just one cog for a promoter response.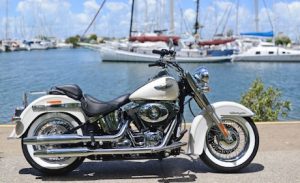 It has plenty of highway stability and a plush ride thanks to its combination of suspension, thick tyres and long wheelbase. Harsh bumps tend to upset the suspension and it can bottom out even with the rear spring adjusted for bigger loads. It will also wallow a bit through corners if it hits irregularities or you aren't smooth on the throttle.
But capable riders can still hustle the Deluxe along, limited only by kissing the floorboards on the ground through corners.
If you intend to tour, you can get soft bags that quickly slip on and off without spoiling the looks of the naked cruiser.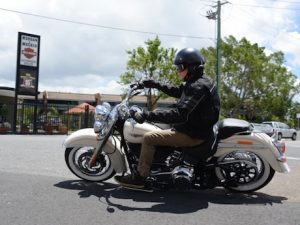 Harley-Davidson FLSTN Softail Deluxe tech specs
Price: $28,995 rideaway ($NZ31,995)

Warranty: 24 months (unlimited mileage)

Service Intervals: 1600km/8000km

Engine: Air-cooled, Twin Cam 103B (1690cc)

Torque: 129Nm at 3000rpm

Transmission: 6-speed Cruise Drive

Fuel tank: 18.9 litres

Length: 2396mm

Seat: 635mm (laden), 690mm (unladen)

Wheelbase: 1635mm

Tyres: 140/75R17; 200/55R17

Wheels: 16 x 3in (406 mm x 76 mm)

Wet weight: 329kg