I felt a bit like Captain America riding around on the military-painted Harley-Davidson Softail Slim S with its massive 110-cube Screamin' Eagle Twin Cam.
There is a strange mixture of modern, fuel-injected power and old, stripped-down Panhead aesthetics about this bike.
I especially love the way you can see between the seat and the tank to the powerful cylinder heads.
It's bare-boned and brawny.
The Slim S and Fat Boy S are the first non-CVO models to get a Screamin' Eagle engine.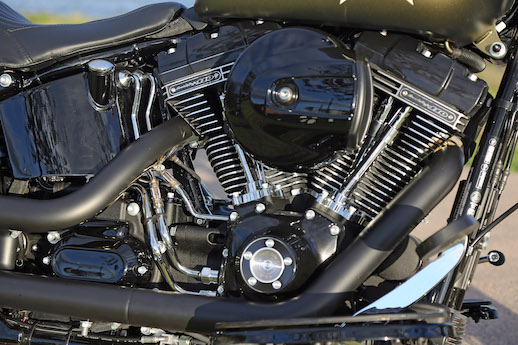 Normally you would pay an extra $6000 to have one fitted, but the premium over the standard model price is only $2500.
So the Slim S costs just $28,995 ride away which is excellent value and should retain a lot of that when – or if – it is ever sold.
The Slim S not only gets the 110 Twin Cam, but also matching pipes, and the low-profile air filter from the Touring range.
All Softails now come with a lighter hydraulic clutch and a fly-by-wire throttle which allows Harley to fit cruise control and the electronic Engine Idle Temperature Management System which cuts the rear cylinder on demand when stationary.
To enable EITM, simply push the throttle forward for three seconds until the cruise control lamp flashes green for enabled and red for disabled.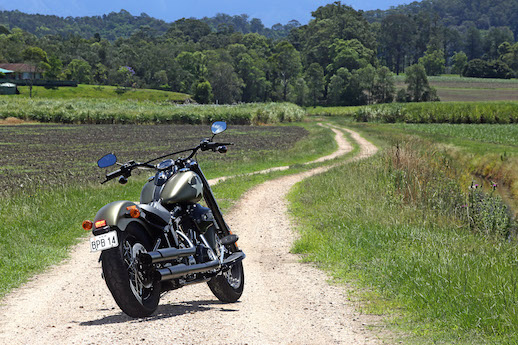 It's great for when you are sitting at the traffic lights and don't want to fry your nether regions!
However, your nether regions will certainly get a tingle out of this bike.
With its relatively low weight of 308kg and 136Nm of churning torque to get you motivated, this is an exciting bike to ride.
And you can always look down and see exactly what is moving you!
Captain America actually rode a Softail Breakout in the movie, but this would have suited him better for its military paint job and Panhead looks.
The Slim S also comes in vivid black, but the gleaming "olive gold denim" paint is hard to resist.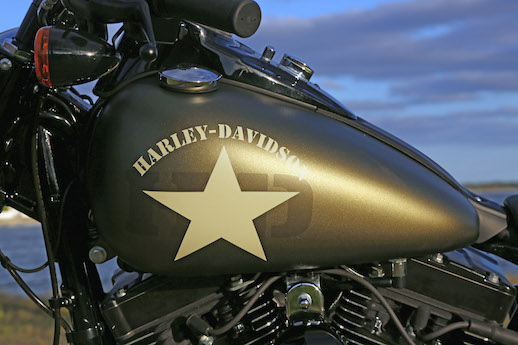 It certainly garners a lot of public attention anywhere you show up.
Both colour schemes feature blackened engines and loads of old-school gloss black on the frame, forks, headlight, handlebars and wheels.
It sits on classic looking wheels with wire spokes laced into gloss black rims with high-profile "balloon" tyres.
The Slim S has wide "Hollywood" handlebars with an MX-style cross brace, a deep-dish solo saddle, car-sized brake pedal and big floorboards which make for a lot of rider comfort.
However, the floorboards also decrease the lean angle and scrape with alacrity despite a generous 120mm clearance, up 5mm from the standard.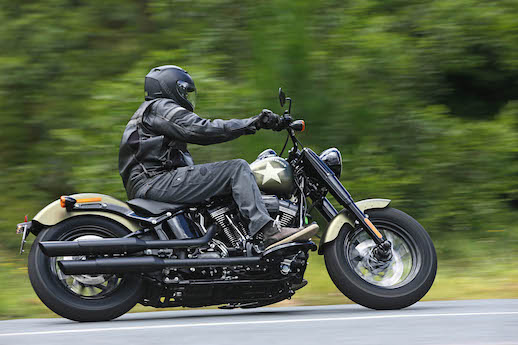 But with that big motor and effective single front disc with ABS you can use the go-and-stop power to make swift progress, even though your corner speeds are limited.
While the Fat Boy has a wide rear section tyre, this comes with a more classic narrow tyre almost matching the front tyre size.
That allows the Slim S to turn a little easier, without having to muscle the bike. It makes riding through twisting roads a lot less effort and more fun.
The Slim S also rides beautifully over the jumps and bumps of urban terrain and the country B roads. Much better than the Fat Boy S which has a lower rider height.
But it's the engine that will have you salivating the most.
It feels much smoother and more refined than the 103 or even the 103 High Output Twin Cam.
The engine has bags of torque down low and you can be as careless as you want with the gears, because it will pull from under 2000 revs without shuddering or protesting.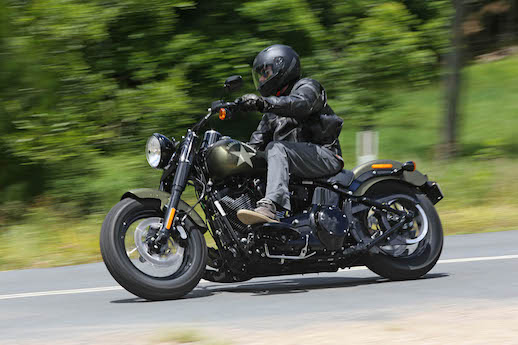 And there's no blind spots in the power or torque band at any revs.
It's also a heady engine that will rev more freely than you would expect from a big V-twin.
The Slim S pulls off the line with dramatic effect and will freely spin out in any of the gears, delivering a deep, baritone note from the twin slash cut matte-black mufflers.
There's virtually no mechanical engine or transmission noise from the quiet-running belt drive to mask that exhaust note or the delightful sucking noises from the low-profile air filter.
Instruments are tank-mounted and contained in a classic single round pod with an LCD screen where you can toggle between odometer, trips, clock, fuel range and gear selector/tachometer, via a switch on the left handlebar.
That's where you will also find the cruise control which is one of the best I've used. It's positive, has no lag before engaging and is easy to precisely adjust your speed so you never run foul of the law.
Like all Softails, it has a smart key fob so there are no dangling keys, just a big switch on the tapered Fat Bob peanut tank to get you all fired up.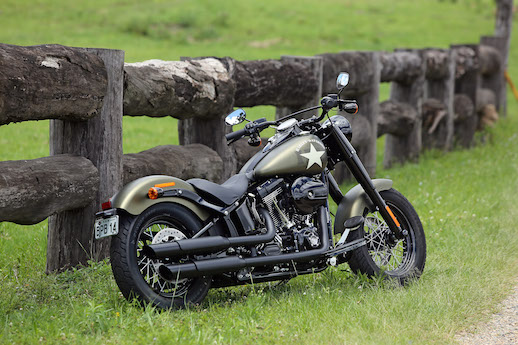 Harley-Davidson Softail Slim S FLSS
Costs
| | |
| --- | --- |
| Price | $28,995 (ride away) |
| Warranty | 24 months, unlimited km |
| Service | 1600/8000km |
| | |
Dimensions
| | |
| --- | --- |
| Length | 2390mm (92.3″) |
| Seat | 665mm (28.2″) |
| Fuel | 18.9L (5gal) |
| Dry Weight | 309kg (682lb) |
Powertrain
| | |
| --- | --- |
| Engine | Air-cooled, Twin Cam 110B™ |
| Displacement | 1802cc |
| Engine Torque | 136Nm (109ftlb) @ 3500rpm |
| Transmission | 6-Speed Cruise Drive® |
Wheels/Tyres
| | |
| --- | --- |
| Wheels | Black Steel Laced |
| Front tyre | D402F MT90B16 72H |
| Rear tyre | D402 MU85B16 77H |
Color Options
| | |
| --- | --- |
| Color Options | Solids: Vivid Black; NEW Olive Gold Denim |