Harley-Davidson unveiled its LiveWire electric prototype in 2014 with 100km of range, but will deliver a slightly different production model next year with a bigger battery that goes further.
The new LiveWire was unveiled on Monday along with a bold new model line-up for the future including smaller electrics, electric bicycles, and new petrol-powered bikes from 500-1250cc. There's even an adventure bike coming!
Click here to read more and see the new bikes.  
More range
When the LiveWire prototype was unveiled in 2014, Harley did not commit to a timeline for production, saying they would wait until battery technology advanced, improving range and recharging times.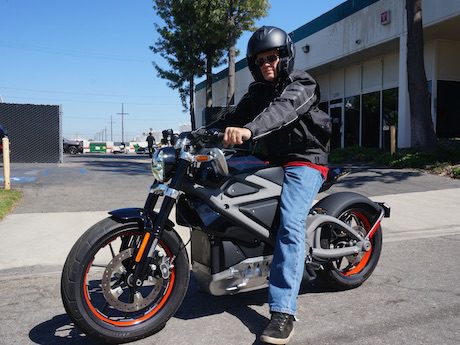 Then in January this year, company CEO Matt Levatich said they would have an electric bike in 2019.
The only images released of the new LiveWire seem to show a bigger battery with more cooling fins which are now exposed to dissipate more heat. So we can expect it will be substantially more powerful with increased range.
Original charging time was three-and-a-half hours, but Harley has not yet released any technical details on the LiveWire or any of the coming new models.
I rode the original LiveWire in LA in 2014 and found it very smooth and controllable with rapid acceleration and so much "engine braking" I hardly touched the brakes.
However, we were asked to leave the bike in "range mode" rather than "sport mode" to ensure there was enough battery for all of the six groups of riders to have a go on the 4-mile (6.4lm) circuit. (At the end of the test rides, the battery indicated it had 30% charge left.)
The new bike is likely to retain those modes.
There seem to be few changes to the new LiveWire which retains a remote rear fender, upside-down forks and streetfighter stance. However, it now has a pillion seat instead of a cowl, a small headlight fairing and the front brakes are bigger and now dual discs instead of a single.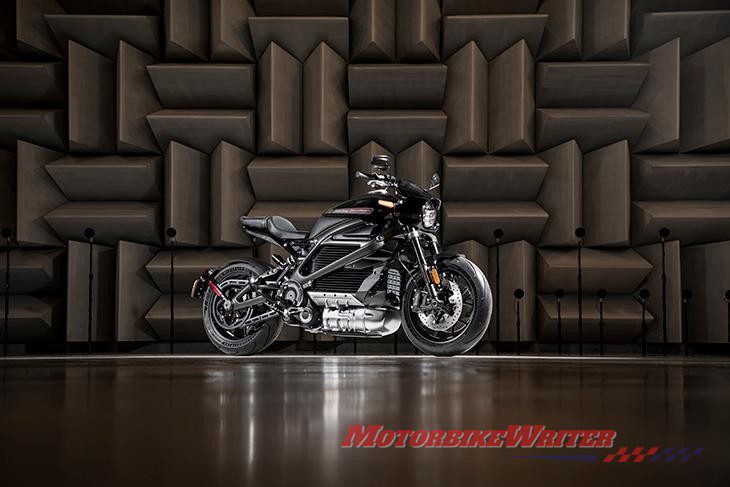 The only official image of the new LiveWire shows it in an acoustic chamber, which could be a reference to how quiet electric motorcycles are. It could also be a hint that Harley has found a way to make even more noise than the original which had meshed gears to create a turbine sound.
There is no word yet on pricing, although Harley claims "electric motorcycles are expected to achieve cost parity with internal combustion engine MCs as early as 2030".
Electric plans
The Milwaukee company will target North America and Europe first with the LiveWire.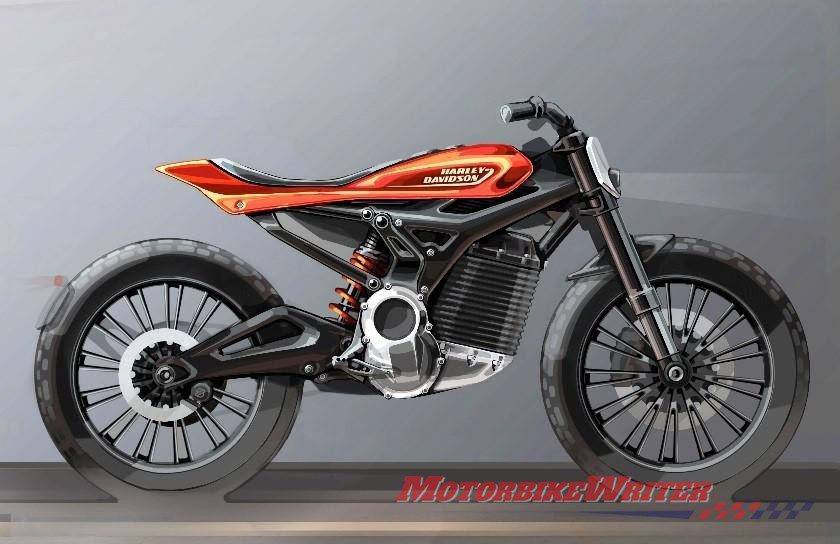 Harley will also produce smaller electric motorcycles that look more like flat trackers, as well as "lightweight urban" electric bicycles which will be targeted at Asian markets.
There is no mention of Australia and New Zealand which have not yet warmed to electric motorcycles, do not have much public infrastructure (charging points) and have no government incentives.
In their announcement on future models Harley say they will "realize expectations concerning market demand for electric models, which may depend in part on the building of necessary infrastructure".
Over the next five years, electric motorcycles will represent one-third of the company's operating investment and almost a quarter of capital investment, the others being middleweight bikes and retail.
Last year Matt promised 100 new models in the next 10 years and is on schedule with a dozen new models.
That pace is expected to continue with Harley committing to making "faster decisions", "increased speed to market" and "test and roll" market initiatives.
Harley has the burgeoning motorcycle markets of India and China squarely in its sights, pointing out that Chinese regulators have set an annual target of two million electric vehicles a year by 2020.