It is a surprise that Harley-Davidson took so long to make an Iron 1200 version of its popular Iron 883 Sportster which was for some time its top-selling bike.
The Iron 1200 is basically the blacked-out 883-powered Iron, but with the 1202cc Evolution engine.
It also features satin-black Mini Ape bars, Café Solo seat, small "speed" screen, 1970s "AMF" tank graphic, black nine-spoke wheels, black belt guard and black rear sprocket.
Prices start from $16,495 ride away in Australia and $16,995 in New Zealand, making it the cheapest 1200 Sportster.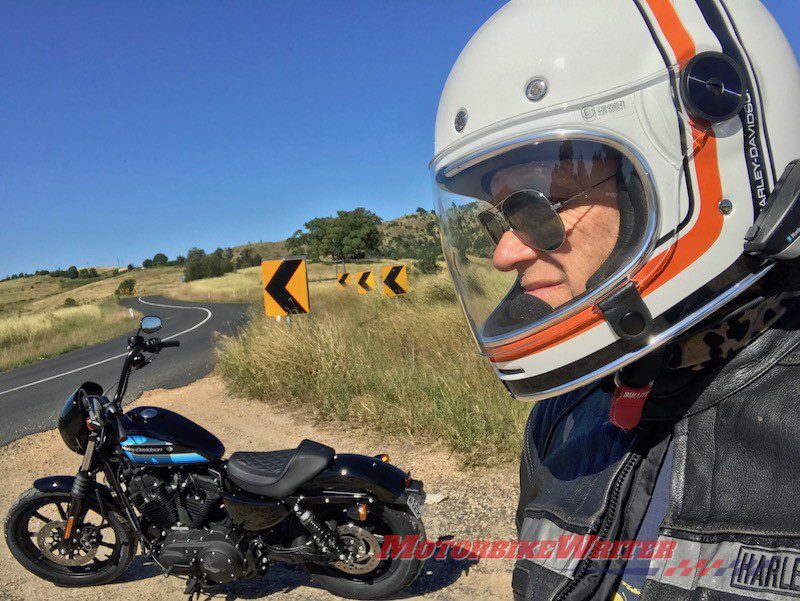 End of the line?
Harley launched the Iron 1200 along with the Forty-Eight Special in February to increase the family to nine models.
It might seem strange that Harley would introduce two more Sportsters in February when in September it is tipped that Sportster family will either be substantially updated or the line may even close like the V-Rod and Dyna which was last year absorbed into the Softail family.
I suspect it won't be axed. Instead, it will get a substantial update to the tired old engine that has its roots back in 1987 and a six-speed transmission.
Dark Custom looks
The original Harley-Davidson Sportster featured an Ironhead engine in 1957 and in 2007 added an Iron 883 model that reflected that heritage and joined Harley's Dark Custom range.
It was a stripped-back, matte-black Sporty with attitude.
However, the Iron 1200 isn't matte black and bland. It has a gloss black tank painted with the old 1970s AMF-era graphic.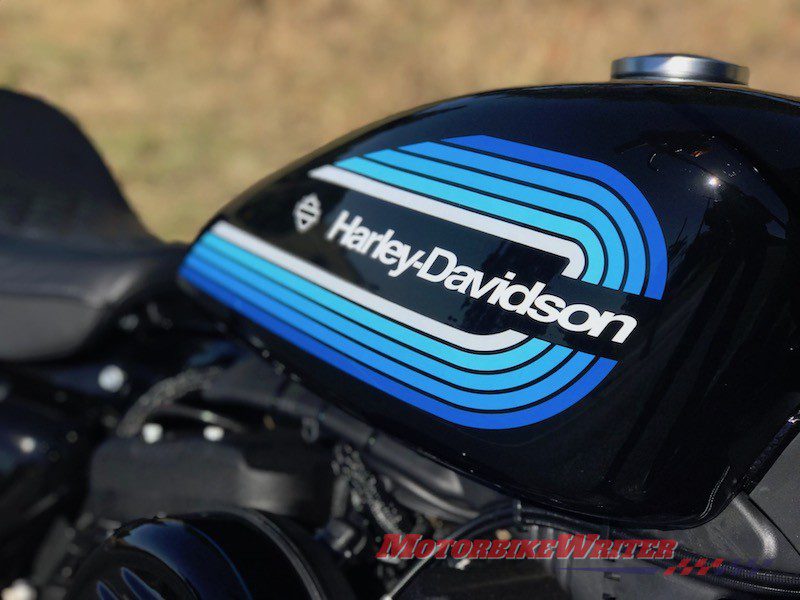 I like the look, but it's not really true to the Iron or Dark Custom style.
Iron suspension
I used to joke that the Iron 883 had suspension that lived up to its name; It was iron hard!
In 2016, the Sportster line-up received a new rear shock that softened the blows from urban obstacles such as manhole covers.
The Iron 1200 also has that shock and it's a much less punishing ride, although still quite firm.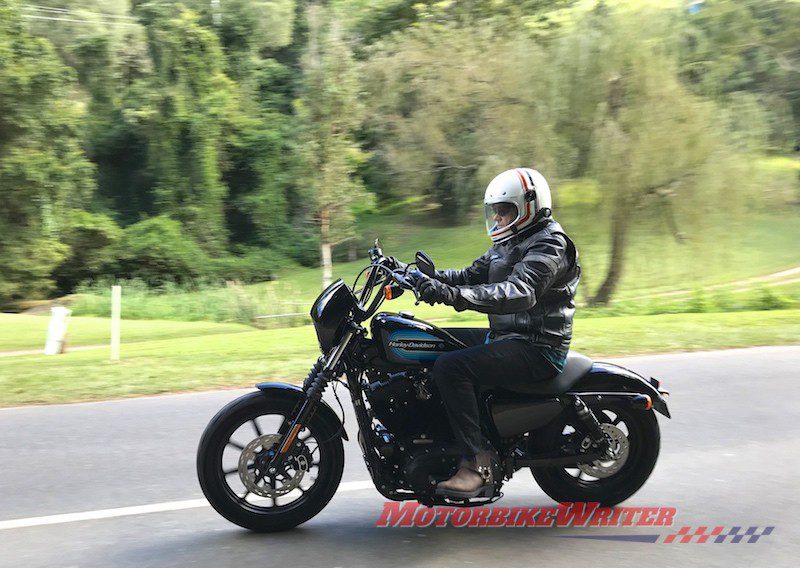 Of course it has the bigger, more powerful and throbbing 1202cc engine that puts a tingle through your finger and toes.
It's a torque monster.
Harley claims an additional 36% of torque over the 883 with peak torque of 97Nm the same as the Forty-Eight Special.
It rips away at the traffic lights and has you charging through the five gear ratios to happily cruise around town in fourth and even fifth.
At any given revs it will pull and accelerate rapidly. No need to drop a gear on the highway for overtaking.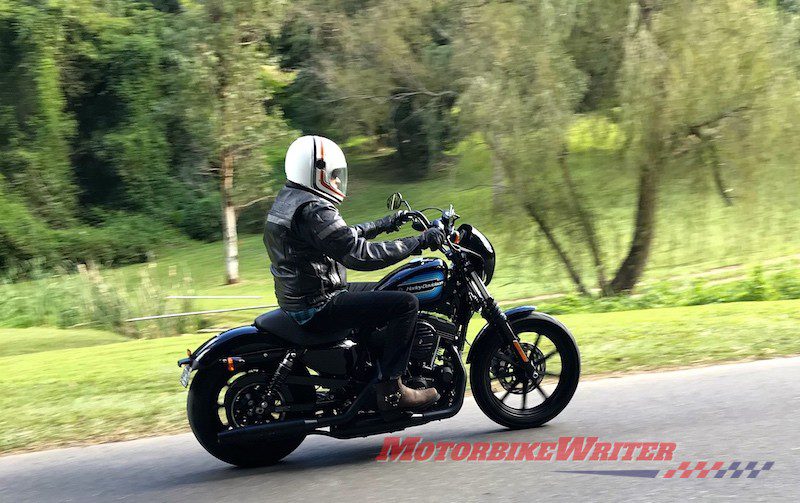 Although a sixth gear will no doubt help with reducing tingles as well as fuel consumption which is about 5.6L/100km on our test.
Hopefully they will also go to a hydraulic clutch as the cable clutch on this is way too heavy.
S peaking of cables, the cabling had a tidy up in 2016, but it is still messy, especially compared with it direct competitor, the Indian Scout.
Riding position
The other major change between the two Irons is to the riding position.
While the Iron 883 has a flat solo seat with drag bars for an almost cafe racer style, the Iron 1200 has a 25mm lower and more scalloped seat with mini-ape bars that lean back for a more relaxed style. You can adjust them even further back if you have short arms.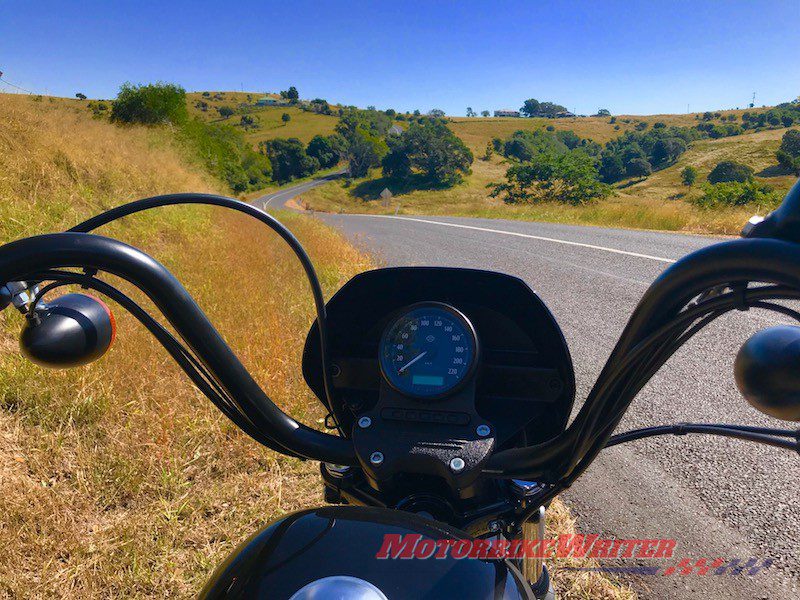 You sit lower with your fists punching into the wind.
It should suit many riders, especially given the skinny tank and seat which allow even the shortest riders to get the flats of their shoes comfortably on the ground.
The riding position is a bit of a windsock and not conducive to long bouts in the saddle, but then the 12.5-litre tank won't take you too far anyway.
Those mini-ape bars are good for lane filtering as they go over the tops of car mirrors, but watch out for SUVs and utes with higher mirrors.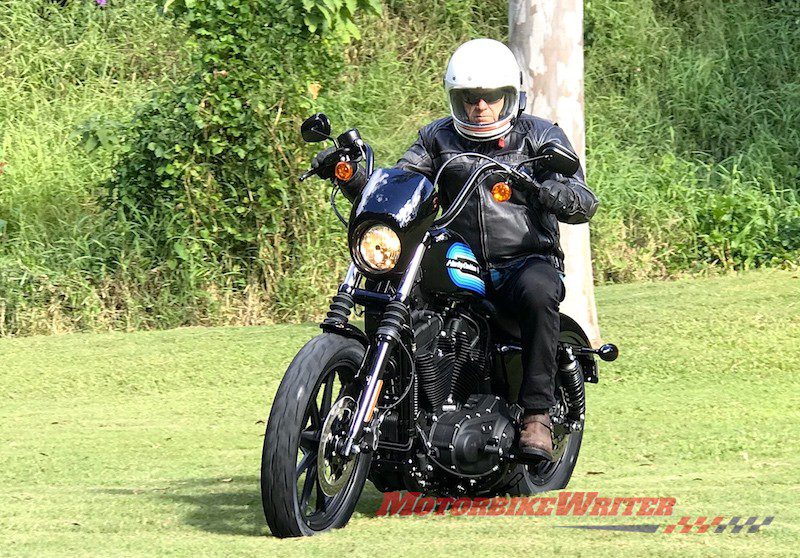 The mid-mount footpegs hamper lean angle in corners and might cram some long-legged riders like me (187cm). It also tends to make me ride with my knees akimbo, otherwise the right knee rests on the air filter which sticks out quite a long way.
But it feels planted and stable in corners with a slow and assured feeling in the steering.
The Iron 1200 weighs exactly the same as the Iron 883 at 248kg, so it still only gets the single disc front brake.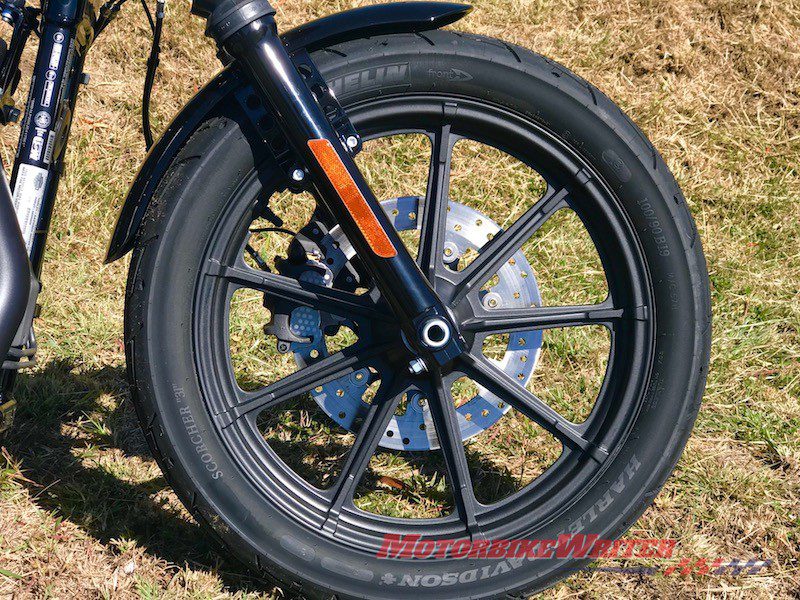 However, it is strong enough for this relatively light cruiser and the ABS works smoothly.
Maybe they will update the brakes for the next model and hopefully add an adjustable front brake lever.
The single-pod instruments are minimalist but do the job with an analogue speedo and a digital screen showing a choice of odo, two trip meters, clock and rev counter/gear indicator that you can toggle through via a button on the left switchgear.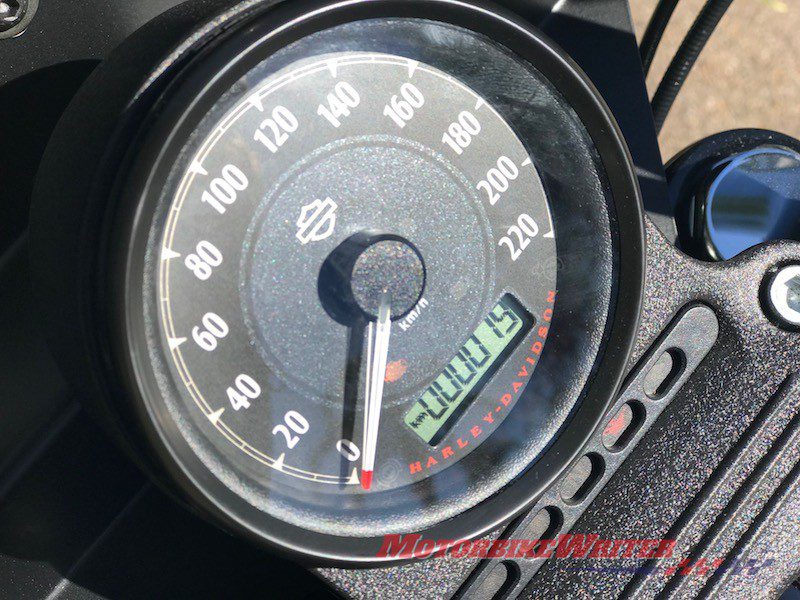 It would also be great if they could add a fuel gauge or at least a range-to-empty readout.
Harley-Davidson Iron 1200 Sportster tech specs