The man who is credited with rescuing an ailing Harley-Davidson from the grips of the GFC, is stepping down.
Keith Wandell was appointed just as the GFC hit and had to make some immediate hard decisions about product, ownership of MV Agusta, Buell and staffing.
He had been the Chief Operating Officer of automotive component company Johnson Controls and was an unusual appointment as an outsider to the company.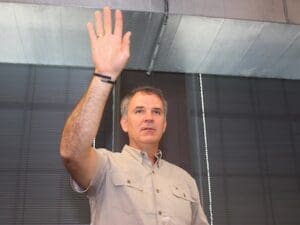 Harley owners can rest assured the company will remain in good hands with 50-year-old COO Matthew S. Levatich taking over as president and CEO from May 1. Matt has been with the company since 1994 and a rider since the age of eight.
Keith told me at the Harley-Davidson 110th anniversary a couple of years ago that, as an outside, it was easier for him to see what was wrong with the company when he joined in 2009.
He streamlined production, dumped the other brands, cut about 1500 staff, saved more than $300 million a year, expanded the market to women, Hispanics and black Americans, and boosted overseas sales.
"Families protect their weak and teams get rid of the weak. We were a family and now we are a team," he said back in 2012.
In the next two years the company developed the Project Livewire electric motorcycle, the Street 500 and 750 novice bikes and the company's first new family in 14 years and performed the biggest model overhaul in history with the Project Rushmore Touring range.
Now 65, Keith won't run for re-election to his board seat.