The 2016 Harley-Davidson CVO Road Glide Ultra is the HSV Senator of motorcycles. It is the ultra performance tourer for the well-heeled, discerning rider that says "you've made it!"
At $48,995 ride away it's not cheap, but it's a pretty good investment as CVO models have the best retained value in the market, according to official Glass's Guide valuers.
The standard Road Glide Special costs $34,750, so what do you get in the Ultra for the extra $14,245?
For a start, there's the top box and the 110 Screamin' Eagle engine which would cost close to $10,000 if you were to buy them separately.
But even that doesn't go close to describing the value of this package.
The Screamin' Eagle 110-cube engine isn't just bigger, it's also water-cooled and handbuilt so it feels more refined with a transmission that is less clunky to the ear and underfoot. Even neutral is easy to find which is difficult for a big V-twin with bundles of torque.
It breathes through Screaming Eagle air filter and pipes that deliver a slightly unfamiliar Harley symphony because the liquid-cooled model revs more liberally, evoking a unique, raunchy note.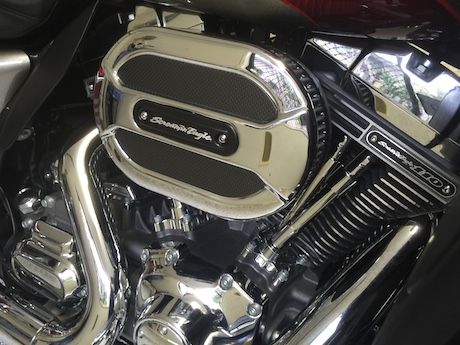 So it feels smoother and sounds raunchier, but it's also gutsier with 156Nm of torque which is 18Nm more than the 103 High Output engine in the standard Touring range.
Harley never provides power figures, but I accidentally popped a small wheelie on my first outing and have been startled and impressed ever since by its rapid power delivery everywhere on the dial.
Just feed on the throttle and no matter what gear or revs, it responds without labouring, pinging or lag.
And the top box, like the panniers, is more than your average motorcycle luggage system. It is lined with plush carpet and has an interior light, 12V socket, chrome top rack and internal pouches to hold loose gear.
There are also rear speakers with separate controls for the pillion and external LED lights that illuminate the interior of the panniers.
Despite the extra bulk of the top box which now makes this model a hefty 439kg, the CVO Road Glide Ultra feels quite nimble even at low speeds because it's a Road Glide with the fairing mounted on the frame, rather than the forks.
The wind-tunnel-designed fairing makes this the most stable highway cruiser on the market.
It's also quite a delightful surprise to be able to lithely manoeuvre this big beast around the city streets as admirers look on.
And look they will, because there is a lot to this bike.
For a start, the spectacular two-tone paintwork ads another couple of thousand dollars to the value. It's deep and lustrous and shines beautifully in the mid-winter sun.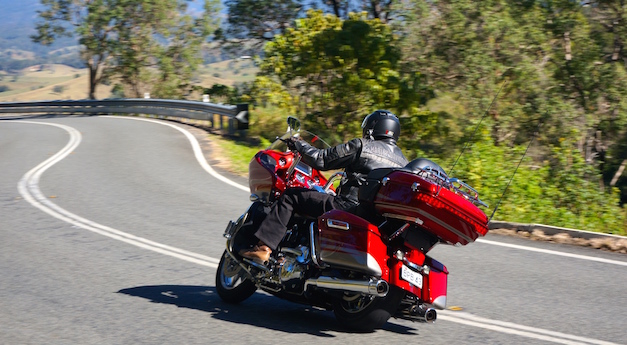 Our test model is the Ruby Red/Palladium Silver combination which looks quite classy. There is also a choice of Stardust Silver/Palladium Silver and Charcoal Slate/Carbon Dust.
There are plenty of creature-feature gadgets thrown into this as well.
The Rushmore Touring range already comes with a decent suite of technical features including cruise control and GPS.
This adds a whole lot more to warrant the name Ultra:
Tyre pressure monitoring system;
Premium high-powered Boom Box! four-speaker sound system with touchscreen;
CB-ready controls, aerial and output plugs;
Forward 12V output as well as one in the top box;
Central pannier powered locking via buttons on the triple clamp and on the glossy remote key fob;

Heated grips and seats with separate controls for rider and pillion;
Convenient one-knob fork power locking;

Convenient locks

Vented lowers that hide the discrete twin radiators; and
Chromed highway pegs and oversized heel/toe shifter.

highway pegs and heel/toe shifter
The there's the twin Daymaker LED headlights that literally make daylight.
They are not only brighter and whiter, but also supply an even and wide light across the road.
Together with the LED-backlit hand controls, it allows you to ride into the night, long after many people park their bikes.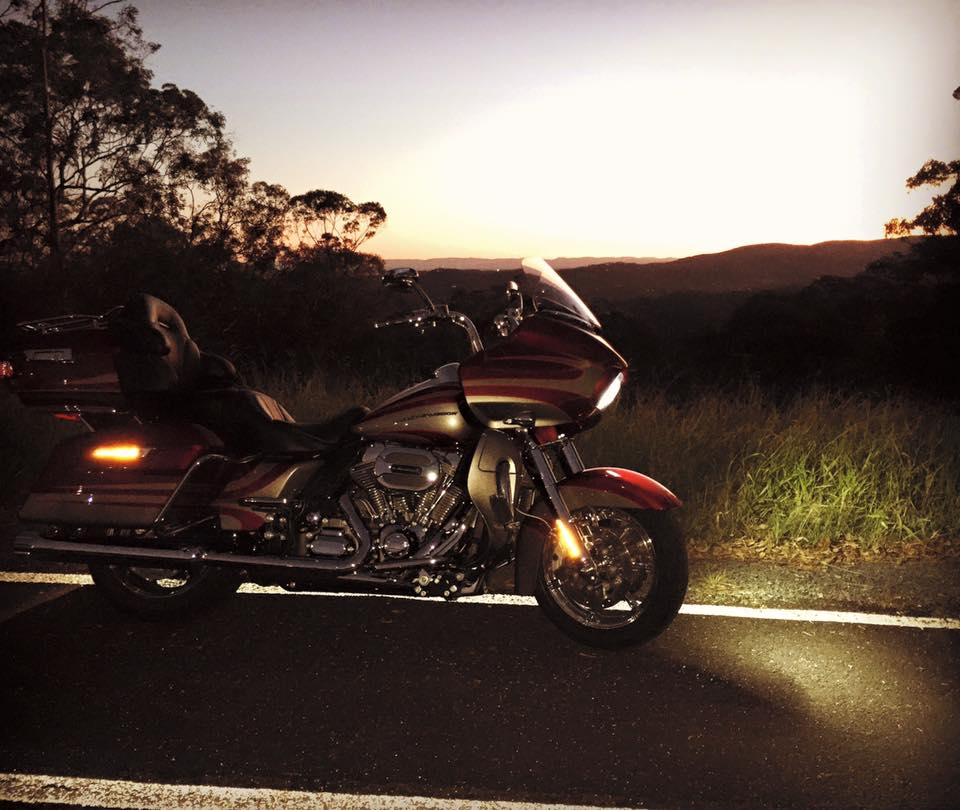 While I've never been a fan of audio systems on bikes because they are useless over 80km/h, this is different.
The aerodynamic fairing creates a quiet bubble so you can hear the sound system which has a variable speed-related volume adjustment that not only increases volume the faster you go, but also pumps up the bass because wind noise cancels out low frequencies.
So, as you go faster, the sound doesn't become shrill. It just keeps pumping out hi-fidelity sound.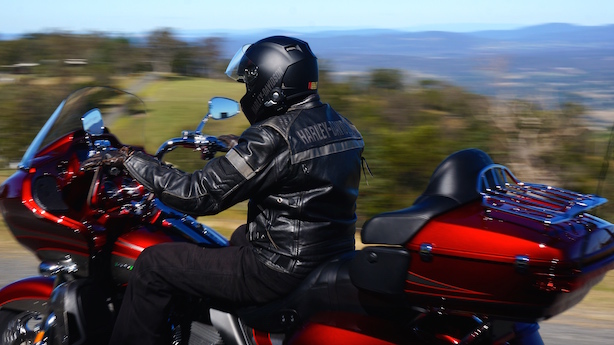 Then there is all the chrome and the fine details such as smoked LED stop lights, taillights and indicators and the overall high quality of craftsmanship that you get from the HD Custom Vehicle Operations.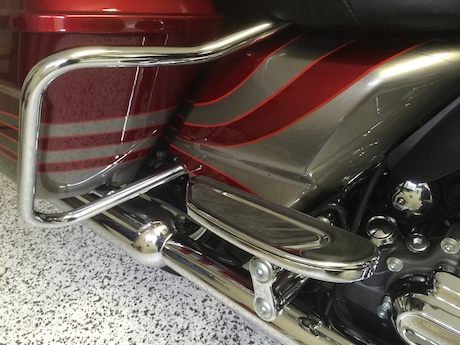 There is also a lot of quality you can't see, but feel, such as the smooth aerodynamics of the big screen and three-vent fairing, the height-adjustable floating floorboards, adjustable rear air shock, engine idle temperature management system which shuts off the rear cylinder at idle to keep your legs cooler in summer, plus the soft saddle foam and plush pillion back and arm rests that make this possibly the most comfortable bike for a long haul.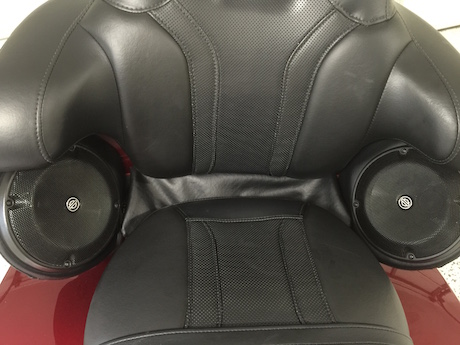 And, of course, there is the extra value of knowing you have something very limited and rare. You are unlikely to see another like this riding past.
The CVO club is a unique group indeed.
So, are there any things I don't like about this bike?
It sounds like a petty first-world problem, but I have never liked the GPS screen above the instruments. The all-important speedo is too low and the high-set big touchscreen glares in the sun. Told you it was a first-world problem.
Team MBW is currently in financial discussions to see if we can afford one of these rare beasts as our company vehicle!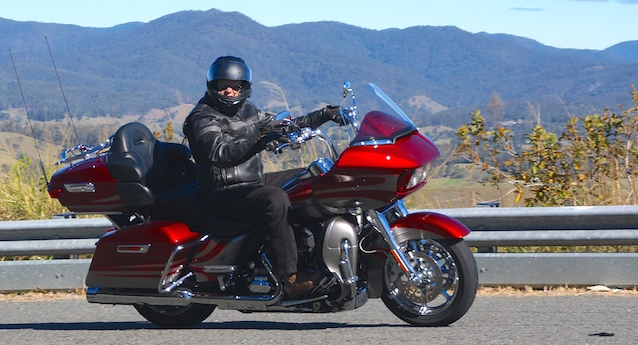 Harley-Davidson CVO Road Glide Ultra FLTRUSE
Price
Dimensions
| | |
| --- | --- |
| Length (mm) | 2600 |
| Seat Height (mm) | 755 |
| Fuel Capacity (litres) | 22.7 |
| Dry Weight (kg) | 422 |
Powertrain
| | |
| --- | --- |
| Engine | Twin-Cooled™ Twin Cam 110™ |
| Displacement | 1801cc |
| Engine Torque | 156 Nm/115.1 ft lb @ 3750 rpm |
| Transmission | 6-Speed Cruise Drive® |
Wheels/Tyres
| | |
| --- | --- |
| Front | 17"/Dunlop® D408F 130 |
| Rear | 16"/Dunlop® D407T 180 |
Colour Options
| | |
| --- | --- |
| Colour Options | Ruby Red/Palladium Silver; Stardust Silver/Palladium Silver; Charcoal Slate/Carbon Dust |