That's a difficult question to answer because Harley-Davidson CVO (Custom Vehicle Operations) motorcycles are built in limited numbers. I may as well ask what price do you put on bragging rights and exclusivity?
Harley rotates the models that get the CVO treatment, usually having about four CVO models lasting two years.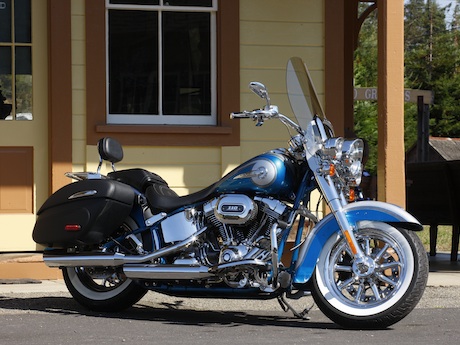 For 2015, the line-up is Softail Deluxe and three Touring models, the Street Glide, Electra Glide Ultra Limited and the returned Road Glide, but an Ultra version with top box and lower fairings.
CVOs always come with a host of accessories and creature features, custom paint (it's the first time they have made Hard Candy paint available on baggers), acres of chrome bling and, most importantly, a bigger engine than the standard size. These days that means a 110 instead of the 103.
But while the Deluxe CVO gets the high-output air-cooled 110, the others all come with the new twin-cooled engine introduced last year in the Rushmore Project. It's the first time the water-cooled engine has been available in anything other than an Electra Glide.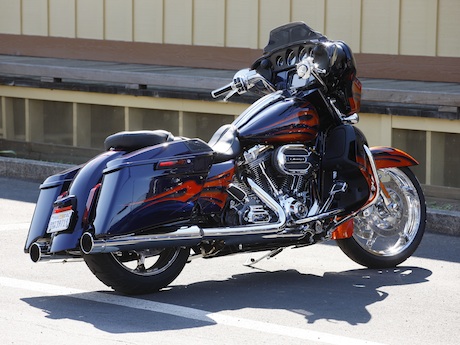 Of course, that means the Street and Road Glides get lower fairings to conceal the discrete twin radiators that cool the engine heads and give it more oomph and revs, plus cooler running. The Road Glide Ultra also gets a top box, making it the ultimate top-handling tourer.
I recently attended the world press launch in California for the 2015 model line-up and for the first time, we were allowed to ride CVOs.
Motorcycle journalists usually only get to look at these objects of desire. CVOs are never included in launches and never available for test rides. So it was a real privilege and honour to be able to throw a leg over one of these magnificent machines.
Our minder – Harley marketing director Adam Wright – must have been perspiring bucket-loads as we carved through the hills on these big-ticket CVOs along the twisting Big Sur coastal roads beside precipitous cliffs plunging into the Pacific Ocean.
But insurance waivers were put to the backs of our minds as we gave the bikes as much of a vigorous test as we normally give the "standard" bikes.
First impression is that they rev better and feel stronger. We tried some roll-on drags and they pull far quicker from deeper down low in the rev range. 
But that's the practical side of things. They simply look great with all those chrome and billet trimmings.
They also sound great with a glorious exhaust like a forest full of bears clearing their throats first thing in the morning.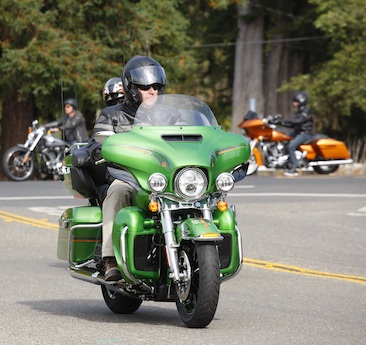 Another great sound is the glorious noise you get from the Boom! Box 6.5 audio system which comes with 12 speakers, including two in the pannier lids of the Street Glide and in the rear seat on the Ultras.
While many car and bike audio systems have variable speed-related volume adjustment that increases volume the faster you go, this variant of the system also adjusts the EQ. It pumps up the bass as your speed increases because wind noise cancels out low frequencies. So, as you go faster, the sound doesn't become shrill. It just keeps pumping out hi-fidelity sound.
Adam says CVOs are "handcrafted customs". "They are also often used to introduce custom components and techniques that later become available as accessories."
He says they sell fewer than 250 a year in Australia and their most successful model was the CVO Breakout, which was also the first time a new model was introduced as a CVO.
"People were lined up for that one," he says. "We almost sold out by the time they were released."
He says CVOs don't attract new customers to the brand. "They are well-heeled existing Harley owners usually looking for a second motorcycle," he says. "They don't do big miles on them, but pull them out on a sunny Sunday for special moments. They also hang on to them longer."
He says the average changeover period for Harley owners is five years, but for CVO owners it's closer to seven.  
When it comes time to trade, he says resale value is typically stronger for CVOs and they sell very quickly. "People don't have any difficulty selling them because they have low mileage and there are so few, they are hard to find."
Price differential between the standard models and the CVO variants this year ranges from $12,000 for the Street Glide to $16,000 for the Deluxe which is an absolute work of art with immaculate detailed machining on even the smallest components. By the way, it also gets a new sidestand that is easier to reach for short people. The new sidestand is also standard on the 2015 Fat Boy Lo and standard Deluxe. 
The best "value" CVO model is the full dresser Road Glide that costs an extra $14,000 but adds a top box as well as all the bling, audio and extra features.
2015 Harley-Davidson CVO prices
Softail Deluxe $44,995
Street Glide Special $46,995
Road Glide Ultra $48,995
Electra Glide Ultra Limited $50,995