Review Summary
Great looking, excellent design, and well made. Both the helmet rack and helmet stand are great products overall, but they're pricey. If you want to show off your lid, there's no better-looking way to do it... but you're paying to play.
Pros
Excellent design
Very high-end looking
Simple 18-second assembly
Makes your lid look awesome
Cons
Pricey @ $130 for the stand or $140 for the wall-mounted rack.
Halley's Helmet Stand Image Gallery
I gotta say, I didn't think that when I sat down to write this review that the angle I'd take would be one of sex appeal and beauty. Yet, here I am about to write exactly that… about helmet stands, of all things.
Disclosure: Halley sent me their helmet stands at no cost for the purposes of this review. Please see our review policies page to learn more about how we engage brands. The short version is that we let brands know that a good review is earned, never guaranteed and that we retain 100% control over our editorial integrity. We do not allow brands to influence what we say in any way whatsoever.
Note: some of the photos in this review were sourced from the Halley website.
Stands for Those of Us That Want to Show Off Our Gear
Motorcyclists tend to come in two flavors: the die-hard that lives and breathes motorcycles, and the casual rider that loves their machines but doesn't need to base their life around them. A little hyperbolic, yes, but this is webBikeWorld and if you're a webBiker you likely fall into the former category.
If that's you, these helmet stands are something that will catch your eye. They're a bit pricey (more on that below), especially considering that what you're effectively buying are a few pieces of cut steel, but sex appeal doesn't come cheap.
Both the stand and the rack use laser cut steel and brushed steel finishes for a refined, modern, and top-end appearance.
It's worth noting that the spherical head has a larger surface area compared to most stands, reducing pressure placed on any one part of the helmet interior. There are no sharp edges or anything else that might damage the liner or the protective layer of the helmet.
Let's Start With the Table-Top Helmet Stand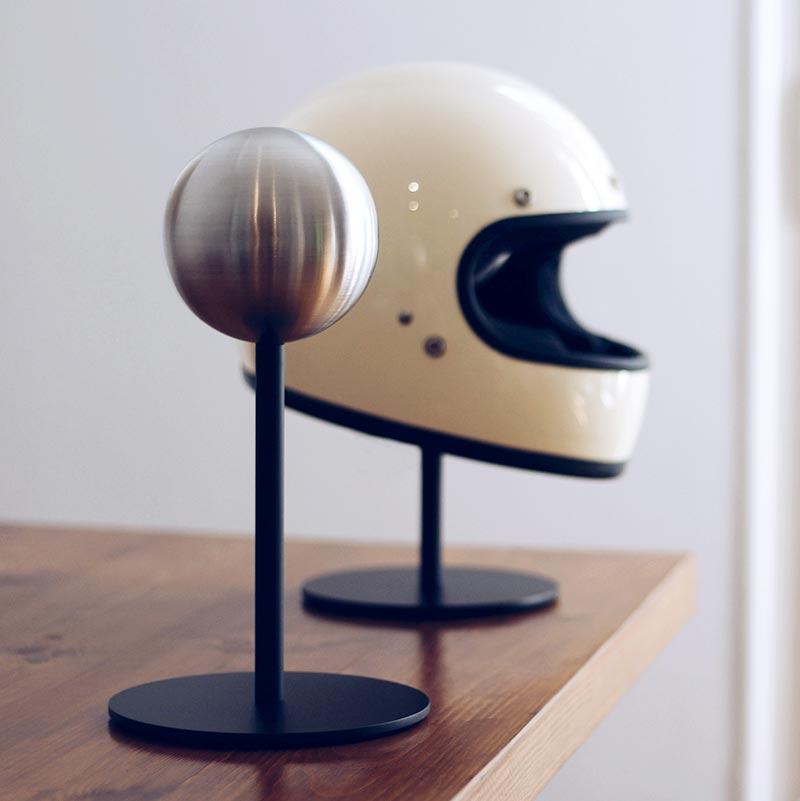 Steel? Yes. Plastic? No.
A big part of the Halley's cost is tied to the fact that it's all metal. There's no plastic anywhere to speak of.
I, for one, am sick of disposable junk and cheap plastic bits. I hate that most things come individually wrapped in a thin sheet of plastic that then goes off to sit for an eternity in a landfill. I'm not an environmentalist necessarily- I just think that our obsession with increasingly cheap junk is wasteful and, frankly, totally unnecessary.
This thing is all metal, save for the rubber grippy pad on the base that keeps the stand from slipping around.
Some Assembly Required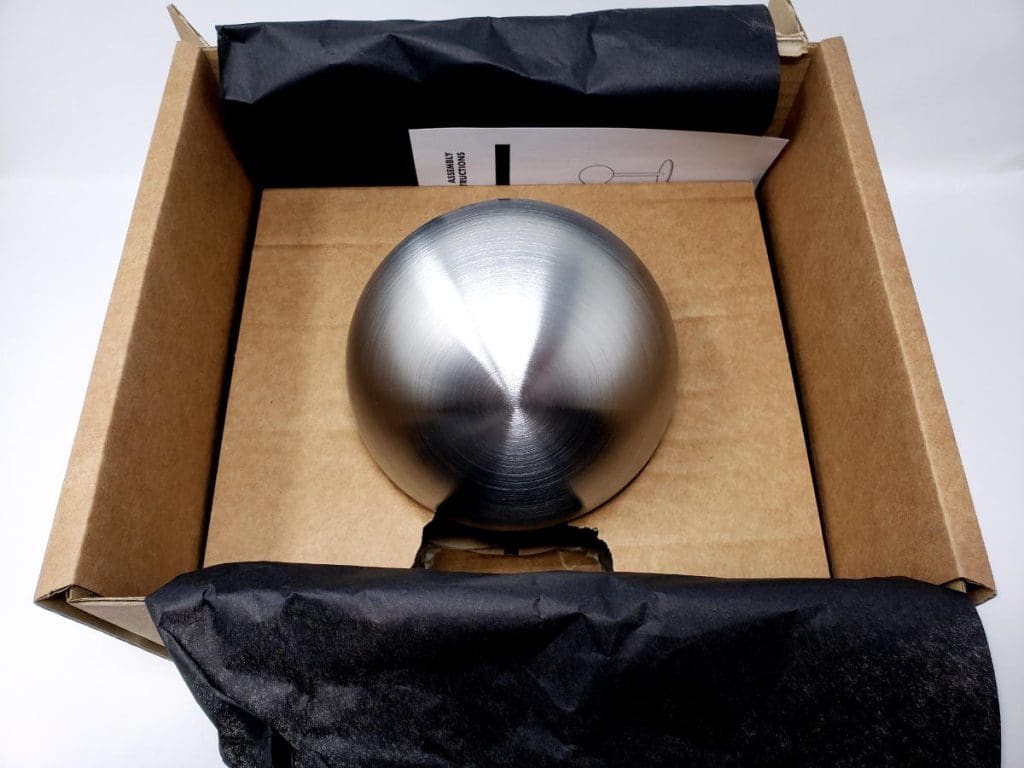 When you open the box, you're greeted with a look at the giant brushed steel ball. It's very Apple-esque, and it's a nice first impression. Considering the luxury price tag of the stand, the first impression needs to be a good one.
The stand comes with a total of four pieces: a black steel base, a black steel rod, a screw, and the brushed steel head. There are also assembly instructions in the box.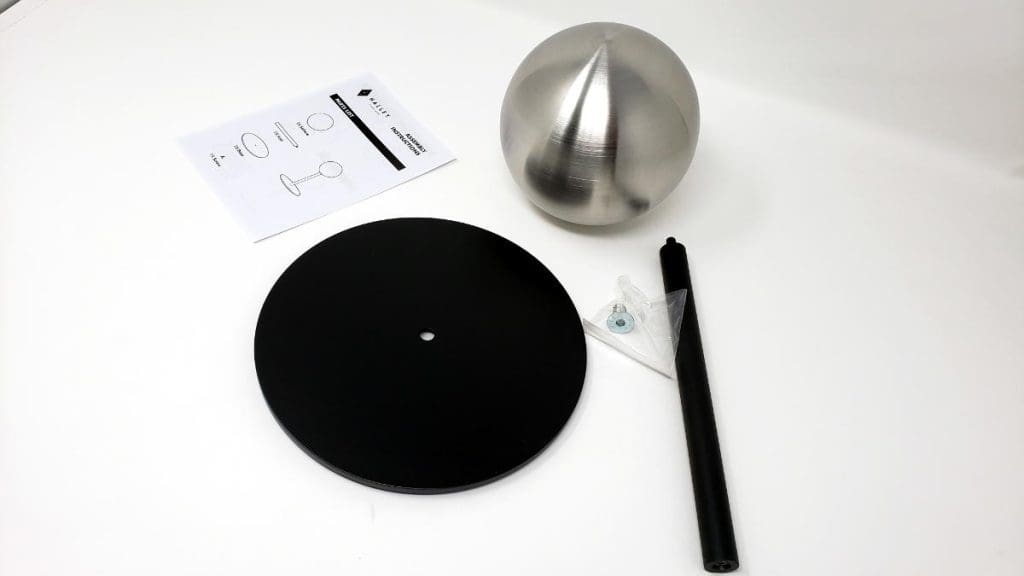 Putting the stand together takes about 18 seconds, give or take, and doesn't require tools. You can use an Allen key to tighten the screw to the base if you want, but I haven't found it necessary. In the six weeks or so that I've had it set up in my home and photo studio, neither the steel head nor the base has come loose.
Tolerances are nice and tight and this thing looks badass as a result. It makes your helmets look awesome, keeps them lifted off of the floor/table/wherever you store your helmet, and even turns your helmet into a showpiece.
Next Up, the Wall-Mounted Rack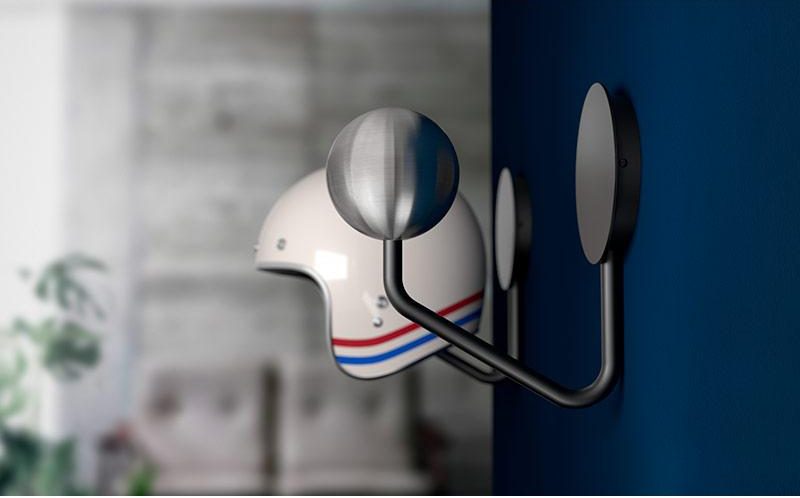 Like the table-top stand, the wall-mounted helmet rack is all metal. Also, like the table-top version, it's well designed and looks very good when mounted. Tolerances are excellent here as well. Once assembled, seams are minimal and hardly noticeable.
The base plate of the rack is actually welded to the curved arm, resulting in one complete unit. Alignment is great and mine is straight. I even used a level to see if it was angled to one side and it isn't- bang-on straight.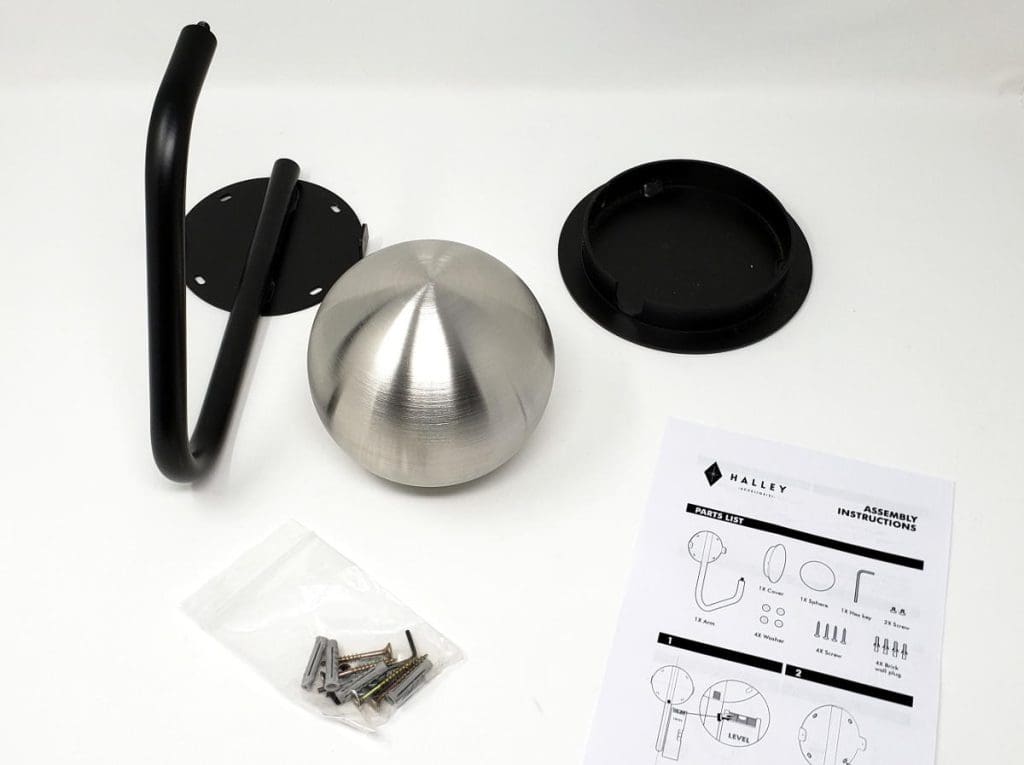 Installation is easy: use the provided screws/drywall anchors to secure the baseplate to the wall, then use the two small screws (Allen key type) and included Allen key to mount the cover. Once the cover is installed, the wall-mounted rack has no visible signs of how it's installed. It looks like it was always part of the wall. Only from very extreme angles can you see the two screws holding the cover to the anchor plate, and even then, the screws are black to match the rest of the steel. You have to actively be looking for them to see them. Very slick.
Bottom Line: Should You Buy These to Store Your Helmets?
These are well thought out stands that have no compromises. But, they are expensive: at $130 for the table-top stand and $140 for the wall-mounted rack, you are very much paying the luxury tax. The good news here is that both the stand and the rack are high-quality items that look excellent once they're all set up. I can't foresee any reason that they would break, save you being abusive to them in some fashion.
Assuming you treat your things even halfway decent – and in this case, that just means "setting it up and not smashing it with something" – both the stand and the rack will last a long time.
You can get two-packs of both models that shave a fair amount off the individual unit price (two packs of the stand bring the unit cost to $106 each, and the rack two-pack brings them down to $120 each).
In any case, I've scored these stands based on these facts: they're great items and made well, but their cost of entry is a bit much. I'll leave it to you to decide if the value is there. Honestly, I could see myself buying one if I wanted to show off my gear. I'd justify it by reminding myself that I'd have it for life.
Specifications:
Price (when tested): $130/stand, $140/rack
Materials: steel & rubber anti-slip pad
Return policy: 30 days from date of purchase
Shipping: Ships from Spain, free as of the date of this review