Storm-damaged motorcycles often find their way back into the market with heavy discounts; but should you be tempted?
Recent vicious hail storms and flash flooding wreaked havoc in Sydney, Brisbane and the Gold Coast causing extensive damage to hundreds of motorcycles in sale yards. Motorcycles have been left with dents in their tanks, smashed fairings, and broken lights, indicators and mirrors, as well as water damage with more storm predicted throughout summer.
These bikes can often turn up on the market weeks or months later in other states with tempting discounts.
They may be an attractive option for riders who want a cheap utilitarian motorcycle for use as a courier, adventure bike or cheap commuter and aren't concerned with what it looks like. But the RACQ has warned riders to do their homework before deciding on buying hail-damaged or flooded bikes.
"Think about what you intend to do with it," says RACQ technical manager Steve Spalding. "If it's to fix it, then factor in the cost of repairs.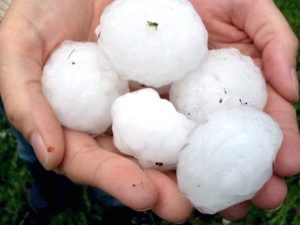 "If the discount off the purchase price, plus the cost of repairs doesn't work out cheaper than its normal selling price, then think carefully before jumping in on a hail sale."
Another trap is the fact that some insurance companies may not offer full insurance cover if a vehicle is hail damaged and unrepaired. It's best to check with your insurer before committing to a purchase.
"If you do decide to buy a hail-damaged bike and fix the damage, make sure you carefully inspect it first so that you can properly factor in all of the repair costs," advises Steve. "Also check whether the parts you need are available or there are lengthy delays in supplying these parts."
Storm damage can be more than just dents and smashed lights which are easy to see. If there has been flash flooding, the bike could also have been submerged. That could mean long-term corrosive damage to electrics which can be expensive to repair. Steve advises that such damage can be difficult to spot and could have issues with warranty.
"Check with the selling dealer if any hail damage will affect the bike's new warranty cover, particularly if there are future problems related to water entry into electronics," he says. 
His advice is to be wary: "End of year sales often lead to some attractive offers, it may be better to wait for these sales rather than buy a hail-damaged bike."
Meanwhile, with more wild storms predicted for summer, you should keep an eye on the Australian Bureau of Meteorology online radar.
Budget Direct offers its customers a free text message warning system that gives up to 10 minutes' notice of a potentially damaging hail storm at their home or nominated address, such as work.
The Hail Automated Notification System (HANS) was developed in South East Queensland, but is available across Australia. Unlike the BOM warnings for large areas, HANS is targeted to specific locations.
Budget Direct won a 2012 Australian Business Award for Product Innovation for the research and development of the system.
The message to customers reads: "From Budget Direct: There is a high probability of hail for (name of the customer's suburb/town). Please take appropriate precautions and stay safe."