Guy Martin is no stranger to daring adventures involving insane speeds. His most recent endeavor is arguably one of his most significant ones as it involves an attempt at breaking the World Motorcycle Speed Record. He'll be attempting the feat along with the 52 Express streamliner team, Project 100.
Earlier this week, the team made their first steps towards reaching their goal of crossing the 400mph mark. Visordown reports that the 52 Express streamliner was piloted to just under 150mph during day two of testing at Elvington Airfield in Yorkshire. This is still some way away from their target, but the team only plans to make their attempt at the Uyuni high salt desert of Bolivia in 2023. Currently, the record stands at 376mph.
The team tested for two days. On the first day, they successfully hit 90mph. This run was only to get the machine off its stabilizers, dial-in braking distances, establish baseline readings, and carry out multiple systems and safety checks. 
The following day, the team got the streamliner to just under 150mph. Powering the vehicle is a 1200hp Rolls Royce Gem-42 Turbine engine from a Westland Lynx military helicopter.
Remember that these are just the early stages of testing, and the speeds are kept low to ensure that everything is in order. The "motorcycle" was also far from complete. There's still lightweight, aerodynamic bodywork that needs to be put over the 30 feet of aero-grade metal tubing.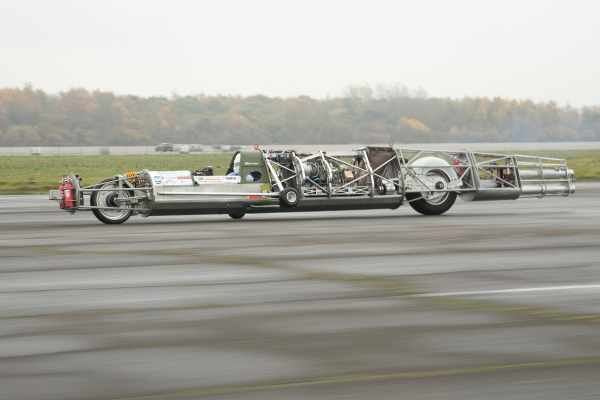 At the project's helm is 77-year-old former motorcycle Grand Prix and TT sidecar racer Alex Macfadzean. Also on board are team manager Bernie Toleman (ex-endurance racer and BSB team owner), technical manager Dave Blundell, and design engineer Alastair Smith. 
As we mentioned above, the current record is held by American Rocky Robinson aboard a 1,000hp Suzuki in 2010. The Project 100 team will continue testing until 2023, and we're certainly looking forward to how this progresses.
Image source: Rod Kirkpatrick of F Stop Press