Gryphon Moto Blue Ridge Jacket Review Summary
Review Summary
The Gryphon Moto Blue Ridge Jacket includes CE Level 2 armor, good ventilation, waterproofing, and is lightweight. In addition, the jacket has a shorter touring cut and offers excellent value for the price. It would be even more valuable if the warranty lasted a bit longer, or if it had EN 17092 designation—but these are ultimately not complaints about the garment itself.
Pros
Waterproof
All-weather protection
CE Level 2 Armor
Included thermal liner
Lightweight
Value Pricing
Cons
Only one-year warranty
No EN 17092 designation
Gryphon Moto Blue Ridge Jacket Image Gallery
The Gryphon Moto Copper Canyon Pants can be purchased directly from the manufacturer and many retailers across North America.
The Gryphon Moto Blue Ridge Jacket: a Capable All-Weather Touring Jacket
Last year I reviewed the Gryphon Moto Vancouver Jacket and Indy Pants and liked them. So when I saw that they were introducing the new Blue Ridge jacket and Copper Canyon pants, I reached out to Gryphon Moto to see if I could do a review. They immediately agreed.
The Blue Ridge is a versatile touring jacket for around $370. It features waterproofing, thermal liner, ventilation, a comfortable waist cut styling, and CE Level 2 protection. That adds up to a lot of value for the money.
I tested the jacket on two different bikes. The first is a touring/cruiser (Yamaha Stratoliner), and the second is a standard/naked (Kawasaki ZRX) bike.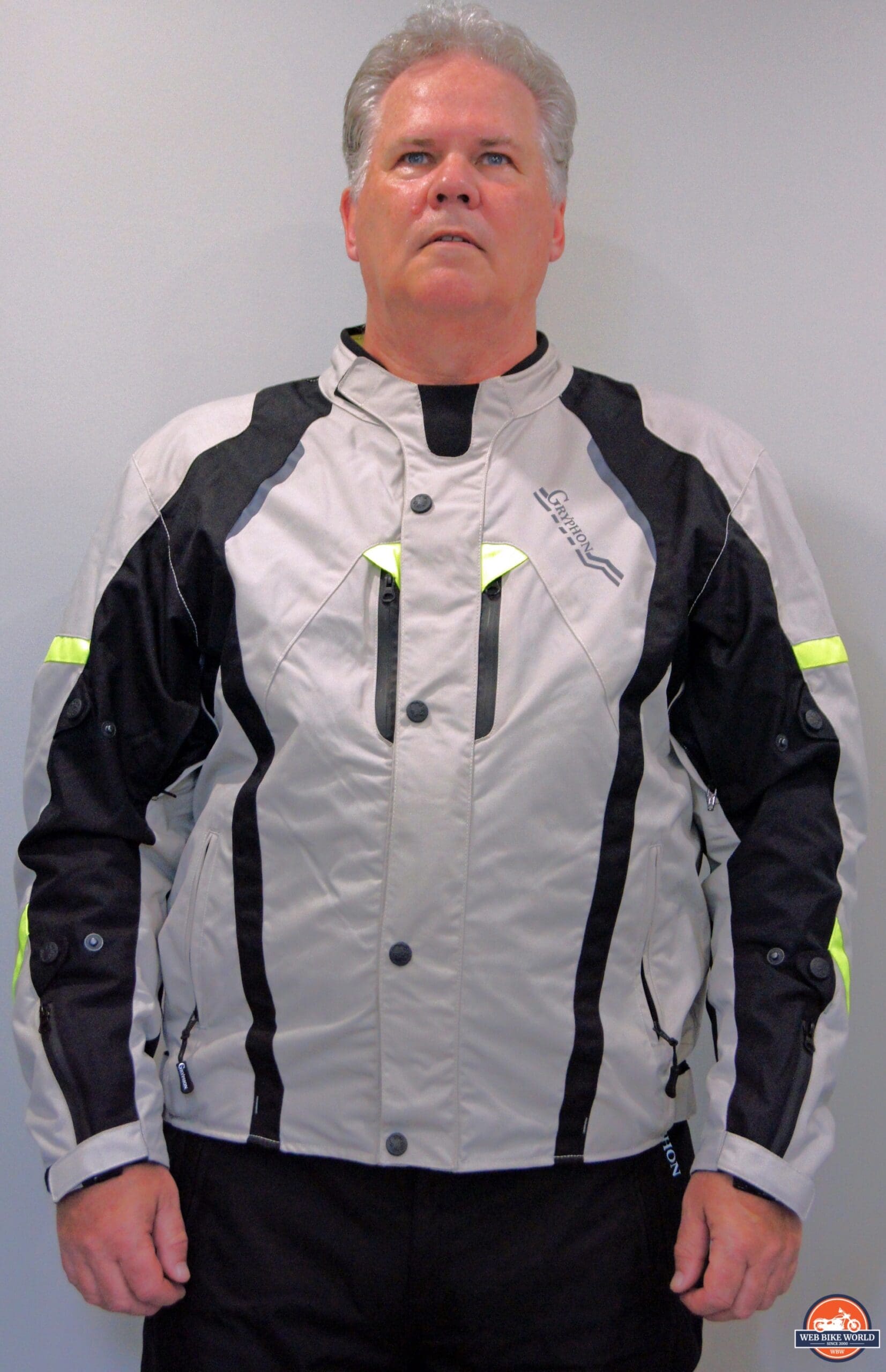 About Gryphon Moto
I first came across Gryphon Moto through social media advertising in late 2020. After exchanging a few emails with Gryphon Moto, I determined that they were a relatively new business located in central Ontario, not far from where I live. So a plan was set in motion to meet at Gryphon Moto warehouse to pick up some gear for my first reviews.
Fast forward to this spring, when a friend and I again rode up to Orillia to meet with Gary and Jenny Cuzner, the owners of Gryphon Moto, to chat, try on a bunch of gear, and pick up the Blue Ridge jacket and Copper Canyon pants for reviewing.
Gary has been in the Powersports industry for over 40 years, working mainly at the distribution and warehousing level. His experience and industry contacts influenced the design, production, and distribution of the Gryphon Moto product line.
In their own words: "Gryphon is the culmination of these experiences, allowing for the creation of a product line based on sound fundamentals of quality and design. We look to develop an unbeatable riding experience that will provide you the peace of mind to enjoy the ride."
I would like to thank Jenny and Gary for the opportunity to review the Gryphon Moto Blue Ridge Jacket.
Blue Ridge Jacket Key Features
The Gryphon Moto Blue Ridge Jacket comes loaded with features for both weather and impact protection.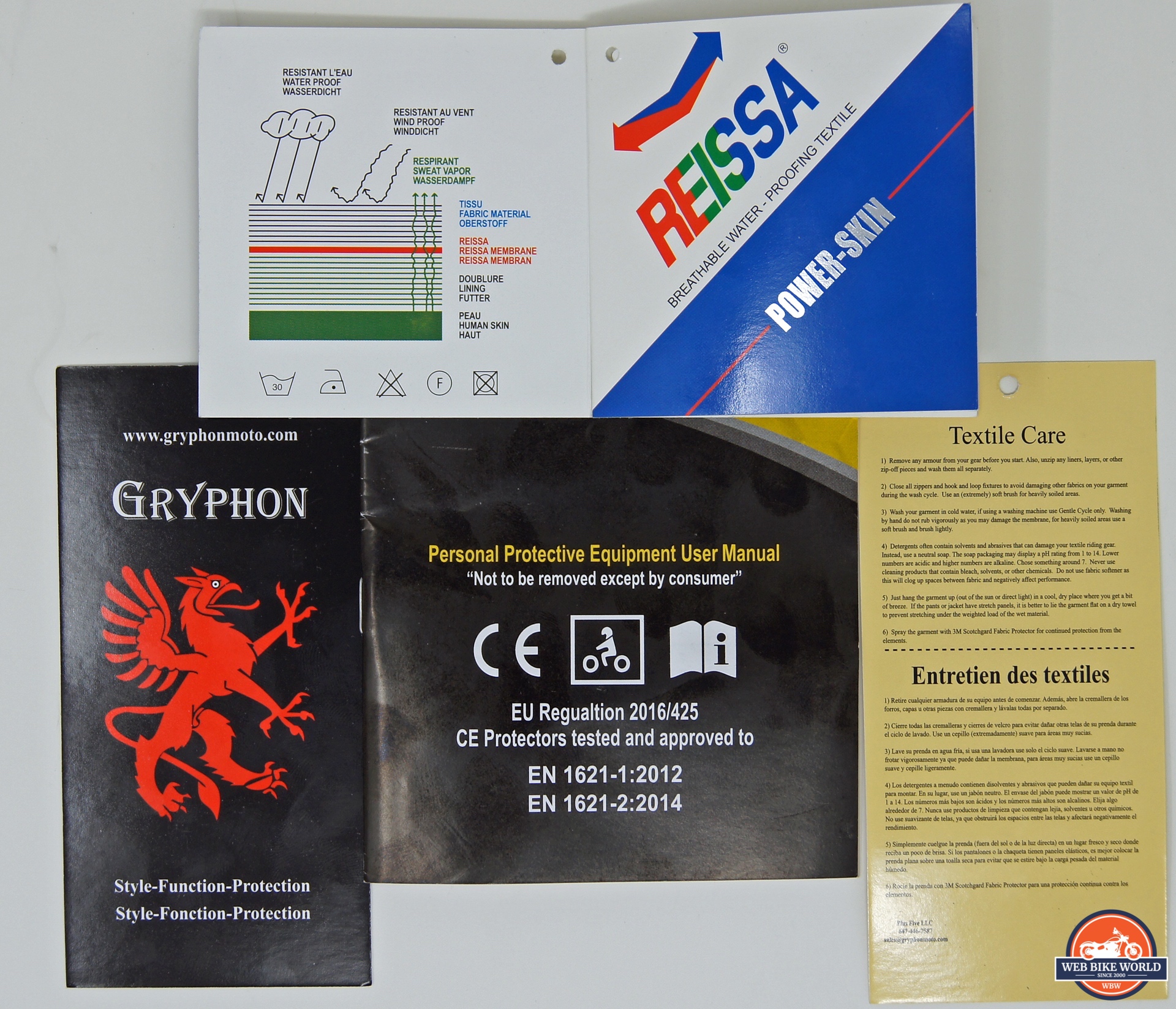 Features include:
Constructed of 500 Denier Ballistic Nylon (outer shell)
Waterproof Breathable Reissa Membrane
CE Level 2 Protectors in Elbows/Shoulders and Back
3M 360 Reflective elements
Removable thermal liner (torso and arms)
Waist cut design offers improved riding comfort
For a complete list of features, visit the manufacturer's product page for the Gryphon Moto Blue Ridge Jacket.
First Impressions of the Gryphon Moto Blue Ridge Jacket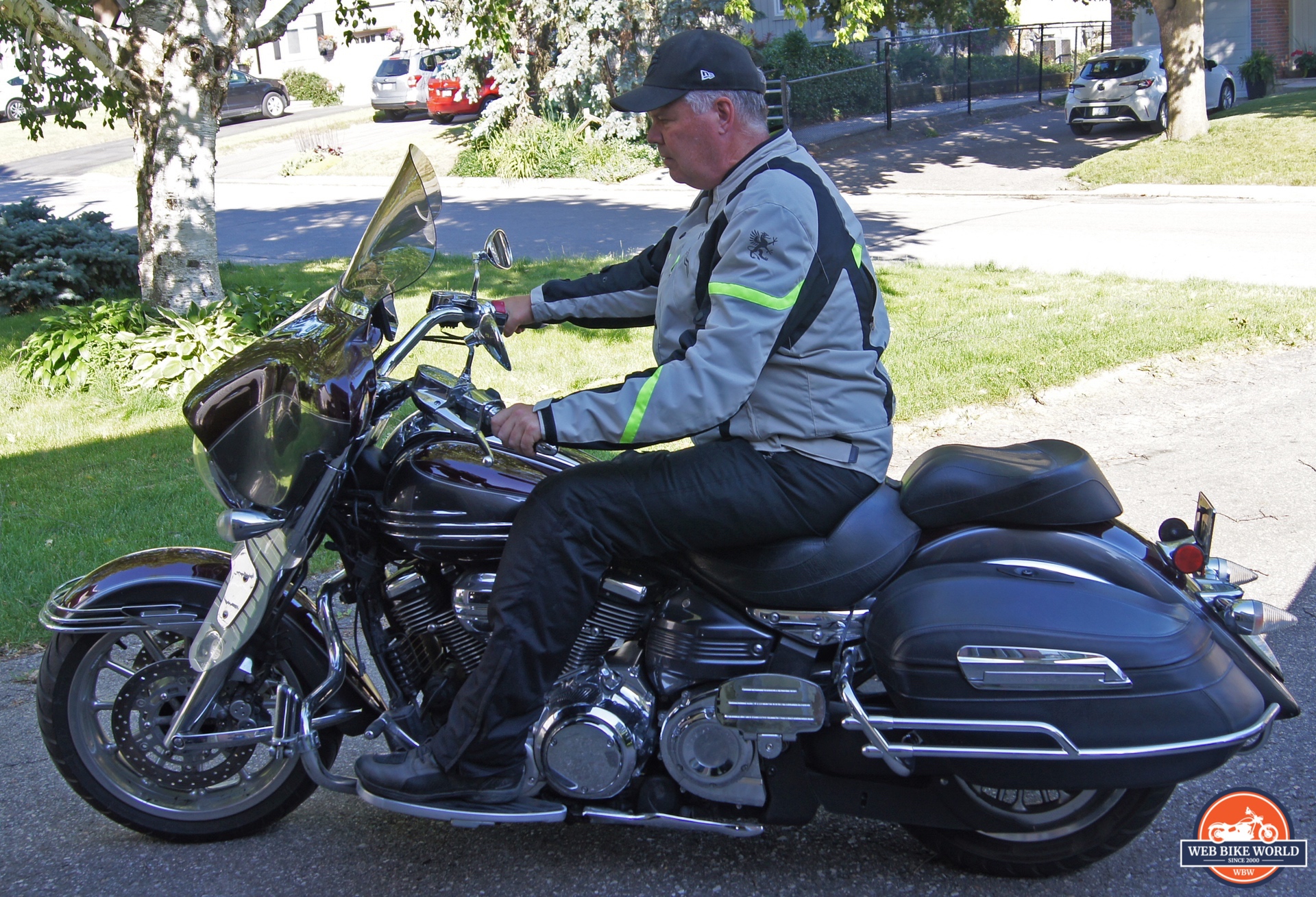 My first impression was that the jacket appeared well-built. The light color was a bit of a change for a guy that usually wears black, but I like the lighter color. This jacket is not available in all black. I was at Gryphon Moto when I first tried the jacket. My usual size is an extra-large. It was a bit snug with the included thermal liner. However, slipping the 2XL size jacket on gave it an excellent fit.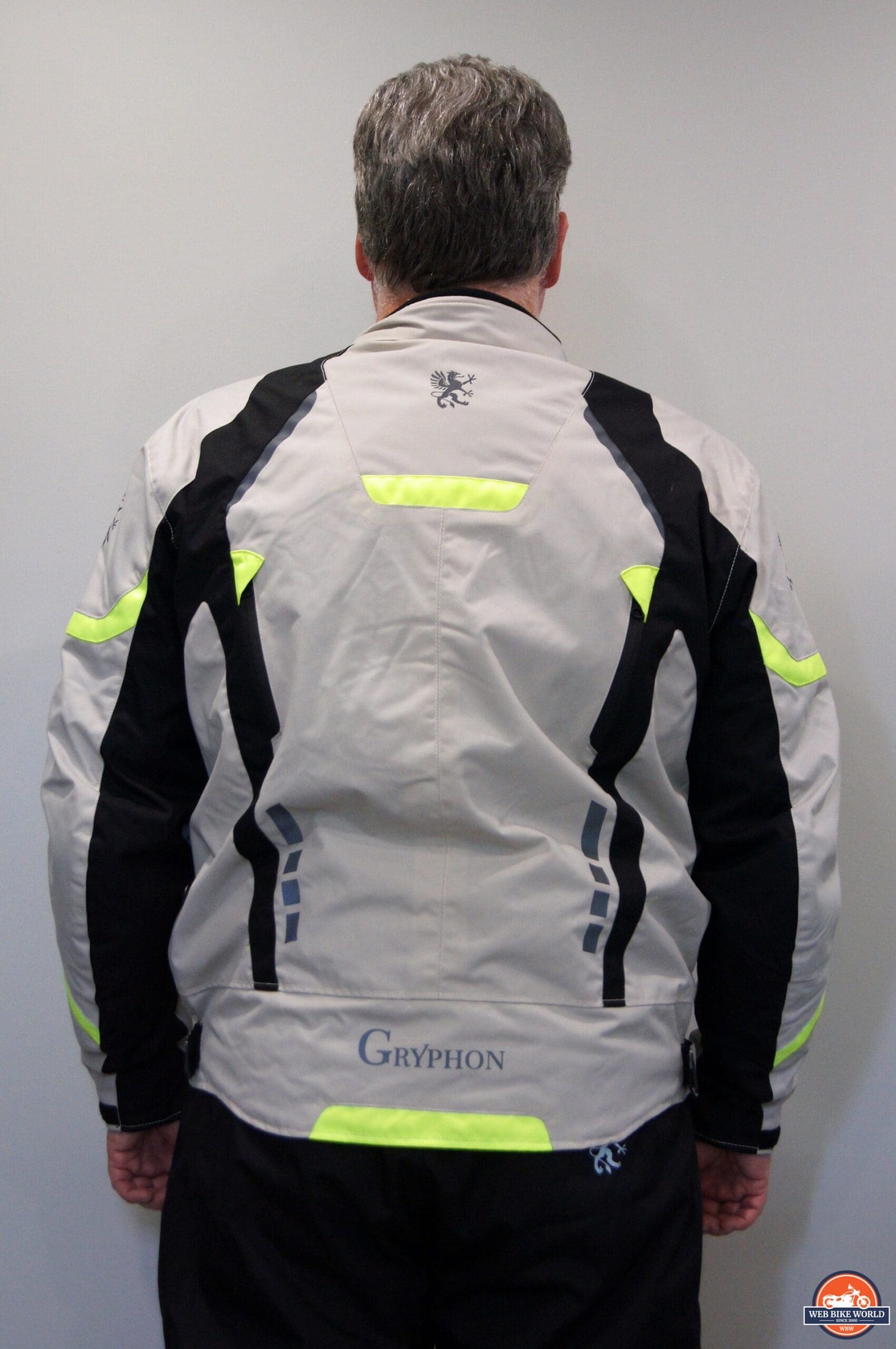 Gryphon Moto Blue Ridge Jacket Construction
Outer Shell
The 500 Denier Ballistic Nylon makes for a lightweight outer shell compared to other jackets with heavier grade nylon or reinforced material on the elbows.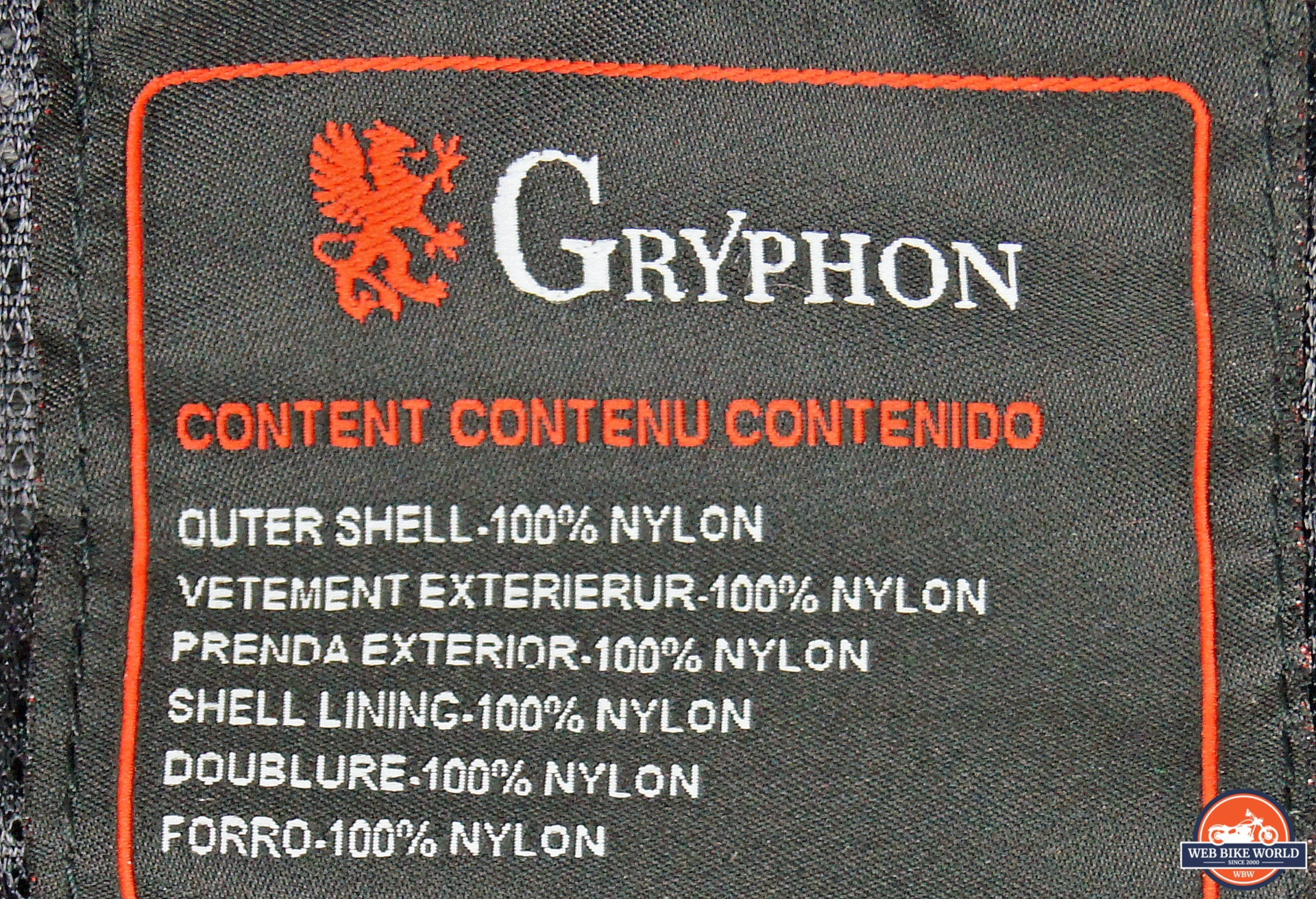 Outer Shell: 100% Nylon
Lining: 100% Nylon
Interior
Nylon mesh lines the interior throughout for increased airflow and comfort.
Collar
The collar features a soft lining and neoprene edge to minimize chafing and add comfort. In addition, the collar has a small velcro tab to secure to the opposite side for a secure fit.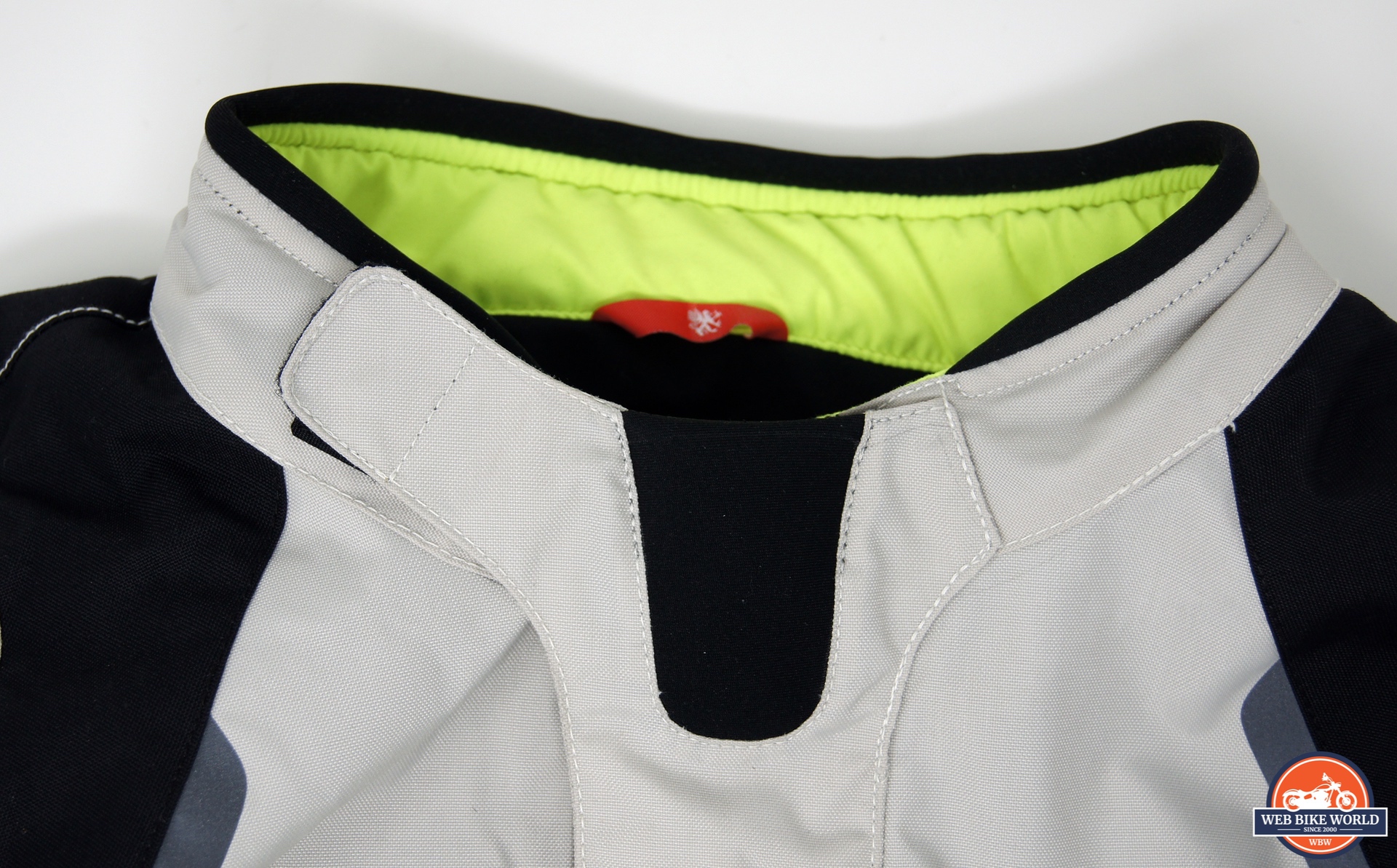 Pockets
There are five pockets in total:
Exterior

Two zippered slash pockets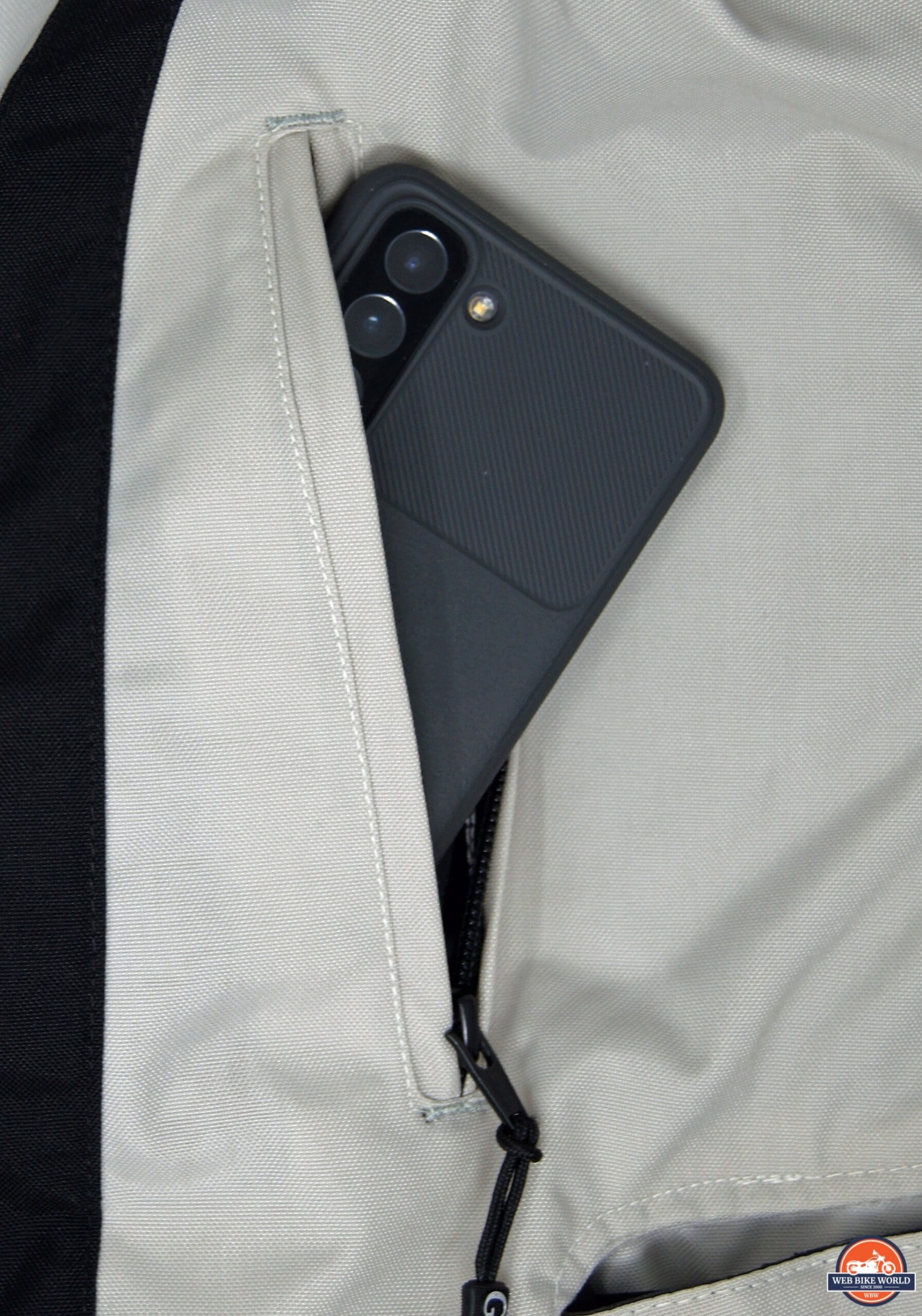 Interior

A zippered chest pocket with a key clip
A large pocket on the left
A phone pocket on the right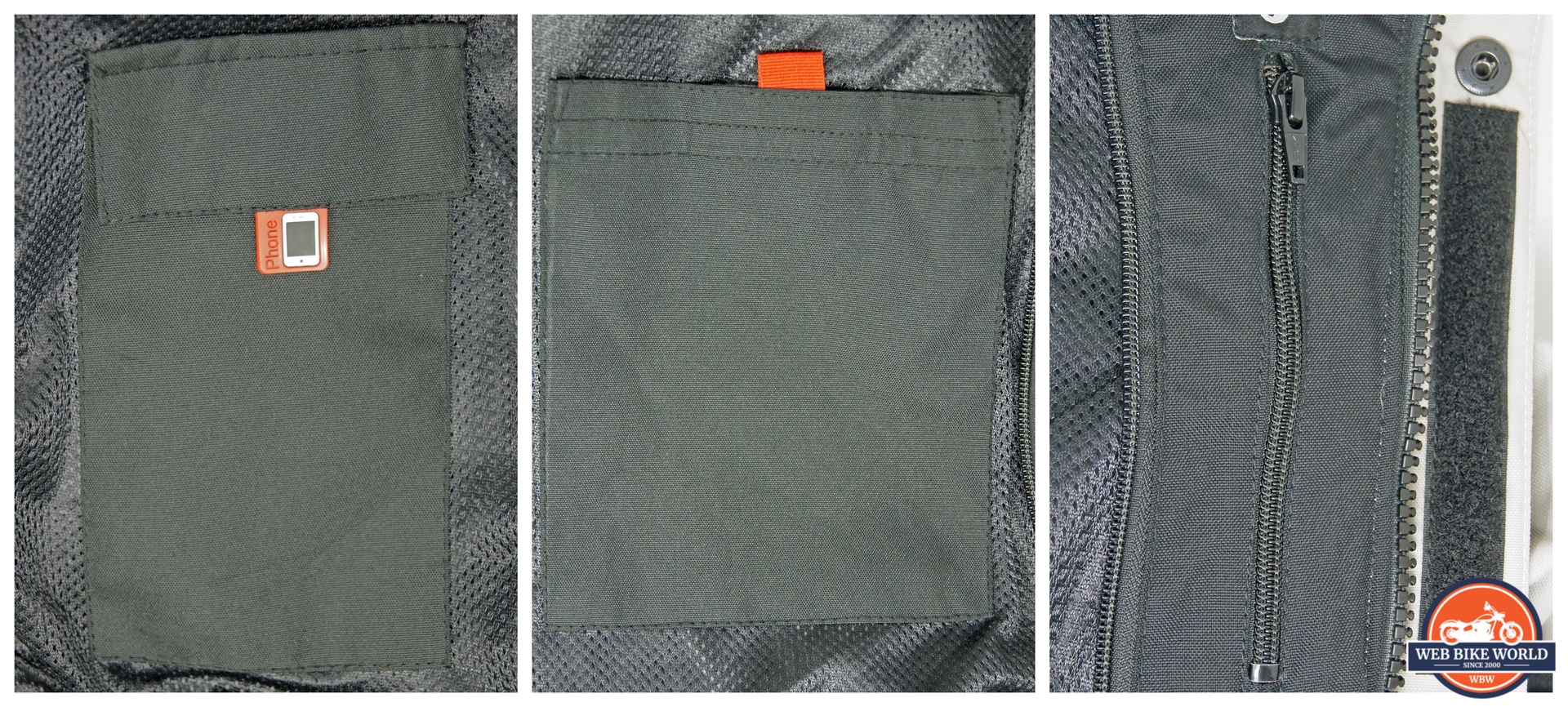 Hi-Viz Elements
There are several reflective features:
Two on the lower back
Two on the upper back
Two on the chest
The Gryphon Logo on each arm, upper back, and chest
The reflective bands are very subtle in the daylight. Reflection areas use 3M Scotchlite 360 Reflective elements.
With the light color and pops of green, the Blue Ridge is quite a visible jacket, adding to those reflective elements for night riding.
Branding
Branding is dark grey on light grey but remains subtle, which I like. The Gryphon symbol is on each bicep and below the collar. Additionally, the Gryphon name is on the left chest, lower back, and most tabs and pulls for the zippers and adjusters.
Zippers
All the exterior zippers are YKK, with the main zippers having sizable glove-friendly pull tabs. The ventilation zippers are sealed and tucked into hoods or "zipper garages" at the top of each zipper.
The main zipper also has an additional rain/wind flap with Velcro and dome snaps.
There are two YKK zippers on the interior; one for the interior chest pocket and one for the zipper to connect the Blue Ridge Jacket to matching Copper Canyon Pants or another compatible pair of motorcycle pants. If you are not using compatible pants, there are two snap loops to attach the jacket to pretty much any pair of belted pants.
Colorways
The Gryphon Moto Blue Ridge Jacket is available in black and grey with green, blue, orange, red, or yellow trim.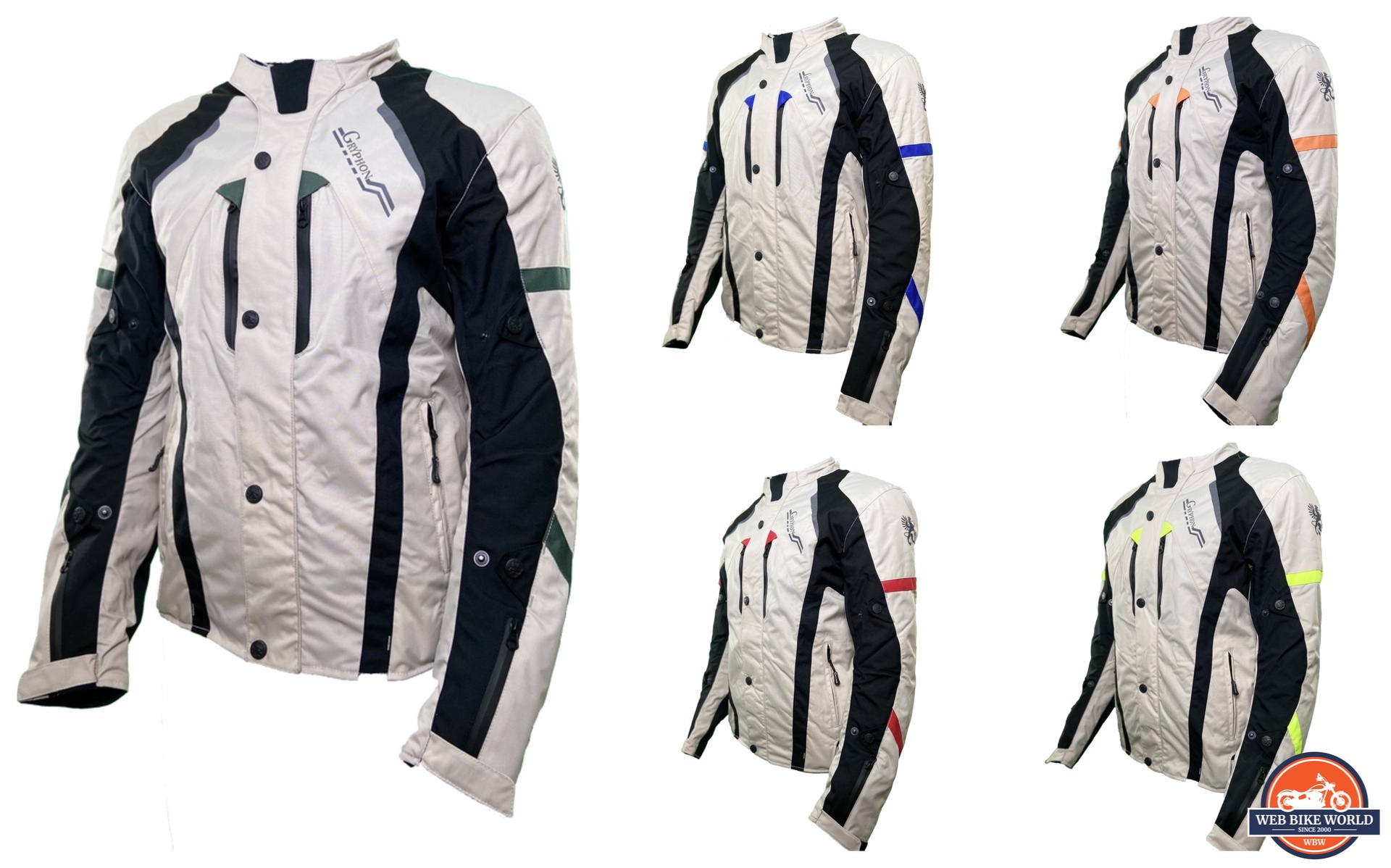 Overall Build Quality of the Gryphon Moto Blue Ridge Jacket
Sizing
The Gryphon Moto Blue Ridge jacket comes in 7 sizes; S, M, L, XL, 2XL, 3XL, and 4XL.
My size at the time of the order was 6'3" in height with a 47" chest, which falls perfectly in the XL sizing chart. When trying on the jacket with the thermal liner, I bumped it up to 2XL. The XL would be fine without the liner. I would suggest using the chat function on the website to help determine sizing.
Comfort
I found the jacket to be very comfortable to wear. The adjustment straps also allowed room to wear the included thermal liner.
The lined collar with the neoprene edge allowed for plenty of neck comfort. However, I often ride with the neck tab open in warm weather. Therefore, I think it would be nice to have a way to secure the tab open.
Adjustability
The Gryphon Moto Blue Ridge Jacket allowed for size adjustments in several ways:
Adjustable straps on each side near the waist
Two-position snaps at the biceps
Two-position snaps at the forearms
Zippers at the cuff
Adjustable velcro cuff at the wrists
These straps and adjustments allow you to fine-tune the fit for comfort and reduce wind turbulence. The cuff adjustment allows for an easy fit into a pair of motorcycle gauntlet gloves and opens wide enough to put the top of your gloves inside if desired.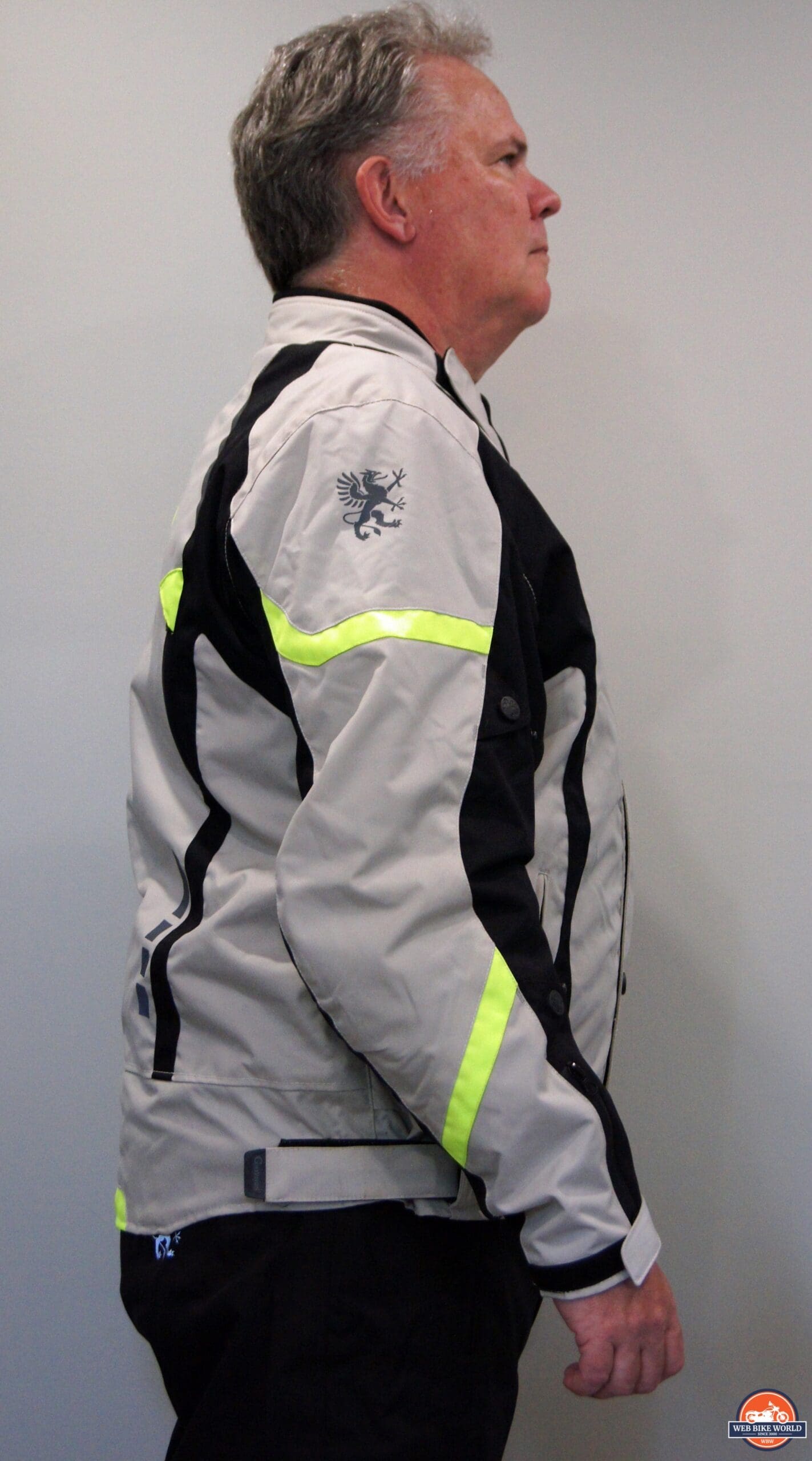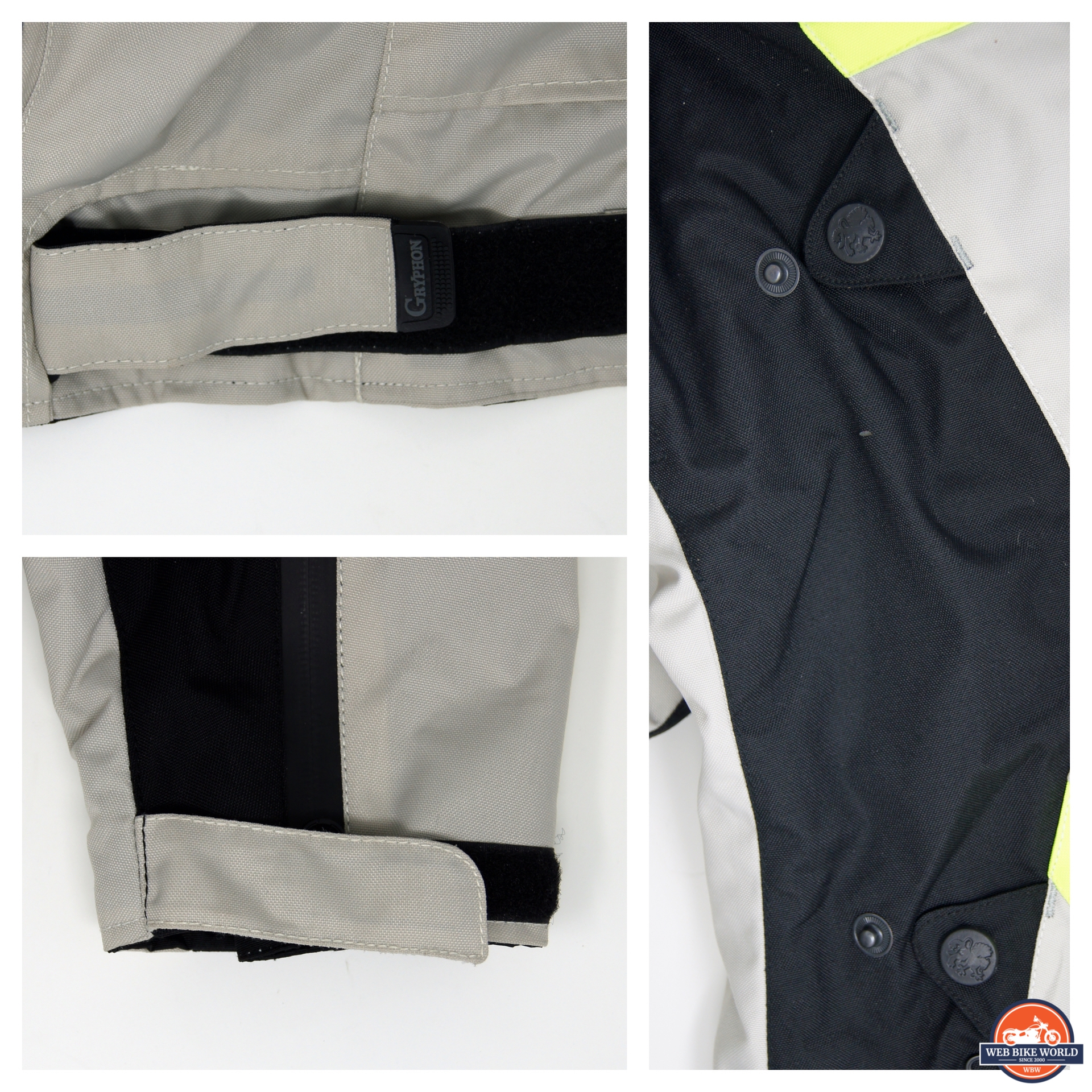 Gryphon Moto Blue Ridge Jacket Functionality
Waterproof
The Gryphon Moto Blue Ridge uses a REISSA Power-Skin Breathable/Waterproof membrane. According to the textile website, the REISSA Power-Skin includes the following properties:
Highly Waterproof
Highly Breathable
Resistance to rain, water, wind, snow, and cold
Provides warmth and comfort
High flexibility and drapability
Comfortable soft touch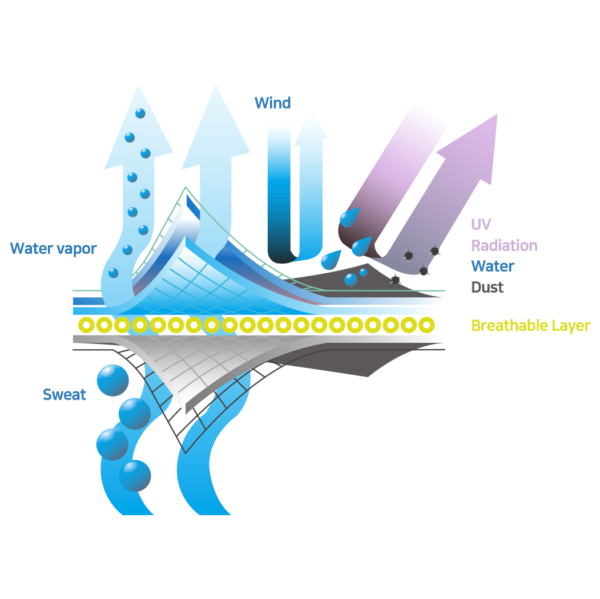 If possible, I try to do a water test on anything advertised as being a waterproof motorcycle jacket. This test could be either riding in the rain (preferred) or sprayed from a hose.
In this case, I rode about 40 km in what I would call a steady rain with intermittent heavy rain. After that, I am happy to say that I stayed dry. In addition, during this initial test, the jacket did a good job of shedding water.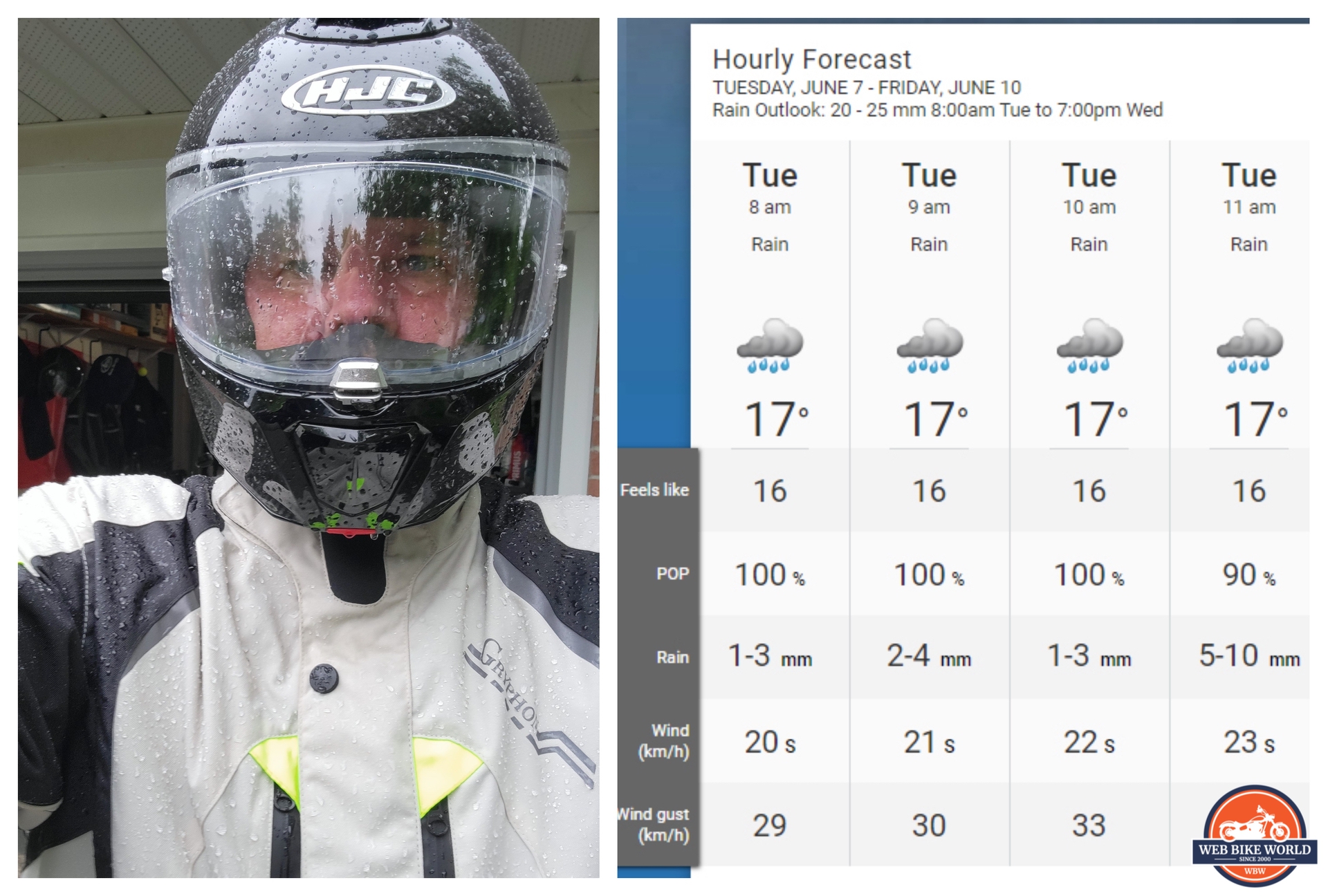 I conclude that you should stay dry on your travels with the Blue Ridge jacket and Copper Canyon pants, combined with waterproof gloves and boots.
Ventilation
The Blue Ridge Jacket contains four pairs of ventilation zippers—in the chest, armpit, cuff, and back.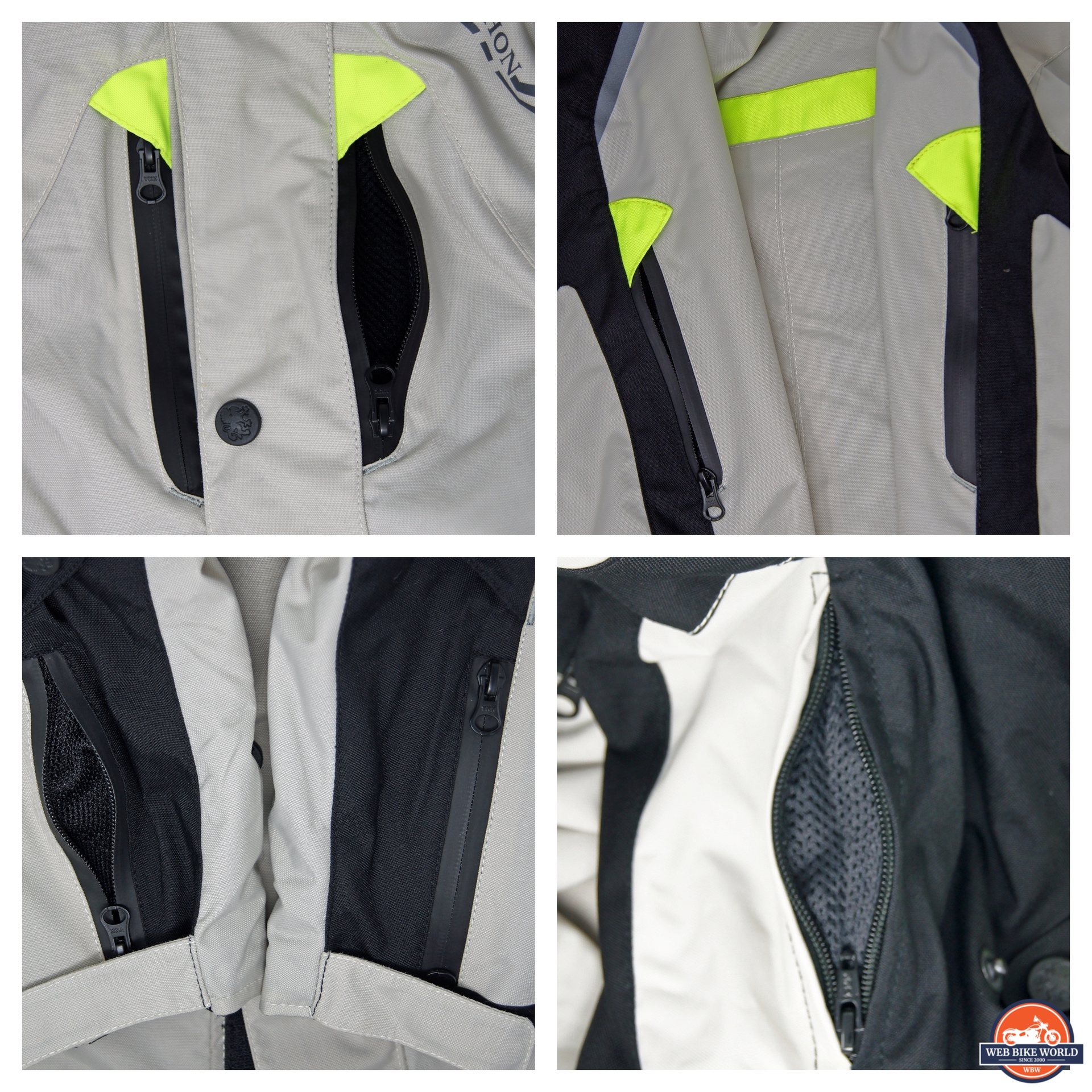 I was able to use the Blue Ridge Jacket in many weather conditions—from 5 °C (41 °F) in combination with the provided insulated liner/jacket to heavy rain to 34 °C (93 °F) (thanks to a couple of scorching June days) with a humidex of 38 °C (100 °F). Where I live in central Ontario, this is considered very hot.
On many spring rides, the day starts cool, so I wear the internal liner with closed vents. By lunch, the temperature becomes moderate, and I remove the liner and begin partially opening vents by mid-afternoon. When the temperatures peak, I open the vents completely. The chest vents are relatively small, but the armpit vents help alleviate that. Even with the ventilation available, I will swap this garment out for a mesh jacket on hot days.
Overall, though, I thought the ventilation on the Gryphon Moto Blue Ridge Jacket was pretty good.
Protection
The Blue Ridge Jacket offers several layers of protection:
Outer shell made of 500 Denier Ballistic Nylon
CE Level 2 protection in the back, shoulders, and elbows
Many jackets in this price level use the lower CE Level 1 armor and do not include back protection. Well done, Gryphon Moto!
EN 17092-4:2020 is a standards document specifying general requirements for CE certification.  The standard includes but is not limited to impaction, abrasion resistance, tear strength, seam strength, and dimensional stability.
This jacket does not contain the EN 17092 label. Understand that this is a European standard that is not applicable in North America. Many garment manufacturers are European-based, and this labeling is an excellent way to compare garments.
The lack of a label does not imply that the jacket would not meet one of the levels of EN 17092. Based on having level 2 armor and a back protector, I would guess that it would, but I cannot be sure.
The image below is not the standard CE label but it does indicate what type of CE-rated armor is included.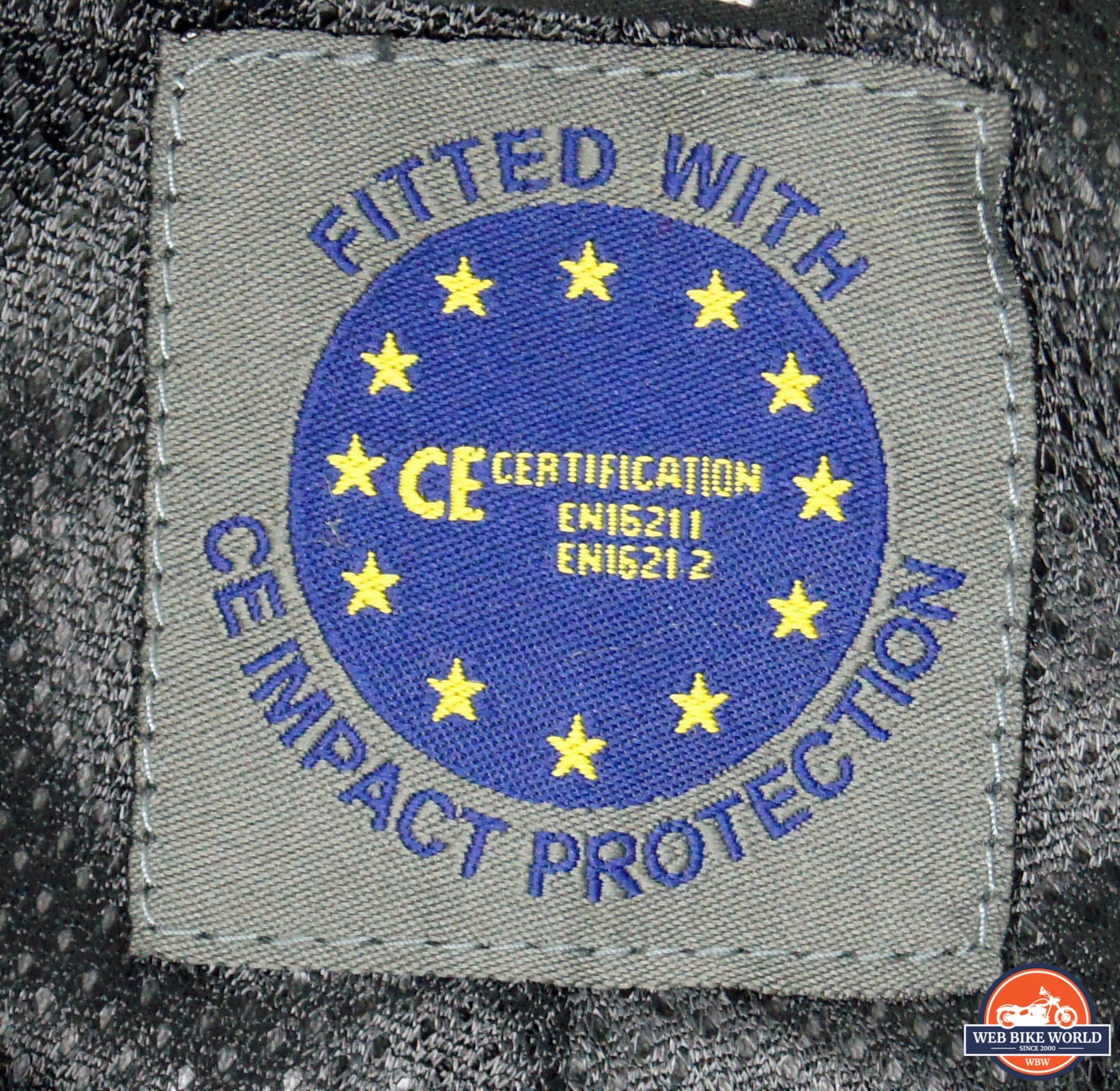 EN1621-2 – Certification Standard for Back and Spine Protection
EN1621-1 – Certification Standard for Shoulders, Elbows, and Knees
Protector Style S = Shoulder, E = Elbow, K = Knee, FB = Full Back.
Type A has smaller dimensions
2 – Protection Level (higher protection level compared to Level 1)
The armor used in this jacket is:
Back Certified (EN 1621-2:2014; FB; Protection level: 2)
Shoulder Certified (EN 1621-1:2012; S TYPE A; Protection level: 2)
Elbow Certified (EN 1621-1:2012; S+E+K TYPE A; Protection level: 2)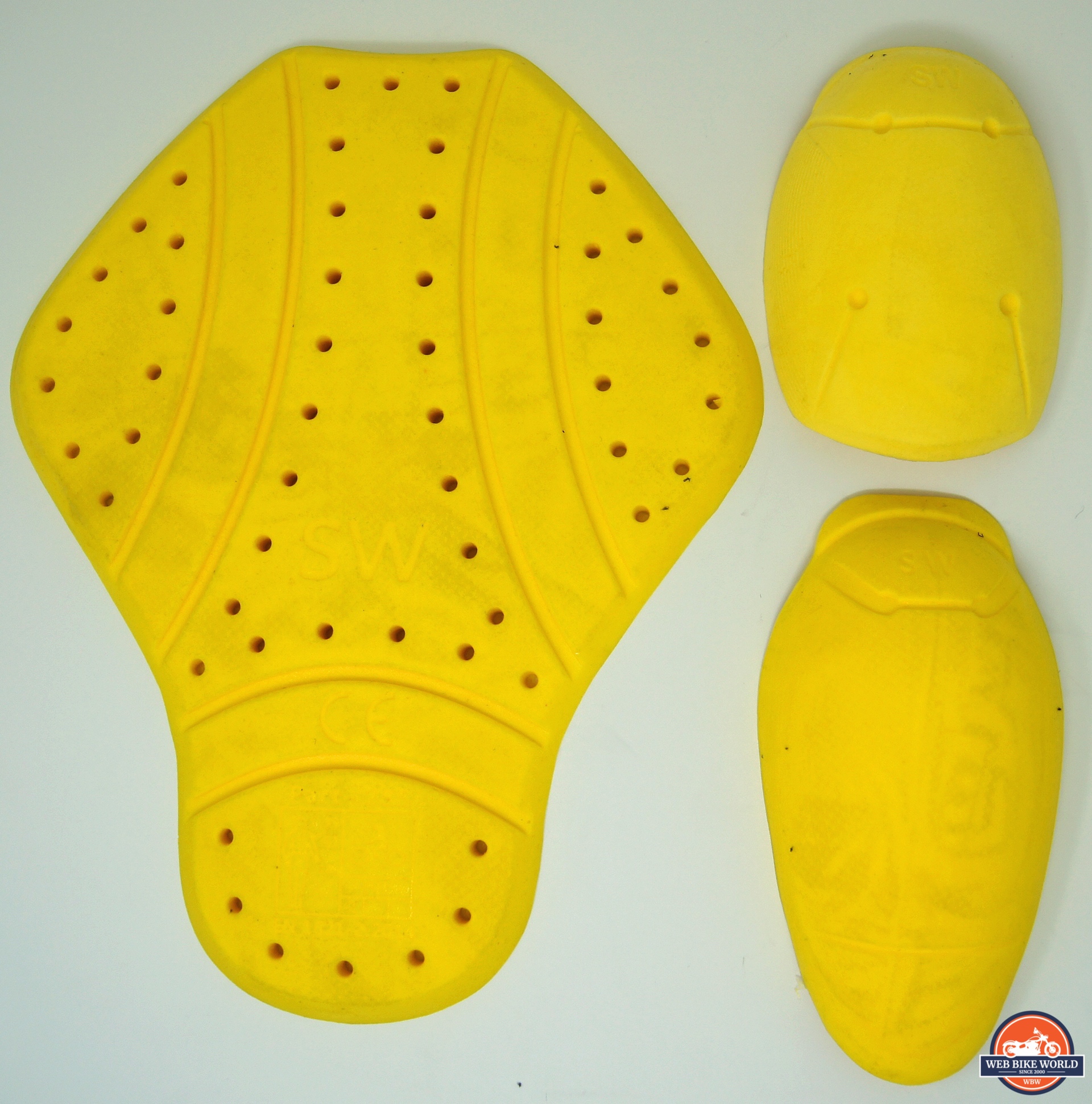 Care Instructions
I found the best way to keep the jacket looking good was to wipe it down with a damp cloth and then let it drip dry if you got caught in the rain.
Here are the attached instructions on the jacket.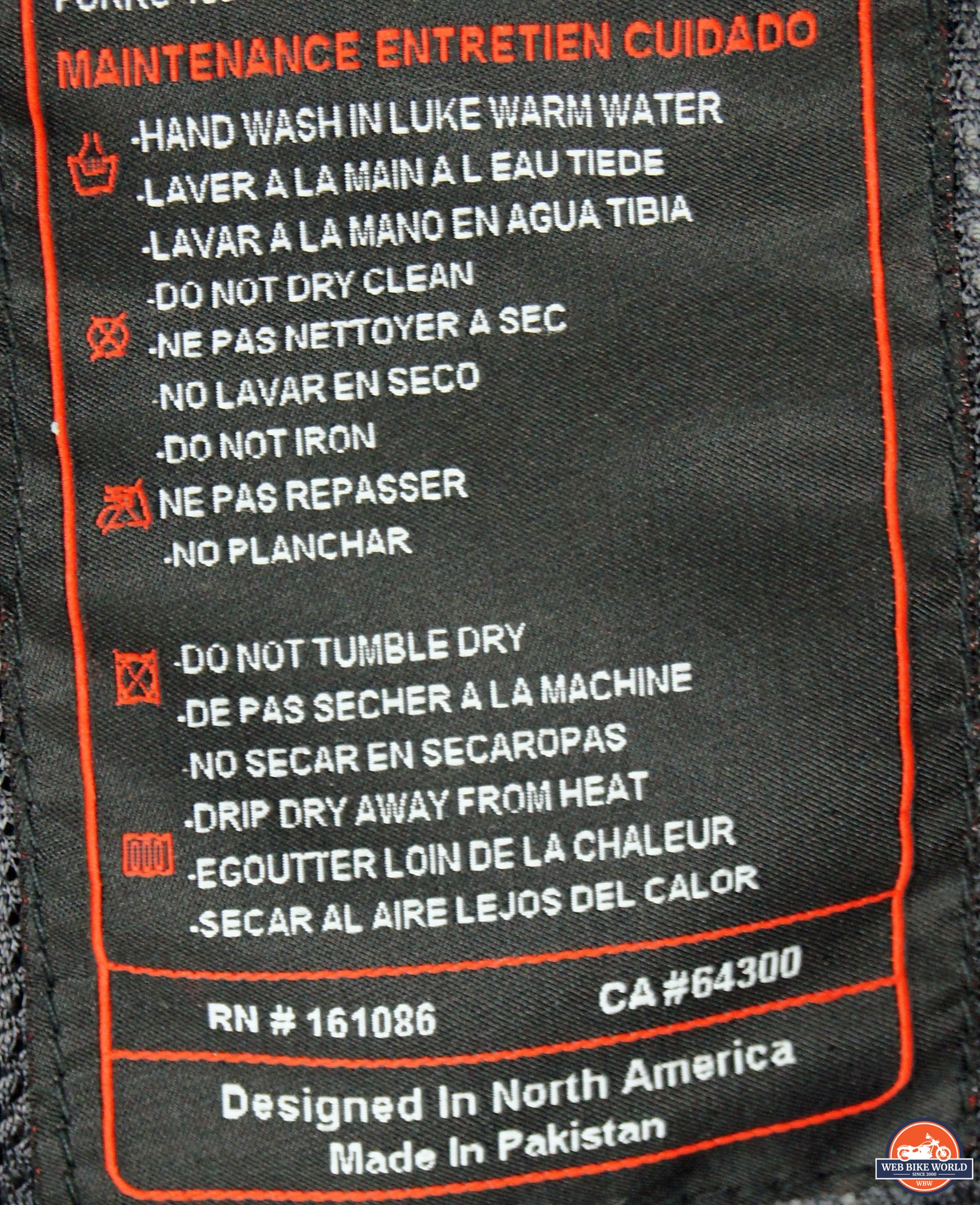 For details, please visit Gryphon Moto Care and Warranty.
Thermal Liner
The Gryphon Moto Blue Ridge Jacket includes a full-length sleeve thermal liner to keep you warm on those cold days. It attaches to the outer shell with a full-length zipper and a pair of snap/loops at the end of each sleeve.
The liner also includes two interior pockets, one designated for your phone.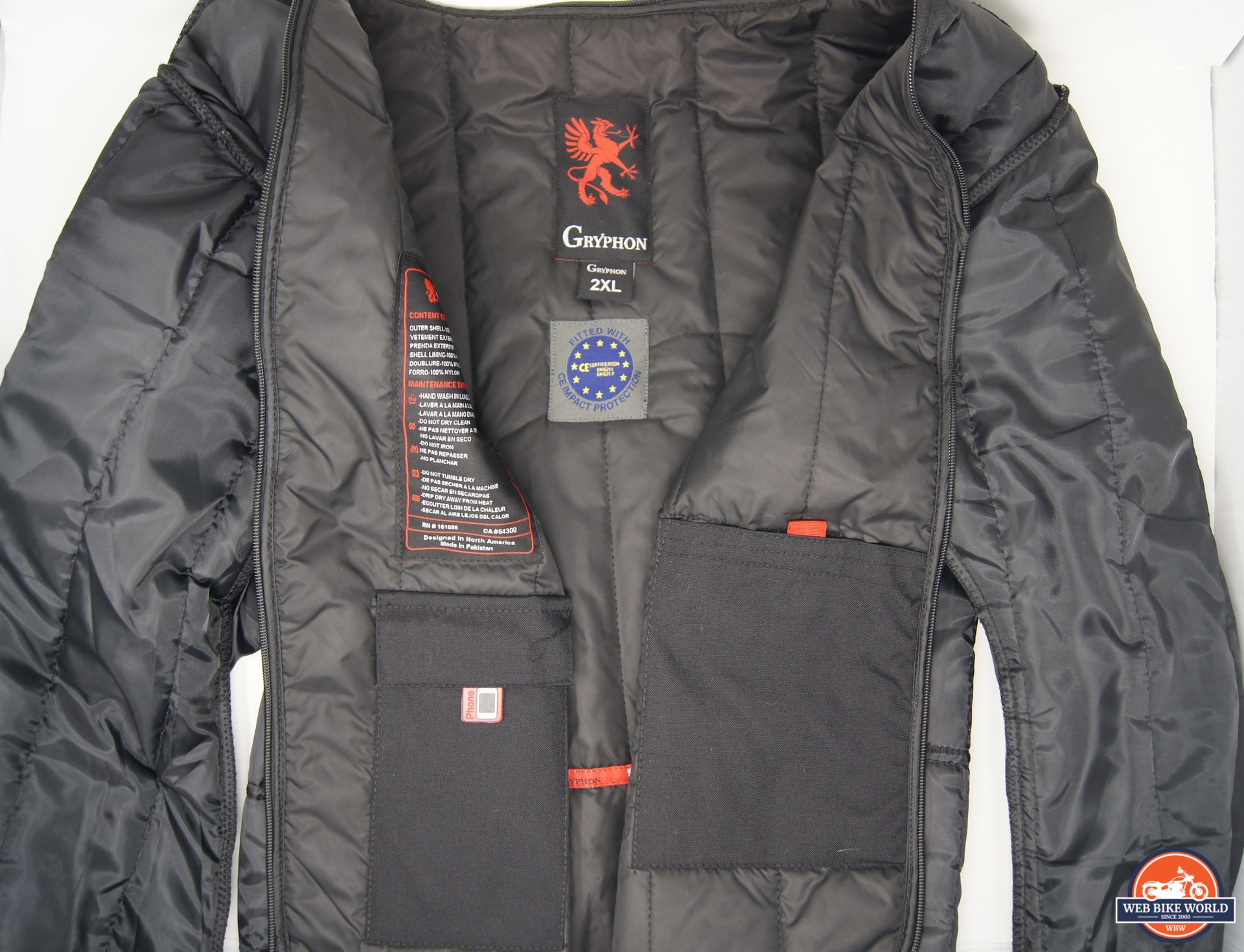 Warranty
The Gryphon Moto Blue Ridge Jacket carries a one-year guarantee on materials and workmanship. One year is the minimum standard, and many manufacturers offer two or more years.
For details, please visit Gryphon Moto Care and Warranty.
Final Thoughts on the Gryphon Moto Blue Ridge Jacket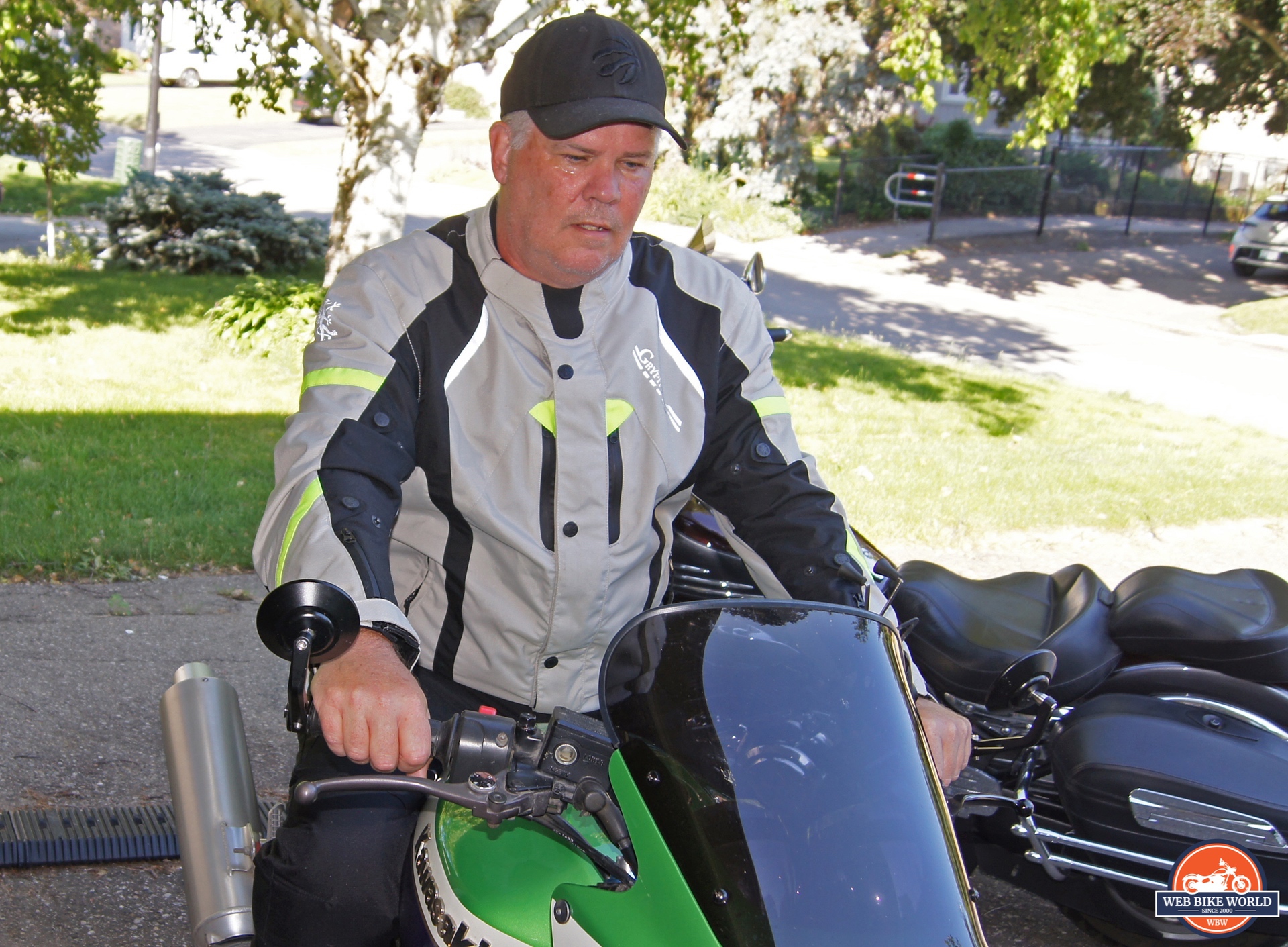 I picked up the Gryphon Moto Jacket in mid-May. It is now the end of June, and I have put it on for many rides in that time.
I can't help but compare it to the Gryphon Moto Vancouver jacket I reviewed last season. Of course, it would be better for cold riding due to the more extended shell and included puffer lining. With its more rugged exterior, additional pockets, and ability to carry a water bladder, the Vancouver is better suited to the adventure side of riding. However, when it comes to touring and daily riding, the Gryphon Moto Blue Ridge jacket does the job from late spring to early fall.
The Blue Ridge offers a comfortable, lightweight touring length cut, attractive styling, wet and cold weather protection, and CE Level 2 impact protection. Best of all, it costs only $370. I think that's great value.
Overall, the Gryphon Moto Blue Ridge Jacket is an excellent piece of gear at a very reasonable price.
Specs
Manufacturer: Gryphon Moto
Price: (When Tested) $370 USD
Made In: Pakistan
Colors: Black and grey with green, blue, orange, red, or yellow trim
Sizes: S, M, L, XL, 2XL, 3XL, 4XL
Review Period: May – June 2022
Important Links / Where to Buy
The Gryphon Moto Copper Canyon Pants can be purchased directly from the manufacturer and many retailers across North America.