Grip Buddies Review Summary
Grip Buddies Image Gallery
Grip Buddies are neoprene grip wraps that add thickness or diameter to motorcycle hand grips.
They're easy to install and provide a soft padded feel that is quite different from the typically hard original equipment grips.
The neoprene used to make Grip Buddies is very similar to the type found on a wetsuit and this means that they do provide some insulation and heated grips are less efficient.
Grip Buddies have been available for some time and there's not much new to be added that hasn't already been said but I thought I'd relate my first-time experience.
I recently bought a 2007 BMW F 800 S with a touch over 16,000 miles on the clock.
This one-owner bike is in excellent condition overall but it does show a bit of wear here and there…like on the hand grips.
The original owner had replaced the clip-on handlebars with a new upper triple-tree clamp, risers and a nice ABM handlebar, which yielded a more reasonable riding position than BMW intended.
He also added a set of BMW heated grips, which have a thinner diameter than most standard motorcycle grips, probably to allow better heat transfer.
The heated grips have become worn and they feel slippery but they still get nice and hot, at least on the second setting. I'm not sure why, but as you can see in the photos, for some reason the grips don't reach the end of the ABM handlebar and the bar end weights are missing.
I'll address that issue soon with a set of ultra-heavy HVMP bar end weights. I'll also have to decide whether to do some surgery on handlebar length or if I can relocate the grips and controls farther out towards the bar ends. I'm assuming I'll have to do the former, because there must be a reason why the original owner installed the grips and controls in their current location. I'm not sure why he dumped the bar end weights though…
In any case, I had two goals in mind before I bought the Grip Buddies. First, I wanted to increase the diameter of the BMW grips and second, I wanted to improve the feel to remove the slippery sensation from the worn original grips.
Some owners have solved both of these problems by carefully cutting and removing the outer part of the heated grips, leaving the heating elements intact. Then a new set of grips can be installed over the top of the heating elements. I may try that one day when I have more time, but in the meantime, I wanted a quick solution, which is what led me to order a set of Grip Buddies.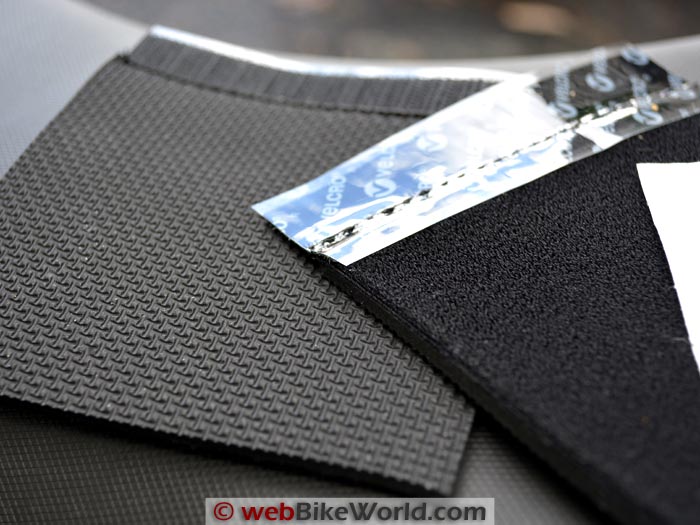 Grip Buddies
Besides the cut-and-replace solution, there are several other ways to add bulk to a pair of motorcycle hand grips. I once read about an owner who used tennis racket grip tape and there are various grip wraps and grip covers designed specifically for motorcycles available for sale. But I chose to try the Grip Buddies after reading about them in the F800riders.org owner's forum.
Grip Buddies apparently come in different sizes, depending on the bike. I ordered the BMW version, which cost $24.95 including shipping.
The BMW Grip Buddies I received measure 110 mm wide by 110 mm tall and the neoprene is about 3 mm thick. A strip of double-sided tape is sewn along the top on the hook-and-loop and a couple of alcohol swabs are included for cleaning the grips before installation.
Installation is easy; follow the video on the Grip Buddies website or these printed .pdf instructions. Basically, you clean the stock grips with the rubbing alcohol pads, then expose the double-sided tape, fasten it on the grip and then stretch and wrap the Grip Buddies neoprene around the top of the grip. Align the edges of the neoprene and secure it using the hook-and-loop and you're done.
The split line is supposed to be located between your fingertips and thumb end when holding the grips. If you don't get it right the first time, you can re-align the tape and try again.
In practice, it's not quite as easy as it looks to get the squishy neoprene to align perfectly straight at the mating edge. Depending on how fussy you are, you can spend a lot of time with it in an attempt to get it perfect or if you're like me, when it's close enough, it's close enough.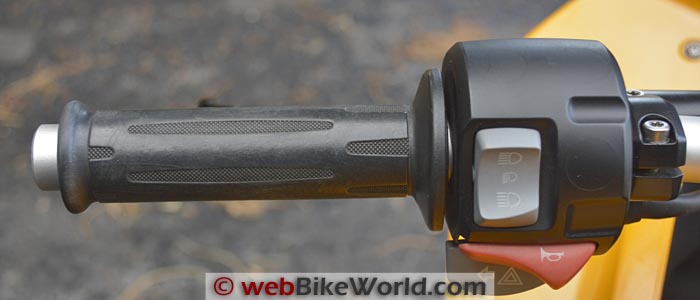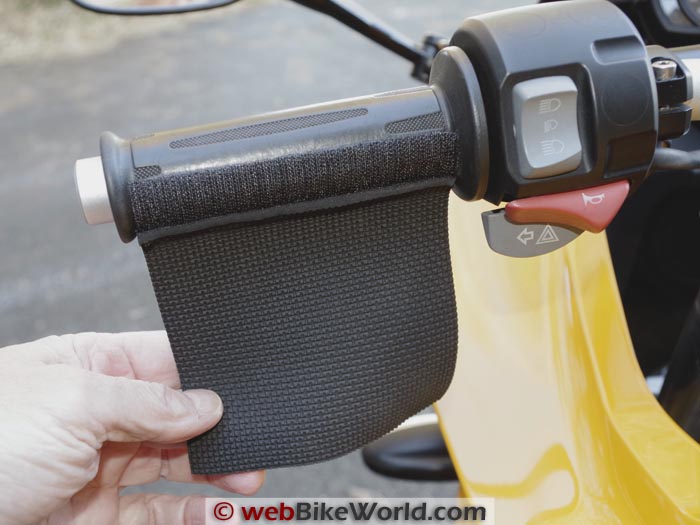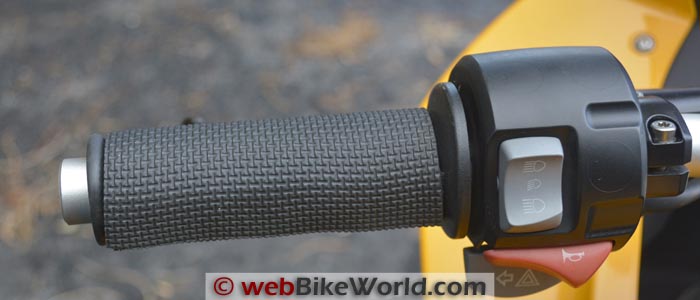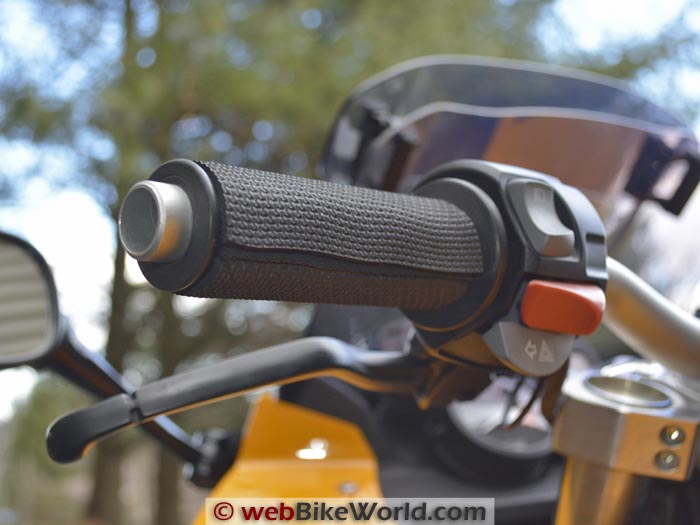 On the Road With Grip Buddies
There's a reason why stock hand grips are hard and that's to provide good feel for the front end of the bike. Race grips are rock-hard because you want to transfer every bit of feel through the bars to the rider.
Grip Buddies are just the opposite: soft and squishy. What you lose in feel you gain in comfort and you most certainly get more "gription" — no more slippery grips when the Grip Buddies are installed. This soft 'n' squishy feel is quite different, however, and some may not like it.
Also, remember that there's an additional 6 mm or so of diameter after installing the Grip Buddies and this may or may not be what you're looking for. I needed more thickness and the additional 6 mm is a lot — I wouldn't want the grips to be any thicker than this.
It is possible that the thick neoprene hides some handlebar vibes, but I wouldn't count on using Grip Buddies as a vibration solution, just as a possible added side benefit.
My biggest gripe is that the neoprene has noticeably affected the output from the heated grips. The BMW heated grips have two levels of heat: low and high. On the low level with the Grip Buddies installed, I can barely feel any heat at all coming through and the high level feels like the low level did before installing the Grip Buddies.
This makes sense when you think about it, as the neoprene has insulating properties. But there probably aren't any other wraps that you could add to a set of heated grips without affecting the heat output, although I'd like to find one and if anyone has a suggestion, please give me a shout.
Conclusion
Grip Buddies add about 6 mm total diameter to the grips, something you may or may not want. Adding thickness was one of my primary motivations, so it works for me.
The bonus is the extra grip feel or traction on the grips; the original BMW grips had become worn and slippery and the Grip Buddies solved that problem.
The only downside is the reduction in the amount of heat I can feel. It take about 15 minutes before I can feel the heat and then the heat is at a reduced level, about equal to the original low setting without the Grip Buddies.
More wBW Heated Clothing Reviews  |  Motorcycle Glove Reviews
List Price (2015): $24.95 USD
Sizes: Fits all hand grips.
Review Date: December 2014
Note:
 For informational use only. All material and photographs are Copyright © webWorld International, LLC since 2000. All rights reserved. See the webBikeWorld® 
Site Info page
. Product specifications, features and details may change or differ from our descriptions. Always check before purchasing. Read the
Terms and Conditions
!
Owner Comments and Feedback
---
From "J.C." (December 2014): "I've been a fan of grip covers for years. I use the Grab On brandavailable in different lengths and diameters. Plus side is no seam to feel/down side is they are not easily removable. I used a pair with heated grips on a Kawasaki KLR650 with similar results as yours. The heat came through but just took a little longer. They're going on my Indian Scout with its hard grips!"
From "K.P." (December 2014): "I have used these for a couple of years. Just put on the second set. On my Victory, I was looking for a larger grip and got the added benefit of some back relief. Yes they dampen vibration some and a Victory is far from a sport bike, although that will be argued by some who own them, LOL. This is a large touring machine, so I am probably looking for a different result.
A note on the heated grips. They take longer to warm up, but don't seem to lose a lot otherwise. Mine has a hi and low as well, but the temp could be higher. Different brands and even bikes in the same line can have some variance.
Nice review, and mine have lasted through all types of weather and about 30K miles so FWIW, they do hang in there. I thought they would self destruct in a few months but have been happy with them and the company is great to deal with. Very customer oriented, to the point I was contacted about an order while they were at a rally."
From "S.B." (December 2014): "Hi guys, I thought I would send in my $0.02! I had a pair of Grip Buddies that lasted about 1 1/2 seasons on a touring bike. The outer layer abraded away and exposed the foamy core. They still worked but I found a better product. Re-Grip. Solid rubber that 'shrinks' down to the grip size. I have them on a GSA with heated grips and have no concern with heat transfer. And they're super grippy! You should check them out."
From "B.P." (December 2014): "I used Grip Puppies on a bike for five years, and liked them a lot. I used them for comfort, to increase the grip diameter on a bike with small grips on 7/8″ bars.
Grip Puppies have, yep, a grippy texture on the outside. They are very slightly stretchy, and are slid over existing grips using a small amount of lubricant, such as dishwasher detergent. They come in different sizes, but in any event can be trimmed to grip length using scissors.
That bike did not have heated grips, so I can't comment on how well they transfer heat. I think they are thinner than the Grip Buddies, so my guess is that they will work better in that regard; there is an old thread at ADVrider that touches on this. I can say that they are very comfortable, and as they don't have a seam they dispense with issues related to that…"
Other WebBikeWorld Grips Posts