You can leave your gear locked on your motorbike with the goLock Venture and receive a warning over your phone if someone tries to tamper with it.
The goLock Venture also has LED lights and a loud alarm to deter thieves.
It will be available for $US239.95 (about $A305) from February 2018 or ordered from midnight US time (about 4pm Saturday Australian time) for a $US55 discount.
The lock is similar to others we have used to secure our helmets and jackets to motorcycles. 
goLock Venture features
The lock is covered in a hardshell plastic case that is claimed to be resistant to dust, rain, snow, sleet and sun.
It comes with a silicon-coated, braided steel cable in two thicknesses (1/8-3/8 inches) and four lengths (3ft, 7ft, 10ft or 20ft). The thicker and longer cables could also be used to secure your bike to a fixture such as a pole or fence.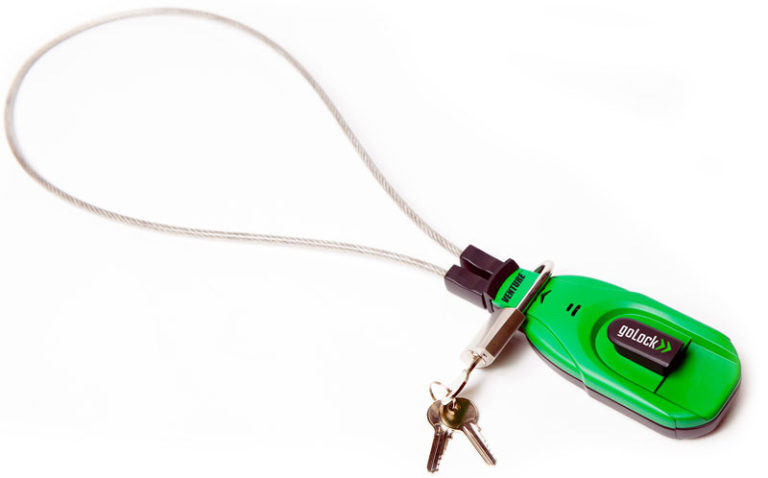 However, what sets it apart from other cable locks are the LED lights that act as a deterrent to thieves, a USA cellular (Australia at a later date) and Bluetooth link to your phone to alert you of tampering and a loud 95-decibel alarm.
That's about as loud as most motorcycle exhausts, or a lawn mower, tractor, jackhammer or garbage truck.
goLock Venture app
The phone alarm works through an iOS/Android app that sends you a notification of tampering.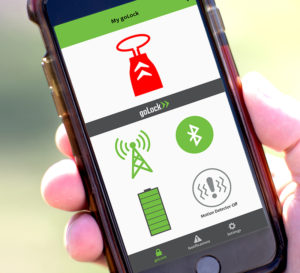 It is activated by sensors that detect a severed cable, motion, damage to the lock from heavy blows, or even a picked lock.
You can also use the app to remotely check the lock's battery life, to check that it hasn't been tampered with and to remotely disarm it if someone that you know needs to unlock it.
The battery is claimed to last about seven days per charge.
However, if it does run flat, the padlock and cable will still keep things secure, but there won't be any alarms or notifications.
Their app will also store emergency phone numbers in the event of theft and will support multiple goLock Venture devices.
It was invented by Texan Steve Jones after a fishing expedition where he was worried about unguarded gear in the back of a trailer.
However, company spokesman Vicki Jones says they believe the lock has a lot of applications for outdoor leisure pursuits including motorcycling.