Vessel JIS Screwdrivers Image Gallery
A well-made set of tools for the motorcycle mechanic who wrenches on Japanese machines.
The shorter handle design may make it difficult to get a good grip with larger hands.
In 2011, I reviewed a pair of JIS screwdrivers to see what, if any, differences there were between the JIS (Japanese Industrial Standard) and the standard Phillips screwdriver.
I also discussed using JIS screwdrivers for motorcycle repair and maintenance.
As it turned out, we discovered that there is indeed a noticeable difference in the way JIS screwdrivers "bite" into the fasteners used on Japanese (and some European) motorcycles.
I used a standard Phillips screwdriver for working on my motorcycles for many years and while they will work, the head of a stuck or rusted screw can often strip before the screw is loose.
Using a JIS screwdriver resulted in a much better chance of removing the screws without damaging the slots in the head.
If the screw is a JIS type (often identified by a small dot or "X" next to the slot), a JIS screwdriver is the correct tool to use.
Yes — there is a definite difference between a Phillips head and a JIS screw.
From my 2011 report:
"The difference is the walls of the slots in the JIS screw head, which are parallel and which will cause the regular style Phillips screwdriver to cam out of the screw as you're trying to turn it. The "corners" at the center of a Phillips head screw have a slight radius, supposedly designed to allow the Phillips head screwdriver to cam out as a sign that maximum torque had been reached. Also, the JIS screw head slots have a shallower depth, preventing the taller head design of a Phillips head screwdriver to properly grip the sides of the fastener."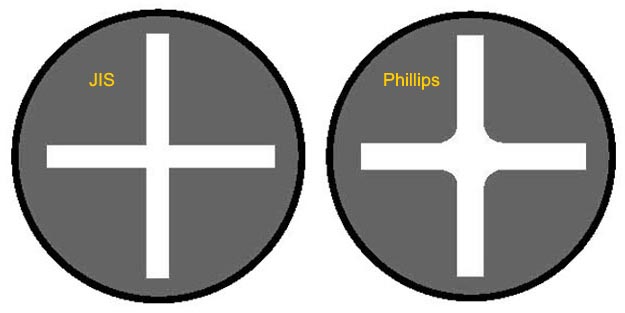 Vessel Tools
Today we're going to have a look at a set of screwdrivers from Vessel Tools, distributed by JDV Products in North America.
I had not heard of Vessel Tools until discussing this review with our Editor, but I gladly accepted the project and soon I received what Vessel calls the "Japanese Motorcycle Repair & Restoration 8 pc Screwdriver Kit" (Model# A-16510).
First, though, a little history on Vessel, courtesy of their website: Vessel was formed in 1916 and has been manufacturing screwdrivers such as ratchet screwdrivers, precision screwdrivers, interchangeable blade screwdrivers, ball-grip cabinet screwdrivers and other hand tools.
They made various other hand tools as well. The 100th year anniversary of Vessel Tools will be arriving relatively soon.
1916 was nearly 20 years before Henry Phillips came up with the famous Phillips head screw in the U.S.A. Vessel was also one of the pioneers who contributed to the Japanese Industrial Standard (JIS) for screws in Japan.
Vessel says that they pride themselves on using the highest quality materials along with their premium heat-treating processes within their factory.
After World War II, Vessel was the first and original (JIS) Japanese Industrial Standard certified manufacturer of screwdrivers in Japan. Since then they had been known as the first manufacturing company for these kinds of tools.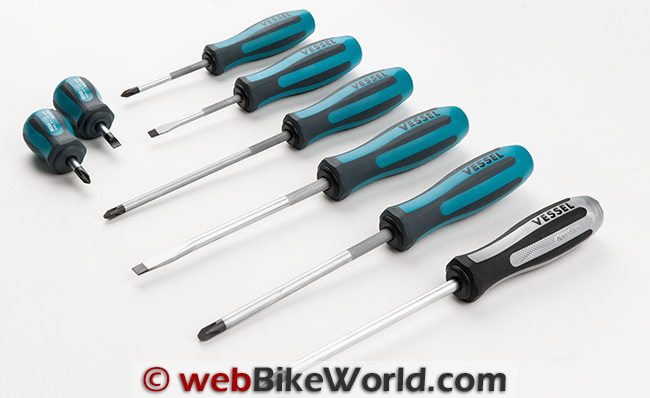 The Vessel Japanese Motorcycle Repair & Restoration 8 Piece Kit
The Vessel Japanese Motorcycle Repair & Restoration Kit includes eight screwdrivers.
The kit consists of five JIS cross-type screwdrivers and three slotted or standard (straight tip) screwdrivers. The JIS screwdrivers in the Vessel kit are a P1, P2, and P3 in size.
JIS Screwdriver Notes
JIS screwdrivers are available from sizes 000 to 0 (very small, precision-type screwdrivers for electronics) to 1, 2 and 3 sizes, which are useful for motorcycle work.
Note that a JIS screwdriver will usually work on both a Phillips head and JIS screw, while a Phillips head will usually work only on a Phillips head screw.
A #1 and #2 size are probably the most useful types for motorcycles.
More: "That's Not a Phillips" article (.pdf) in Vintage Japanese Motorcycle Magazine.
In the Kit
The kit also contains a stubby P2 and a P3 "Impacta" JIS screwdriver which is, as you might guess, an impact driver (more on that a little later).
The slotted or standard screwdrivers are size #8, a #5.5, and stubby #6. All except for the Impacta have bluish-green handles in what Vessel refers to as their "Megadora" style handle shape.
The grips have strips of rubber cushioning that run lengthwise down the handle to the hilt.
This provides a good surface and the screwdrivers are comfortable to hold, but the shape and size of the handles can be a little frustrating as we'll see shortly.
The handle of the Impacta screwdriver is the same shape as the other handles, but it made from metal (unspecified) but still has the rubber cushioning strips.
For the environmentally-conscious gearhead (all of us, right?) all the screwdrivers in this kit are designated as "Eco-friendly" products.
Vessel focuses on complying with the requirements of "green" procurement and RoHS directives, lengthening product lifetimes, using recycled materials, and designing products for easy post-use resource recovery and recycling.
Vessel JIS Screwdriver Details
All of the business ends of the Vessel JIS screwdrivers are black and also magnetized, which helps when working in cramped spaces where there may be fear of losing the screw in a hard-to-reach spot.
The magnetizing is pretty strong, as I found out when trying to photograph the set on the studio table. Get the tips to within about 35 mm of each other and they will attract.
In addition to the magnetized tips, another convenience is that the upper portion of the shank is knurled to make it easier to quickly "spin out" loosened fasteners. Each screwdriver has a very nice heft and a very good feel.
The Vessel JIS screwdrivers are not your typical discount store tools.
They give the impression of being a tool for the professional mechanic, someone who would be using these on a daily basis to make a living.
While on that subject, I should point out that while I do my own motorcycle maintenance and I have the occasional project bike to work on, I'm not a pro mechanic.
So in order to really put these tools through their paces I needed to turn them over to my "trained motorcycle mechanic".
I threw the complete set of the Vessel JIS screwdrivers in the top case of my bike and took them over to Kevin Anderson at Top Dead Center Cycle here in Nashville.
Kevin knows tools and he works primarily on older Japanese bikes.
What better place to test how these tools work than the real world of rusted and frozen fasteners? Kevin took them and in turn promised to give them a workout.
A few weeks later I met back up with him to find out how they performed.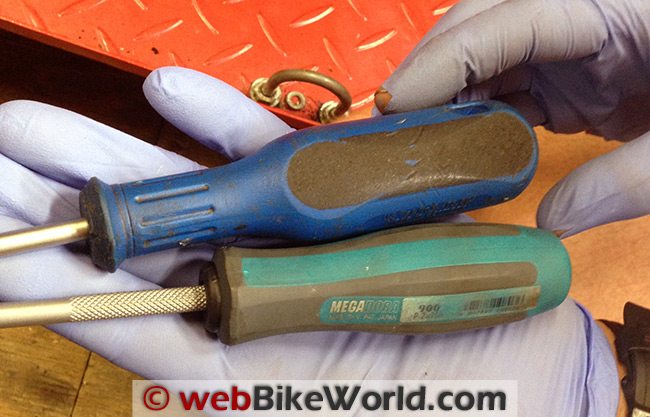 Using the Vessel JIS Screwdrivers
Kevin said "They are very nicely made screwdrivers, but there is an issue, at least for me."
We headed over to a Honda CB 550 that was on the lift and he proceeded to demonstrate the good and the not-so-good.
The good is that, as expected, the JIS screwdrivers fit very cleanly and positively into the various cross point fasteners on the bike.
So well, in fact, that he could stick the tip of a screwdriver into a JIS screw head in a side cover (horizontal) and the Vessel screwdriver held in place when he let go.
Even the next larger size screwdriver tip gave a positive grip in the JIS screw head. This is not recommended, as it is less than optimal, but it will work in many cases if the screw isn't frozen.
The correct size tool should always be used and if you're working on a bike with JIS fasteners, using a JIS screwdriver — like one made by Vessel Tools — will help prevent damage to the screw head.
This all sounds fine, so I was curious about the "not so good". According to Kevin, the handle design of the Vessel screwdrivers may be slightly too short for larger hands.
The problem he was running into was the handle on the Vessel screwdrivers didn't give him enough to hold onto when fighting a stuck screw.
It is difficult to get four fingers wrapped tightly around the fat portion of the grip with larger hands and even my size medium hands had the same issue though to a slightly lesser degree.
Also, we thought that the handles of the Vessel screwdrivers are more rounded than we prefer; sharper angles in the mold of the grip would provide a better purchase for gripping.
Compared to Kevin's Wiha screwdrivers (review) (which are not JIS by the way), the Wiha screwdrivers have a larger, longer and more "grippable" handle than the handle on the Vessel screwdrivers.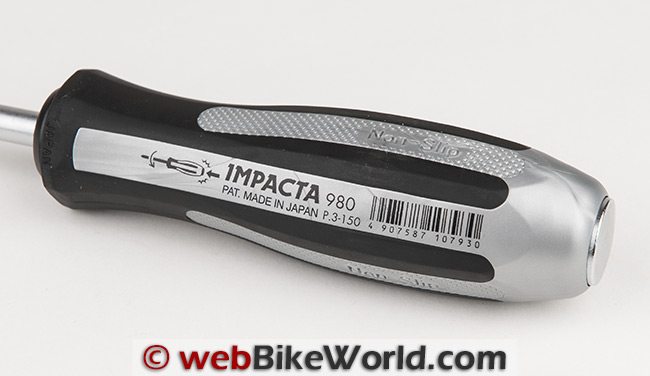 Vessel "Impacta" JIS Screwdrivers
The size P2 Vessel JIS screwdriver is probably the most frequently used in the shop because it will fit many Japanese motorcycle engine case screws and other fasteners.
The size P1 is also very handy for JIS screws on brake master cylinder covers and set screws on radiator caps from 1980's bikes.
P3 screws don't appear as often but they are found on occasion. This brings me to the Vessel "Impacta" JIS screwdriver.
The Vessel "Impacta" JIS screwdriver in size P2 and P3 is a wonderful take on a tool that we all hate to have to use.
It looks like the other Vessel screwdrivers but the handle contains an impact driver cam rotation mechanism that is actuated by striking the tang at the top of the handle. The metal tang goes all the way through the handle for strength.
It's a very elegant design that allows one to use it as a regular screwdriver but also can give you 12 degrees of rotation via impact when needed. I really like it and it works well.
Most of the fasteners we run into on Japanese motorcycles are size P2 or P3, so having both sizes of the Vessel Impacta JIS screwdrivers available would be ideal.
Be careful though; lightweight steel or aluminum used in many vintage Japanese bikes do not take well to the use of impact drivers. Vessel warns about this in the literature for the Impacta screwdriver.
The addition of the slotted Vessel screw drivers is nice also, but standard screwdrivers are not often needed on Japanese bikes.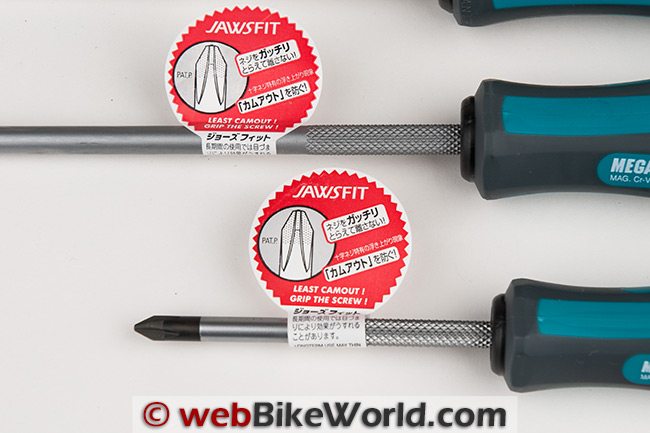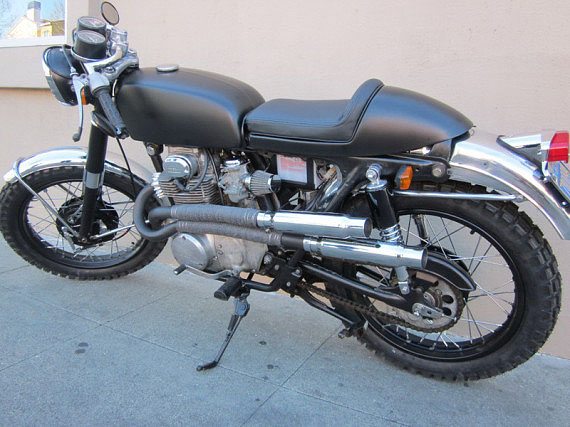 Conclusion
The Vessel Japanese Motorcycle Repair & Restoration Kit would make a good all-around set for anyone working on vintage Japanese motorcycles.
The Vessel JIS screwdrivers are very well made.
Fit and finish is excellent and the magnetic tips and knurled shaft are very nice touches. If the handles on some of them offered just a bit more grip and were a little longer, we'd be even more pleased.
The Vessel Japanese Motorcycle Repair & Restoration Kit contains tip sizes P1, P2, P3 and a slotted #8 and #5.5.
It also contains the stubby P2 and #6 and a P3 "Impacta" screwdriver with the built-in impact driver screw removal function. A size P2 Impacta is available separately.
More wBW:
▪ JIS Screwdrivers Review and Information
▪ Hozan JIS Screwdrivers Review
w

BW

 Review: Vessel Motorcycle Repair and Restoration JIS Screwdriver Kit
Manufacturer: Vessel Tools
U.S. Distributor: JDV Products
List Price: $79.74 (Kit of 8)
Color: Green or Gray.
Made In: Japan
Review Date: August 2013
Note:
 For informational use only. All material and photographs are Copyright © webWorld International, LLC since 2000. All rights reserved. See the webBikeWorld® 
Site Info page
. Product specifications, features and details may change or differ from our descriptions. Always check before purchasing. Read the
Terms and Conditions
!
Owner Comments and Feedback