GoCruise Throttle Control Review Summary
GoCruise Throttle Control Image Gallery
GoCruise Throttle Control Review
A simply elegant throttle lock device for motorcycles.
I live in the southeast United States, an area with a great variety of different roads on which to ride.
Do you like to cruise and enjoy the scenery? We've got it.
Do you prefer twisty, technical riding? We have that as well.
One problem around here, however, is that getting to those fun and interesting ribbons of asphalt requires some time on the interstate. It's not a necessity but it does save a lot of time.
I have no objection to riding on the interstate highway system but it can be a bit boring and monotonous.
As a result, even after only 20 or 30 minutes of riding on the "Superslab", I'm moving around in the seat, stretching my legs, flexing my hands — I mean hand — the left one specifically.
Of course, when riding a motorcycle, that right hand must remain on the throttle at all times on the highway.
Sure, you can pull in the clutch while you let go of the throttle for a moment — but a moment is about all you're going to get and remain safe.
If you do a lot of long-distance travel, then the obvious solution is a cruise control or throttle lock.
For large touring rigs, such as Honda's Gold Wing, there are real cruise control units that actually monitor the speed of the bike and maintain a consistent speed through the use of servos and electronics.
These cruise control systems are similar to what one might find in a car.
For most motorcycle owners though, a simple throttle lock will do the job, providing relief to that right hand for a minute or two during a long ride.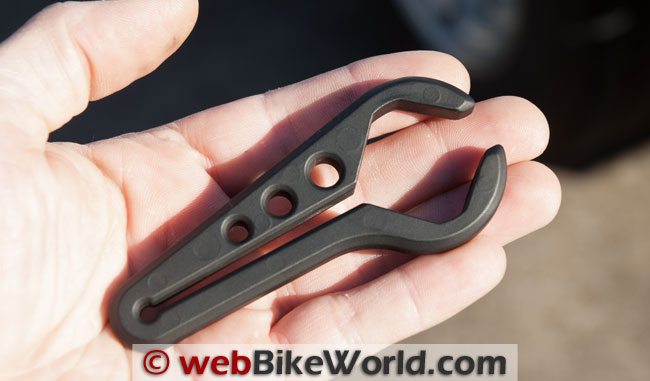 Throttle Locks
A throttle lock is just what it sounds like: a device that simple holds the throttle grip in place at a set point through the use of pressure or other force applied to the grip.
This approach keeps the fuel flowing at a consistent rate, but of course the motorcycle may speed up or slow down, depending on changes in the angle of the road over hills and valleys or even changes in wind speed and direction.
Over the past several decades, lots of different designs and approaches have been developed to hold that right hand grip in place. These have ranged from simple and low cost solutions to complex and surprisingly expensive ones.
Today we're going to take a look at a device that is low cost, very simple, and dare I say, elegant.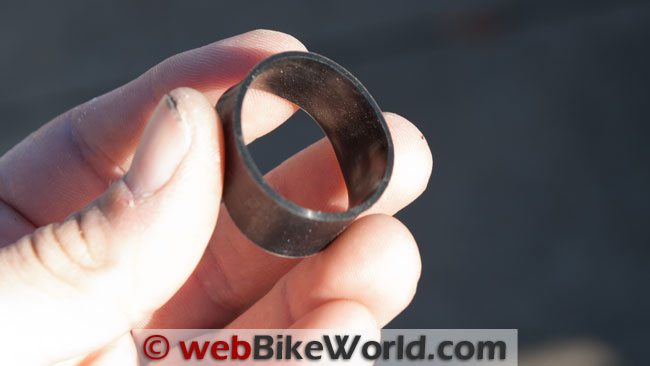 The Go Cruise Throttle Control
A small, lightweight piece of plastic. That sums up the Go Cruise Throttle lock. One piece, no moving parts, no springs and no electronics. It really doesn't get simpler than this.
The only accessory is a broad silicone rubber ring, included with the Go Cruise to help improve grip on certain throttle grips.
The Go Cruise is available in two different sizes to accommodate 7/8″ or 1″ handlebars.
It is also available in different colors to suit your taste; black and silver are available in both the small and large sizes and there is a new chrome version available in the large (1″) size only.
The Go Cruise is 3-7/8 inches (97 mm) long and has an opening at one end where the "jaws" can be spread open to fit around and clamp onto the motorcycle's throttle grip.
Go Cruise includes simple instructions, warning you about the "wrong" way to grab it and open it. Heeding this warning will keep you from breaking the device when putting it on your grip.
To engage the Go Cruise, simply hold the throttle at the desired position and then use the index finger to rotate the device until the end is resting on the brake lever. To disengage it, simply rotate the throttle grip forward to close the throttle.
Doing so will rotate the Go Cruise back to a neutral position so it is no longer holding the throttle grip and it is back in an easy to access position for its next use.
The design is so simple that I'm surprised that no one else has come up with this concept until now (if someone did I missed it!).
Many throttle lock systems require removal and re-installation of some of the throttle parts, replacement of the bar-ends, and/or other similar "hoops" to be leapt through. The Go Cruise has no such requirements save for installing on the silicone band on the throttle grip if needed.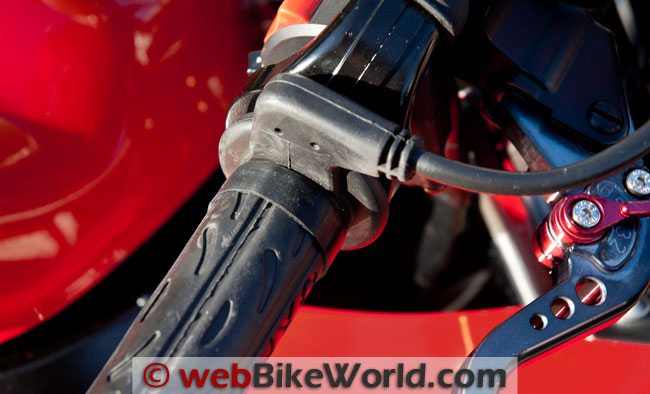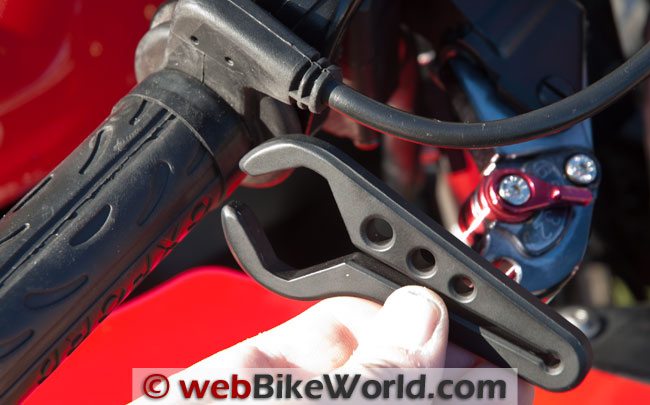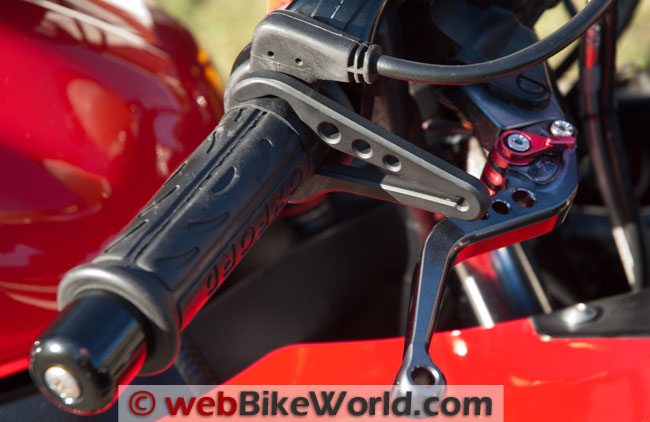 The "Perfect" Motorcycle Cruise Control?
Sounds nearly perfect, and it almost is. The issue I've run in to is that on my bike, with my grips, is that the Go Cruise can slip a little bit after it is set.
Also, I have a set of Oxford heated grips on my Suzuki SV650 and, as it turns out, these have both a good and a bad side effect when using the Go Cruise.
On the plus side, the heated rips are a little larger in diameter than standard grips, and this helps ensure that the throttle lock has sufficient pressure on the grip.
On the negative side though, the rubber surface of the heated grip is harder than average.
As such, the Go Cruise doesn't grip as well on the smooth, hard surface.
Using the included silicone ring does help, but sometimes the GoCruise slips a little bit anyway. Engine vibration is also a factor, as the vibes making their way to the handlebars can make this worse.
I can set the GoCruise on my throttle and it will hold there all day sitting in the driveway with the engine off. On the road with the engine running however, I've noticed the throttle can slowly slip on occasion.
As the saying goes, "Your mileage may vary" and that's quite appropriate here.
I know people who use the Go Cruise and it holds steady on their machines even without the silicone accessory ring.
In fact, Lee Conn, President of Motus Motorcycles (and the person who first introduced me to the GoCruise), has been using a Go Cruise on their MST Sport Touring prototypes during their tours around the country (read the Motus MST preview).
When I noticed this issue with the GoCruise, I contacted the manufacturer, who suggested I try the included silicone ring (which I already had done) or even an additional one. He also offered to accept it for return if I wasn't happy with it.
I decided to keep it and possibly modify it myself if the slippage became a real issue.
w

BW

 Video: GoCruise Throttle Control
Conclusion
The Go Cruise Throttle Control is easy to install and use and the price of $19.95 with free shipping is very reasonable.
The only problem is the compatibility with the particular grip material that might be found on your particular motorcycle.
The manufacturer does state that the GoCruise is designed specifically for OEM grips, so perhaps it may have performed better if I didn't have the Oxford heated grips.
The included silicone ring does help, especially on metal grips or grips that have a hard surface that is likely to slip against the plastic of the throttle lock.
I think that maybe adding some sharp "dimples" or other type of rough texture to the contact points on the Go Cruise might be enough to overcome the slipping issue.
As it stands I still have my Go Cruise installed on my bike and I do use it regularly on the highways. If I do decide to make some modifications I'll be reporting back on how that works…or doesn't.
More wBW Motorcycle Cruise Control Reviews
w

BW

 Review: GoCruise Throttle Control
List Price (2011): $19.95 to $26.95 USD
Made In: Taiwan
Colors: Black, silver or chrome.
Sizes: Small (7/8″) and Large (1″).
Review Date: October 2011
Note:
 For informational use only. All material and photographs are Copyright © webWorld International, LLC since 2000. All rights reserved. See the webBikeWorld® 
Site Info page
. Product specifications, features and details may change or differ from our descriptions. Always check before purchasing. Read the
Terms and Conditions
!
Owner Comments and Feedback
---
From "Blkbny" (June 2014): "Just completed a 1,000 mile Iron Butt Saddle Sore ride in under 20 hours on a 2010 Triumph Bonneville. The "Go Cruise" worked great and was a crucial piece of gear on the challenge."
---
From "J.N." (February 2013): "After a year of occasional use of my Go Cruise Throttle Control, I have found that it works well, as advertised, and is a fine solution for bikes where other throttle controls are not practical (vintage and sport). However, despite being careful in installing/removing the device, it managed to break.
An email to the manufacturer (from whom I had purchased), and a free replacement was in the mail. Great customer response."
---
From "D.R." (July 2012): "I purchased the Go Cruise throttle lock based on your review and in anticipation of a long 11 hour slab ride from North Carolina to Florida on my RC51.
I wouldn't describe the Go Cruise piece so much as a throttle lock, but more as a throttle assist. Even when used with the included silicone ring, the Go Cruise would slowly disengage the throttle and I would lose speed. Once carefully mounted, I tightened the grip even further with a zip tie. Regardless, it would still slip slightly.
However, combined with a cramp buster I could maintain interstate speeds with little effort and pressure (even resting one finger was enough). This made the trek bearable and is close enough to cruise control for my sportbike.
When considering the cost of the two pieces, I think this is a very effective throttle assist setup for a minimal investment. I don't do long distance rides enough to justify a full-on cruise control system. However, this setup does work great for the occasional multi-hour highway trip."
---
From "K" (April 2012): "From the onset, I was impressed with the Go Cruise Throttle Control. It was simple and worked great.
I understand that the Go Cruise is weak at the "U", so I was very careful when removing and followed the instructions on the packaging exactly as described. Despite this, the device snapped in two pieces at the end of my very first ride. I strongly believe that the plastic component I purchased was was defective from the start.
To make matters worse, the Canadian distributor refused to exchange it for a new one, blaming me for this mishap. I encourage potential Canadian buyers to be aware of customer service problems with this product."
---
From "S.W.P." (November 2011):  "I purchased this based on your review. I have tried the paddles and other inexpensive solutions without any luck on my DL650.
It works. It works very well indeed. It is easy to mount, easy to implement at speed (just reach over with your thumb and push it up against the brake level. It may slip a bit but for my purposes it works just fine, especially at this price."
---
From "D.W." (November 2011):  "After your review, I purchased the Go Cruise Throttle Control. Understanding that the primary issue was the "slippage" reported by other users, I still bought the item because it is fairly inexpensive. I installed it on my 2010 Kawi Z1000, including the silicon ring, and went for a 200 mile ride yesterday. The high temp yesterday was 52 degrees, F. I found that it slipped more than I anticipated. I am going to try the rubber band work around another reviewer discussed. It did not interfere with my thick, Olympia winter gloves."
---
From "D.H." (November 2011):  "I've been using the Go Cruise for ~5K miles now. It's not the perfect solution, but works well enough and is cheap and simple. In fact, I prefer it to the >$100 Throttlemeister I used previously.
Stores easily in a tank bag or pocket in case the owner doesn't want it all the time (I anticipate interference with my heaviest winter gloves), although I suspect wear issues with frequent removal/re-installation.
The Go Cruise holds well, yet slips as it must on deceleration, on the BMW Sport Grips I've installed on my Kawasaki ZR-7S (awesome grips BTW; many of my riding buddies use them on their non-BMWs). I would expect some problems using Go Cruise with gel and foam grips, however."
---
From "J.G." (October 2011):  "Hi I regularly read your great reviews, keep up the good work. A suggestion I would try if I were experiencing slippage on this throttle control would simply be to get an elastic band and twist it around the whole arm, simply adjusting the squeezing pressure by how many times you twist the band round. I realise this will be a trial and error solution but never the less a simple and cheap solution to the problem."
---
From "S.L." (October 2011):  "Like the author, I too had the Go Cruise throttle control on a SV, and I likewise had some slippage issues.
In my experience, because I have fairly soft compound grips, the grips would "give" a little when the Go Cruise was first engaged, requiring me to play a little game of accelerating a bit past the speed I wanted to be at, then engaging the Go Cruise and hoping it would "settle" at the speed I desired.
The SV's touchy fuel injection didn't do me any favors either. I also experienced the eventual loss of speed over time that the author did as well, although this was not always the case.
I never got around to trying the trick with running a wire through the holes in the device and tightening it, because one day I attempted to take the Go Cruise off and it snapped into two pieces. I don't blame the design though, because I was semi distracted as I was doing this and probably not doing it the "right" prescribed way.
Word to the wise: Heed the instructions on mounting and removal. Still, I appreciate the design behind the Go Cruise, and it's surely the most elegant throttle control available for under $50. I may try it again in the future."
---
From "J.S." (October 2011):  "Regarding slippage, I know a few folks have had this issue. Some have found that installing a ty-wrap through one of the holes and around the tensioning arm and tightening it to meet their requirements to be a satisfactory work-around."
---
From "B.M." (October 2011):  "I installed the GoCruise on my '07 Yamaha FJR1300AE and find that it works perfectly in cooler temps, typically in the 60's, or less. Once the temps rise into the 70's or above, it doesn't lock as well, gradually losing its grip but still giving my right hand a rest for a minute or two. A rougher surface on the interior of the device would likely be an improvement."
Other WebBikeWorld Accessory Posts