Review Summary
In short, these are comfortable, well-made goggles. With the inside use of soft rubber instead of foam, I expect them to last much longer than my other goggles – ones that I have been replacing every year. At $19.99 on Amazon.com – they are a steal!
Get Lost Goggle Image Gallery
Summary
Get Lost Goggles are comfortable and inexpensive, and should last you a good long time. They come in a selection of 3 different tints that should cover all your on and off bike needs.
Background
At this time of the year my motorcycle is snugly tucked inside my garage under cover, and my helmet is replaced on the garage shelf with stocking caps and ice melt. But just because I can't ride doesn't mean motorcycles aren't on my mind.
After the holidays I usually have some Christmas money burning a hole in my pocket that I can't wait to spend on brand new gear. Because I spend a lot of time studying to improve my riding skills and researching motorcycle products, when the editor asked me if I want to test out these goggles – I jumped right on it.
Note…
Below zero temps are not ideal for riding, but that doesn't mean we're stuck hunkered down in front of the fireplace. Here in the heartland we participate in plenty of other outdoor activities in the winter, ranging from skiing to hiking. There were ample opportunities to try out the Get Lost Goggles.
Overview
I must confess I have never heard of Get Lost Helmets. The package they arrived in was of no help. There was no information about the goggles or the company included inside. So I googled them and it seems Get Lost is actually well known for their helmet accessories (think orange Mohawks). I'm not sure how they came up with the name, but it fits with the sort of rebellious products that they make, and the independent nature of motorcyclists.
Construction
These goggles are made with heavy-duty polyurethane frames.
Instead of foam lining the inside, like most goggles I've previously owned, they have a soft rubber interior with curved edges that make it nice and comfortable against your face.
The lenses are scratch resistant and come in three different tints: clear, smoke, and yellow.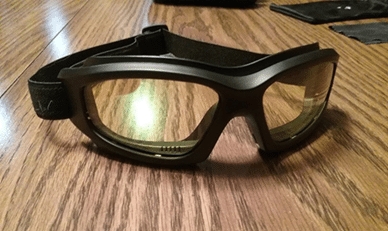 The bottom edge of the frame has 5 small slotted vents on each side to allow circulation up behind the lenses and there are also 7 vent holes on each side of the frames underneath where the strap attaches. These act as exhaust vents to keep the air moving.
The strap is not very wide but it has a large amount of adjustment leeway and I had no issues with it rolling or twisting.
The only branding is a small logo on the strap.
Package Contents
A microfiber cloth for cleaning.
A microfiber pouch for storage.
A hard-sided carrying case for added protection on the bike.
Everything in the package was well made with no loose threads or blemishes.
Wearing the Goggles
I happen to have a very small head and my face is rather narrow (goes with the head), so I usually have to buy youth size glasses in order to get a good fit. I found the Get Lost goggles to be very flexible and comfortable. They fit both my narrow face and my husband's larger, broader face with no issues.
The nose cut-out was large enough that it did not pinch or cut off my air supply – much like my ski goggles have a tendency to do. They have a kind of funky retro style – sort of 1940's. However my Softail Slim also hearkens back to that era so they kind of fit with my ride.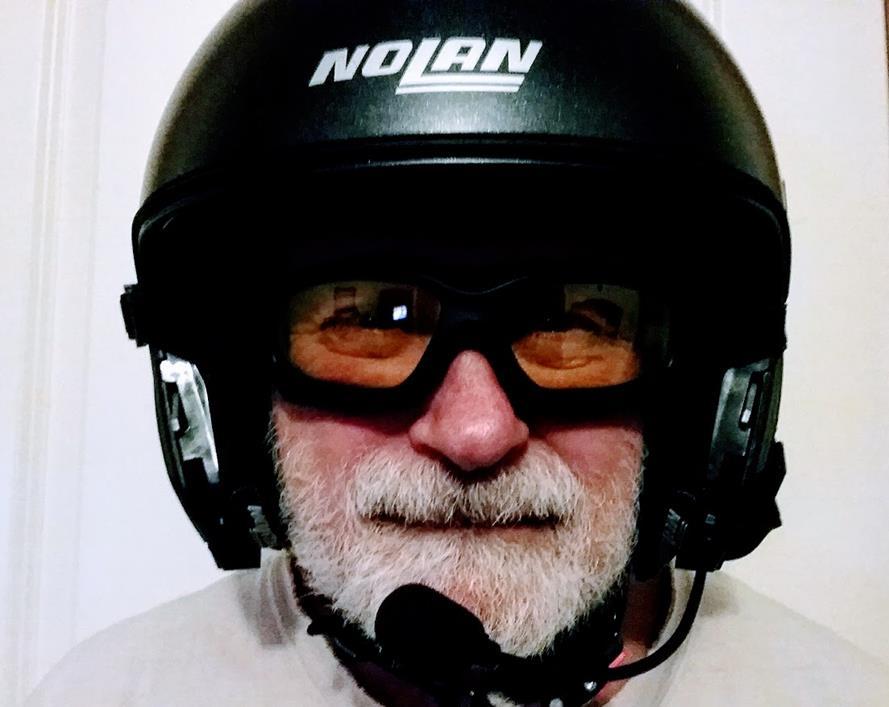 Yellow Lenses
I've found them to be very useful in overcast weather and at night.
The optical quality of the lenses is excellent.
The yellow tint sharpened the edges on overcast days and reduced glare for night-time riding.
I spoke to several of my racing friends who prefer to use the yellow lenses for racing under the lights, because they increase visibility and reduce glare from the overhead track lighting.
Strap
The strap is long enough to accomodate the outside of a ¾ helmet, but I found the goggles fit closer to my face when I wore them under my helmet. As you can see in the picture above, my very patient model had no trouble with the fit over the top of his helmet.
In Action
I did not find anything online that claimed these goggles are anti-fog, which is good, because they're not. Putting them on in cold weather they can fog pretty quickly, but once you get up to speed (I wore them skiing) they cleared up with the excellent air flow coming through the vent holes.
As a temporary fix, I used a little saliva on the lenses and had no further issues. I'll probably invest in anti-fog spray if I use them on the bike.
They do fit tightly against your face and they do get a little warm when you're exercising vigorously. I found that flipping them up when stopping to rest kept my face from perspiring underneath the rubber edging. I imagine if you're just sitting on a motorcycle with wind constantly in your face this might not be a problem.
Conclusion
In short, these are comfortable, well-made goggles.
With the inside use of soft rubber instead of foam, I expect them to last much longer than my other goggles – ones that I have been replacing every year.