Gerbing Microwire Heated Jacket Liner
Good, better, best…in the absence of having evaluated any other heated clothing jacket liners recently but having put the Gerbing's Microwire jacket liner to the test, I will pick the latter.
It is well made, it fits well, it is well priced and it works well. The new technology works.
A warm and comfortable rider is able to maintain the critical mental and physical "edge" for longer periods of time over widely varying conditions.
Think of the Gerbing's Microwire heated jacket liner as part of the safety net…
As usual the Editor knows how to leverage a situation.
There he was with a chance to evaluate the new Gerbing's Microwire heating technology and here I was watching the temperature drop drastically in less than a week — just when I thought we were going to get some more summer-like weather.
Do we have an opportunity? You bet!
I had actually just moved the current Gerbing's jacket liners, pants and glove liners out of their summer lounge in the basement up to the front hall in reluctant anticipation that they would be in use far too soon.
All the machines in the home fleet can support electric clothing by way of a battery harness or BMW Powerlet accessory ports appropriately fused.
The heated clothing garments didn't actually see much use over the last winter and early spring.
That was due to limited riding opportunities and by the time we got back from Daytona in mid-March the riding season had pretty much started with relatively mild temperatures and dry weather.
But fast forwarding through our wet summer to early fall, the heated clothing has already been pressed in to service, a bit earlier than usual.
I had read a little about the new technologies introduced by Gerbing but didn't expect to get an opportunity so soon. Given the current 'climate' having a very new jacket liner to evaluate is good.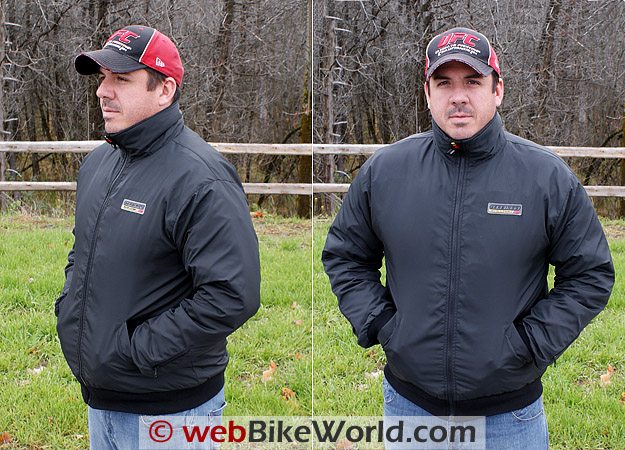 ---
Where to Buy Gerbing Microwire Heated Jacket Liner
Check Reviews & Prices on Amazon
Check Reviews & Prices On RevZilla
Also: Motorcycle Jackets, Motorcycle Gloves, Motorcycle Boots, Motorcycle Pants
---
Gerbing Microwire Technology
Gerbing actually introduced two new key technologies — Nanowire and Microwire heat technology.
The Nanowire is a patented process using slivered fibers stitched into a non-woven fabric which is then water-proof sealed. This technology is used in their 7V rechargeable lithium battery powered products and allows very specific heat output to specifically targeted (strategic) areas.
Microwire is another patented technology that was developed in response to a U.S. Department of Defense requirement.
The technology is based on the use of micro-sized conductive fibers that are intertwined and encased in a Teflon coating, then woven into a multi-panel heating matrix and finally, placed in the garment.
And before going any further, it is worth reviewing Gerbing power and heating features.
The tried and true 12V heated clothing products can all be interconnected to form parts of or a whole system, all powered by a simple connection to a battery or a compatible outlet.
For some products 12V Hybrid power is utilized that provides the option of obtaining power through a rechargeable 12V battery pack or through a 12V electrical system.
By the way, Gerbing's also manufacturers 7V heated products, but they are not intended for motorcycle use.
The 7V products are designed for and powered by rechargeable lithium battery packs — the garment is truly portable by virtue of being self contained.
Another 7V product line, the Core Heat Transfer System, uses a combination of Microwire or Nanowire technology along with 7V lithium battery packs that are micro-processor managed and typically good for over 500 (recharge) cycles.
However, it's important to note that Gerbing told us that "Because (the 7V products) are wired for and powered by 7V lithium-polymer batteries, their heat output is quite good, but only for activities such as bicycling, fishing, hunting, camping and other general outdoor use.
The 7V products don't have the output to overcome 30-degree weather and the associated wind chill at 70 MPH that may be encountered on a motorcycle".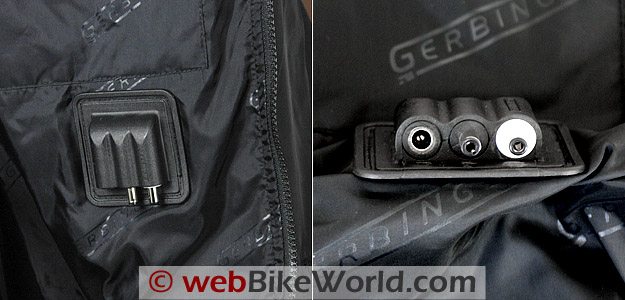 The Challenge
Gerbing's claims that Nanowire and Microwire is "ground-breaking technology" and is "the most durable and efficient heating technology every developed".
The latter is a serious claim and with some other really interesting heating technology being utilized in other garments on or coming to market it seems the gauntlet has been thrown.
And I'd say that if anyone can put out a challenge and a response, it is Gerbing's. Since the 1970s, the name has been synonymous with comfortable, warm clothing garments that have helped untold numbers of us get through the cold, wind, rain and yes, snow.
The use of heated clothing is probably the, or one of, the biggest factors in allowing a comfortable extension of the riding season.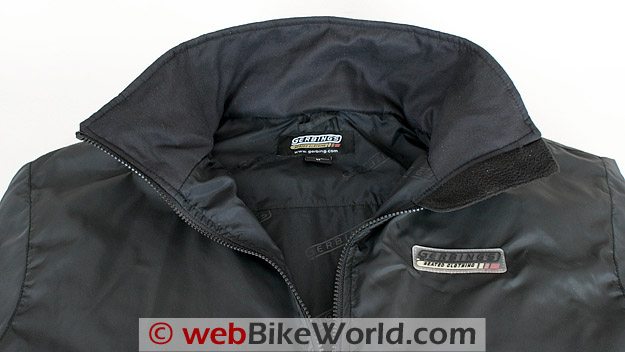 Microwire Jacket Liner and Controller
This jacket liner uses the patented Microwire technology to provide a more efficient and effective heated clothing garment.
Unlike other heated garments, the Microwire technology is claimed to result in heat being produced in one-tenth the time required for copper wire based garments.
Gerbing says that hundreds of microscopic stainless steel strands wrapped in Teflon are then used, depending on the application, in heating pads, woven patterns or a patented ribbon matrix to allow precise 'tuning' of heat distribution.
The liner features heating pads on the chest, back, collar and sleeves and uses compressible, water-repellent and durable Thinsulate insulation.
According to Gerbing, the shell is Teflon coated and wind resistant while the high-cut collar is lined with a soft micro-denier material. Both inside and outside pockets are provided.
The cut provides a form fitting garment and with proper sizing, it fits comfortably under outer garments.
Glove plug pockets are located on the lower sleeves to keep the connection harnesses secured and out of sight when not in use. The Power Distribution Unit stitched to the lower left front flap of the jacket liner eliminates most of the cord clag.
The power distribution unit features Gerbing's "Dual 2" wiring configuration, which allows gloves, pants or socks to be connected with accessory plugs, all in keeping with the Interconnected System approach.
Also used in this evaluation was a Gerbing Portable Dual Temp-Controller.
This controller lets two different articles be adjusted separately by the user. It uses digital technology to precisely control the power used by the connected garment(s).
[UPDATE: A controller must be purchased separately. Gerbing's controllers range from $69.95 for a single to $119.95 for a dual temperature controller.]
The final item was a Portable Dual Temp-Controller leather clip case or holster, just right for housing, protecting and carrying the controller.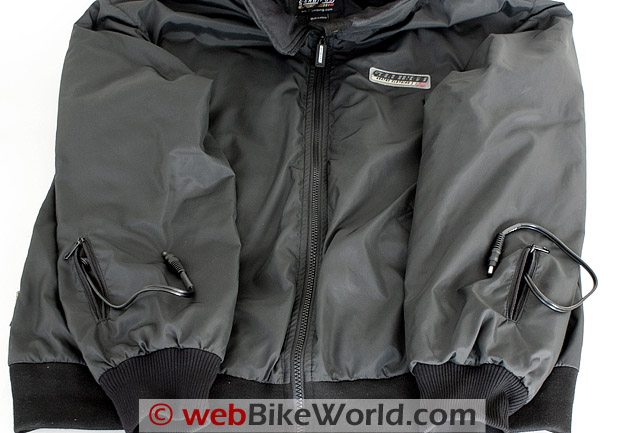 Changes and Constants
My current Gerbing's jacket liner is a size L/XL. I submitted my size measurements to the Editor to make sure the latest Gerbing's sizing chart was followed.
What I received is an 'LT' jacket liner, which reflects newer size markings and which I think might represent 'Large – Tall' but I stand to be corrected on that.
This size was sent based on the actual body size sent to Gerbing. Gerbing will make custom fitted sizes; here's what they told us:
"Tall sizes, like our in-between sizing and our choice of Regular and Long sleeves, are all part of the Gerbing's commitment to fitting our customers properly so they get the maximum heat and comfort from our garments. As you know, if someone is beyond our normal size range, we will custom-make a Jacket Liner or Pant Liner for them, at no additional charge. There is a charge for custom tailoring if we have to custom make any of our motorcycle outerwear. But there is no charge for our liners. Again, a Gerbing's exclusive!"
Measurements between my two Gerbing's liners are virtually identical although the sleeve/cuff on the Microwire jacket line is about 10 mm longer, which is good given my long arms.
While size differences are negligible overall, the weight differential between the old and new garment is noticeable.
Out of curiosity I weighed my original jacket liner and then the new Microwire garment using my calibrated Pelouze scales.
The original liner comes in at 940 g or 33.15 oz (2.07 lbs) while the Microwire garment tips the scales at 838 g or 29.60 oz (1.85 lbs). This makes the new garment about 102 g or 3.6 oz lighter.
I never have found the jacket liner to be 'heavy', but for those who do feel the weight, the difference will be noticeable.
Everything is well cut with double or heavy duty single stitching used throughout.
A full inner liner makes easy work of getting the garment on and off and adds greatly to overall comfort levels. A heavy-duty YKK zipper runs full-length to the top of the high-cut lined collar.
With its long sleeves, full knit cuffs and the zipper done all the way up, the garment encases the wearer providing insulation efficiencies even when not in use as a heated garment.
Simply designed and extremely comfortable, it is a versatile garment, mounted or dismounted.
Along with the weight reduction, another comfort factor is due to the change in the harness itself. Rather than a network of thick strands running throughout the liner, there is now typically only one heavier wire connecting the various pad areas.
The Microwire assemblies are themselves virtually undetectable.
Quality is another constant and I certainly have no complaints. Based on numerous testimonials and postings to be found, it seems Gerbing's is quick to resolve quality or fitment issues of any kind. They want a satisfied and warm customer.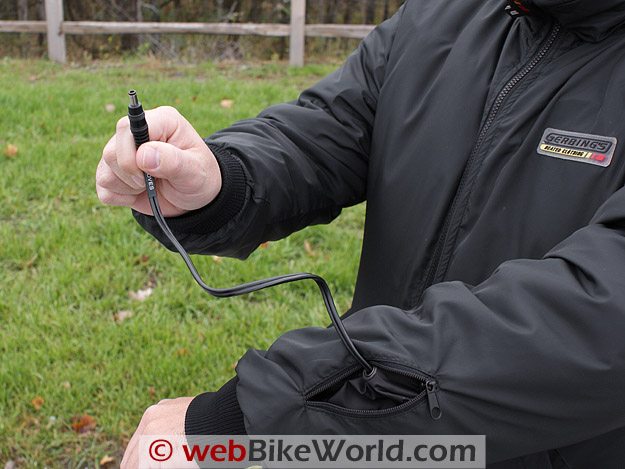 Getting Wired Up
Getting wired up and warmed up is easy. Remove the supplied 12V fused direct connection power supply harness that is tucked into the inside zippered pocket for shipment and hook it up to the battery or a central connection point such as a Centech or a central connection point or auxiliary power fuse panel.
Using an accessory power supply cable is another option.
There are a number of power interface cables available that provide the necessary coax connector at one end. I have three Powerlet cables of this sort on hand and they are always in use for clothing and communications systems.
The power distribution unit on the jacket liner has three connections.
Based on previous model information, the white-tip plug closest to the zipper is the power in, the middle one is for the gloves (not needed if the sleeve connector leads are used) and the outside plug is for connecting the pants.
---
Where to Buy Gerbing Microwire Heated Jacket Liner
Check Reviews & Prices on Amazon
Check Reviews & Prices On RevZilla
Also: Motorcycle Jackets, Motorcycle Gloves, Motorcycle Boots, Motorcycle Pants
---
Connection Procedure
Following is the procedure I used to connect the Gerbing's Heated Jacket Liner:
Make sure power source or power supply is on.
Connect the temp-controller output connector (White) to the garment's connector (White) found on the garment power distribution unit.
Plug the temp-controller input cord into the power supply harness (Red sleeve).
Turn the appropriate circuit Black or Gray rotary control clockwise – a distinct click will be heard or felt when the control is turned On or Off.
To control the heat, turn the rotary control clockwise to increase output and turn it clockwise to decrease.
Activating a circuit via one of the circuit controls is easy; understanding which is which requires a few words as the dual circuit temp-controller doesn't have any markings.
The clue however is in the form of two small LEDs located between the two rotary controls.
When the dual temp-controller is connected to power, both circuits are available for use. The Black rotary is the primary connection to the jacket liner and its LED is Green.
The secondary circuit rotary is Gray; its LED is Red. As the circuit control settings increase the LED pulse rate changes from a rapid blinking to a constant-on.
Note: it is important that the garment not be plugged in or the controller turned on until the power source is on (i.e., motorcycle running). Always turn the controller off or disconnect the power lead before stopping the motorcycle.
One of the most frequently asked question regards power requirements.
This information is available from a variety of sources, but as a starting point I have reproduced a Gerbing's table that lists individual amperage and added the requirement in watts (power draw).
Product Amperage Watts Condition
Product
Amperage
Watts
Condition
Gloves
2.2
27
Per pair
Insoles
2.2
27
Per pair
Jacket Liner
6.4
77
Each
Pants
3.6
44
Each
Vest
4.5
54
Each
To calculate specific system totals/requirements, just add up the garment totals.
My typical configuration is the glove liners (2.2A) and the jacket liner (6.4A), for a total of 8.6A. In this instance a 10A fuse is the proper rating to use.
If I add the pants (4.0A) the revised total would be 12.6A, so a 15A fuse (the default fuse) is the nearest rating for use. Always use the lowest-rated fuse calculated; using a higher rated fuse can result in the circuit not being properly protected.
Most modern motorcycles will or should handle the draw of the jacket liner without much fuss, but if you start adding garments, it adds up quickly.
And remember, this total is on top of whatever the motorcycle needs on a constant basis (common operating load) and anything else connected.
It can add up quickly.
On the big Beemers that typically provide with 700-800 Watts at peak charging output this may not be such a big issue, but on something like the smaller F800GS that has half the output of the big guys, it can be.
It is always prudent to calculate excess electrical capacity of the host motorcycle before adding anything of substance. This exercise could be another article in itself, but there is no real need to reinvent the wheel when others have done it previously.
One of the best starting points is the Powerlet Learning Center that features an excellent step by step primer.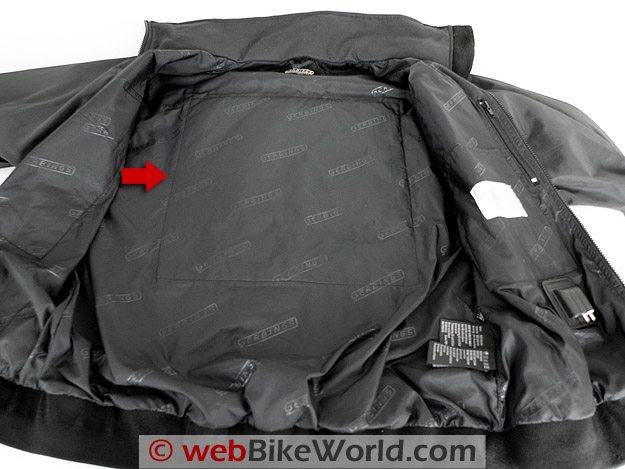 Three Celsius and Dropping…Brrrr!
Have I mentioned how cool (cold) it is getting? Here in Canada, we are already hitting overnight frost temperatures.
It is still pretty green, especially around our many rivers, lakes and streams, but the early morning view is often softened by steam clouds that visually reveal the differentials between water and air temperatures.
Riding through the eye-catching splendor of fall makes me appreciate even more the time I get to spend on a motorcycle but it also makes me realize that the mesh jacket and pants are not cutting it anymore, even with the liners in.
The solution is both simple and complex.
It is simple to solve the 'need warmer clothing' issue when there is lots of stuff hanging in the closets, but on the other hand, with other variables injected, like forecasts, routes and durations, the choice needs to be a good one.
This is a perfect scenario for heated clothing.
This fall I have been wearing the Gerbing Microwire jacket liner continually, under jackets of varying weight and protection.
I practically live in my Firstgear HT over-pants and use either a pair of Olympia liner pants or more frequently the Gerbing liner pants, especially when a minimal-coverage mount is used and where wind chill is a prominent factor.
When heated grips and/or hand-guards are not an installed option, the Gerbing heated glove liners have their own appreciated status.
With the liners nestled inside a pair of Olympia Gore-Tex outer gloves and connected to current, this combination is THE answer for extreme cold or inclement weather riding.
The heated clothing gets prolonged daily use as well.
My treasured part time job sees me accumulating significant time and distance on various motorcycles that don't typically offer much protection from the elements.
Luckily most of them can be quickly wired with a 12V connection harness and have the electrical capacity to handle the jacket liner.

Jacket Liner
And speaking of the jacket liner…the thing is ultra light, ultra comfortable and ultra warm, even without being connected and turned on.
When power is applied and the controller adjusted to the desired level the differences between the original jacket liner and this new garment can be felt in short order.
This means that heat from the Microwire garment is felt in less than a minute, compared to my original Gerbing vest that takes two to three minutes to provide the same feeling.
While there may be measurable differences in efficiencies between the two garments, my subjective assessment is that I am far more comfortable at a lesser control setting with the Microwire garment.
Temperature Controller
That brings me to the temp-controller itself. It is an extremely simple looking component and outside of the On/Off detent for each circuit rotary or knob, there are no setting marks or positive steps to use as reference points, other than the maximum level stop.
But by the same token, the pure rotary controls allow infinite adjustment between the minimum and maximum points.
I hear lots of pro and con points regarding this type of controller and sometimes think that a more sophisticated analog or digital control module would be nice to have, if only for status visualization.
It is possible to use a third-party controller, such as a Heat-troller, so there are choices.
As with my original dual temp-controller I have coloured one of the raised grip strips on each rotary control so that a quick glance provides visual feedback.
Based on the rotational range of the controls I haven't yet had to push the applicable control knob beyond 50 percent in 3 to 7 C (37.4 to 44.6 F) temperatures with significant wind-chill added.
This makes me confident that the liner is capable of keeping the core warmed in much colder temperatures for extended periods of time.
The liner's effectiveness depends greatly on proper fitment and on what is being worn as the next-to-skin layer.
I always wear a long-sleeve micro-fibre undershirt and depending on the riding conditions, a second thin long-sleeve layer — either cotton or light-weight fleece.
This under-layer combination works well for me. The only 'bare' spots that don't seem to be receiving much conductive heat are the underarm and inside upper forearm areas.
The heating pads in particular really do their job in concentrating the warmth in critical areas and I for one really appreciate the collar pads (that long neck issue).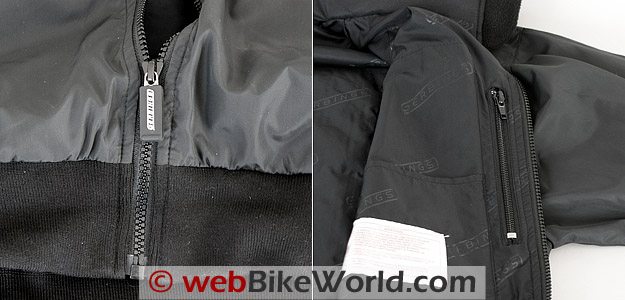 ---
Where to Buy Gerbing Microwire Heated Jacket Liner
Check Reviews & Prices on Amazon
Check Reviews & Prices On RevZilla
Also: Motorcycle Jackets, Motorcycle Gloves, Motorcycle Boots, Motorcycle Pants
---
Some Observations
Gerbing's garments are typically first class in every way and this new Microwire product fits the bill.
But as with any product, some 'issues' are bound to turn up. To be totally honest however I only have one major observation so far and it is more a personal peeve than anything else.
I just don't like the current location of the connection point/power distribution unit.
This three-connector component is stitched inside the lower front left flap of the liner. If all connections are or can be made before zipping the liner up, then all is well.
But when trying to connect or disconnect anything, especially once the outer layer, typically a three-quarter length jacket, is covering it all, access can be frustrating.
I'm not sure there is a perfect location, but locating the connection component on the outside and covering it with a flap would help.
Alternatively it could be left where it is and made accessible via a pass-thru from the left front slash pocket. Enough said.
Gerbing's Microwire Heated Jacket Liner – 

w

BW

 Bottom Line Ratings
Feature
Rating
Comments
Packaging
Excellent

There isn't much and that makes me smile. Yes, the big thick sealable plastic bag is not easily recycled in many areas, but it makes an excellent long-term storage bag for the garment or other clothing.

The dual temp-controller and holder packaging consists of a light clear plastic shell and a cardboard backing; easily separated by hand and suitable for most recycling programs.

Execution
Excellent

The garment and components reflect careful attention to detail. Everything is well stitched and very strong – seemingly made for years of use.

There is no excess material or bunching where not needed.

Features
Excellent

Integrated power distribution unit with dual accessory ports facilitate connection of other system components at one point and controlled by a single circuit.

High collar, full length zipper, excellent sizing and knit cuffs make for a comfortable garment. Strategically placed heating pads and elements keep critical areas warmed.

The Microwire technology makes it all work in seconds rather than minutes. Adding a single or dual control temp-controller to the configuration just makes sense.

The simple On/Off harness works, but once you have used a variable controller of some sort, you will be convinced.

The ability to pack or roll the garments for storage and transport has always been an excellent feature of the Gerbing's garments.

Don't be afraid to stuff the garments into a stuff sack and keep them with you all the time.

Fit
Very Good
It is a bit large in the body and neck, but an excellent fit across the shoulders and the arms and its length is just right. Variances from a perfect fit are more due to my construct rather than shortfalls in design of the garment.
Setup and Configuration
Very Good

It takes longer to read the simple instructions than get everything on and connected, other than hooking up the power harness, although that is straight forward as well.

If this type of garment has been used before, even less time will be needed, but it does pay to understand just how the various garments connect and are controlled.

The configuration detractor of course is the difficult-to-access-with-riding-gear-on connection point. Thankfully the components and cables are heavy duty.

Performance
Excellent to Outstanding.

If I didn't notice that the underarm and inside forearm areas are cool, this would be a solid Outstanding.

Some of the loss of effectiveness is again due to my size and shape, but these are areas that were not concerns with other headed liners, or even my original jacket liner.

I am convinced that the Microwire technology makes for a much more efficient and effective garment overall. My controller settings are less than my original vest, something that should translate into reduced demand on the power source.

Ease of Use
Excellent

If it weren't for difficulties in accessing the jacket liner power distribution unit, this would be an Outstanding.

Once the controller connections are understood and made using the garments, in this case the Microwire jacket liner, is utter simplicity.

Power
Excellent
In this instance the 12V DC standard is used, provided by a wired power source, either directly from the battery, a switched or un-switched connection or, by using a compatible accessory port and connection lead.
Reliability
Excellent

At the grand age of one month, but with about 4000 km in its log, the new Microwire jacket liner and the dual controller have proven 100 percent reliable.

Heavy duty components and quality workmanship should provide longevity. My original unit has never exhibited any problems. Most Gerbing garments seem to last a long time.

Maintenance and Support
Excellent

The garments must only be washed by hand (Woolite is recommended) and hung to dry (do not dry clean).

Support requirements have been minimal, but judging from comments by local users, formal testimonials and forum postings, Gerbing takes pride in supporting customers.

Gerbing also provides a Lifetime Warranty on heating elements and a one-year general warranty on the non-electrical components of the garment.

There is a three-year warranty on Temp-Controllers and Accessories.

Cost
Very Good

Pricing does not seem to vary that much and the Jacket Liner is within a few dollars of competitor products.

Many consumers, and some owners think the product is over-priced, but I don't, especially for the new Microwire gear.

Gerbing seems to be holding the line on pricing right now, even for the Microwire products. If you are thinking of investing in the new technology, the timing is probably right.

Increases are sure to come as more and more Microwire and Nanowire products are released and we head in to a new product/market year.

Value
Excellent
The Gerbing products have continued to evolve, especially in the use of new and unique technologies that may provide benefits for everyone.
Specifications
Warranty: Lifetime warranty on heating elements, one year general warranty on the non-electrical components, and a three year warranty on temp-controllers and accessories.
Heat: Microwire Heat Technology
Source: 12-volts DC, wired
Current: 6.4 amps (maximum)
Watts: 77 watts (presume maximum)
Surface Temperatures: 135F +/- 5F at 32F (Claimed)
Conclusion
In again reviewing the original evaluation done back in 2004 and the numerous comments, it seems that Gerbing has stepped up to the plate and continued to evolve, improve and reinvest in their product lines and, identify new offerings.
From my perspective these activities and accomplishments are reflected in the Microwire Jacket Liner.
It fits as well in most areas and better in others, is much lighter, is obviously more efficient (read fast) in producing that cozy feeling and cumulatively is thus a more effective tool in my arsenal for keeping body temperatures consistent, fighting off 'speed-chill' and staying alert… Two thumbs-up.
More wBW Heated Clothing Reviews  |  Motorcycle Glove Reviews
w

BW

 Review: Gerbing Microwire Heated Motorcycle Jacket Liner
Manufacturer: Gerbing Heated Clothing
List Price (2009): $199.95; Controller $69.95 – $119.95 for the controller.
Colors: Black.
Made In: China
Sizes: XXS to 4XL.
Review Date: October 2009
Note: Item provided by a retailer, distributor or manufacturer with these Terms and Conditions.
Note:
 For informational use only. All material and photographs are Copyright © webWorld International, LLC since 2000. All rights reserved. See the webBikeWorld® 
Site Info page
. Product specifications, features and details may change or differ from our descriptions. Always check before purchasing. Read the
Terms and Conditions
!
---
Where to Buy Gerbing Microwire Heated Jacket Liner
Check Reviews & Prices on Amazon
Check Reviews & Prices On RevZilla
Also: Motorcycle Jackets, Motorcycle Gloves, Motorcycle Boots, Motorcycle Pants
---
Owner Comments and Feedback
---
From "G.W." (September 2012): "I have had the Gerbing Microwire Jacket liner for over a year and use it in temperatures down to 0C/32F. Three issues have surfaced, two of them with the connectors.
Overall I am satisfied with the performance of the liner other than the aforementioned issues.
I initially had an issue with a hot spot from the jacket burning my stomach. I phoned Gerbing support and with the help of the support person was able to determine this was caused by a bad plug connection where the controller plugged into the jacket liner — the power distribution panel as Gerbing calls it.
There is a lot of current passing through these connectors and an imperfect electrical connection seems to cause the connectors to get very hot.
They suggested inserting a knife blade or other thin metal object into the center gap of the center pin (in the male plug) and prying the two halves of the pin further apart, thus improving the electrical contact of the center pin on the male plug with the female plug.
Seemed to work and the hot spot is gone.
Another connector issue I have is the female plug, on the cord that attaches to the battery on the bike, is flaky. When I plug in my gear I have to play with the two plug halves to get a good connection.
If I push the two plugs all the way together they don't work. I have to pull them part way 2-3 mm from fully seated to get a good connection.
They worked ok initially when new. I've tried the above fix on this and it did not work. I think I will have to replace the cable.
The final complaint I have is a design issue that seems to apply to all heated gear regardless of brand.
These liners are designed for cold weather but have no or only a token amount of insulation.
It's like trying to heat a house with no insulation. The furnace has to work over time and most of the heat is lost through the ceiling and walls. You feel cold drafts unless you are sitting on top of a heat register.
Liners like these should come with a decent amount of insulation to keep the generated heat trapped against your body – where it needs to be, and keep the cold off the body.
The Gerbing liner only has a thin layer of insulation on the front and has some large gaps in the front coverage. There is no insulation on portions of the front torso, on the sleeves and on the back.
Because of this issue, in colder temps, I have to turn up my liner all the way up just to stay reasonably warm. As a result I get hot spots where the heating elements are and am cold elsewhere.
As a solution I wear the insulated liner my 3/4 length motorcycle jacket came with over top of the heated liner. This allows me to run the liner at a much lower setting and get even heat over my entire torso and arms.
The downside is wearing two liners adds unnecessary bulk."
---
From "J.A." (02/11): "In the review both the write-up and picture for connecting a jacket with gloves are incorrect.
The black female plug on the controller must be plugged into the center black male plug on the PDU (power distribution unit) for the gloves to receive any power at all when connected to the jacket liner sleeves.
As depicted the gloves will not work when connected to the jacket liner sleeves.
One of the commenters tried to point this out but the reviewer didn't seem to understand the point. I've seen others do the same thing and think there is something wrong with their gloves.
I'm guessing there must be a problem with the Gerbing instructions that allow for misinterpretation. But, if you read the instructions carefully it becomes obvious.
I use the old version Gerbing jacket liner and gloves and have found them to be warm and comfortable. I had one issue with one of the jacket liner glove connectors stop working after about three years.
Sent the jacket liner to Gerbing and they repaired it at no cost. I wear the jacket liner over a long tech T-shirt and a Touratech jacket over it all.
I've upgraded to Microwire gloves, but will wait until the jacket liner dies before upgrading it to the Microwire. Keep up the great reviews. I count on webBikeWorld."
HBC's Response: "The feedback (thankfully) reminded me that clarification regarding the correct connectivity for the Gerbing Dual and Dual 2 heated products vis-à-vis single circuit controllers and garments was due.
The Gerbings Interconnectivity is a good overview, but for the newer Dual and Dual 2 products, it is not as well detailed as it could be…
The Dual 2 Wiring Configuration shown here visually details the correct configuration. As well, the respective sections from the original article are now updated: Getting Wired Up Getting warmed up is easy.
Remove the supplied 12V fused direct connection power supply harness that is tucked into the inside zippered pocket for shipment and hook it up to the battery or a central connection point such as a Centech or a central connection point or auxiliary power fuse panel.
Using an accessory power supply cable is another option.
There are a number of power interface cables available that provide the necessary coax connector at one end. I have three Powerlet cables of this sort on hand and they are always in use for clothing and communications systems.
The Dual 2 power distribution unit or PDU on the jacket liner has three connections: two coaxial plugs and one coaxial socket.
The white-ringed plug (closest to zipper) is the power input for the garment, the middle plug (gray ring) is a second power input, typically used for gloves or glove liners connected via the sleeves leads.
The third connector is a coaxial accessory socket for connecting pants, etc.
For those using a single circuit Temp-Controller or if the garment does not have glove plugs, like the vest, Gerbings has an accessory splitter or 'Y' harness to provide two output connections from one.
This allows both input circuits on the Dual 2 garment to be powered (for garment and gloves/glove liners) or, for other garments using the appropriate harness. Remember, however, that output will be exercised by one control.
Connection Procedure: Following is the correct procedure to used connect the Gerbing's Microwire Heated Jacket Liner.
Make sure power source or power supply is on (ie – motorcycle is running). Connect the (White-sleeve) output connector of the Single or Dual Temp-Controller to the (White-ring) connector on the garment's power distribution unit.
Plug the Temp-Controller power lead into the power supply harness (both Red sleeve). Activate the appropriate rotary control on the Temp-Controller clockwise to activate the circuit.
Typically the Gray rotary (Green LED) controls the primary or White-sleeve output and the Black rotary (Red LED)controls the secondary output.
To modulate output, turn the rotary control clockwise to increase output and turn it anti-clockwise to decrease or turn the circuit off completely. As power output is increased, the LEDs will change from a slow to rapid pulsing and then a 'constant-on' at the maximum setting.
Activating a circuit via one of the circuit controls is easy; understanding which is which requires a few words as the dual circuit temp-controller doesn't have any markings and the Gerbing Interconnection Diagram so widely used is not absolutely clear in every respect.
Note: it is very important that the garment not be plugged in or the On/Off switch or Temp-Controller turned on until the power source is on (i.e., motorcycle running).
Always turn the controller off or disconnect the power lead before stopping the motorcycle.
One of the most frequently asked question regards power requirements. This information is available from a variety of sources."
---
From "C.A." (10/09): "I just read your new Gerbing liner review and have a comment / question. I have been riding with heated gear for many years, starting with a Kanetsu, wearing out a Gerbing liner, and now using a Warm 'n' Safe liner.
My gripe with the Gerbing (and the reason it wore out) was that the shell itself was very poorly constructed. After one season the seams on the inside shoulder started to give – by the second season it was completely shredded.
Pulling on the liner was problematic as my arm would occasionally enter the space with the wires.
For this reason (and the collar on my wife's unit not working) I ditched it and reused the heating panels in a fleece liner for my dad (and didn't buy another Gerbing). Can you address the shell quality (materials and seams) compared to the previous generation of Gerbing liners?"
HBC's Reply: The quality on my original (two year old) jacket liner and the new Microwire jacket liner appears to be virtually identical and judging by the material used and stitching, there should be no issues.
I haven't observed any wear and tear on the original garment, but then again long term use has not become a real issue yet.
Therefore it would be hard for me to qualify the wear and tear issue right now (ask me in a few years).
I did ask two other owners of older Gerbing products about their experiences — they have had no problems to date and in fact one of them switched back to Gerbing after purchasing and suffering failures with two other brands – connectors and wiring issues.
Regarding your issue with the shell seams giving out after one season and other issues — was this discussed with Gerbing's for support, early on or as time and wear progressed?
I acknowledge that failures will happen, even with the best of products, having experienced it myself on one or two occasions.
But I have always managed to get resolution from the distributor or manufacturer, eventually."
---
From "O.B." (10/09): "You mentioned that if you use the integrated wiring in the sleeves for the gloves you do not need to use the middle power port of the Power Distribution Unit. But you also mentioned that you used a dual temp controller.
I thought the purpose of a dual temp controller was to have the ability to hook your gloves to one port and the jacket to another port.
But based on your review, using the integrated wiring for the gloves, only one of the port on the controller would be used and that the gloves would always be set at the same temp as the jacket.
Is this the case or did I mis-read the facts of the PDU and the dual temp controller?"
HBC's Response: Gerbing uses the same power distribution unit for their major components: jacket, jacket liner and vest.
Keep in mind that the power distribution unit is powered by a single circuit connection either by the simple on/off switch or a single or dual temp controller.
As the jacket and jacket liners have glove interconnects built in to the sleeves, the gloves can be wired directly to form part of the jacket liner circuit and controlled by the appropriate rotary control on the temp controller.
So in this instance, yes, the gloves would be controlled by the primary jacket liner circuit to the same temperature setting.
The power distribution unit's Dual 2 versatility is more directly applicable for the vest where there are no integrated glove harnesses.
In this instance, the Y-harness that is supplied with the gloves or purchased as an accessory item is then be plugged in to the middle connector on the power distribution unit of the vest – again the gloves would be controlled by that circuit.
If pants are used, they can be connected through the third connector as detailed in the article.
So this brings us to the Dual temp controller.
The primary is typically used to power and control the main garment — jacket, jacket liner or vest. The second circuit is available for separate control of any garment or garment(s) is desired, like the gloves, pants, etc.
Depending on the garment, the power distribution unit and whether a single or dual temp controller is used, there are a number of options for connecting multiple garments in the Gerbing heated clothing system.
Everything is meant to work together and everything can be interconnected in some fashion. The three connection power distribution unit, the garment interconnect harnesses and the temp controllers provide lots of options.
One just needs to make sure the necessary interconnect cables are utilized or on hand and decide whether one circuit or two is the better way to go for heat management.
The system connection diagram on the Gerbing website is a good visualization of what is possible.
Other WebBikeWorld Clothing Posts